Native Ad Platforms vs DSPs: What Do Experts Recommend? [Interview]
How to choose between native DSPs and native ad platforms? Should you choose at all? We're going to talk about the differences between these two and share experts' opinions on the topic.
In the very beginning of your native advertising journey, everything seems to be clear – there are advertisers, there are publishers, and there's ad space they trade. Pretty similar to how traditional advertising works.
But the further you go, the more complicated everything is becoming. You find out there are not only tons of platforms you can go with, but these platforms can be of different types and functionality.
We asked top native advertising experts and platforms' representatives about the major advantages of every option and here's what we've learned.
For the definition of DSPs and ad platforms, check out our introduction into the programmatic native ecosystem.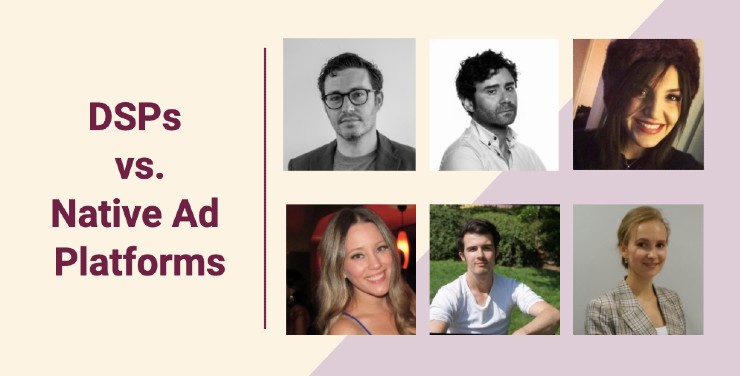 Sabine Mansour, Technical Platform Specialist at MediaMath
MediaMath is an omnichannel media buying platform that operates as a demand-side platform (DSP).
Are there any specific benefits of using DSPs for buying native traffic?
"When using a DSP, advertisers have the opportunity to run their native ads from one single platform. As a result, their reach is intensified and the workflow is more seamless. With only a single campaign, advertisers are able to leverage their native ads across all compatible inventory.
Besides, working with a DSP allows buyers to run native campaigns using its functionalities, including targeting options, 1st party and 3rd party data inclusion, reporting facilities, the platform's optimization algorithm, etc. The latter is very important for some of our advertisers."
Are there any drawbacks of using DSPs for buying native traffic?
"Working with different native ad exchanges has sometimes its drawbacks. Different native providers have different requirements (different creative approval processes, different text and image size requirements, and some providers crop the native image). Unless advertisers run campaigns targeting specific native providers using a private deal, it might lead to some unwanted results (especially if an advertiser has strict requirements and regulations).
On the other hand, buying ad placements through a DSP requires programmatic knowledge. It is important for advertisers to know how to set up and optimize their campaigns on their DSPs. Lack of trading skills can sometimes lead buyers to lose some great opportunities and money!"
When should advertisers use DSPs and when should they opt for working with native ad platforms directly?
"If an advertiser requires a customized solution for their native advertisements, some ad platforms might be more flexible than some DSPs. Although, as mentioned above, there is a possibility to have a customized private deal with some exchanges via a DSP, native ad platforms have more control over their own inventory.
However, a DSP might be the perfect platform to start off your native advertising efforts. It's close to impossible for an advertiser to reach so many native ad exchanges on their own. The number of targeting options, optimization opportunities, and private deals offered by a DSP makes each native campaign truly unique."
Would you recommend advertisers to combine native ad platforms and DSPs?
"Definitely! Each platform has its advantages. I believe that by combining both native ads networks and DSPs to run their native advertising, advertisers can reach the desired results faster."
Reza Najib, Head of Exchange Buyer Development at Verizon Media
Verizon Media is one of the world's leading digital and mobile companies. Specializing in native advertising, Verizon Media Native is the only marketplace that allows to run search and native ads in one advertising platform.
When should advertisers use DSPs and when should they opt for working with native ad platforms directly?
"When an advertiser is looking to maximize reach for their campaigns, it makes sense to use a DSP connected to the open RTB ecosystem. This way, advertisers can buy inventory with a unified frequency, capping across multiple inventory sources without limiting themselves to a single provider.
On the same note, I would recommend working with a native advertising platform directly if an advertiser intends to handpick premium supply, first party data, or unique ad formats."
What should advertisers consider when choosing the platform for programmatic native advertising?
"Advertisers should be very clear about their campaign goals and push for the solution that is suited best to reach those goals. Trying to reach as many users as possible will require a different approach than, for example, maximizing conversions. They should carefully vet the proposition of each platform:
What supply is it connected to?
Is it focused on exclusive premium supply or rather long-tail inventory?
What native formats are available?
What data does it offer?
Evaluating these factors against their own individual campaign goals should help advertisers find the right platform to work with."
What's the future of programmatic native?
"Native is showing no signs of slowing down. The majority of advertisers have discovered the power of ads that engage seamlessly with the content and will continue to shift budgets towards native.
On the other hand, the programmatic industry is still dominated by traditional display and video ad formats. The majority of native advertising budgets are still being spent directly on the respective ad platforms. In the beginning of programmatic, this is something we experienced with traditional display and video advertising, too.
Native advertising is currently benefiting above all from new up-and-coming channels and directly usable formats. Smart advertisers will soon invest even more in new native advertising formats such as AR. A trend that will also be reflected on the programmatic side."
Kenneth Lopez, Sales Director Europe at Zemanta
Zemanta is the world's leading demand-side platform for native advertising, owned by Outbrain.
Are there any specific benefits of using DSPs for buying traffic?
"By using a DSP, advertisers gain access to a full range of different networks through a single UI which allows them to buy inventory on a much larger scale than a typical ad platform. With Zemanta, advertisers have programmatic access to more than 35 different native platforms with 250K different publishers and apps.
DSPs usually have more extensive capabilities, such as advanced audience targeting and automated campaign optimization, removing the need for frequent manual changes."
When should advertisers use DSPs and when should they opt for working with native ad platforms directly?
"DSPs are usually completely self-serve, as is the case with Zemanta, that makes them much more suitable for big agencies with their own trading teams. A client gains full control over their campaigns and what kind of traffic they are buying the moment the contract has been signed."
What are the main things advertisers should consider when choosing the platform for programmatic native advertising?
"Performance: Zemanta gives you access to CPC and CPM buying. We optimize towards CTR and achieve CPCs that are 80% lower than other DSPs.
Transparency: There's a full transparent automatic pilot where you will track every single optimization done in real-time. You can whitelist and blacklist SSPs and publishers. Moreover, you can see which SSP or publishers are achieving your KPIs and the exact CPC you are paying there.
Usability: Use our single creative upload to have your campaign ready to be live in less than 2 minutes, plug in Z1 to any data dashboard, and plug in any DMP to use your first-party data on your campaigns."
Would you recommend advertisers to combine native ad platforms and DSPs?
"It really depends on the type of buyer and brand. As mentioned before, Zemanta is appropriate for advertisers who are looking to consolidate all their native buying and want to stay in complete control of their campaigns. Our advanced targeting and optimization features allow advertisers to manage every aspect of their campaigns, which makes Zemanta suitable for advanced users looking to maximize their return on ad spend.
On the contrary, ad platforms will usually offer managed service, removing the need for advertisers to set up and manage their campaigns. Instead, they'll have their campaigns managed by the ad platform's team of experts. Ad platforms might also offer creative support, saving your time on creating the content yourself.
We have some clients that are successfully running campaigns on Outbrain and also buying inventory via Zemanta. One solution does not exclude the other."
On-Demand Video Course On Native Advertising
Boost your ROAS with native ads. Enroll now with our limited 30% discount.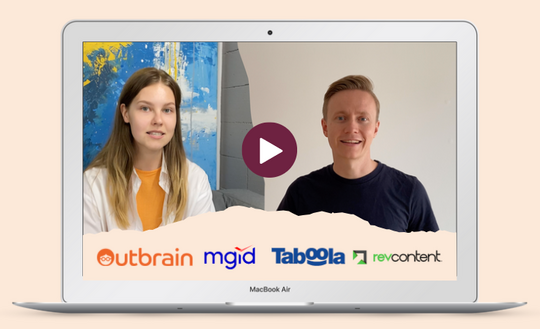 Sharon Lyon, Vice President of Sales and Operations at Revcontent
Revcontent is a top-notch content discovery platform that drives traffic from tier 1 countries.
Are there any specific benefits of using native ad platforms for buying native traffic?
"Yes! Two of the major benefits are access to better inventory and lower CPCs. Revcontent specifically does not allow DSPs to access the highest quality traffic from our premium publishers. Without the ability to bid into that inventory, advertisers won't experience the highest-performing traffic in the network. Also, another benefit to using a native ad platform directly is lower CPCs. When using a third-party, overall costs and CPCs can be higher, leading to less profit margin."
Are there any drawbacks of using ad platforms for buying native traffic?
"It can be difficult and time-consuming to manage a large number of partners at once, which is when it's helpful to have a tool like DSPs. Individual DSPs rely on their own bidding strategies, algorithms, and other proprietary benefits to help advertisers achieve their goals - for example, Criteo is known for its retail and e-commerce retargeting data."
Would you recommend advertisers to combine native ad platforms & DSPs?
"We always encourage advertisers to continue buying anywhere they see positive margin! If it's performing well, it's worth continuing. However, for Revcontent, we do advise against using a DSP instead of simply buying direct due to the limited inventory and higher costs."
Oleksandra Kazantseva, Head of Business Development at Bizzclick
Bizzclick is a full-stack programmatic advertising platform that offers both DSP and SSP capabilities.
Are there any specific benefits of using DSPs for buying traffic?
"DSP is a platform that represents advertisers who strive to buy inventory from publishers in real-time and on a per-impression basis. With DSPs, advertisers can purchase impressions from thousands of global publishers who sell inventory programmatically. The placement an advertiser buys will directly depend on the characteristics of users that open a web page: their search history, geolocation, and other criteria that advertisers choose to target.
The benefit of using DSP compared to other platforms is that it's suited particularly for advertisers' needs. For sure, DSP platforms can be different, but it is safe to say that such specialization often results in a broader set of functionalities that advertisers can find on DSP platforms. If we talk about non-programmatic ad platforms, it's even more obvious — no other ad platform can leverage a huge array of unstructured data and make it so easily applicable for targeting purposes like DSP."
What are the main things advertisers should consider when choosing the platform for programmatic native advertising?
"There is a certain risk of getting distracted by pointless parameters when choosing the right platform. Advertisers should look beyond clicks or impressions. Native ads are non-intrusive in their nature so the chosen DSP platform should, first of all, offer an advertiser the opportunity to keep those ads non-intrusive and aligned to the preferences of the target audiences. Luckily, today advertisers can choose between 3 types of platforms — traditional DSPs, network-direct, and native-first.
Traditional DSPs. They have all basic (and sometimes even extended functionalities) that make sure native ad campaigns are pacing correctly. As has been described above, these platforms are able to provide advertisers with control over daily frequency, ad budget limits, targeting, and the rest of functions that can be also universally applied to other creative types.
Network direct. Basically, platforms where advertisers can buy native inventory directly from publishers. The benefits are — they give access to unique native inventory that isn't featured on RTB auctions.
Native-first solutions. Mainly represented by startups that develop platforms specifically suited for native ads, (they usually don't support other types of advertising). At the same time, they can offer unique native technologies like engagement-based bidding or native content management.
When choosing a DSP for native ad campaigns, make sure it has all the vital features, like frequency capping, budget control, creative optimization, etc. and run test campaigns to see how the DSP performs.
Would you recommend advertisers to combine native ad platforms and DSPs?
RTB-driven platforms represent only a small fraction of the huge technological legacy that programmatic display advertising can offer to advertisers. To make an adequate bid for an impression, advertisers and their technology partners must take into account hundreds of parameters, from data about user behavior to information derived from the CRM system. All this becomes problematic without programmatic DSP.
Automatic media-buying is not the only role that programmatic technologies can perform – some platforms allow you to optimize creatives in real-time using dynamic creative optimization (DCO) which makes ad units appear more native.
Some non-programmatic native ad platforms also have their advantages as they often aggregate unique or premium inventory that can't be found on RTB auctions. Understanding that such opportunities attract many advertisers, many programmatic DSPs also decided to launch direct, non-RTB deals where publishers and advertisers trade directly. Thus, these DSPs allow advertisers to buy native placements directly from publishers and still leverage strong targeting opportunities programmatic has to offer.
Summing up the above mentioned, I'd say that the combination of both would be handy for advertisers who are ready to experiment, risk, and achieve more from their ad campaigns. Don't forget that the purpose of native is to engage users and foster trust and loyalty instead of ad fatigue. Therefore, no matter what platforms you use, make sure they allow you to choose the optimal impression frequency and channels that compliment your message.
Ryan Schumann, Senior Display Marketing Manager at home24 SE
Ryan is responsible for managing display campaigns for home24. He has built the programmatic infrastructure there from scratch.
Do you prefer running ad campaigns with DSPs or ad platforms?
"I prefer running them via DSPs."
When should advertisers use DSPs and when should they opt for working with native ad platforms directly?
It's a bit of an apples and oranges comparison. DSPs have the advantage of buying tons of different inventory types - from banner networks to native networks, but also digital audio and video and even digital out-of-home. This is done with an enormous degree of automation and gives a buyer a lot of flexibility and transparency. However, it is more for advertisers who value impressions that you are buying more than a specific outcome, like a click, especially for prospecting campaigns.
Specific to using DSPs for native inventory buying, programmatic & native is still a relatively new technological marriage, so some fairly standard impression-based metrics like viewability are often not applicable. And a high degree of automation can also mean that some specific elements are clunky, like loading one set of creative assets into a DSP and expecting them to look perfect across 15 different native network placements. Although some of the more specific native DSPs might be better at that.
I would recommend working directly with native platforms if you are an advertiser who values clicks more than impressions, if you have someone who can dedicate time to creating content and placement strategy for each individual native platform, and if you do not yet need an enormous amount of scale and reach. Certainly in my experience, I've yet to see a generic DSP native campaign outperform someone going into the native platforms directly and making specific changes relevant to each network on performance metrics.
What should advertisers consider when choosing the platform for programmatic native advertising?
Certainly which networks are available via which platforms. Creative options, transparency about what placements & publishers you are buying, the metrics you are able to report on, the tracking the platform can provide and what 3rd party verification is available are also valuable.
Would you recommend advertisers to combine native ad platforms and DSPs?
Sure. But keep track of what you are buying, and why you are buying it. Are you buying Outbrain from your DSP as well as directly from Outbrain? Beyond the possibility of bidding directly against yourself, what is the point? Or are you buying lots of Taboola inventory on a specific website via Taboola's platform, and then buying the same website via a DSP's native network connection? Is there a point to be reaching the same user via different placements on the same website? (Incremental reach is something much easier to understand if you buy via a DSP, by the way!)
My point is that you should always keep in mind that if you are to use a combination of different buying platforms, try to avoid unnecessary overlap as much as possible. But if a DSP helps you to get access to many smaller native networks on top of your larger native platform campaigns, then this highly automated strategy can definitely be useful.
Summary
So, should you use a DSP or a native ad platform? This totally depends on your goals, experience, team, and budget.
If you want to have more control over your campaigns and have someone who can optimize your campaigns inside of every specific platform, you'll enjoy results native ad platforms can bring you. If you focus on the widest possible reach and have programmatic knowledge, a DSP will be the right choice for you.
---
Are you already taking advantage of native advertising platforms, such as Taboola and/or Outbrain? With our native advertising reporting tool, you'll have all your campaign data in one place, access 12 ready-made advertising dashboards, receive performance alerts, and more. Book a free demo today and learn how to level up your campaign performance with Native Pro.
Need help with getting started with native advertising? Check out our native advertising agency and consultancy services to learn how we can help you.