Experts Recommend: Native Advertising Tips for 2020
The advertising industry never stands still. While advertisers keep coming up with new techniques to attract attention, users are getting more and more inventive in the ways of avoiding ads. That's how native advertising appeared. Non-intrusive ads that emulate the form of the media format where they appear – what can be more effective?
But like any other marketing approach, native advertising has its peculiarities and trends that develop from year to year. And what's the best way of getting up-to-date native advertising tips if not from experts who work on the topic? We talked to six native advertising experts and learned what they consider to be the best native advertising practices and what trends are awaiting us in 2020. Here we go.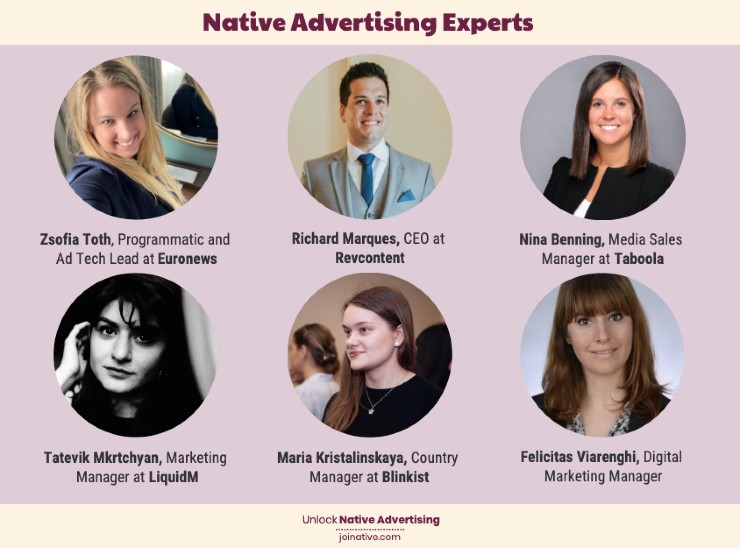 1. What are the native advertising practices you find the most effective?
Richard Marques, CEO at Revcontent
"One of the best practices we see at Revcontent for advertisers is to start by building off a funnel that works and has been tested before. This is the easiest, fastest, and most cost efficient way to test across native, which can be very different than buying on social platforms.
If you don't have a tried-and-tested funnel ready to go, you can definitely still make native work for you."
Felicitas Viarenghi, Digital Marketing Manager
"One thing to keep in mind is that if working with content on native advertising platforms, you can't be thinking the same way an SEO expert or an editorial copywriter would. Unlike situations when people are searching for something, knowing what they are looking for and being more focused on reading what they find, native advertising audiences are reading and exploring at the same time. There are only a few moments to catch their attention to click but also to keep them engaged in the content you are sending them to. So make sure that the first paragraph will keep them interested.
Different to editorial content, you are not just writing to give them interesting information; you want to give them some value, but you also want them to be more interested in the product you are selling, so the content should also be your sales pitch."
Zsofia Toth, Programmatic and Ad Tech Lead at Euronews
"Native is a balanced mixture of images and commercial content. While fitting the editorial content, the main purpose of this type of ads is to provide a better, less intrusive, and smoother user experience on publisher sites using the benefit of advertising tools.
In general: It should have some mandatory features, meanwhile content providers should find the best working style and advertising place/slot within the editorial content.
If I think about native: for me, still the most important thing when it comes to great native is the image/colour and the short but impactful ad title which gets the user's attention, and then encourages them to find an appropriate call to action. The best native advertising campaign links and creates the story and plans the preferred user journey within the ad itself keeping their final goal in mind."
Tatevik Mkrtchyan, Marketing Manager at LiquidM
"Go programmatic. The typical native ad is purchased programmatically—and that's not expected to change in 2020. That's where DSPs, including LiquidM, step up the game with comprehensive tools catered specifically to serve native ads.
Know your target audience. №1 marketing rule holds up in native advertising as well as ever. Having a clear understanding of one's audience enables advertisers to create meaningful creatives, select relevant publishers and target better performing native placements.
Native is all about context. It is important to do the research and advertise across publishers that match your product offering. Ads that blend with sites are perceived as less intrusive and get more clicks.
Use interactive content. Content that requires active engagement from its consumers is more likely to yield higher ROIs. Experts advocate using quizzes, surveys and videos to create personalized experiences with the audience. Compelling titles and bold images are also important to keep in mind when creating engaging native ads.
Check for deals. The best placements tend to have high floor prices and are sometimes only accessible via Deal ID. So first, we recommend clients to try winning on premium placements. They are more expensive but pay off with much higher yields. And second, always check for available deals, including the ones we offer thanks to the direct integration and good relationship with leading native SSPs.
Test, test a lot. Experimenting with content, creative formats and targeting settings provides advertisers with insights into how their audience responds to various native campaigns. With even a minimal degree of testing, they can form predictions, avoid budget losses and identify new market opportunities for their native campaigns."
2. Do you have any specific tips for targeting, bidding, or ad creation?
Nina Benning, Media Sales Manager at Taboola
"The Content Marketing Institute reports that 70% of consumers prefer to learn about a product or service through content rather than traditional advertising. This gives advertisers space to get creative and create advertisements that feel informative rather than disruptive.
As non-disruptive ad campaigns gain in popularity over their traditionally disruptive counterparts, it becomes increasingly important to get a handle on the best practices and trends influencing the native advertising industry.
Optimizing the creation of ad content, the channels on which ads are distributed, the way audiences are targeted and more – all have tangible impacts on campaign success.
Targeting the right way
The audience, sites, and devices you target can define the success of a campaign.
The Drum reports that engagement is 50% higher on premium editorial sites than during general free browsing. This makes a case for selectivity when choosing which publishers to align with. This does come with one caution, however, to still keep an open mind––the types of sites that will work for your KPIs may surprise you, which is why it's important to test.
In terms of audience targeting, the trend is moving towards getting specific. Targeting by factors such as time, date, zip codes, buyer intent, and more are imperative for staying ahead in 2020.
Another targeting trend picking up steam in 2020 is retargeting, targeting people who have already shown interest in your product and are therefore more likely to convert. Retargeting ads are 76% more likely to get clicks than regular display ads, making them an effective way to get noticed.
According to eMarketer, 88% of native ads will be served to mobile devices in 2020. If that's not a case to join in on that trend, we don't know what is."
On-Demand Video Course On Native Advertising
Boost your ROAS with native ads. Enroll now with our limited 30% discount.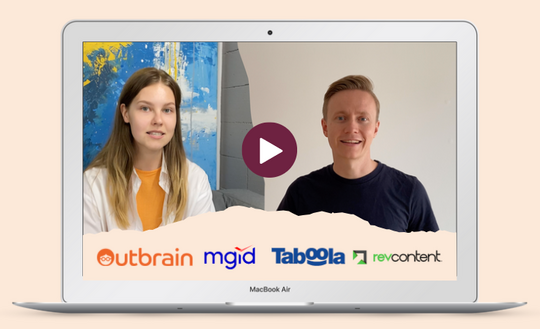 Maria Kristalinskaya, Country Manager at Blinkist
"Creatives are really important, but sometimes they are underrated by marketers. First, be careful with using photo-stock images. They are the easiest ones to get, but tons of other companies are using these images at the same time.
Then, for the native advertisement, it's important to look organic. That's why in case you're creating the images in-house, make sure that designers don't make them too polished.
Regarding images and content as well, make sure you always run A/B tests. Sometimes it seems that we know everything about our customers and target audience, but sometimes A/B tests show how wrong our perception could be. Don't forget to A/B test only 1 element at the same time, and keep in mind that you can test everything."
Richard Marques, CEO at Revcontent
Your targeting, bids, and ad creatives all play an important role in how your campaign performs. For targeting on Revcontent, it's usually best to target all topics to make the best use of pacing and distribution on the Revcontent platform. It's designed to give advertisers access to the highest quality publishers when just starting out.
Bids can be extremely different across various verticals and with different offers; our best tip is to start competitive, so you can even get traffic to see if it works for you.
As for creatives, the idea is to play with creative variables to build a mix of creatives that can generate performance CTRs.
Tatevik Mkrtchyan, Marketing Manager at LiquidM
"We recommend advertisers to be as granular as their programmatic solution and native reach allow. With more than 20 targeting criteria, our own users can target by time, date, GEOs, zip codes, devices, categories among a variety of other criteria. With brand safety playing a major role in native advertising, we further advise marketers to target premium placements and top-notch ad environments using supply white- and blacklisting tools.
Though mobile is reportedly beating desktop for native, we suggest advertisers not to cut down desktop traffic completely. Native powerhouses like Taboola and Outbrain still serve substantial amounts of desktop traffic, which may be a perfect match for your target audiences. So there is no need to blindly follow the trends, as long as what you're doing works for you and your audiences
When it comes to bidding and ad creation, LiquidM platform is equipped with powerful features that lift considerable burden off the advertises' shoulders:
The Bid Price Optimization and multiple budget tools aim to lower the bid prices and maximize advertisers' ad spend.

Our intuitive Native UI takes full care of the ad creation process for our advertisers. The platform matches advertiser's creatives across a vast pool of available native supply and generates tips on how to fit more placements by adding and adjusting titles, descriptions and other native attributes.
In short, granular audience-based targeting, premium brand-safe inventory, and knowing programmatic tools you're working with are just a few important things to have in mind when running native campaigns."
Zsofia Toth, Programmatic and Ad Tech Lead at Euronews
"From advertiser's side, I would keep the following priorities:
Always seek for the relevancy and quality of content rather than scalability. As I consider native as premium advertisement type, I only bid against well-established brand inventory with an extra context and viewability target.

This ad type is also about language, therefore you should always match the ad language to the editorial content language as a basic rule.

Bidding via OMP (Open Marketplace) for prospecting, but if you have a super-specific topic don't be afraid to set direct programmatic deals with expert publications.

The ad creation should be easily adaptable, with excellent quality of images and spelling which presents the message to the target audience. If you run a native ad campaign, you should create 3-4 variables at least and test which one works where. i.e. very basic demographic targeting and A/B testing.
The best in native that you can easily focus on contextual targeting and avoid the potential issues around GDPR and other cookie policy compliance."
Felicitas Viarenghi, Digital Marketing Manager
"In terms of ads and content, try to make people connect, feel identified, either by the type of audience (demographic, lifestyle, etc.) or because of a problem they might have that you can solve… so try to call that out in the ad, represent it with the image or/and with the text they will be clicking on.
Always test, test, test… but when you do, make sure you test comparable things.. choose only 1 variable you will test at a time so it is easier to analyse later and identify which things are working. Sometimes it's a good idea to A/A test (there are many variables we cannot control and the algorithms are not always perfect).
Read best practices from the networks and ask other people what has worked for them. Numbers, special characters, negative vs. positive, etc.
If you send people to a content landing page, make sure you also optimise it for better conversion rates: test the content (the text, the media in the content, headline, header pic or video, etc.), the conversion elements (CTAs, forms, banners, etc.) and improve the technical aspects that can lead to a faster loading time."
3. What trends do you think will influence native advertising in 2020?
Tatevik Mkrtchyan, Marketing Manager at LiquidM
"Rise of Video. According to the 2019 IAB report, ad spend in digital video continues to accelerate with a 25% year-over-year budget increase. Video revenues are also expected to grow steadily for the foreseeable future suggesting now is the best time to develop a strong native video strategy. Native video advertising combines the best of two formats making the most out of engaging video content and its seamless integration into premium advertising environments.
Retargeting. It is increasingly popular to target users who have previously interacted with your ads or products. In fact, prospects are 70% more likely to convert when they're retargeted. So in addition to using granular targeting, we recommend advertisers to dedicate a portion of their budgets to retargeting lucrative market segments.
Focus on clicks that matter. As the industry becomes more performance-driven, advertisers also switch to measuring more meaningful KPIs. It is important for marketers to know where their conversions come from and to be able to attribute them to the corresponding clicks and campaigns. At LiquidM this industry-wide attribution problem is taken care of by CPC+, a recent functionality that helps to optimize campaigns towards page views and other relevant conversions.
Transparency. The industry-wide push towards greater transparency calls for honest, non-deceitful and audience-oriented advertising practices. Follow suppliers' ad guidelines and create quality content to attract premium leads that are more likely to convert into customers."
Nina Benning, Media Sales Manager at Taboola
"In 2020, two trends in particular will influence the way ads are created.
1. The success of black & white.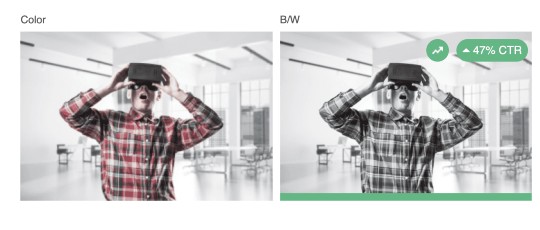 This one may seem counterintuitive, but amongst the fatigue of endless colorful advertisements a person experiences in their day, a black & white one can be a welcome respite, and can end up garnering more attention.
2. A rise in video popularity.
According to Business Insider, digital video ad spending is rising faster than search and display. By the end of 2020, US digital video ad revenue will rise by a compound annual growth rate (CAGR) of 21.9%. This rise in video spend indicates that it's important to start developing a strong video strategy to deploy throughout the year.
Another important ad trend to note is interactivity. 93% of marketers reported finding interactive content to be successful for them, and Native Advertising Institute dives into why that is. Interactive content creates a sense of belonging and community, and when it's done right it can lead to a high volume of word-of-mouth marketing.
2020 will bring a rise in native advertising's popularity, and along with it the need to master best practices and trends. By finding ways to stand out creatively and target the right sites, audiences, and devices, you can ensure that your upcoming campaigns are set up for success."
Felicitas Viarenghi, Digital Marketing Manager
"In terms of what is coming, anything that makes the work easier is a good investment. Automating work with rules, upload of ads, alert systems, etc. is a good investment that can free up time to focus on strategy, analysis, creatives and more."
Maria Kristalinskaya, Country Manager at Blinkist
The main trend for me is to make the content look more native to the platform so users can't see the difference.
Zsofia Toth, Programmatic and Ad Tech Lead at Euronews
"As 2020 will be focusing more and more on video, I think there will be more and more embedded video native ads in the market, creating better revenue opportunities for publishers.
Native video definitely will be growing as well as direct campaign executions. Whenever they will be linked to a bigger branded content piece or just premium amplification."
Richard Marques, CEO at Revcontent
"Publishers moving away from long-term restrictive deals that are full of stipulations that inhibit their ability to make changes to their own site (testing new partners, layouts, optimizations etc.).
Privacy laws like GDPR and CCPA will make a big impact on native as well as the increased use of programmatic (oRTB and header bidding).
Video will make an appearance in the native space, and we actually launched video ad types for advertisers in January of this year."
Recap
Based on the experts' opinions, we can conclude that native advertising is all about valuable content and understanding your target audience. Videos are still on the rise (and will be there for a long time), image trends are changing, and you should definitely go with retargeting if you want to get more engagements.
And most importantly, the trend towards optimizing advertisers' efforts is growing. For marketers who want to save their time and focus on building a strong native advertising strategy, we offer Joinative's Native Advertising Management platform. Native Pro provides cross-platform reporting, rule-based optimization, alerts and data structuring for both Taboola and Outbrain campaigns. Book a free demo of Native Pro today.