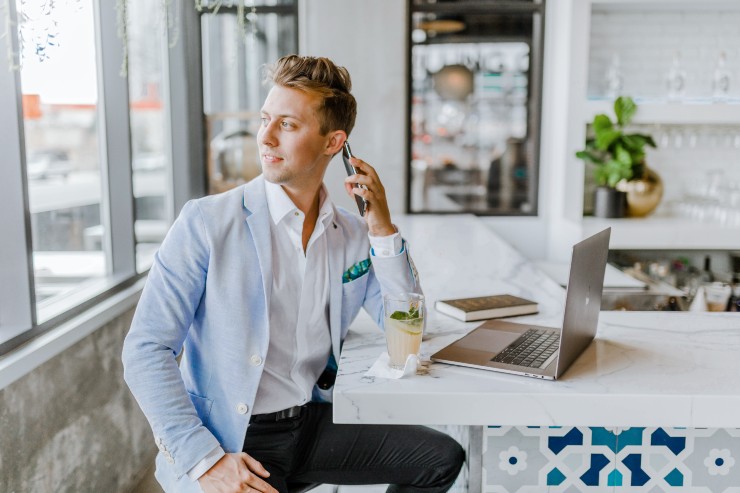 30+ Best Affiliate Marketing Programs To Boost Your Profits
While some marketers treat affiliate marketing as an additional revenue source, others manage to build a strategy that allows them to make a good living. Whatever motivation is driving you, your profits will highly depend on the programs you'll choose.
To help you pick the best offers, we reviewed and listed the most promising affiliate programs in this post.
Disclosure: This post may contain affiliate links. This means we may earn a commission if you buy something through our links at no additional cost to you.
Affiliate marketing explained
Already have experience with affiliate marketing? Skip ahead to the list of top affiliate programs.
Affiliate marketing is a type of marketing where brands reward affiliates (people who promote their products or services) when a visitor brought by their activities converts.
Different angles of affiliate marketing
To refer more people and get higher commissions, affiliates apply different approaches. Here are the most common ones:
In-depth reviews. Quite often marketers join affiliate programs when they already have a blog with an active audience. Publishing authentic and credible reviews of products that they want to promote is one of the most common techniques in this scenario.
Listicles. The next popular method for affiliate links promotion is creating listicles of products or services.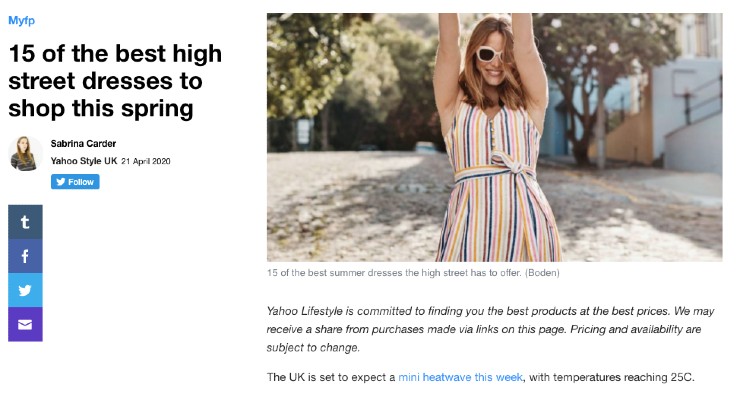 Online advertising. Quite often, affiliate marketers run Facebook ads or do native advertising to drive traffic to their websites or promote landing pages with affiliate links. If you want to learn more about how you can benefit from native advertising, check out our native advertising guide for affiliate marketers.
Email marketing. It's not uncommon for a successful affiliate to utilize email marketing. They send weekly newsletters with engaging content and offer one or a few deals at the bottom of each email.
Special offers. Who doesn't like discounts? When a merchant agrees, an affiliate marketer can offer discount coupons to their audience.
Webinars. By hosting a live webinar, an affiliate can not only establish themselves as a thought leader in the industry but also showcase products they want to sell.
The best affiliate networks
Before we have a look at individual affiliate marketing programs, let's go through three networks where you can get access to thousands of merchants and products.
Rakuten advertising, formerly known as LinkShare, is one of the oldest affiliate networks on the market. It has been connecting merchants and publishers since 1996.

The network includes around 1,000 merchants. Even though it's not as large as other networks on this list, it's the best option for connecting with the worlds' most reputable companies.
The minimum payout on the platform is $50.
Travelpayouts is the only travel affiliate network. It unites 80 biggest travel brands such as Booking.com, RentalCars, GetYourGuide, and many others. At Travelpayouts, you can monitor all your sales in one dashboard and receive a single payout for the affiliate programs you've joined.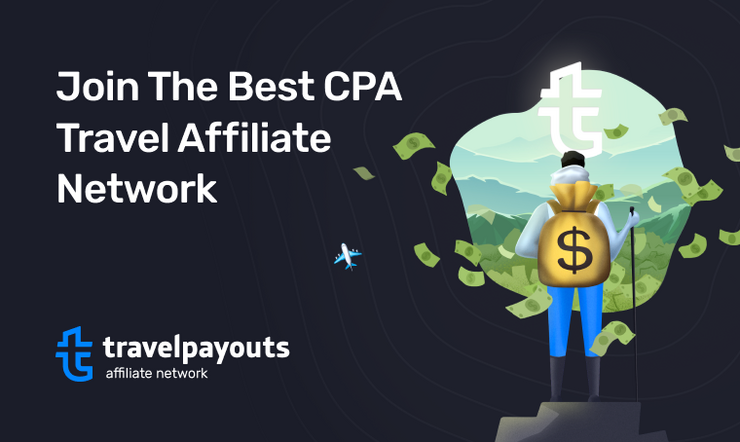 Commission: as high as 25% but depend on the offer.
Each affiliate program in Travelpayouts has its own reward terms. For your convenience, information about the commission size, cookie lifetime, allowed traffic, and the average purchase receipt is clearly stated on the offer page.

According to The Financial Times, lemonads is the affiliate network with the highest revenue growth in 2020.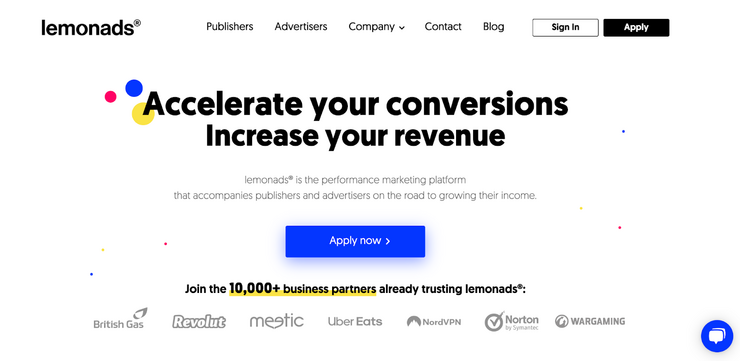 Specializing in the United States and Western European markets, lemonads has a network of 10,000 publishers of the most famous media, who can take advantage of over 1,800 affiliate programs, some of which are exclusive.
lemonads offers a various payout solutions. Affiliates can receive weekly payments through the system of their choice: bank transfer, PayPal, Paxum, or ePayment.
Minimum payout: $100 or €100
This world-famous network will connect you to over 15,000 brands across all sectors.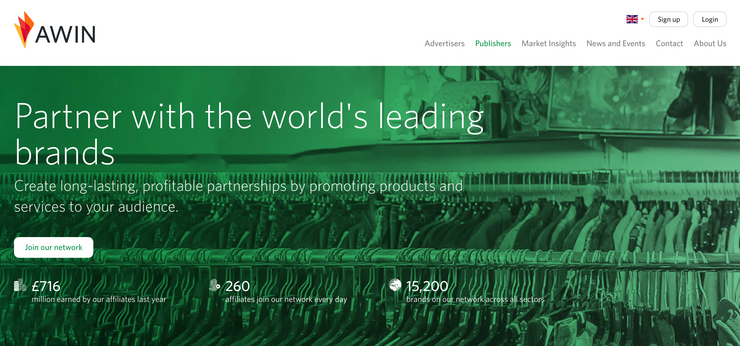 Here you'll get access to big and small companies from all over the world. Being founded in Germany, Awin has a large network of Europe-based companies, but it's also popular among the US and global businesses.
To join the platform you need to pay the $5 deposit, which is later paid back within your first publisher commission payment.
The minimum payout on Awin is $20.
TradeTracker is your affiliate marketing partner presenting brands and retailers in 28 categories.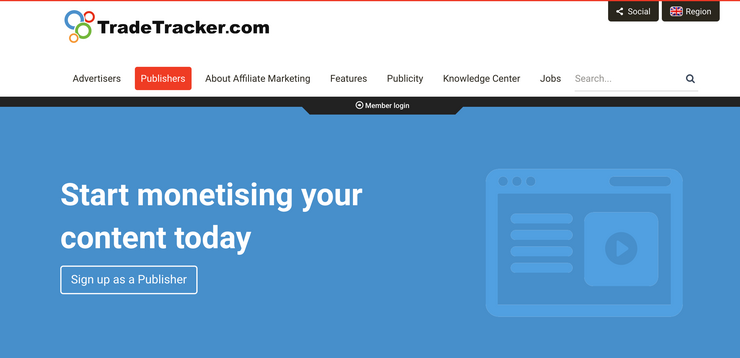 Will TradeTracker, you'll access all the necessary functionality, including deep linking, custom widgets, real-time reporting, and more.
TradeTracker is free to sign up. You can get your commission paid out up to four times a month.
Top affiliate programs by vertical
You can find affiliate programs in almost any vertical. B2B, eCommerce, financial services, etc. – one can select a program based on their experience or their audience's interests.
If you're looking into promoting products or services in some specific category listed below, click on it and explore only the most relevant programs.
On-Demand Video Course On Native Advertising
Boost your ROAS with native ads. Enroll now with our limited 30% discount.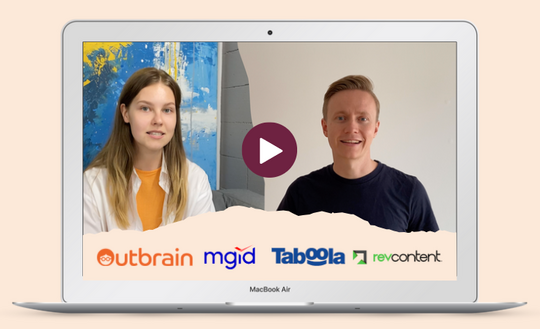 Marketing affiliate programs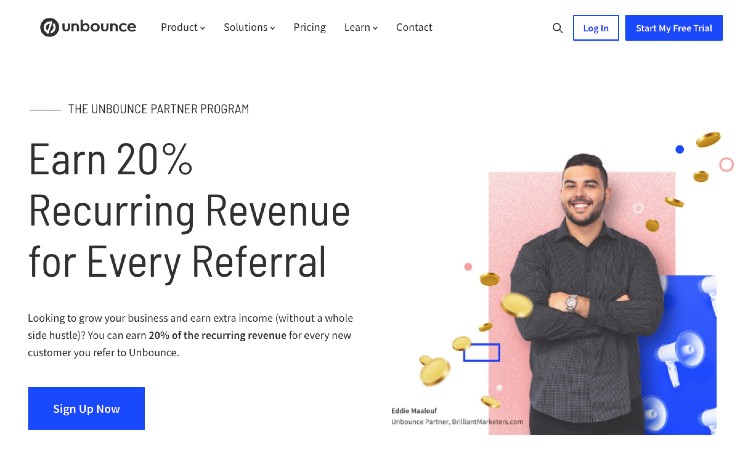 Commission: 20% recurring revenue for every new customer.
Unbounce partners earn a 20% lifetime cut of every transaction made by their referrals, which is really rewarding. The partner program is open for everyone, so if you use landing page builders in your clients' projects, you should definitely pay attention to this offer.
One of the best parts of the Unbounce partner program is that your referrals also get an exclusive 20% off their first three months. This means that being a marketing agency, you can offer exclusive deals to your clients and strengthen their loyalty.
Mind that people you refer to will receive the same 14-day free trial as all Unbounce customers. This means that you'll start earning once they pay for their first month.
There are no limits to the number of referrals you can make.
Commission: Up to $1,000 per product purchased, depending on the product tier:
Starter/Basic: $250 Professional/CMS: $500 Enterprise: $1,000
Like Unbounce, HubSpot provides no limits on commissions you can earn.
The HubSpot partner program has a 90-day cookie window. What does it mean? This means that you'll get paid if your referral makes a purchase in less than 90 days after they click on your affiliate link. While other brands often have a 30-day cookie window, HubSpot's offer is quite generous.
Instapage is a landing page builder for marketing experts, business owners, advertisers, and other professionals.
Commission: Recurring 50% revenue split during your first year and a 30% lifetime commission after that.
To help you make the most of the program, Instapage provides you with high-performing ads and engaging content that you can use in your marketing campaigns.
Commission: 50% of all referrals' payments for 12 months.
Webflow is a web design tool and CMS. The company's partner program has exceptional benefits, such as 50% payoffs and a 90-day cookie window.
Want to partner with a customer service platform? The LiveChat affiliate program is right for you.
Commission: 20% recurring commission.
Remember we said HubSpot was generous with their cookie window? Forget it. LiveChat offers a 120-day cookie.
If you join their affiliate program, you'll get access to their dedicated Partner App where you can track all your earnings in real-time.
PromoRepublic is a social media marketing toolkit.
Commission: Up to 30% per first and recurring sales during the first year.
According to the terms of the PromoRepublic partner program, the more conversions you drive, the higher your commission is. Here are 3 tiers of the program:
20% commission for the first 4 customers;

25% commission once you attract 5 customers;

30% commission per 25 customers and more.
Uscreen is a video monetization platform that helps individuals and businesses build their own Netflix-style video streaming services.
Commission: Uscreen affiliates earn a 20% lifetime commission for all new customers who stay active past the trial period.
If you are looking for a high-paying affiliate program, Uscreen is for you. With plans starting from $99/mo the income potential is very attractive.
You also earn an extra commission when your referrals upgrade their plan.
Moreover, Uscreen runs regular affiliate contests with cash bonuses and commission upgrades.
If you need help, Uscreen has an affiliate team to guide you through the program and answer your questions.
Better Proposals is a proposal writing software, enabling managers to create proposals that convert in minutes.
Commission: 20% lifetime recurring commission.
To join the program, you need to fill in the application form and wait for the Better Proposals team to review your submission within 48 hours.
One of the main benefits of the program is that the minimum required sum for the payout is $20. Payments are made monthly.
Web hosting affiliate programs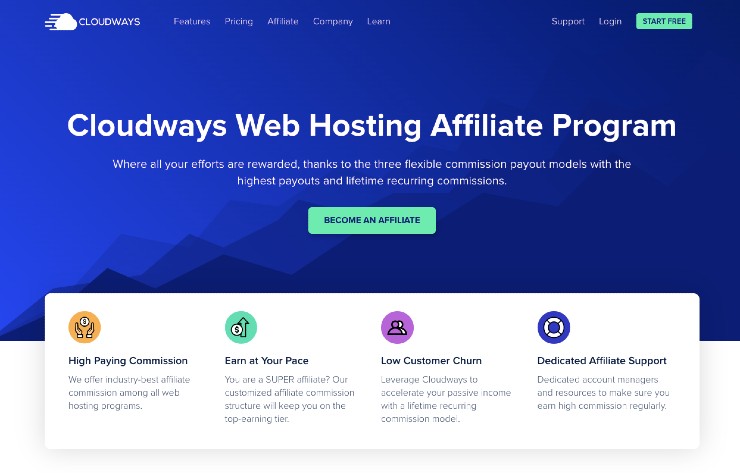 This managed cloud hosting platform offers three flexible commission payout models and lifetime recurring commissions.
Commission: Up to $125 per sale.
The Cloudways affiliate program has 4 tiers:
1-5 customers: $50 per sale;
6-20 customers: $75 per sale;
21-45 customers: $100 per sale;
46-80 customers: $125 per sale.
For affiliates that refer customers at a large scale (more than 80 customers), Clowdways offers a customized affiliate commission structure. To learn more about this opportunity, you'll need to contact them directly.
Commission: $65 for each qualified sign-up.
To help you run better promotional campaigns, Bluehost offers a wide selection of branded creative assets. All you need is to select banners or ads that you want to use on your website and implement them.
Hostinger is a web hosting platform with pricing starting from $9.99 per month.
Commission: From 60% for every sale.
With the Hostinger affiliate program, you'll have a personal affiliate manager who will be consulting you and helping to increase your profits.
All SiteGround's affiliates get a nice bonus – one month of free hosting.
Commission: Up to €75 per sale.
Here your commission will also depend on the number of sales you refer every month:
1-5 sales: €40 per sale;
6-10 sales: €60 per sale;
11-20 sales: €75 per sale.
The company also offers exclusive terms for affiliates that drive more than 20 customers per month. Moreover, successful affiliates can have custom landing pages for promotional campaigns created by SiteGround's designers.
SiteGround's cookie life lasts for 60 days.
SEO affiliate programs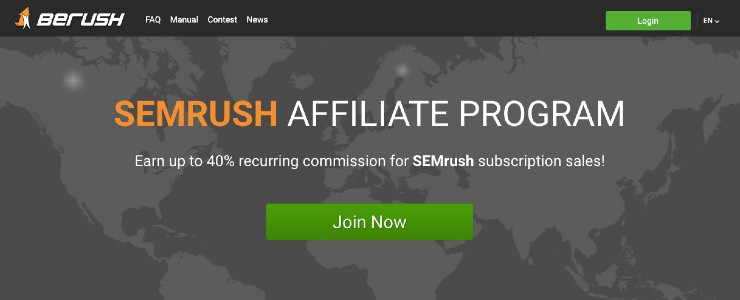 Commission: Up to 40% lifetime commission for subscription sales.
SEMrush is an SEO toolkit that offers one of the best programs for digital marketers. The SEMrush affiliate program is called BeRush. Why is it so good? BeRush has a 10-year affiliate cookie life, with a first click attribution model.
BeRush affiliates receive payments twice a month – on the 10th and 25th of each month.
This affiliate program can be extremely beneficial to Serpstat subscribers. For affiliates who want to pay for the paid plan from their affiliate program's earnings, Serpstat multiplies the money in their accounts by 1.5.
Commission: Up to 30% commission per first and recurring sales.
The more people you refer, the higher your commissions will be. Here are 4 tiers of the Serpstat affiliate program:
1-2 payment - 5% commission;
3-9 payments - 10% commission;
10-19 payments - 20% commission;
20 payments and more - 30% commission.
Affiliates can withdraw their money via Webmoney or PayPal. Mind that you can withdraw money only once a month and the minimum requested sum is $50.
Mangools is another keyword research tool trusted by many SEO professionals.
Commission: 30% lifetime commission.
You don't need to pass any approval process to become a Mangools affiliate. Every user with a free or paid account automatically gets access to the affiliate section and highly engaging promo materials.
The minimum threshold to withdraw your earnings from the Mangools account is $150.
On-Demand Video Course On Native Advertising
Boost your ROAS with native ads. Enroll now with our limited 30% discount.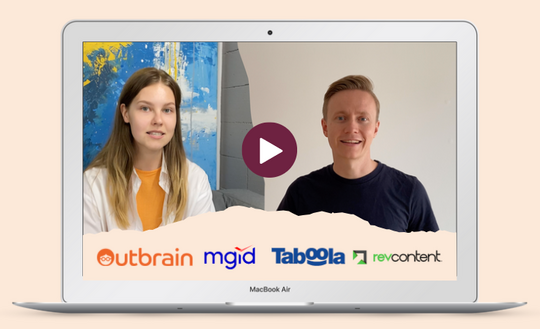 Gaming affiliate programs
Want to earn commissions for marketing games or gaming gear? Check out the following affiliate programs.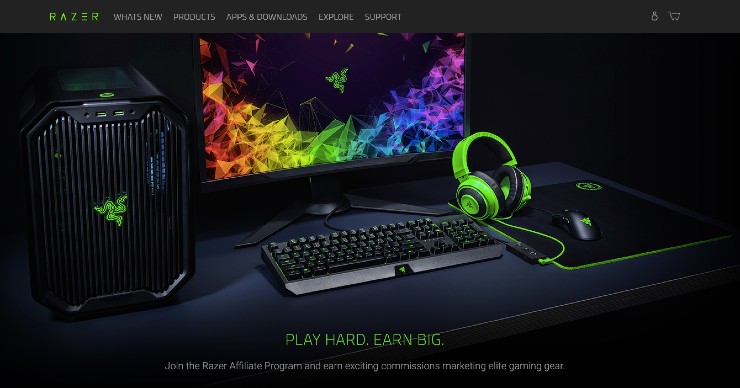 Razer is the world's leading provider of high-performance gaming hardware and software.
Commission: Up to 10% per sale of Razer products.
Your commission will vary depending on the promotional method:
3% per sale for Peripherals;
$5 per unit for Systems;
$5 per unit for Mobiles;
10% per sale for Respawn products.
A sale is locked 1 month and 15 days after the month it has been made, and your commission is paid 23 days after the end of the month the sale is locked. In other words, affiliates are paid in about 3 months after the conversion has been made.
The company sells gaming clothes and apparel. Mainframe offers one of the most generous affiliate programs for the gaming industry.
Commission: Up to 20% commission + bonuses.
This affiliate program has 10 levels:
Level 1: $250 in total sales - $50 store credit;
Level 2: $500 in total sales - $100 store credit;
Level 3: $1,000 in total sales - $150 store credit + 5% commission;
Level 4: $2,500 in total sales - $250 store credit + 5% commission;
Level 5: $5,000 in total sales - $250 store credit + 5% commission;
Level 6: $10,000 in total sales - $250 store credit + 10% commission;
Level 7: $15,000 in total sales - $250 store credit + 10% commission;
Level 8: $20,000 in total sales - $500 store credit + 10% commission;
Level 9: $25,000 in total sales - $500 store credit +15% commission;
Max Level: $30,000 and more - $500 store credit + 20% commission.
Gamefly is a video game subscription service that delivers the widest selection of games for Xbox, PS, and other systems.
Commission: Up to $20 for each person signing up for Gamefly and 5% – 10% per sale of console games.
Commissions per every new subscriber start from $10, but if you manage to drive 500+ monthly membership sign-ups, your rates can reach $20 per subscription.
To promote the service effectively, you can use the company's promotional banners, texts, and other materials.
Zygor Guides offers in-game cheat sheets for World of Warcraft and WoW Classic.
Commission: Up to 50% recurring revenue per sale.
Along with high commissions, the company has great potential for driving repeat sales, which is extremely beneficial for their affiliates.
Fashion affiliate programs
Are you a fashion blogger or just want to add a fashion brand banner to your website and earn commissions? Let's look at some of the best affiliate programs in the fashion industry.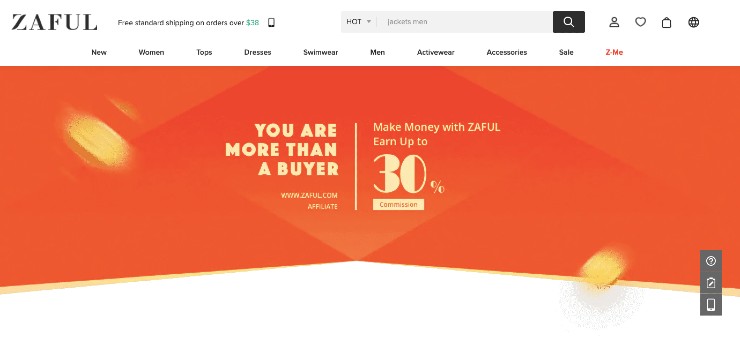 Zaful is a fashion clothing brand for women and men. Their partner program is known for its high commission rates and flexibility.
Commission: Up to 30% commission.
Who can apply for the Zaful affiliate program? The brand partners with agencies, influencers, and individual affiliates. Being an individual, you can even apply to get free clothes from the brand. However, your channels should be carefully reviewed before your request is approved. Along with free clothes, Zaful affiliates can get coupons and other rewarding bonuses.
ModCloth is an online fashion retailer that has quite a simple application process for affiliates.
Commission: Starts at 5%.
Affiliates not only receive commissions for every sale made by their referrals but also get access to exclusive offers and discounts.
One of the world's most famous sportswear brands also offers a program for everyone willing to earn money for referring new customers.
Commission: 7% commission on all sales.
To get your affiliate link and start promoting it across your channels, your website should be approved by the Reebok team.
This affiliate program has a 30-day cookie life. Once a person clicks on your affiliate link, you'll be getting credit for their orders during the next 30 days.
As a bonus, you can also earn $5 for every affiliate that joins Rebook's program after you invite them.
Online retailers of affordable women's clothing.
Commission: From 10% to 20% commission on each sale.
By sharing Shein promotions, affiliates get up to 20% commissions, extra cash bonuses, and coupons. The cookie lifetime lasts for 30 days.
The last fashion retailer we'll feature in this list is Forever 21.
Commission: 4% per sale.
With an average sale of around $63, you'll be earning about $3 per conversion. Given the popularity of this brand and that no extra effort is needed to market it, the Forever 21 affiliate program can become a great source of passive income. For selected partners, the brand also offers additional program incentives.
Beauty & health affiliate programs

BH Cosmetics is a beauty brand that sells affordable cruelty-free cosmetics.
Commission: Starts at 8% per sale.
Due to a 90-day cookie duration, the BH Cosmetics affiliate program can be called one of the most beneficial programs for makeup products.
As an affiliate, you'll be rewarded with exclusive coupons and get access to banners and other resources that you can use to market the brand.
Specktra is a nutraceutical company that produces full-spectrum CBD formulas for pain relief.
Commission: Up to 30% based on your performance.
To help their affiliates to drive as many customers as possible, Specktra provides them with an exclusive 15% discount to offer to their audience.
Scentbird is a perfume subscription company that allows you to 'date' perfumes before 'marrying' them. They send you a 30-day supply of a fragrance of your choice for only $14.95.
Anyone can apply for the Scentbird affiliate program. Whether you're a professional marketer, influencer, or an individual, all you need is to be willing to make money.
Commission: $14 for every subscription sale generated through your link.
After a quick sign up for their affiliate program, you can add your tracking link to your social media posts, blog posts, video reviews, or anywhere else. To increase sales, you're offered to activate coupon codes.
Travel affiliate programs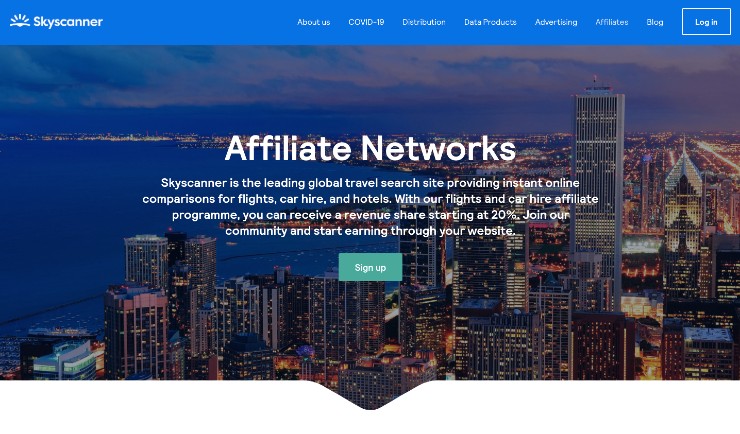 This online booking site allows users to find the best deals in the travel world. With its affiliate program, you can earn a commission starting at 20% of generated revenue from a booked flight, hotel, or car.
Commission: A revenue share starting at 20%.
Before you apply for the Skyscanner affiliate program, check permitted and restricted promotion methods and traffic sources. For instance, Skyscanner doesn't permit affiliates to run disruptive ad formats, leverage domain buying websites, partner with teaser networks, and more.
This website is familiar to any traveler. To earn with the TripAdvisor affiliate program, your referrals don't necessarily need to become customers. You get paid every time your referral clicks on an ad or a link on the TripAdvisor website that leads to their partner's site.
Commission: 50% of the commission TripAdvisor receives from their partners.
Online education affiliate programs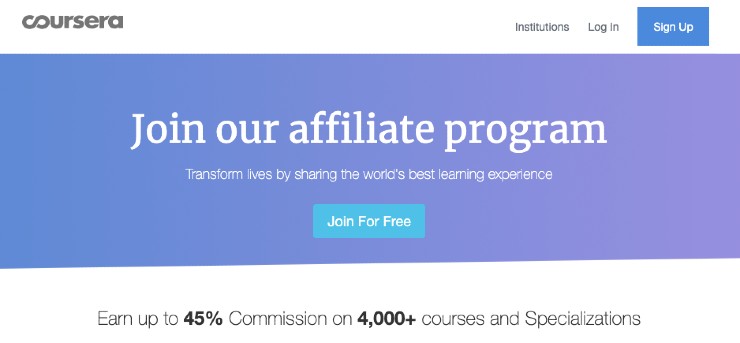 The platform offers more than 1,000 courses in different specializations. This makes its affiliate program applicable to almost any niche.
Commission: Up to 45% + bonuses.
Coursera's affiliate program is accessible on the LinkShare network. Commissions typically range between 20% and 45%. With the average course price between $29 and $99, affiliates can make from $6 up to $45 per signup.
It could be that you've already recommended one of the Udemy courses to your network. So why not earn money next time?
Commission: 15%.
Like Coursera's program, Udemy's affiliate program is run in the LinkShare network.
After Udemy reviews your application – it usually takes 3 or 4 business days – you'll have access to your unique affiliate link, exclusive coupons, discounts, and other assets for effective promotion.
This skill-learning platform offers an affiliate program with fixed commissions at $7 per signup.
Commission: $7 per signup.
This affiliate program is free to join for anybody, but you need to have at least one well-established channel with the audience that shares Skillshare's values. Channels might include Facebook, Pinterest, Instagram, Twitter, personal blogs, etc.
The platform has a 30-day cookie life. You'll receive payouts on the 16th of the next month after the end of the month your referral has signed up.
Finance affiliate programs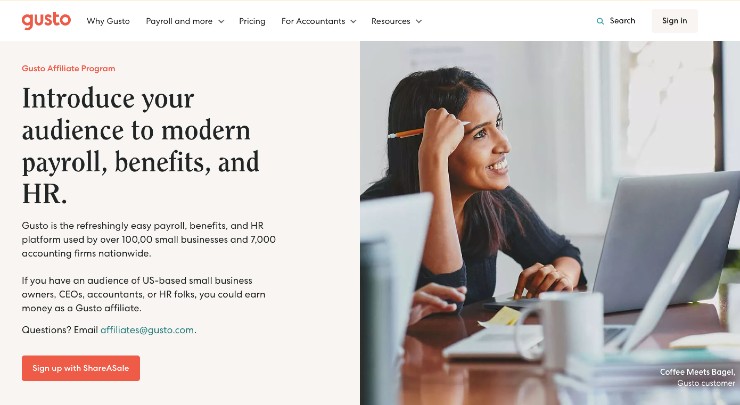 Gusto is the company helping small businesses manage their operations and teams.
Commission: Starts at $100 per sale or $50 per lead.
You can start earning with Gusto if your audience includes US-based small business owners, CEOs, accountants, or HRs folks.
Although the Gusto affiliate program doesn't provide recurring monthly commissions, the 120-day cookie life might make up for these drawbacks.
Capitalist Exploits is an investment advisory service for money managers and market enthusiasts.
Commission: 50% commission for each sale.
A minimum balance required for payout is $100, but given that their product prices range from $1,575 to $3,499, this is a low threshold.
Along with competitive commissions, the Capitalist Exploits program has one more significant advantage – its cookie life is 365 days.
On-Demand Video Course On Native Advertising
Boost your ROAS with native ads. Enroll now with our limited 30% discount.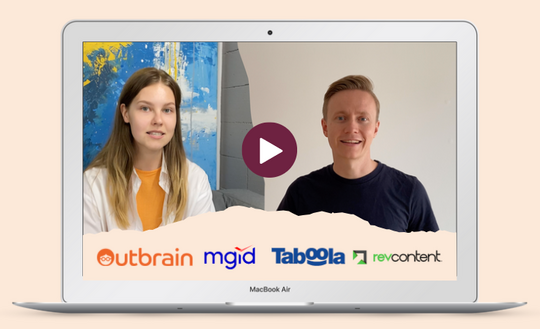 Skyrocket your affiliate strategy with native ads
Being an affiliate marketer, you don't just earn money for doing nothing. It takes efforts to drive traffic to your website or landing pages, reach the right people, and encourage them to make a purchase.
And when you partner with a few companies in different niches, this task becomes even more challenging. How do you reach the relevant audience with a specific product? How do you ensure your advertising budget isn't wasted? We at Joinative have one effective solution for you. With native advertising, you can boost your affiliate profits and forget about the challenges you were facing on Facebook.
To make the most of your native ads campaigns, we recommend that you try different approaches:
Promote lists of affiliate products with native ads;
Run lead generation campaigns to expand your email list;
Use native ads to increase your website traffic;
Promote landing pages tailored for the specific product.
Whatever methods you go with, your aim is to get the highest possible profit. To achieve the best possible results, we offer you to entrust your native ad campaigns to our experts. We'll build a strategy, prepare all the necessary resources, launch your campaigns, and ensure your goals are met. Become a client of our native advertising agency today.