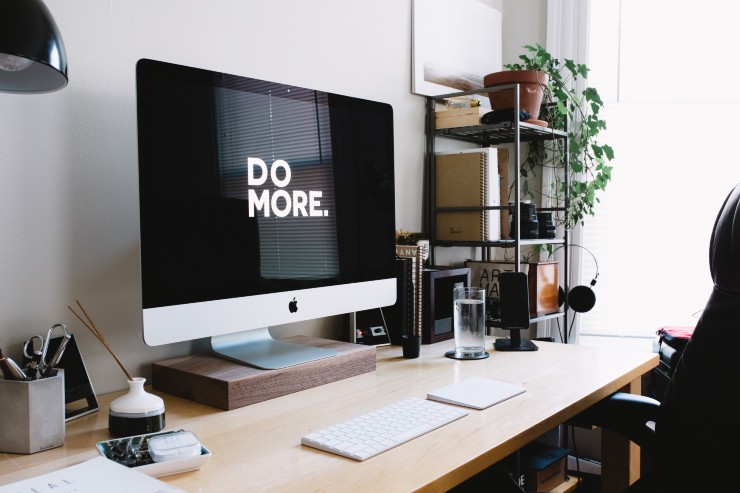 How to Do Native Advertising for Affiliate Marketing
Native advertising can be used to complement different marketing techniques. In this post, we're telling you how to leverage native advertising for affiliate marketing and make more money.
Affiliate marketing is a great business. You build your brand and get money for it… or not? Although successful affiliate marketers might seem to be earning their fortune by doing nothing and enjoying their influence, it's not the way things are.
If you've been an affiliate for some time, you know it's not the easiest way to make some money. First of all, you need to have a loyal audience. And here comes the first challenge – how do you find these people? Being an affiliate marketer, you're always in search of ways to reach more users and make them return again and again.
Next, how do you make sure these loyal followers won't leave you after they come to your list? Pop-up ads and never-ending follow-up emails might not only be ineffective but also hurt your reputation and scare off your audience.
Native advertising can be the answer to these questions. With native ads, you can boost your affiliate marketing and get great results. But let's define native advertising first.
What is native advertising?
We'll go through the basics of native advertising to better understand how it can be related to affiliate marketing.
Native advertising is the use of paid ads that resemble the look and feel of the editorial content of a website they're displayed on. The first ad coming to your mind that fits this description could be a Facebook or LinkedIn one. By the way, based on the number of articles published on the web about how to run Facebook ads for affiliate marketing – it must have been a popular technique for a few years already.
Social ads are indeed considered to be a form of native advertising (as well as search ads or promoted listings that are also welcomed by affiliates). But when we talk about native ads, we refer to content recommendations on news websites or blogs.
What are these 'content recommendations'?
Recommended content is a dominant native ad type. Content recommendations can either be grouped with other paid posts in widgets placed below or next to the editorial content or even be blended in with in-feed content with only one distinctive feature – the 'sponsored content' label.
Content recommendation widgets are often placed on premium publisher's websites, such as The Guardian, HuffPost, NBC News, CNN, Daily Telegraph, and more. Being displayed within the editorial content recommendations, these units are non-intrusive and don't disrupt the user experience. Because they don't feel like traditional ads and offer useful or interesting content (ideally), native ads are more likely to attract the audience's attention and don't hurt user experience.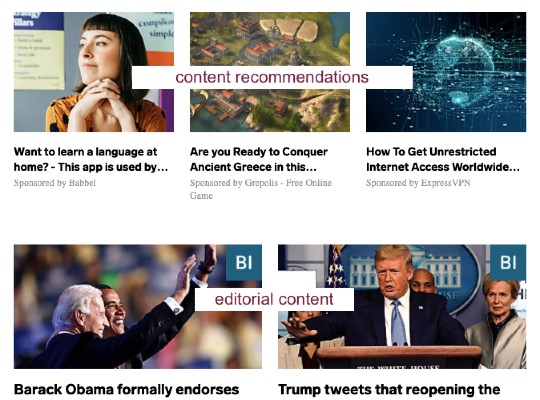 How does it all work?
To distribute your content, you need to go with a native advertising platform (also called content distribution platform). Among the most popular ones are Taboola, Outbrain, Verizon Media Native, and Revcontent. The whole process is similar to working with any other advertising platform, and if you already have campaign content, its setup will take no more than a few minutes.
While in the early days of native advertising you'd need to build relationships with publishers and negotiate ad placements by yourself, now you can enjoy the benefits of programmatic advertising. Content discovery platforms that trade ads programmatically give advertisers access to lots of advanced features, allowing them to run scalable campaigns. You can choose from a large number of audience targeting options and reach the right people at the right time.
On-Demand Video Course On Native Advertising
Boost your ROAS with native ads. Enroll now with our limited 30% discount.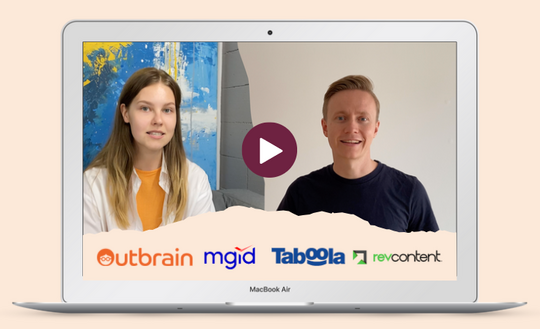 The key idea of affiliate marketing
The US affiliate marketing spend is predicted to reach 8.2 billion US dollars by 2022. We can hardly assume someone would spend their budgets on the strategy that doesn't deliver significant results. Why is affiliate marketing so effective?
The key idea of affiliate marketing is that it's a trust-based approach. Your audience is already tired of ads and a hard sell.
When you choose between ordering pizza delivery advertised on every second billboard in your city and getting some Chinese food from the place a couple of your friends recommended to you… would you order noodles with chicken or shrimps? This is how affiliate marketing works. Rather than applying hard-selling tactics, affiliates recommend products. The more personal you are, the more likely you are to succeed in this field. It's not even the size of your audience that plays the primary role, but it's the reliability of your personal brand.
Of course, you don't have to be an influencer to be an affiliate marketer. You might just want to drive traffic and sell products from different niches, not being an expert in every niche. In this case, you should either be good at gaining high search rankings and drive conversions from the incoming traffic or run great campaigns that help you sell your merchants' products (or both!).
Still, even in this scenario you won't go far without trust. Although you might not need to build long lasting relationships with your audience, your content should still offer some value for your visitors to convert.
Regardless of how you approach your affiliate marketing, the following tips will help you run more profitable programs.
But how can native advertising help your affiliate marketing efforts?
Native advertising doesn't have much in common with traditional advertising. It helps advertisers reach their goals by offering relevant content and not hurting the user experience. And as affiliate marketing can work only when you manage to communicate the value of your offer to your target audience, native advertising is the right way to boost your profits.
1. Promote content with affiliate links
As mentioned above, affiliates often use Facebook ads to promote content with affiliate links or landing pages directly. This technique proved to be effective for lots of marketers. Native advertising allows you to reach similar results for less money.
Adding affiliate links to your blog posts, product comparisons, or lists of products (like the Christmas list you'll see below) is a great way to promote various types of products.. Distribute this content with native ads to put it in front of more relevant people and gain greater profit.
Here your targeting options may vary. Depending on your niche, you can either go with demographic targeting or with more granular options. For instance, this campaign can target very broad audiences, because the topic is relevant to everyone before Christmas holidays.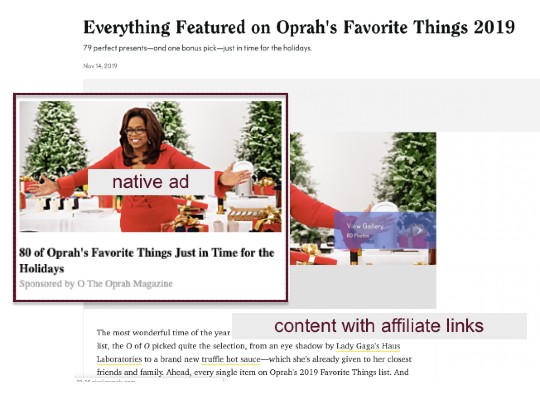 2. Expand your email list by running a native ad campaign
Another effective technique is to leverage native ads to capture emails. Develop a landing page that entices visitors to leave their emails and expand your email list.
In this case, you'll need to offer something in exchange for users' contact details. Go beyond traditional content types and offer quizzes, customized guides, consultations, etc.
When trying to attract more subscribers, you might want to go with more granular targeting options. People you'll reach should be interested in further interactions with your brand. If you already have a significant number of website visitors that haven't subscribed to your newsletters yet, it can be a good idea to retarget them with this native ad campaign.
Again, not to waste your money on people who click on your ads and never take further action, make your offer as clear as possible in your ad title.
3. Use native ads to drive traffic to your site
Along with creating email lists and looking for more products to promote, you'll need to keep expanding your audience.
Native advertising is extremely useful for driving traffic to your website. Promote quality content, and you'll not only get lots of website visitors but also build the audience that will be returning again and again.
When done right, native advertising pays off quickly. Even if you aim at simply driving more traffic to your website, keep track of those visitors' further steps and see how many of them convert soon. If you aren't sure how to deliver positive ROI in less time with your native ad campaign, we at Joinative are ready to help. With our native advertising consultancy services, you'll get our assistance and learn how to build profitable campaigns from our experts.
Do you still doubt whether you should invest your time or money in developing content? In fact, this is your key to becoming a successful affiliate marketer. You might be running native advertising campaigns or not, but your only way to build an audience and sell to them is by creating quality content.
When you aim at increasing traffic, you can go with broad targeting and reach the widest possible audience. To filter out completely irrelevant traffic, use a descriptive headline for your native ad. The headline should carry the message of the promoted content and set the right expectations (and should we mention that the content you're offering should be relevant to your niche?).
Remember that to deliver significant results in the long run, you shouldn't be overly promotional now. The page campaign clickers come to should offer value and not be frustrating. For a better idea of how a successful native advertising campaign looks, check out our post with the best native ads examples.
Also, don't forget to encourage your visitors to keep navigating your website. Once they click through your ad, they give you a chance to make them stay there as long as possible. Make sure you don't miss it.
4. Promote direct landing pages
You can promote direct landing pages as long as their content meets the guidelines of the ad platform you're working on. Alternatively, you can create a pre-landing page and add your affiliate link there.
Customers are 43% more likely to convert when they're retargeted. Re-engage people who have already visited your website before. We also recommend that you split your campaigns by different audience targeting options and then identify the one that works best for you.
Keep testing
Advertising is all about testing. You can never predict what combination of images, headlines, and landing pages will deliver the best results. That's why you should never jump to conclusions about native advertising effectiveness before you test different variables.
Do your native ads attract lots of visitors that never become your leads? Check out your headline (doesn't it reflect your landing page content?), landing page itself, or even website structure (in case you aim at attracting more visitors that should become your loyal audience in the long run). If you need assistance with testing your native ads, check out our native advertising consultancy services.
Native advertising testing will not only allow you to bring your campaigns to high performance but also help you better understand your audience's behavior.
Focus on ROI
When you want to scale your affiliate marketing with paid advertising, you should be very careful when scaling your campaigns. Whatever strategy you use, your final goal is to make money. It's crucial to monitor your campaigns and evaluate their effectiveness. To have a clear understanding of how you can align your campaign goals with KPIs, check out our post on measuring native advertising performance.
Set maximum spending limits daily, adjust your budget to push the best-performing ads and keep testing. Of course, you can't measure your ROI immediately, when your goal is traffic growth or lead generation. For these campaigns, set SMART goals, such as 'drive 10K visitors' or 'acquire 1K leads' and see how your profits are affected after you reach these goals. If every $10 you pay for a bunch of clicks helps you make an additional $100, it's definitely worth spending some time managing your native ad campaigns.
The biggest struggle for affiliate marketers is building trust. You can drive tons of low-quality traffic, but it'll never pay off. Native advertising is what combines the power of advertising and credibility. We offered four ways you can leverage native ads to boost your affiliate marketing, but there can be much more native advertising strategies to apply, depending on your specific niche. Drop us a message, and we'll tell you how native advertising can help you reach your goals.