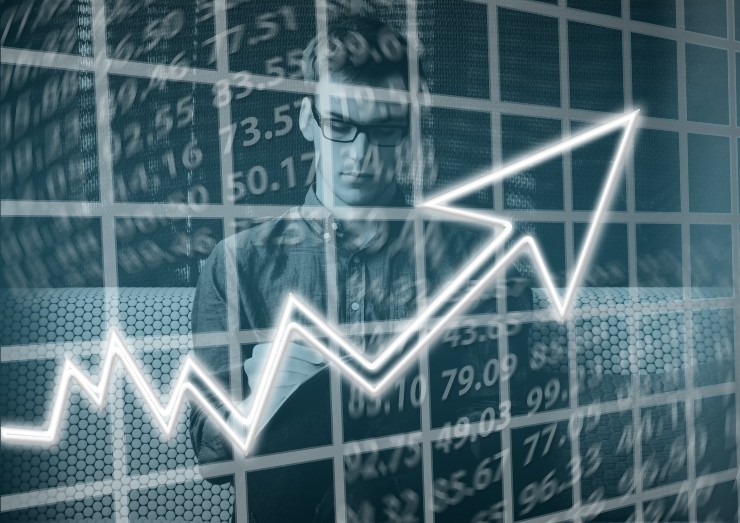 How to Find Your Cash Cow Native Ad Creatives
How do you build profitable native ad campaigns? A solid native ad strategy is all about finding the perfect mix of a great offer, the right audience, and creatives that appeal to this audience.
In this post, we'll focus on the process of building effective native ad creatives. The process isn't limited to native ads creation. It also involves:
tracking the performance of each ad;
highlighting the strengths and weaknesses of separate ads;
launching new ad tests;
identifying the ones that perform the best;
scaling.
To guide you through every step on the way to finding your 'cash cow' native ads, we'll include two major sections in this article:
If you've already launched your first ads, you might want to skip the best practices and jump to the second section right away.
Best practices for native ad creation
First, how do you create potentially effective native ads? Here are a few tips that will help you start off:
Rule #1: Communicate your message clearly
What's your offering? Your headline should convey the main message of the content being promoted.
The below-illustrated ad is a great example of the use of an engaging headline together with a clear description.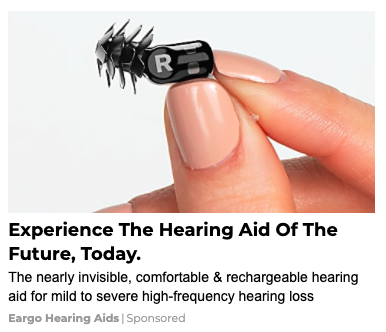 By adding a one-sentence description, you get more space to provide additional information about your offer and filter out irrelevant people. But as not all the native ad platforms allow you to add descriptions, it's most likely that you'll need to convey the main idea in as little as 10 words.
Rule #2: Create intriguing headlines only when relevant
Have you ever come across an ad saying 'This product will revolutionize your life! Click to learn more.' Unless an advertiser aims at wasting their budget on vanity clicks, this ad won't prove effective for any other goal.
However, intriguing headlines may be a good decision in particular cases. The next example illustrates the relevant use of a catchy title. While the ad thumbnail, as well as the advertiser's name, makes it clear enough that there's a game on the landing page, the title appeals to your curiosity and encourages you to give it a chance.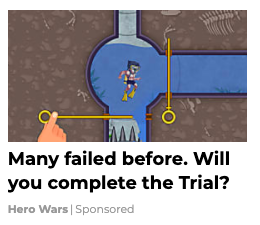 Of course, this type of headline works not only for the gaming industry. The key is to use this method wisely.
The following native ad promotes an extension that automatically identifies the best price for whatever you're looking for at Walmart, Target, Costco, Instacart, Groupon, or Expedia. The advertiser highlights the problem and promises to reveal the solution to it if you click on the ad. What's important for the success of this campaign is that the landing page content meets the expectations of visitors.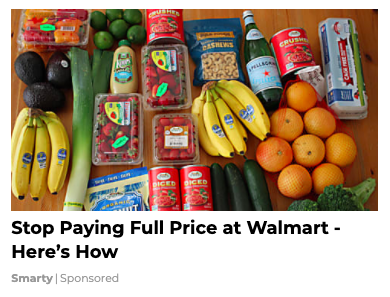 Rule #3: Use non-polished but quality imagery
We got used to recognizing typical ads and ignore them unconsciously. How is it possible? As a result of seeing too many ads on a daily basis, our brains remembered the most distinctive features of ads, such as placements, polished thumbnails, specific keywords, and got used to ignoring those assets without spending a single second to read the headline.
That's why the initial idea of native advertising is to run ads that look organic. But even though native ads are usually placed within editorial content recommendations, advertisers still need to make efforts to find imagery that both attracts users' attention and doesn't resemble typical banners.
Do you have photos of your product in action? Pick them and track how they perform against glossy stock imagery.
On-Demand Video Course On Native Advertising
Boost your ROAS with native ads. Enroll now with our limited 30% discount.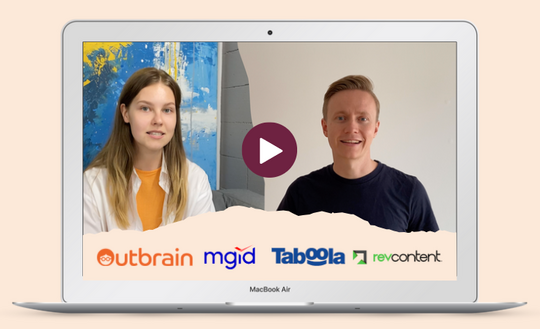 Rule #4: Denote a benefit
Why would people interact with your ad campaign? Your ad should inform users of how they benefit from your offer.
Marketers often make a common mistake of listing numerous competitive advantages of a tool or service and failing to highlight the most important part – what's in it for their target audience.
Let's look at the following example. Instead of using the 'Meet the industry-leading anti-fraud software' title – the phrasing which is so widely used by SaaS marketers – the advertiser decided to highlight how the tool is valuable to the customer.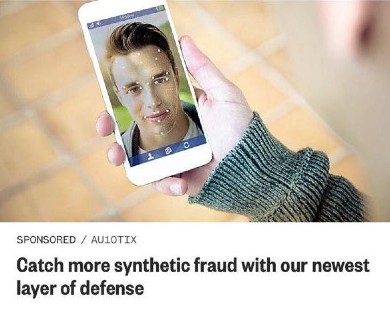 The all-about-the-product formula doesn't work. When creating ad titles, headlines for your landing pages, or listing your product features, always remember to first stress the outcome your customer wants.
Rule #5: Check insights into trending topics and imagery
The above-listed general best practices are applicable to almost any category. And how do you get more practical advice?
Taboola Trends and Outbrain's BrainPower tool provide great real-time insights into what images, topics, or content pairings deliver the highest CTRs and conversions across different verticals.
Features that work well for the finance industry might fail to produce any results in the entertainment industry. That's why before you create your ads and apply all the recommendations we gave you, it's worth checking the statistical data.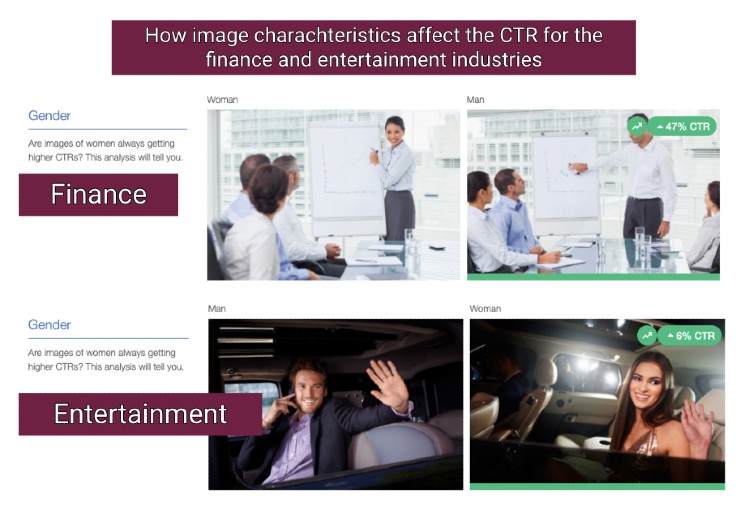 How to test your native ad creatives
Some might think following the best practices for ad creation should be enough – well, it's important, but it's not everything. Once you've created your first ads, it's only the beginning of the continuous optimization process.
Here are 4 rules you need to follow to conduct effective tests and finally find your 'cash cow' native ad creatives.
Rule #1: Combine different headlines and images
It's highly recommended that you combine at least 2-3 images and 4-6 headlines in your creatives. This way, you'll have between 8 and 18 creatives to test.
Rule #2: Make informed decisions
When your first campaigns are live, you'll need to wait for about 1 or 3 days to get enough data to evaluate their effectiveness.
We've opened the series with this article as creatives are the first thing you check after you launch. It's crucial to track the performance on the ad level inside of every separate campaign. This data will give you a better idea of what creatives affect your campaign performance the most and how you can boost your ROAS.
If you follow our recommendation, you'll have quite a few creatives to monitor. When your campaign is live for at least one day, you'll see some ads don't perform as well as the other ones. Don't hesitate to pause the worst-performing ads to avoid wasting your budget and focus on the most effective creatives.
What should you pay attention to? When evaluating the performance of every single ad, you shouldn't limit your attention to the number of clicks or CTRs. These metrics tell you how well your audience perceives your creatives, but they say nothing of how good these ads convey your message.
Always check how much you spend per ad and what its CVR and CPL are. These data show you how many people clicking on the specific creatives convert and help you make sure you don't spend too much to reach your goal (generate leads, drive sales, etc.).
Even before you have enough historical data on these metrics, it's good to check what user behavior your ads are delivering. Loot at the Google Analytics data on the time spent on landing pages, set scroll depth triggers, and you won't need to wait for a few days to conclude some ads are just wasting your money.
After analyzing the ad performance inside of the Native Pro tool, we've highlighted the ads we'd like to pause:

Rule #3: Create separate campaigns for new tests
Day after day, you'll be increasing bids for the most effective ads and pausing the least productive ones. Eventually, when you identify 1-3 best-performing ads, you might want to create more ads following the pattern that has proved to work well.
For example, when promoting a fitness app, you could discover that titles where the 'home workout' phrase is used deliver higher engagement. Now you can create more titles taking advantage of the knowledge gained and build ads that have a higher potential to succeed. We recommend that you test new ads in separate campaigns – just duplicate the previous one(s) and add your creatives there.
Note: It can also happen that none of your ads performs well enough – this means that you need to pause the whole campaign, fix your campaign settings, and use the same creatives again. The adjustments you'll need to make will be determined by the issues that you face. For example, if you simply don't get enough impressions, you'll need to go for broader targeting and/or increase your bids. You can find more tips in our guide to native ad campaign optimization.
Rule #4: Test one variable at a time
Your native ad campaign performance depends on multiple factors, such as your campaign setup, landing pages, or even your budget. So, along with testing different ads, you'll be adjusting your targeting settings, setting different goals, and more.
Whatever variables you want to test, remember to test only one at a time. By testing two different creatives against two different audiences, you won't get any useful insights, except for the understanding that different campaigns with different ads perform, you know, differently.
Pro Tip: For Native Pro users, native advertising testing is no more troublesome. Just assign labels to creatives being tested and Native Pro will display the data for the chosen label(s) in the Ad Tests dashboard.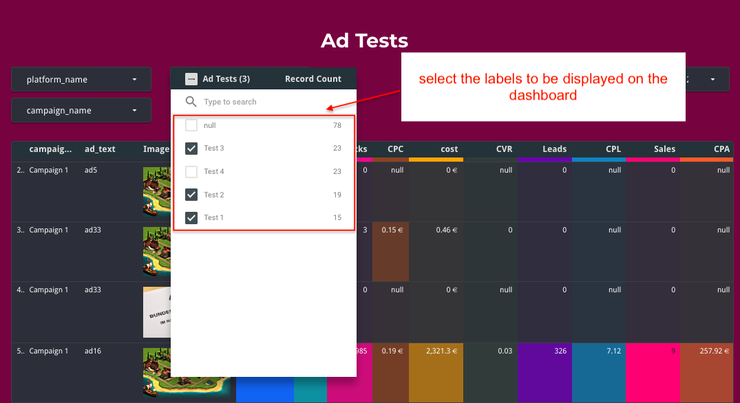 Use case: Let's say you have more than 10 creatives per campaign and want to compare question-based titles against the ones that call to action. To get accurate results, you also need to pick creatives with similar thumbnails so that there's only one variable being tested. With the label assignment feature, you'll single out the necessary data effortlessly – all you need is to tag these specific ads.
---
Not sure how to create native ad campaigns that work? Apply for our Native Starter program and get guided by our experts.
Looking for an agency to run native ad campaigns for you? Check out our Native Ads Agency services. We set up your campaigns, develop content, run tests, and ensure your campaigns deliver high ROAS.
For native advertising experts who want to boost Taboola and/or Outbrain campaign performance and spend less time on routine reporting processes, we have the Native Pro tool. Book a free demo and learn how Native Pro helps advertisers run better native ad campaigns.