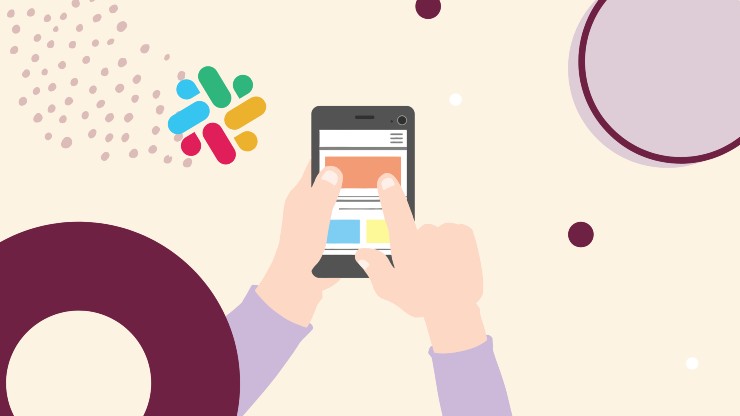 Slack Communities for Marketers and Advertisers
Looking for a place to ask questions about your campaigns or just learn more about native advertising? Then stop – you're on the right page.
Native Ad Talks is a Slack community for everyone interested in native advertising. Here you can:
Ask questions and learn how to solve arising issues with your native ads;
Learn best practices for improving your campaign performance;
Participate in regular AMAs (Ask Me Anything);
Get insights directly from the representatives of different native advertising platforms;
Stay up to date with the latest industry news;
Share your own experience, and more.
More Slack groups for digital marketers
Want to join more groups to connect with marketing professionals? Below, we'll list the most active free Slack communities for marketers.
Content marketing Slack group: CMCG
One of the best communities for content marketers. If you want to join a group where you could ask for feedback, learn more about different marketing strategies, and be useful to other content marketing experts, the Content Marketing Career Growth community is exactly what you need.
Unlike other Slack groups, CMCG is known for its strict community guidelines which help avoid spam and self-promotion.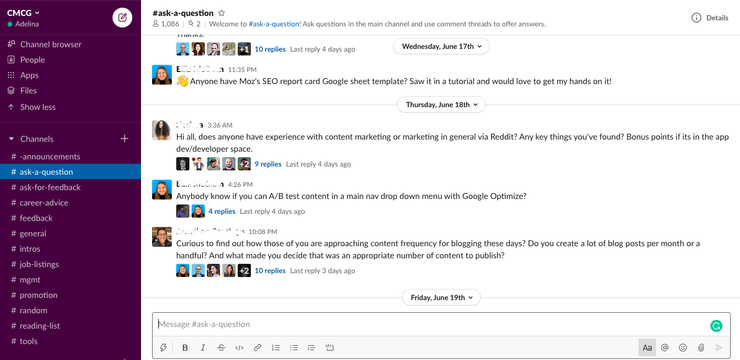 PPC Slack group: r/PPC
This PPC community grew out of the r/PPC subreddit. Due to its specificity, there's little place for self-promotion in r/PPC's channels. Join it if you are willing to exchange actionable information on running paid campaigns, analytics setup, and… share the worst ever ads you've seen.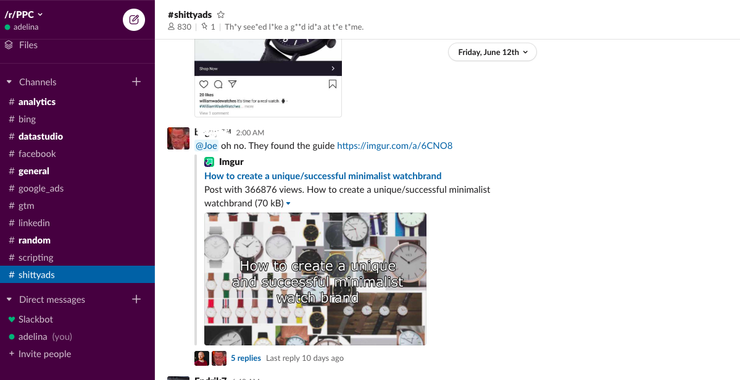 Note: Invitation links expire after 30 days, so feel free to drop us a message, and we'll invite you to the community if the link in the post doesn't work.
General marketing Slack group: Online Geniuses
Compared to CMCG's 1,000 members, Online Geniuses is a way more popular community – there are more than 20,000 marketers in the group. It's the largest marketing Slack community we're aware of.
But such a demand has its drawbacks. Your posts don't get so much attention due to high volumes of new questions and requests being published regularly.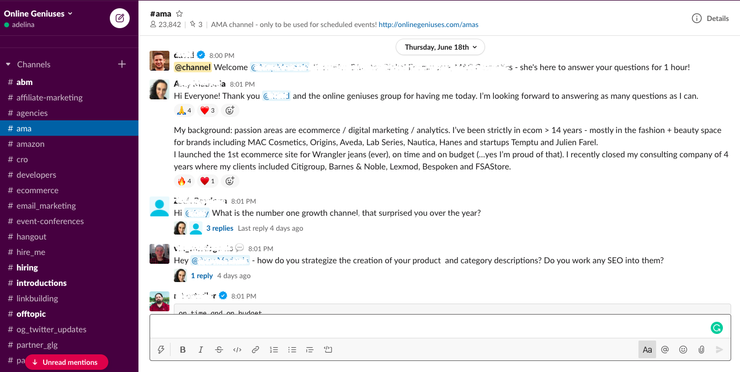 The Top of the Funnel group is useful for everyone who might be interested in marketing, including writers, designers, analysts, strategists, managers, and directors.
It's a vetted marketing community for listing community job opportunities, sharing new practices that you've learned about recently, asking questions, etc. It counts 300+ members that actively participate in conversations and share useful insights regularly.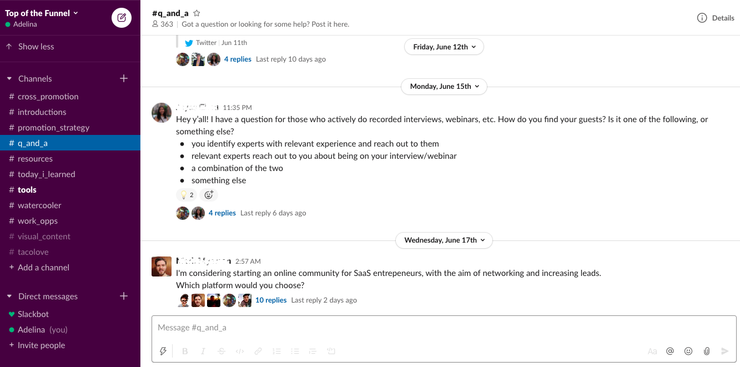 Product-led marketing Slack group: ProductLed
If a product-led growth is your go-to marketing strategy, this community is right for you. Here you'll find exclusive templates, guides, studies, and most importantly, growth experts.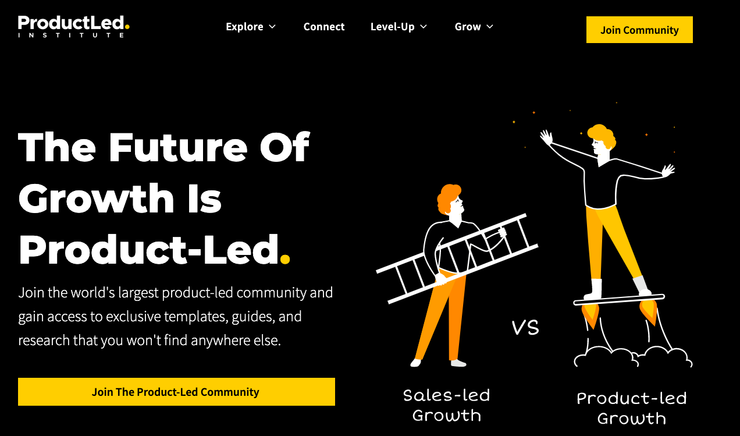 Growth marketing Slack group: Demand Curve
Another curated community for growth marketers who want to connect with other professionals improve their skills.
As new applications are reviewed manually, the group has incredibly low acceptance rates. But if you manage to get in, you'll get access to one of the most useful and active marketing communities.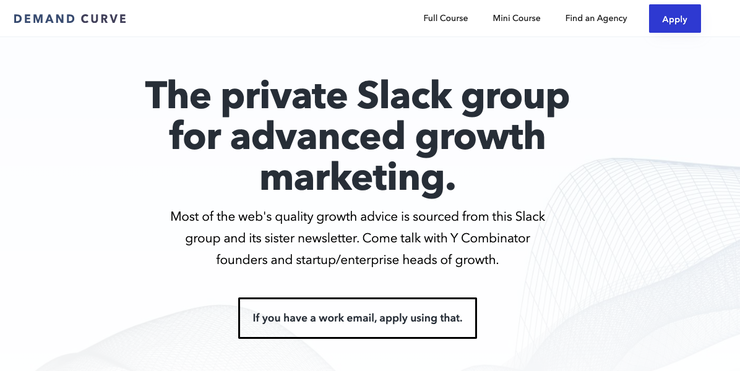 SaaS marketing Slack group: SaaS Alliance
A Slack community for SaaS founders and marketers. This invite-only community is the right place for SaaS professionals to exchange knowledge and get help.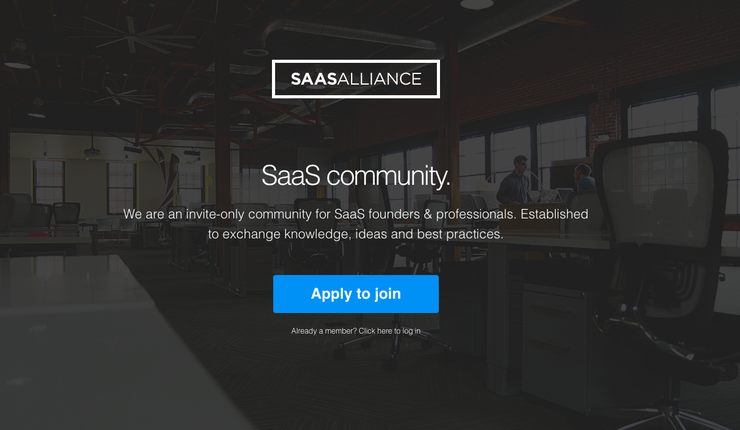 Why join Slack communities?
With so many free guides, ebooks, and blog posts available on the web, why would you want to spend your time in a Slack community?
Get answers
First of all, it's easier and faster to ask a question and get an instant response than to dig through tons of published articles on the topic (if there are any articles at all). In Slack communities, you can connect with people that have already solved the problem you're facing and are willing to share the easiest way to address it.
Often, you don't even need to ask any questions – in the channels where people are sharing something they've learned recently, like Top of the Funnel's #today_i_learned, you might discover lifehacks you have never thought of before.
Find opportunities for collaboration
In the vetted groups, you get access to experts from leading companies. Of course, we don't encourage you to DM them, but by sharing your company updates, special offers, or requests in the relevant channels, you can attract the attention of the right people and partner with them.
Build credibility
Use Slack communities to establish yourself as an industry expert. By answering members' questions, sharing free exclusive resources that you might have created for the specific community, or simply staying active, you can reach this goal almost effortlessly.
Ask for feedback
Are you launching a new project? Want to get test users? Need an audience to survey before offering your idea to your marketing manager? Leverage your community membership. People in Slack groups are open to feedback requests and usually provide valuable recommendations.
Combat isolation and get inspired
Last but not least, in the era of remote work, we all need to stay connected. Even though you might have a team to have watercooler conversations with, talking to like-minded people outside of your organization is an effective way to stay motivated.
So, haven't you joined Native Ad Talks yet?
Unlike traditional advertising approaches, native advertising isn't so widely discussed – there are no active subreddits, and there haven't been any Slack group or even a channel where you could discuss your native ad campaigns with other experts.
We decided to fix it. Now, you have an opportunity to join an exclusive Slack community for native advertising professionals.
---
We at Joinative help companies make the most of their native advertising campaigns. Just pick your right package:
Native Starter. With this package, you'll learn how to prepare and run high-performing native advertising campaigns.
Native Managed. Our experts will run your campaigns for you, ensuring your business goals are met.
Native Pro. The native advertising reporting platform. With it, you can export reports from Taboola and Outbrain in one click, group and compare data, and get insights you wouldn't get from any of the platforms directly. Book a free demo now.