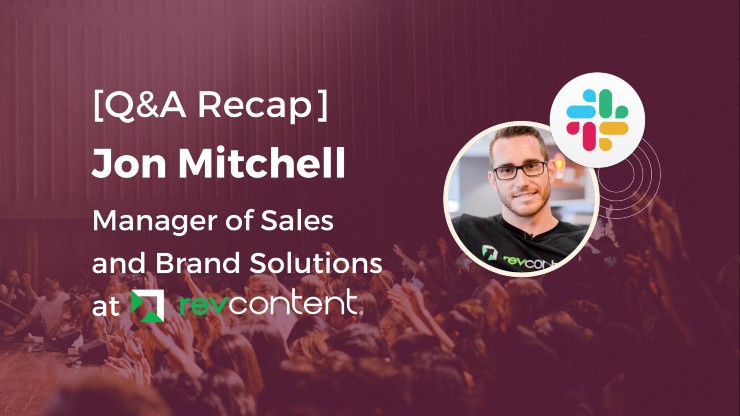 [Recap] Q&A With Jon Mitchell, Revcontent
On August 13, the Native Ad Talks community saw a Q&A with Jon Mitchell, Manager of Sales and Brand Solutions at Revcontent.
Missed it? You'll find the event recap in the post below.
Don't miss our future Q&A sessions, and join the Slack community today.
Q: Richard Marques, the CEO of Revcontent, has mentioned that for the last 18 months, you'd been working on improving the product. What are the major changes you can tell us about?
A: From a product standpoint, we began by identifying the most pressing and common issues faced by our advertisers. We openly asked our advertisers to walk us through the problems they were routinely facing and we started to understand that budget control, detailed targeting, and efficient optimization were at the heart of many of these issues, which led to a far deeper understanding of what it means to be a Revcontent advertiser. We effectively committed to being accountable for any and all past shortcomings with an express interest in being a partner over simply being an option.
By adopting and implementing a client perspective, owning their concerns, and openly communicating, we were able to create, build, and roll out new features like bid by widget, distribution, pacing, zip targeting, domain transparency, and page view tracking, among many more.
Additionally, from a service perspective, we've become even more aware of the need for support ranging from product demos and campaign setup to simply having an expert sounding board for any issues or concerns. Our internal teams are more informed than ever and this allows for customized, data-driven insights being delivered either over the phone, through video conferencing or email.
Q: Are there any specific industries that perform exceptionally well on Revcontent? Maybe you have some insights for publisher categories?

A: This is one of the most common questions I'm asked week over week, and for good reason. It's effectively asking "Where do I start?" and my answer is almost always the same: The best place to start is with the content or product funnel you thoroughly understand or have tested on other platforms.
If you know the industry or product well, you will be able to effectively pivot into new creatives (ads), funnels, and testing strategies. With publishers we're currently offering, there is an audience for absolutely anything you can think of (within reason and our compliance standards, of course).
The task at hand isn't identifying new industries, it's first identifying pockets of users responding to your ads through the content of the ads themselves, scaling into said pickets as much as possible, then trying new ad content to tap into additional pockets of users. One industry or URL could easily hit multiple demographics with the right testing strategy in play.
Any and all products have an audience in Revcontent.
Q: What solutions against ad fraud does Revcontent offer?
A: We work with third-party fraud detection programs to first combat the introduction of any fraudulent behavior, then, if anyone were to experience fraudulent behavior, we have dedicated teams available to first eliminate the source, assess relevant data, and provide a refund as quickly as possible. One of our biggest strengths is our ability to work with individual advertisers to find solutions and deliver results.
Master Advertising On Revcontent
Register for the ultimate native advertising course and get exclusive insights into building successful Revcontent campaigns.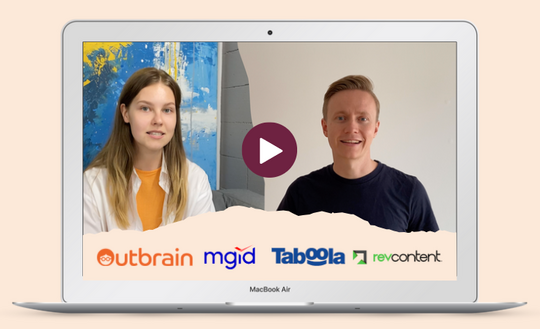 Q: Do you have any CPC or performance benchmarks for Revcontent campaigns?
A: For sure, but first you have to understand how our algorithm works. When you launch a new campaign with new creatives, you have to win placements with competitive bids since you don't have CTRs generating enough lift to take those placements long-term.
It's extremely important to note that often after 80-100k impressions, you'll have an accurate idea as to what your CTR looks like and will look like over the long run. If it falls short of the noted CTR benchmarks (which I'll mention in a moment), you will end up paying higher than average CPCs to win placements. As such, advertisers who are always working their creative strategy to build and develop higher than average CTRs will end up with premium placements at below-average CPCs.
To do this for Content Arb/ Editorial campaigns, your Desktop CPC should be between 8 and 12 cents, with your benchmark CTR range between 0.2% and 0.4%. Your Mobile CPC should be between 6 cents and 10 cents, with CTRs between 0.4% and 0.6%.
For Direct response campaigns, your Desktop CPC should be between 32 and 39 cents, with benchmark CTRs ranging from 0.1% to 0.3%. Your Mobile CPC should be between 16 and 22 cents, with the benchmark CTR range between 0.2% and 0.5%
Once you've established your campaigns, we can dig even further into data and offer up ranges by vertical, specific to your campaigns.
Q: What are your thoughts on Taboola and Outbrain merging? What that will mean for native overall and the role of Revcontent looking forward?
A: With regards to the Outbrain and Taboola merger, I'd be lying if I didn't say a major native conglomerate isn't an issue for smaller companies such as ourselves, but it also poses a real opportunity that we are fully embracing. We're nimble, available, and adaptive and as a result, it's easier for us to tailor a product and service specific to the needs of our clients. We're simply happy to listen and improve.
As for the industry at large, innovation will be key in building market share and offering a product in-line with the needs of businesses active within the native sphere. That's what's fascinating about the industry, there's still SO much opportunity to innovate. We're actually quite excited about that.
Q: What are your recommendations for native advertising experts in the post-Coronavirus world?
A: I honestly believe that there has been no better time in recent years than now to connect with your target audience on a visceral level.
The market and environment are filled with uncertainty, worry, fear, and maybe even a little confusion (actually, definitely a little confusion). There's an opportunity to be a thought leader, solution provider, or comedic distraction for millions of users available through Revcontent. If you can find a way to tie your product or funnel into the needs and hopes of said users, you will find yourself connecting with a highly engaged market.
Q: Do you think native advertising is more relevant in today's environment than FB or Google ads?
A: I think it's always been relevant as an additional piece of the paid media puzzle since audience = opportunity. But these days, there is so much uncertainty surrounding Google and Facebook that native has simply become the obvious choice to mitigate risk associated with the power players.
As fascinating as it is to watch Zuck go on trial, we still need a place to build our online businesses. Native is and always has been a viable option. It just comes with far less drama and still has that start-up, problem-solving mentality (we certainly do).
Q: What are the most common mistakes advertisers make?
A: Jumping into native with no strategy.
When I say "strategy", I mean a proven funnel or at least a funnel they're proficient in, with a systematic approach to organizing campaigns and testing creatives.
You have to look at your relationship with Revcontent as a symbiotic business partnership. We win when you win, and you win when you prepare yourself to invest, optimize, and grow like any other business. We've built tools to help you isolate very specific audiences within our network, namely bid by widget. Use them, use your account manager, ask questions, and hold us accountable. In our turn, we'll do the same for you – we are always evolving, and now more than ever we are interested in building what you need over what we want.
Q: What budget would be enough for an advertiser who wants to start advertising on Revcontent and deliver a positive ROI?
A: This is also a very common question, and I often reply with a similar answer to this: Prepare to invest in this partnership. This could range from 500 per day to 20K per day. Do whatever it takes to develop CTRs that drop your CPC into an ROI positive result.
An advertiser may have high CTRs in your vertical and as a result, they will be paying half of what you do. If you focus on building effective creatives and funnels, you will return on anything you decide to invest in. I am skeptical of anything less than 500 per day spread across more than 1-2 URLs/funnels, though.
Q: How should an advertiser approach targeting on Revcontent to finally identify and reach the right audience?
A: Don't front-load your optimizations.
In fact, those aren't really optimizations at all if they're front-loaded, they're really just assumptions. What I mean is don't assume you know where your audience lives by adding a blacklist from a peer or eliminating URLs for no reason. Let your proprietary data speak for itself and point you towards your opportunity with us.
With so many variables at play within headlines, images, and ultimately your landing page and funnel, there's no room for anything but thorough testing. Use pacing to spread your budget over 24 hours each day, trust distribution to expose you to our network slowly over time, watch bid by widget to identify pockets of ROI, and always take a moment to ask your rep or our support team how you can improve. We are more than happy to help.
Q: What are your top tips for reducing CPA on Revcontent?
A: I'll keep this short and sweet: Commit to a vertical you understand, develop a creative strategy (variable testing), test thoroughly, scale where the data points you, and never be afraid to ask support or your account manager for help or guidance when you need it.
More specifically, commit to a plan of action and keep things moving forward.
Q: What's your favorite example of a native ad campaign run on Revcontent? What makes it so remarkable?
A: I'm a huge fan of how the Tommy Chong CBD brand has been able to step into our platform and generate results extremely quickly.
They bid aggressively upon launch (higher than average), acquired data on premium placements, and managed to scale into said placements by developing high CTRs. Here's the case study we did for them. They were open to committing to a strategy we know works and they ultimately were able to build a profitable relationship with us.
---
Want to get the most out of Revcontent campaigns? Apply for our on-demand Coaching or In-House Training program. After the series of workshops, you and your team will be ready to develop, launch, and run native ad campaigns that reach your business goals.