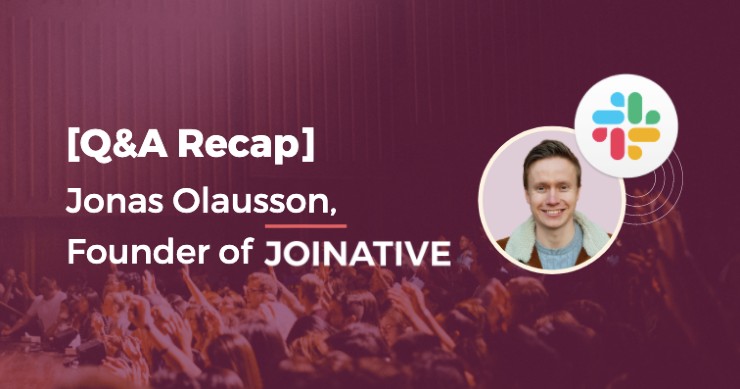 [Recap] Q&A With Jonas Olausson, Founder of Joinative
On July 30, we hosted a Q&A with Jonas Olausson, Founder of Joinative in the Native Ad Talks community on Slack. Read on if you missed the event but want to learn insights into recent industry trends, native advertising best practices, and more.
Don't miss our future Q&A sessions, and join the Slack community today.
Q: Jonas, have you noticed an increase or decline in the demand for native advertising agency services since March?
A: It definitely dropped hard initially when everyone went on lockdown. Some industries and products weren't affected as seriously and even benefited and grew due to new consumption behaviors. But overall demand went way down.
Since then, it has steadily started increasing again and almost bounced back to pre-March levels. It's not necessarily the same companies that are gaining volumes these days, so we're also expecting further demand increases as the old large advertisers come back at scale again.
Q: Could you share your opinion on the trend of shifting FB budgets to other channels, native included? Will it last long?
A: There are several trends happening there as we can see, some will stick and others won't.
The trend of advertisers boycotting Facebook due to content policies isn't likely to stick around for too long. It also doesn't necessarily mean that FB budgets are invested elsewhere, but rather considered as an opportunity to slow down and play safe until things clear up. It's likely that they'll return to FB once they feel confident in spending more on marketing again.
What we also see a lot now is that advertisers who either struggle to scale their FB campaigns or are simply tired of their entire marketing successes or crashes being dependent on one channel that's often volatile. These advertisers generally have more patience and budget for testing out native properly and allowing it to take some time to find great performance and end up seeing good results.
This is much more likely to stick and grow further as the merged Taboola/Outbrain will be a clearer and a more attractive alternative to FB.
Q: What niches have you been running campaigns for? Can you highlight the niches where native ads perform exceptionally well?
A: With native, it's been all over the place. I might miss something, but I've been running quite a few campaigns for the following verticals: Automotive, Finance, Insurance, Wellness, Education, and Fashion.
As for the best-performing categories, I can highlight subscriptions that are made online. Also, products and services that are delivered digitally generally tend to perform really well, especially as it's easy to offer trials or limited offers in order to get people to test out the product before really committing.
Large ticket items, like home renovations, installments, insurance, and real estate work really well if you can align your marketing and sales teams – by running native for lead gen and making sure your sales team follows up and converts them.
Q: What's your opinion on video campaigns on native networks for performance campaigns? Taboola has their own offering, but IMO still doesn't seem to have something worthwhile to test.
A: As someone who's running exclusively performance campaigns, I would love to run more video. But the performance hasn't been there in any native network to justify taking it beyond small test cases.
I keep coming back and testing it every 6 months or so, and every time I end up being disappointed. What could be interesting is if the impression retargeting – I think Outbrain started to offer it – gets more sophisticated, and you can target based on video completion. However, for direct click-through campaigns, this approach isn't effective enough.
Q: And have you had success with other ad formats like carousel ads or app install campaigns (on Outbrain)?
A: Good question. I haven't had the chance to test new app install campaigns on Outbrain (the new format they've just released). I only tested Carousels, by copying good performance FB ads – and it didn't perform well for us. I'm going to revisit the topic with eCommerce and test using it to showcase different products.
Also, the social native ad (FB feed ad copy) from Outbrain didn't really work well when we tested it. Most accounts are still heavily focused on the classic format. But I've seen great results from using headline + description texts in Taboola, and in general, using native to drive app installs works really well if you can also optimize towards in-app events.
On-Demand Video Course On Native Advertising
Boost your ROAS with native ads. Enroll now with our limited 30% discount.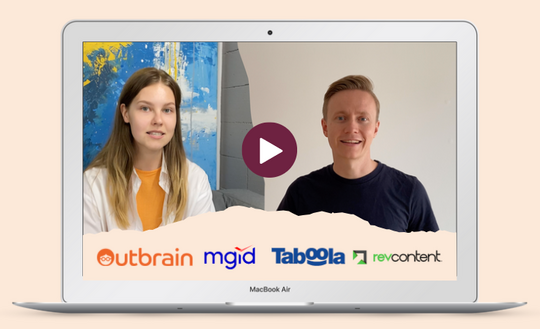 Q: From your experience, how closely are individuals running native campaigns working with people working on landing pages (or are there the same people doing both)?
A: When I started doing native advertising, I worked at the organization that kept these topics (media buying and conversion rate optimization) completely apart, and we barely had the chance to communicate with each other. This massively restricted our opportunities for running tests and only allowed us to take advantage of messaging that works similarly across other traffic channels like Facebook and Google Ads.
It really doesn't have to be the same person doing both, and there are benefits of specializing. But individuals working on these topics should work really closely together, exchange data and ideas regularly, and make sure that tests and landing pages are designed around native specifically. That is one of the keys to be able to bring campaigns to high performance and scale.
Q: Should the landing pages used for native be different from landing pages used in Facebook and Google campaigns?
A: Yes. It never hurts to test using the same landing pages, and it's not uncommon for FB/GA LPs to work well for native. But they won't become the best-performing pages. Native traffic comes in with completely different intent and expectations than search and FB traffic (due to the ad format and placements). This means that people will behave and react differently to what you are presenting to them.
Q: How often do you test new creatives or landing pages? How long does it take before you conclude that some ads or LPs are effective and some should be excluded?
A: We test something new almost constantly – I'd say new tests are launched every week. Whether campaigns, ads, or placements are effective or not becomes clear enough on the same day when we launch (but it also depends on your daily budget).
It could happen that you find a well-performing ad that you can run for months (if not for years) with stable performance. But never stop testing new versions and challenging your current setup.
For new LPs experiments and ad tests make sure to look at early events, such as time on page, scroll depth for articles, click into starting the funnel etc. These data will be early indicators if some of the new versions you are testing are not likely to perform. If they look alright initially, then it makes sense to keep it for longer. How long exactly just depends on which KPI you are testing it on, and how different it performs compared to your advertising benchmarks.
However, avoid running the same test for too long, especially if it's blocking the next tests. At some point, you should be able to conclude that your test is at least not much better than your old versions, and then it makes sense to drop it so you can focus your attention on future tests that will allow you to find something much better.
Q: What tests do you think are important to reach statistical significance? Which are fine to just pause if some initial indicators show that they won't meet KPIs?
A: I personally think the term 'statistical significance' is one of the most misused things in digital marketing, and people tend to rely on it as solid proof. I've seen cases where the same tests don't produce the same results, even if it was "statistically significant".
It's helpful to look at it as a rough indication of whether there is enough data or not, but you can and should act based on earlier indicators. And be wary of tests that get stuck not really reaching statistical significance, either because of low numbers or small performance differences. Set a fixed maximum time for your tests, and feel free to stop it earlier but not later. If no version is better, act and interpret it similarly to the new version being worse.
Also, make sure that you are measuring and looking at the right thing. Some tests can drop CVRs and produce higher CPAs, but also lead to higher-value or better quality conversions. So make sure to have a thought out hypothesis for a future test and avoid overly relying on your standard CPA/CAC plus statistical significance.
Q: What's the best strategy to scale your campaigns across multiple native ad platforms?
A: If you already have a setup that is performing on a small scale, the hardest part is already done. Pushing more volume into your campaigns to scale them works pretty well on native.
Normally, what's working on one platform will also work on another, although you have to be ready for optimizing it a bit differently. However, it does come with some challenges.
You need to get your reporting in place. And if you are mainly using dashboards inside platforms, this won't be enough anymore. Make sure that you can easily understand and analyze ad performance for the different networks side by side. How does one topic/type of messaging work on platform A compared to platform B? You need to be able to evaluate if leads or conversions are worth the same if they're coming from different sources and adapt your budget allocation accordingly.
Move budgets dynamically on the fly based on how the recent performance is looking. This is a huge advantage of scaling, as you can minimize the damage of a campaign crashing by reallocating the spend on your other platforms/campaigns.
And finally, keep challenging your assets (ads and LPs). Especially when the campaign performance is good, make sure to keep launching new ad tests and run landing page experiments. This will make sure you keep finding better CTRs and CVRs and avoid your performance breaking later down the road, which is the key to being able to confidently put more budget into native.
Q: Native advertising is extremely popular among affiliates. What's your one tip to affiliate marketers?
Hard to pin down one tip, but would probably be patience.
It often takes several tests and iterations to get to something that performs. For an affiliate, that's not fun to hear, as it means you'll be losing money directly out of your pocket until you find a performing setup. So make sure you pick an offer that gives you some space to run a few tests, and don't expect it to pay off after you spend the first few hundred dollars or euros. You need to give it some time to build conversions/events and provide you with historical data that you can use to optimize towards better results. Acting too fast on excluding ads and publishers will be just a waste of your budget.
---
Together with the Joinative team, Jonas Olausson has managed the creation of 100+ native ad campaigns and has delivered 100k+ leads to clients. Rest assured we know how to make native advertising work for your goals. Pick your package and see for yourself: