15+ Advertising Experts on Managing Online Ads in A Crisis
With the changes brought by the lockdown, every brand needed to review their values, marketing plans, and budgets. Online advertising fell into the category of marketing techniques that have been affected the most.
While some companies decided to cut their advertising budgets, many started to look for ways to adapt and even boost their profits. But pivoting your advertising strategy is never easy.
To help you nail advertising in the post-Coronavirus world, we asked 16 advertising experts to highlight their learnings and share actionable advice on managing online advertising campaigns in a crisis. Here's what we've learned.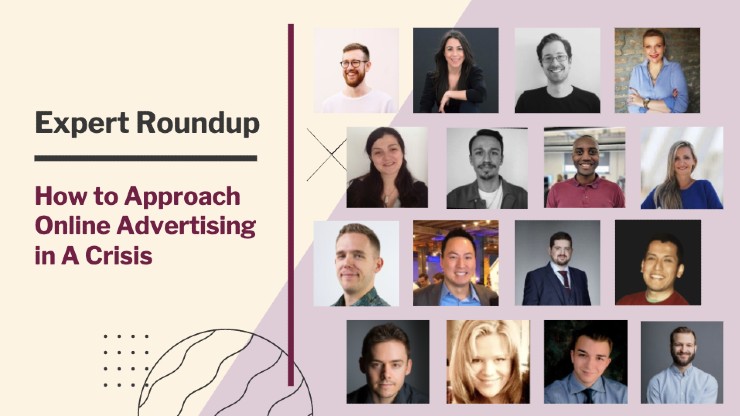 For many online advertisers, it's been a challenging couple of months. Our clients at Hey Digital are constantly asking themselves questions, such as: Should we be cutting budgets? Or: Is now actually an opportunity to increase spend and performance?
There's no one perfect answer for everyone. However, what we've been focusing on recently is the idea of improving overall account efficiency. If you're nervous about budgets, go through your campaign reports and pause anything that hasn't converted over the last few months, pull back spend on your top of funnel marketing and instead double down on what's proven to work well for you - usually, these are high buying intent keywords, competitor campaigns, branded campaigns, etc.
When approaching ads during a crisis whether that be a global pandemic or a recession, there are areas in which you can easily optimise to gain more value from your advertising. I'll provide four tips on how to achieve this.
Try not to panic by cutting your ad spend dramatically if you can afford to keep your ads running. This will allow you to maintain momentum while your competitors are cutting spending, this will mean that when the crisis ends you'll be in a much better space than them.

Make sure that you're measuring your interaction properly and that your data is accurate. The best way to accomplish this is to audit your Analytics account to ensure that tracking and attributions are correct. This will allow you to better attribute value and only spend on areas that are giving you a good ROI.

The first two weeks are critical in a paid account, so pay attention to your numbers and give accounts a chance to perform. It's easy to get frustrated especially when accounts don't fire straight away and you need the sales to come through. Google Ads, for example, can take a few days to start firing well as it needs data to allow optimization to start so if you don't see results in the first week don't panic simply adjust the campaign slightly (It takes 90 days for Google Ads accounts to mature).

Finally, listen to the market and what your customers are saying. Having a better understanding of your consumer behavior and putting a human face to your campaigns will produce more value during and post-crisis. Empathy is key here. If consumers like and trust your brand, they will do business with you now and into the future.
Now more than ever, people are on mobile devices, consuming online content, and ordering products from their home. I've always said that's essential for every business to have an online business. But NOW is the perfect time to invest in an online presence for your business.
As all of us know, Coronavirus changed EVERYTHING just for a couple of days and weeks with no clear end date. And small/medium businesses encounter new problems which they should solve extremely quickly. It is obvious - the more adaptive you are, the more chances you have to survive.
So should I spent money on pay-per-click advertising during the coronavirus pandemic when you should save money or exactly the opposite - now is the moment to stand out from the competitors?
The good news is that the average price per click is cheaper, which means that you can have more impressions and clicks or more visibility and website traffic to your website.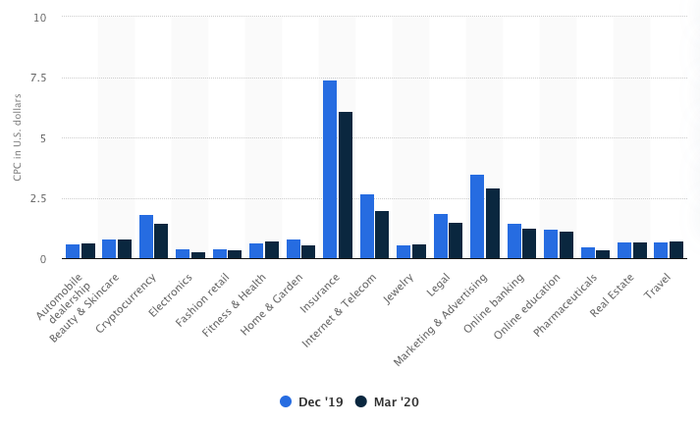 Average monthly cost-per-click (CPC) in search advertising before and after the coronavirus (COVID-19) outbreak in the United Kingdom (UK) from December 2019 to March 2020, by industry according to Statista.
To be adaptive is a key priority and my recommendation is to make data-driven decisions based on your own statistics. Take a deep dive into Google Trends, Google Analytics, Facebook Insights, and other analytical web tools, make comparisons before the coronavirus outbreak and after it. Some crucial metrics you should have in mind are average sessions duration, average page views per session, bounce rate, transactions, the average value of one transaction, return on ad investments, etc. The other very important thing is the fact that now it is really important to be active on social media networks so that people can see how to communicate with your business and what has changed. Users are now more than ever on their mobile devices and you should be there if you want to stay visible.
Of course, the decision to advertise during a crisis is complex and has many pros and cons. On one hand, there are your business specifics, and on the other – COVID-19 restrictions on the country level. But that is the good part of online advertising – you can make data-driven decisions based on your own individual needs.
As companies all across the world face the same business challenges, strive to ensure the wellbeing of their teams and serve their customers, it becomes more critical than ever to adapt strategies.
The goal of any marketing strategy should be to get a positive return on your investment, which comes down to whether you're getting more revenue out of the campaign than the cost you're putting in.
My advice for most advertisers in this situation is to step back and take a look at their current marketing mix as well as the changed customer requirements.
It's a time that businesses have to tread extra carefully and adapt their marketing campaigns accordingly. Adaptation doesn't mean searching for a brand-new budget but spreading it on diverse marketing channels and ad types to ensure long-term and sustainable success.
Key takeaways:
Keep Going! Moving your brand even more online will keep you connected to your customers.
Advertise on different platforms besides the Facebook-Google duopoly and test various ad types such as video or native ads to gain further market share.
Implement a video creative strategy to your marketing mix.
Many companies are already anticipating recovery from the pandemic and now is the time to increase ad spend and to regain lost sales.
Be resourceful. Be honest. Be real!
As trends have shown across the world throughout the recent pandemic, mobile phone usage increases in times of crisis. To get ahead of the curve, split your campaigns by device (e.g. computers, tablets and mobiles) to control the spend going into each device type as well as have more control over your bids. Now is also the perfect time to ensure your website is mobile-friendly and correct this if not as this can not only lead to better user experience but also cheaper CPCs.
Unfortunately, we now live in the world of the "infodemic" – a time where simple solutions for problems are hard for your prospects to find amongst an excessive amount of information. That means that keeping your negative keyword lists and placement exclusion lists updated to protect both your brand and your budget is now more important than ever.
Perhaps the most important thing to do when managing paid campaigns during a crisis is to keep a firm pulse on what the public is actively searching for or talking about. Make sure to understand the current sentiment and popularity around the products and/or services you're advertising. This can help set an 'industry' benchmark that you can use to judge the overall interest of your product or service during any specific time period. One of the best ways to do this is by using Google Trends. Find the search trends, either positive or negative, and use this external data to help you understand performance and guide your paid approach.
For example, one of our agency's clients has experienced significant growth since the beginning of March in the US. Google Trends indicates that their industry, 'off-grid living,' has increased in interest during the same time period.
On the other hand, one of our agency's clients saw an immediate slowdown in leads since March, which is only now climbing back up. This trend is also reflected in the Google Trends overall interest of their industry - 'luxury watches.'
Also - and needless to say at this point - always make sure an ad's messaging and placement are not 'out-of-touch' with what is happening in the real world.
Over-reliance on third-parties is always a risk. The current crisis has definitely proved it. One disruption in the channel, and your whole business model is at risk.
From recent conversations with our food & beverage clients, the main reason they were suffering through the loss of business from Amazon and major supermarkets is that they did not own their own delivery and fulfillment channels.
Now is a great time to ramp up the visibility of your online store and social media channels and create some independence for your business.
The results speak for themselves: in March, April, and May, we've seen between 200% and 600% growth for clients that made that quick transition.
A few tips:
Have your own eCommerce site and make sure the customer journey is flawless so that you don't lose sales along the way;
Ramp up your content distribution on your social media channels (70% more traffic on Facebook and Instagram during the COVID-19 crisis);
Increase your paid advertising budget to reach more potential clients (especially when other brands park their spending, as you get more bang for your buck);
Consider eCommerce as an essential part of your growth strategy, and not just an afterthought.
Owning your own channels will not only pay dividends over and over but also serve a safety net for your distribution strategy.
General marketing & advertising fundamentals still apply during a crisis. You're promoting a product/service that solves a problem for a specific audience. Think critically about anything you advertise during the crisis. Has the problem changed in the short or long term?
Use all the below advice but make sure to check that the ideas you do roll out have the following at their core:
Honesty;
Clarity;
Consistency.
1. Set expectations in the advertising copy even before they get to the landing page, website, or store.
By setting expectations, you are pre-empting concerns people will most likely have around your businesses, such as:
Speed of delivery;
Cleanliness;
Safety precautions, and more.
Dispel your customers' concerns to build trust, which will help you get better conversion rates in the short term and establish long-term relationships with your audience.
2. Any business can help ease the burden of COVID-19.
Even if these are just small gestures, businesses can make a positive contribution.
Perhaps include the charities and/or other support that you might provide throughout your marketing material, such as callout extensions on Google Ads, to images placed on Facebook Ads, and more.
3. Measure slightly differently and emphasise other KPIs.
It may be that direct sales are not going to be as easily attainable, even with services/products that seemingly have not been directly affected by COVID-19.
Engagement on promoted content via native platforms such as Outbrain/Taboola, or content produced on YouTube, or even social channels, will be more useful metrics to measure during the slower sale periods.
4. An even bigger focus on emails marketing to support content marketing teams and spread the message faster.
Acquiring subscribers, followers, and email addresses over a sale will be more critical while we are still in the middle of the crisis.
It will help serve as a direct line of communication between you and the customer to keep them informed of changes to your business and when things start going back to normal.
5. Stay on top of trends.
If you can advertise, you will benefit from lower CPCs right now, unless you are in niches that were competitive pre- and during this crisis.
If you are in a competitive niche, stay on top of trends within your niche to find products/services that could be an easy add-on to your core offering. Sign up for Exploding Topics for a quick overview of the search terms with the most significant increase in search volume recently.
And if you want to search for specific terms, use Google Trends. Any related topics found here can spike ideas to alter your offering.
For example, take traditional florists, who are already somewhat benefiting from COVID-19, as long as they have changed to offer an online & delivery service — but then taking that 1 step forward to offer 'plant delivery' and indoor plants which have grown in search interest by 200% for the past few months.
6. In eCommerce? It's a perfect time to test new channels.
Already doing well on Google Shopping? Test a small budget on Amazon, or even Instagram & Facebook shopping ads which have recently just rolled out.
There are also more YouTube channels coming onto the market and producing content better than ever before. Research top-quality placements ideal for your audience or use Google's pre-built audience targeting.
Care for people.
When the crisis struck us, most of our clients relocated their marketing budgets on online content. That included articles, accompanied by videos or animations, with different advice on how to better cope when staying at home. We thought the 'care for people' approach and messages would be best to catch people's attention, as our stories should comfort them and show that there are people that stand behind these brands, and that they care for the community they work in and with.
We have put our minds to think more creatively than ever. We have engaged bloggers and Instagram influencers to promote brands and their messages as well. And, to tell you the truth, we got better engagement with niche influencers, like food and exercise experts, then with bigger ones who collaborated with several brands. Of course, there were some really prominent influencers who did a great job.
Also, our articles about local places, that most people aren't aware of, worked amazingly well. Feedback was really good. Readers were excited about the opportunity to visit those places, and people who have already been there also shared their positive experiences.
What I recommend to do in this COVID-19 crisis is to assure your audience that you are taking safety precautions and are being responsible.
Examples could include social distancing, wearing masks and gloves, sanitizing equipment after use, and accepting contactless payments. This message should be included in the ad headline or description. You shouldn't also hesitate to include it in the respective landing pages in the form of an announcement banner at the top of the page, or as a short paragraph at the beginning.
The pandemic brought in a new landscape that had characteristics that many paid marketers had seen before. The nature of the situation meant that we had to adapt fast and we had to optimize our campaigns accordingly with almost lightning-fast reflexes.
Using our learnings from the fast-paced world of eCommerce we are now adapting those strategies to other industries outside the eCommerce world. Our clients were adapting, and along with them, we were adapting their campaigns. For example, many of our Pest Control clients pivoted to disinfection services, and there were plumbers willing to do inspections over video calls.
New services were being created almost daily and we had to create new campaigns with completely new targeting and new ads. With the SERP landscape changing daily we found ourselves being more active than ever in monitoring performance and optimizing our strategies.
The performance of many of our clients improved while costs also went down since many of their competitors were pulling out of paid marketing due to the pandemic. This meant that our clients were getting more clicks for less money since the competition was dropping massively.
One final learning that we got from this pandemic was that paid marketing seems to be the first service that most clients will try to cut down since it is costing them money both to appear on the SERP and to have us manage the accounts. My opinion is that the companies that decide to take the risk and continue marketing during the pandemic will be the biggest winners since they will benefit from the absence of competition and everything that this entails.
In difficult times, when Google Ad budgets are tight, we found it best to switch to target cost per acquisition (CPA) campaigns, instead of traditional pay-per-click campaigns. We're telling Google the maximum we're willing to pay for a lead instead of bidding a maximum amount for keywords. We found this approach to yield a far greater ROAS for our clients.
If you're barely breaking even with traditional PPC campaigns, switch to Target CPA. You should have an idea of what a reasonable cost per lead is from your original campaign. You'll be surprised how good Google can optimize your ads to get traffic for your desired CPA.
We are actually thriving right now because the demand for bottled water increased. We included the "delivered to your door" phrase in all our headlines, and it has been working very well during a lockdown. Customers who used to buy our water in retail switched to ordering directly from our website.
I would recommend keeping a very close look at the messaging, some of the blunt messages can be found offensive or insensitive in today's climate, test your ad creatives often, keep up with a pulse of the industry and state of the customers.
There is no doubt that the COVID-19 crisis caught us all unexpectedly. All of a sudden, we had to learn to live differently. In the last three months, we have all witnessed how the pandemic is transforming our lives and changing our world, leading us to a new reality. The COVID-19 pandemic had, of course, a big impact upon the markets and challenged the way multinational companies but also medium-sized enterprises promote their products and reach out to their customers.
Every single company had to adjust to the New Normal – and do exactly the same with its paid campaigns. In order for this to happen, companies had to change their marketing strategies and become more flexible and act quicker. For many companies, Corporate Social Responsibility (CSR) was the best option to enact positive change and give back to society during this unprecedented crisis.
As for DPG Digital Media, understanding people's new needs was the only option, from the very first moment of the Coronavirus outbreak. The microsite "Zoume Allios" – ("We Live Differently") that DPG Digital Media created, is a typical example. Through its websites, DPG Digital Media gave – and still gives – its readers advice on how to live differently, how to stay protected, and how to make positive changes to their lives and adjust to the new reality.
Amazon ads are received better than social ads during a crisis.
Amazon ads are perceived better by searchers, because they have already searched for a keyword that you're targeting with your ads. Social ads tend to be more intrusive, because they disrupt the consumer's activity and try to convince them to engage with a brand.
During a crisis, I would recommend focusing on transactional ads (Google Shopping, Amazon Sponsored Products) rather than disruptive ads because of how the brand value will be received. By running aggressive advertising campaigns during a global crisis, you can hurt your brand perception a lot.
---
Whether you run social media ads, Google Ads, Amazon ads, or native ads, building relationships with your prospecting customers is key. If you know your customers aren't ready to buy your products or services in a crisis, don't bombard them with sales content. Instead, you can allocate your advertising budget on clever, relevant brand-building campaigns.
Given the amount of time people started to spend on news websites and blogs, native advertising is becoming increasingly popular these days. Want to test this advertising approach but not sure where to start? We at Joinative help companies make the most of their native advertising campaigns. Just pick your right package:
Native Starter. With this package, you'll learn how to prepare and run high-performing native advertising campaigns.
Native Managed. Our experts will run your campaigns for you, ensuring your business goals are met.
Native Pro. The native advertising reporting platform. With it, you can export reports from Taboola and Outbrain in one click, group and compare data, and get insights you wouldn't get from any of the platforms directly. Book a free demo now.