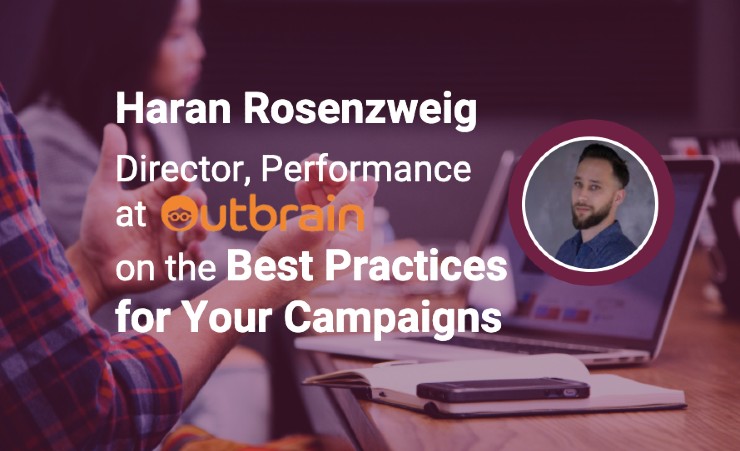 Interview: Haran Rosenzweig on Outbrain Best Practices
Every native advertising platform has its peculiarities. It's always a good idea to learn best practices for running native ad campaigns on the specific platform from their experts.
To provide you with useful insights on how to run better Outbrain campaigns, we talked to Haran Rosenzweig, Director of Performance Sales and New Business at Outbrain. We discussed common mistakes advertisers make, Outbrain's advanced targeting options, Taboola and Outbrain merger, and more. Here's what we've learned.
Which companies will benefit the most from launching a native ad campaign with Outbrain?
The range of industries that can benefit from running native ad campaigns with Outbrain is wider than what most people can imagine. Among our clients you can find automotive companies running lead gen for test drives, mobile apps and games running user acquisition campaigns, online and offline education offers, finance, health and beauty, e-com, insurance, and many other verticals (for direct brands, agencies, performance agencies, and even affiliates).
As long as you have measurable KPIs, a general understanding of your audience's state of mind, and of course the ability to use our various targeting and optimization tools, there is a good chance native ad campaigns with Outbrain could deliver the results you are looking for.
What are the common native ad mistakes advertisers make?
There are many wrong turns advertisers can take when running native ads (such as not setting up tracking correctly or over-optimizing campaigns), but the most common one is not understanding the user's experience when he or she encounters native ads on various publishers.
When running native ads, it's important to understand that 'what's working on social or search', may not be the best approach when reaching out to your end-user.
In addition to the above, many advertisers also fail to understand that running without a clear KPI (unique per platform and campaign) will usually lead to them discovering mistakes when it may be a bit late. When you start any campaign, you need to know what you are aiming to achieve (it could be branding, performance, or even a combination of both).
Will Outbrain and Taboola merger affect advertisers?
I believe that the merger between the two companies would have an amazingly positive impact on all advertisers. With the potential reach of both companies, endless open web publishers network operating globally, knowledge sharing and tech solutions, our advertisers (as well as prospects) will benefit tremendously from this merger.
Let's move on to campaign creation. How should an advertiser separate out their first campaign?
The best way to separate your first campaign would be by geo and platform. The user behavior on mobile compared to desktop is completely different (and usually so is the pricing), and the same goes to different GEOs.
Splitting up your campaign to this level should allow you to better understand what's working, and scale up from there according to the results you see.
When should an advertiser go with advanced targeting options?
Our advanced targeting options are available for all advertisers, and we highly recommend using them as they should increase CTR and CR. However, it is important to understand that with each targeting feature used, you may narrow down your reach. By doing so you may have to increase bids in order for you to stay competitive.
What we recommend is starting a bit wider than what your first instinct may say, and slowly start using these options as you progress… you may be surprised by the audiences you discover with a wider targeting approach.
Master Advertising On Outbrain
Register for the ultimate native advertising course and get exclusive insights into building successful Outbrain campaigns.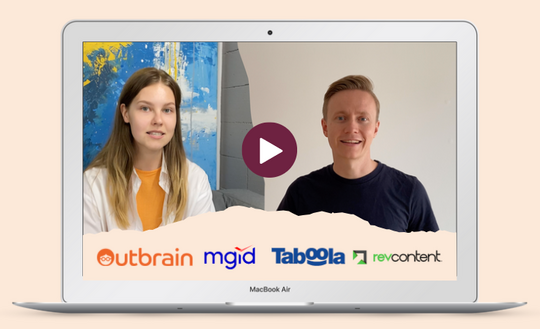 What are your recommendations regarding the CPC bid optimization?
When setting up your initial bid strategy it's recommended to start higher than the average in the specific GEO/Platform/Vertical. If you start too low you may miss out on our most lucrative and competitive publishers. It's highly recommended to talk to your AM or support representative and ask for their suggestions.
As you progress and start optimizing, we suggest slowly lowering your bid (no more than once a day) and doing so on the section level and not the campaign level.
We've also recently released automated and semi-automated tools for campaign optimization that are based on the data we have gathered over the years, and allow you to get better results with less manual work.
How often should an advertiser revisit their campaigns?
Revisiting your campaign once a day is highly recommended, as this will allow you to recognize trends and changes in traffic. It's important to emphasize that in the first couple of days we don't recommend changing bids or over-optimizing campaigns, let our algorithm do what it does best, and only start helping it out after the campaign starts to stabilize.
What's a healthy CTR for Outbrain campaigns?
This is a very broad question without one answer, as each geo/device/verticals has different benchmarks. This is why we recently released a new insight tool called BrainPower which showcases always-on insights on industry topics, content consumption, and trends, collected from Outbrain's unique interest-based data as well as premier partnerships.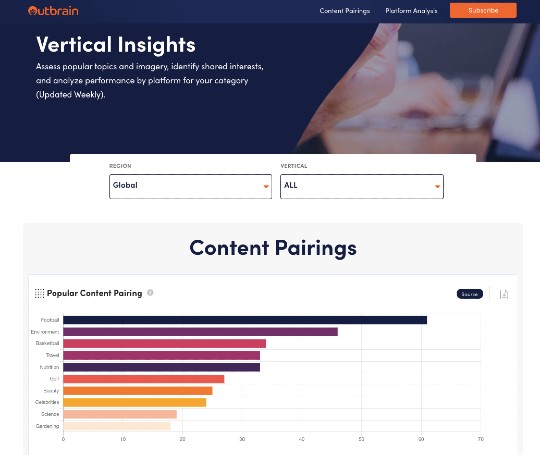 If there's one takeaway an advertiser should remember when creating their first campaigns, what would that be?
Patience. Just like you can't become a Formula 1 driver after taking just 1 driving lesson, it will require you to work and be persistent until you see results and become an expert in native advertising and media buying.
---
Interested in learning more about Outbrain? In our recent post, you'll find the Outbrain review and our step-by-step guide to launching your first campaign.
If you want to get assistance in running your Outbrain campaigns, check out our native advertising consultancy or Outbrain agency services.