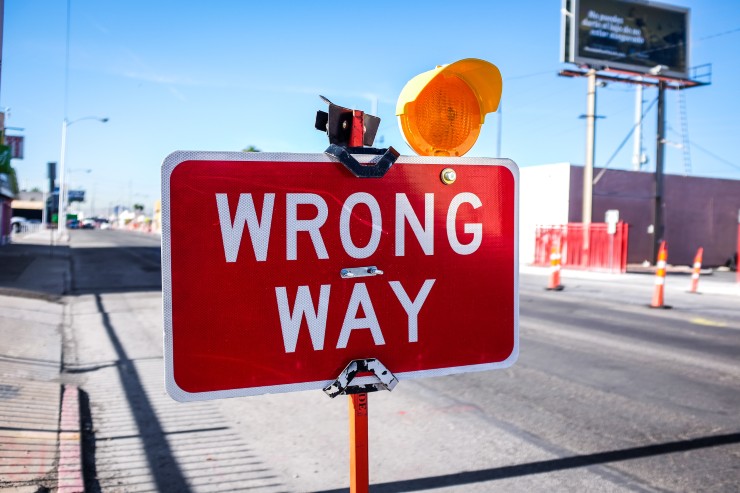 Why My Campaigns Don't Work: 9 Native Advertising Mistakes
You gave in to all the advantages of native advertising and launched your first campaign(s) to enjoy them. But something went wrong. Instead of getting lots of new customers, you get thousands of clicks or even don't get any. Were you tricked by clever marketers? What if native advertising doesn't work for you?
Like any other marketing technique, it's effective only when done right. In the process of campaign creation, you need to consider lots of factors, including audience analysis, brand messaging, goal setting, and more. It's no surprise that you simply might have overlooked something crucial. The negative results are most likely to mean only that you need to fix a couple of native advertising mistakes you've been making.
In this post, we'll describe 9 mistakes that affect your campaigns and tell you how to address these native advertising challenges.
You didn't select the right native ad platform
When you choose the native advertising platform, you take one of the most important steps that will affect the success of your future campaigns. One of the first things to check when you notice native advertising doesn't deliver positive results is whether your platform really fits your goals and reaches your target audience.
While popular native advertising platforms that work with different publishers worldwide seem to be a safe choice for everyone, small networks could perform much better for small businesses or in specific industries.
If you represent a small business, it's often better to primarily target clients from your country. For instance, to reach German-speaking audiences, we recommend that you go with platforms like Plista, AdUp, or Twiago. To reach the audiences based in the US, you might want to go with ShareThrough or Nativo.
Also, make sure the native ad network works with relevant publishers. For niche-specific topics, consider platforms that partner with publishers that focus on these topics.
Your native ads aren't engaging enough
In case you wish your native ads were driving more clicks, it makes sense to revise the ads themselves. It might sound obvious, but judging by the majority of native ads, only a few advertisers know how to create engaging creatives.
There is no universal decision when it comes to native ad creation. Of course, it's extremely useful to follow general best practices, and it's good for you if you did so. But the audience's preferences may vary depending on lots of factors. Trends, cultures, languages, niches – you need to consider everything before you create your own native ad.
For instance, for the business category, black and white images have 140% higher CTR. On the contrary, for the pets category, color images perform better than black and white ones.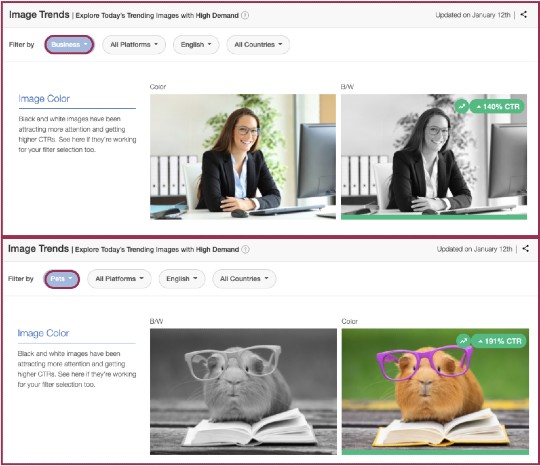 To learn more about trends for native advertising campaigns in different niches, check out Taboola's insights. Select your category, country, and language to find out whether you're missing any of the mentioned practices. Take advantage of these insights and fix your ads to improve click-through rates.
You don't promote quality content
What if you have decent CTRs but poor user behavior metrics? There may be various reasons for this issue, and we're going to describe some of them.
Native advertising isn't only about ads but about quality content as well. What happens when a person clicks on your native ad? Do you encourage them to stay on your website? Do they get disappointed and leave the page?
As opposed to banner ads, native advertising is considered to be more credible due to the value it offers.
Great content can help you turn your website visitors into customers while junk content will undoubtedly harm your brand credibility.
To run successful native advertising campaigns, you should place quality and relevant content in front of your target audience. Do you want to promote articles that are already published on your blog? Then, ask yourself: 'Why would people that haven't heard about my brand before want to read it?' Are you going to create new content for your upcoming campaign? Then, don't forget to conduct audience research before you even come up with the topic.
Your native ads don't reflect the content they promote
Poor behavior metrics can be caused not only by low-quality content but also by the lack of correspondence between your titles and content.
Creating engaging native ads is great, but it's even more important that your ads fully reflect the content they promote. What does it mean?
Have you ever clicked on an incredibly promising headline to find out the article has nothing to do with the promise? Hats off to you if you haven't. And give me five if you have.
The same thing could have happened to your own campaign. If you have overdone it while trying to create an engaging ad, your efforts could simply have turned against you. Being intrigued by a catchy headline, a visitor gets frustrated when seeing unremarkable content.
If this is the issue, you need to revisit your headlines. Make them reflect the content the ads lead to and engaging enough to catch your audience's attention. Try to be more specific. Can you mention numbers? Do it. How exactly your audience will benefit from reading this content? Mention it.
On-Demand Video Course On Native Advertising
Boost your ROAS with native ads. Enroll now with our limited 30% discount.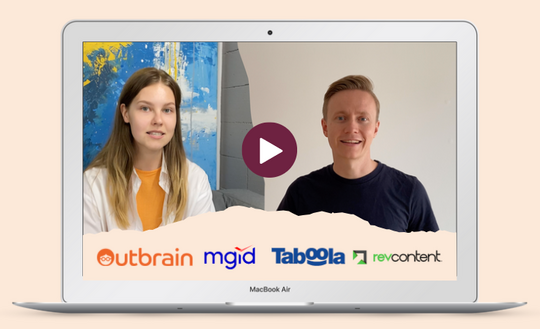 You ignore the customer journey
A native ad isn't a typical display ad that aims at bringing your target audience to the landing page that calls visitors to convert. In most cases, native advertising is just the beginning of the consumer-brand relationship.
Understanding the customer journey is just as important as selecting the right targeting options. Without it, the whole campaign will be a shot in the dark.
To make your content marketing work, align your marketing efforts with the buyer's journey.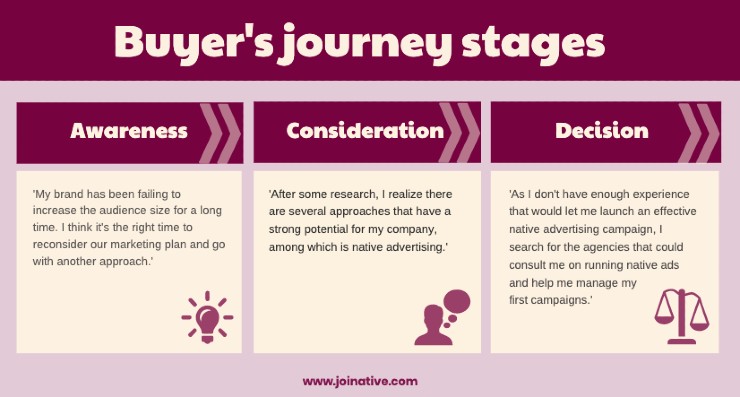 Here are the stages your customer goes through on their way to the purchase. Create content that will help you capture their attention and nurture them at whichever stage they are. Use native advertising to put this content in front of them.
You can't expect people will want to buy from your brand seeing your native ad for the first time. If you target new audiences, offer them content that will introduce them to the subject. Make it interesting. If you retarget your website audience, go with the content that will drive them closer to the purchase. Stay consistent.
You didn't align your KPIs with your goals
When you start a new campaign, you define your goals first. When your campaign is up and running, you define KPIs that help you monitor campaign effectiveness. If you fail to select the right native advertising performance metrics, no wonder the results don't meet your expectations.
Is your campaign aimed at building brand awareness? Then, you'll need to monitor viewable impressions, clicks, behavior metrics, but not conversions.
You don't consider it as a part of your overall marketing strategy
Since the buyer's journey isn't as straightforward as we wish it was, you can't just give all the credit for the conversion to the last click. If your customer converted after opening your email newsletter, it would be fair enough to consider the other steps that preceded this action. Last-click oriented solutions wouldn't be so effective without tools that attract users' attention.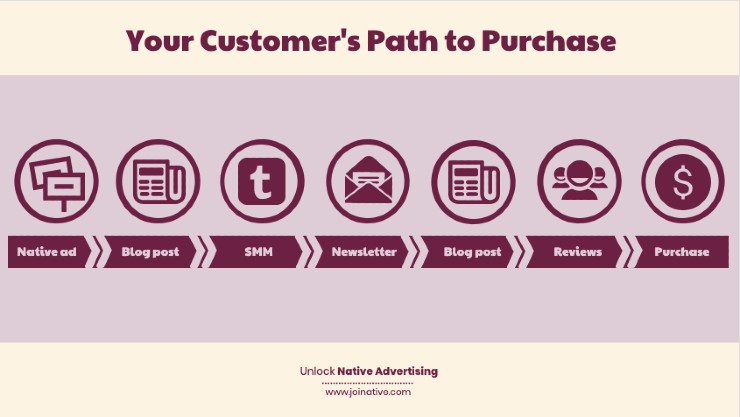 When your campaign is aimed at driving conversions, native advertising effectiveness shouldn't be measured separately but as a part of your marketing strategy.
Native advertising is really good for top-funnel content promotion. Start with native advertising to build brand awareness. Keep guiding your customers along the buyer's journey eventually bringing them to the purchase stage.
We recommend that you look at the big picture. Willing to get more sales and only looking at the last click, you'll find native advertising ineffective. But if you look back at the customer journey, you'll see that your native ads have a great impact on the whole process. Use attribution modeling to define how much credit you want to assign to every touchpoint on this way.
You don't conduct split-tests
How do you know what works and what doesn't work? Keep testing!
Without split-tests, you can't exploit the full potential of your campaigns. Split-tests will let you focus on the best practices and stop using practices that don't work.
Test the following variables:
Ad formats
Headlines and thumbnails
Content types
Audiences
Publishers
Select the time period and monitor your key metrics to identify which option has a greater impact. Remember to test only one variation at a time so that you can know for sure what caused the difference.
You don't check where your clicks are coming from
You might be spending the entire budget on getting clicks from publishers' websites that will never convert.
What happens to the traffic coming from the specific websites? Do you get any conversions? If you see thousands of leads coming from some completely irrelevant website that hardly ever become your customers, you need to revisit your targeting options.
Keep calm and monitor your campaigns
These are the key aspects that can affect your campaign performance. Avoid these mistakes and follow our tips to increase native advertising effectiveness for your brand.
It's essential to monitor your campaigns while they're still active. Analyzing this data, you'll be able to make necessary changes to the current campaigns and use your learnings in the future ones.
Do you need help with native advertising? Joinative is here for you. Contact us, and we'll show you how you can run successful native advertising campaigns without agencies. We'll help you or your team to build a strategy, set up reporting, and optimize your native advertising campaigns for better performance. Read more about our Native Starter and Native Managed packages or learn about our native advertising platform.