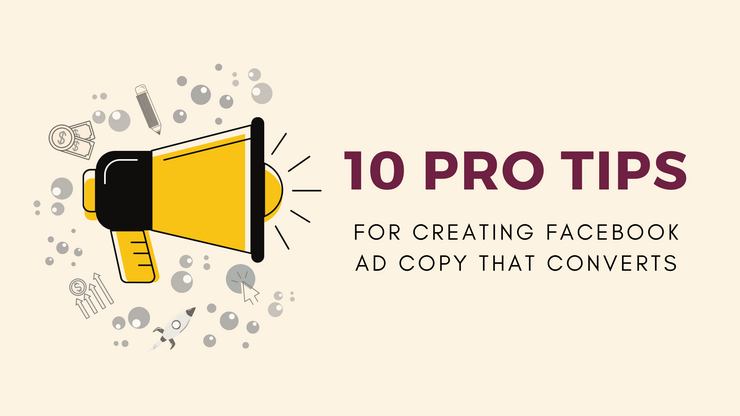 10 Pro Tips For Creating Facebook Ad Copy that Converts
With the overwhelming amount of ads your prospects see every day, it's almost impossible to create a truly outstanding Facebook ad. And you don't need to.
But you can (and have to) follow very simple steps to craft copy that catches the attention of the relevant people and converts them. Here's your action plan.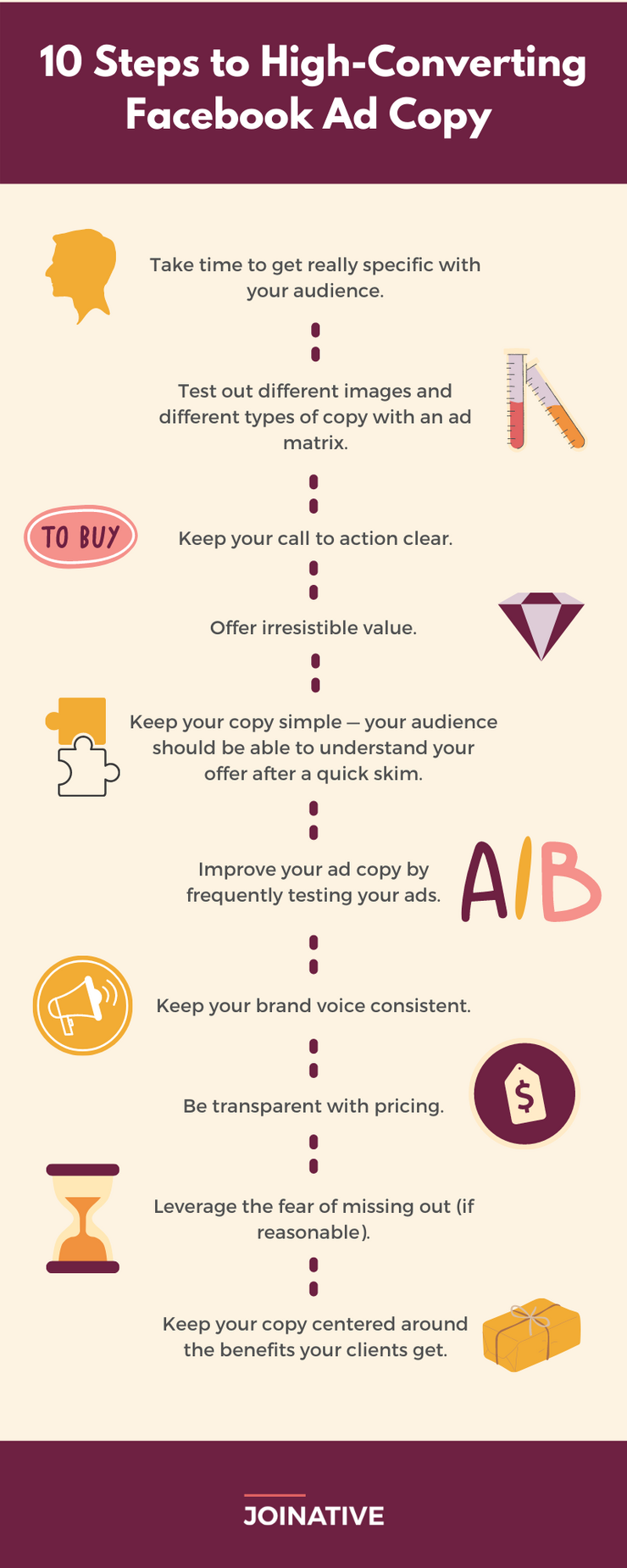 1. Target your audience carefully.
Facebook gives the ability to home in on your perfect audience, ensuring your ads reach the people most likely to follow through on your call to action. Take the time to get really specific with your audience. You can designate a custom audience, advertise to a specific location, and even designate gender for your targeted ads.
The best part is that you can target your audience based on the interests they've identified in their profiles, allowing you to cherry-pick an audience with confirmed interest in your type of product or service. Next, write directly to the ideal client you've identified through targeting. Imagine their personality, their style choices, their day-to-day activities. Envisioning the ideal client gives you clarity when communicating your message.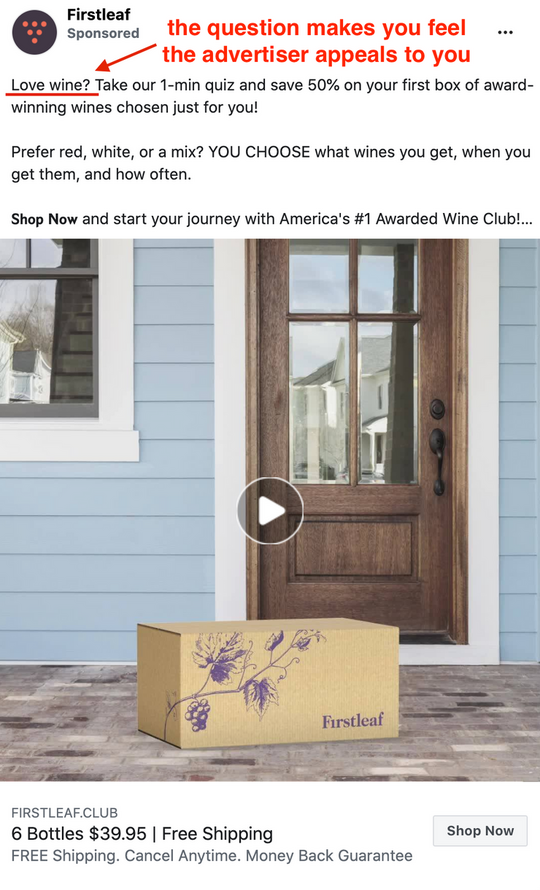 Whether they're early risers who run when the sun comes up or night owls who curl up with a blanket accompanied by the glow of their laptop — know who they are and talk to them as if they were sitting right across from you.
2. Create an ad matrix.
Don't make the mistake of creating only one ad.
Instead, test out different images and different types of copy with an ad matrix. Create a set of at least five ads, each with different copy and images.
Your targeting options may include different locations and a set of specific interests. Write your ad by isolating a specific interest or location and segment your audience to determine who shows the highest interest. Facebook aids this process by delivering clear results for each ad, which helps you refine your copy and boost the ads that get the most engagement.
3. Keep your call to action clear.
Your call to action (CTA) is what makes the difference between a person who keeps scrolling and one who engages further with your advertising. You'll notice Facebook ads have a button that can invite your audience to "learn more" or "call now," depending on what you designate.
You may opt to include a CTA in your ad copy along with the button if it's relevant and flows well. Try different methods using your ad matrix — for instance, some shoppers may want to "learn more" before they make a decision to buy, while others may be more enticed by a "shop now" button if they're already on the hunt for the perfect product.
4. Offer irresistible value.
You want your audience to say "yes, please!" when they read your ad.
Ask questions that have an obvious "yes" answer to get your audience in the headspace of agreement with you. Let them know what they're getting by creating an offer so compelling, they can't help but follow through on your CTA.
Get 50% Off The Native Advertising Ultimate Course
In 12 hours of exclusive lessons brought to you by our experts, you'll become a pro in native advertising.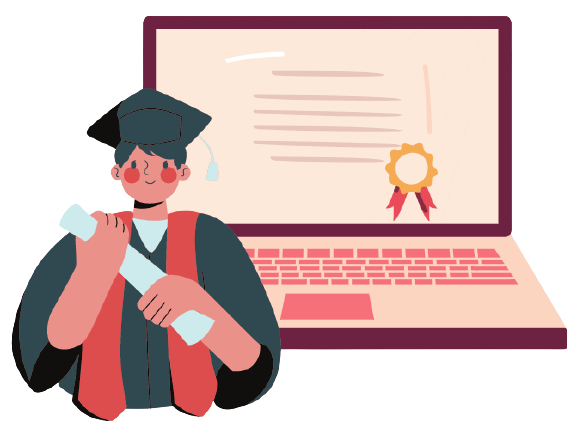 Don't let there be any discrepancies between your ad copy and your landing page — keep your audience's momentum by picking up on the details of your offer with their next click.
5. Keep it simple.
You know you're dealing with short attention spans online. If the headline and the first few lines of the copy don't pique your reader's interest, their thumbs will fly across the screen, pushing your ad away from their eyes.
According to Inc.com, 85% of consumers report personalization makes all the difference when it comes to making the purchase decision. And that's considering short attention spans, as those buying decisions are made in the micro-moments during which your ad copy and their attention meet. Avoid long blocks of text in your ads; instead, keep your messaging succinct. Facebook ad copy is not the place to beat around the bush or write long, flowery essays. Keep your copy simple — your audience should be able to understand your offer after a quick skim.
If your message is too long or convoluted, you'll lose their attention. Nobody wants to have to decipher an ad; it is much easier when they know if they're interested right off the bat.
6. A/B test.
Improve your ad copy by frequently testing your ads. Facebook encourages this process by making it easy to run several ads at one time with segmented audiences while you test each piece of copy.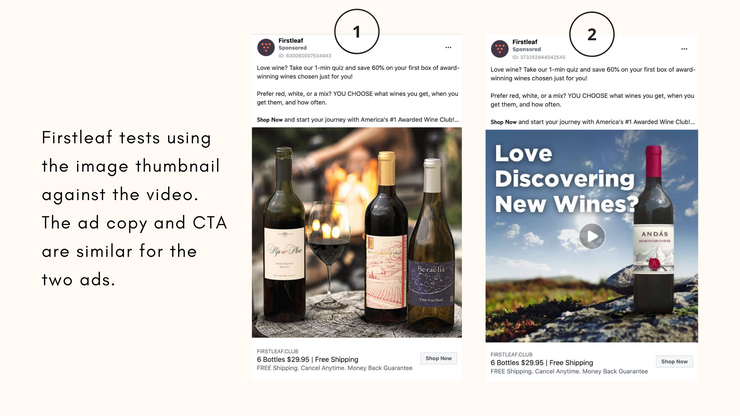 You can try using the same image and changing copy on two separate ads then sit back and watch which of the two receives more engagement. It's this feedback that helps you understand your audience better and write copy that is more aligned with what they respond to.
7. Keep your brand voice consistent.
When you write, you want them to know it's you. Keep your ad copy consistent with your brand voice. Does your brand generally relay excitement with exclamation marks and emojis? Or is your brand voice more formal, relaying a more professional tone?
Adhering to your brand voice while speaking to your ideal client is the perfect formula for ensuring consistency across different platforms, from your website to your social media to your ad copy. Humans like consistency; it's predictable which inspires feelings of trust and safety. When your audience trusts you, they're significantly more likely to buy from you.
Consider creating a brand voice document that can be shared with all members of your in-house content writing team (or any freelance writers you hire). It's a reasonably quick, yet very effective way of ensuring all of your writers are on the same page when it comes to tone.
8. Be transparent with pricing.
When possible, be transparent with your pricing. Consumers want to know if your product or service is within their budget.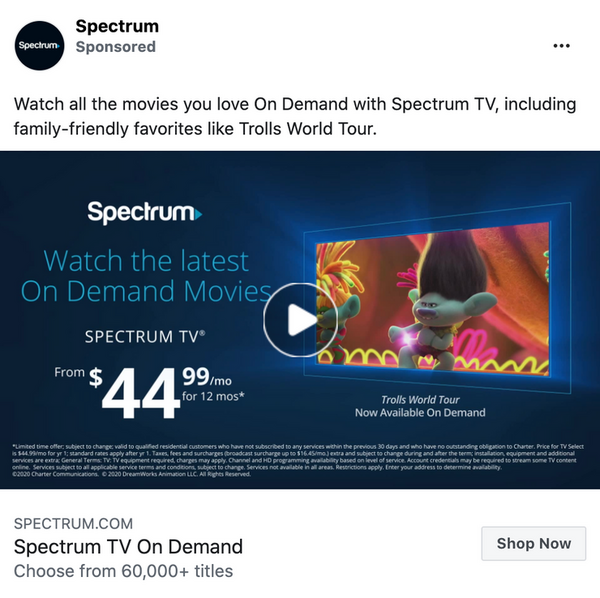 Ensure your offer employs honesty and avoid clickbait offers at all costs. If you're overpromising and failing to deliver, you're missing the mark. When you mislead your audience, they lose their trust in you and when they don't trust you, they don't buy from you.
9. Add a clear timeframe.
If your offer is available for a limited time, this sense of urgency can turn warm interest into a burning desire to buy.
Although this tactic is not always appropriate (always read the room), the pressure it applies can make the difference between someone who overlooks a good offer and someone who feels compelled to take the plunge for fear of missing out.
Limited time offers can make your audience feel like they got in on a lucky offer so don't be afraid to incentivize with a good deal for a designated time frame.
10. Focus on benefits.
Although product and service features are the aspects you've worked hardest at, ultimately, prospects are looking for answers to their problems. Keep your copy centered around the benefits your clients get.
Are you offering a service that streamlines, clarifies, and supports your clients? Tell them how you are lifting that extra weight from their shoulders.
The Grammarly team goes straight to the point in their paid campaigns. They always focus on their prospects' pain points and offer to address them.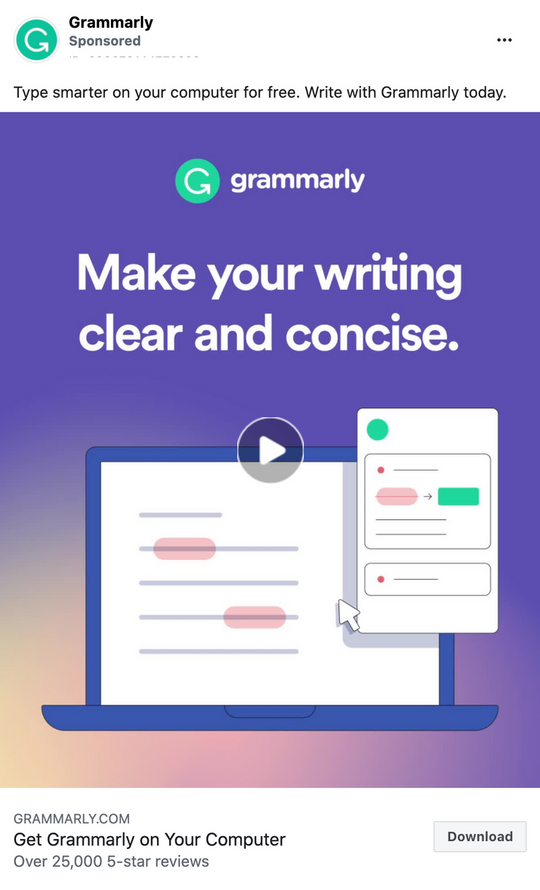 We are all a bit selfish, always willing to know what we're getting out of the deal. So, keep your copy succinct and benefit-focused for your audience.
Let your creativity flow with the high-converting Facebook ad copy. When you follow the steps outlined above, you position yourself perfectly to develop the best ad copy that speaks to your ideal audience while maintaining your unique brand voice. And when you need a quick ad copy cheat sheet, the platform itself has you covered.