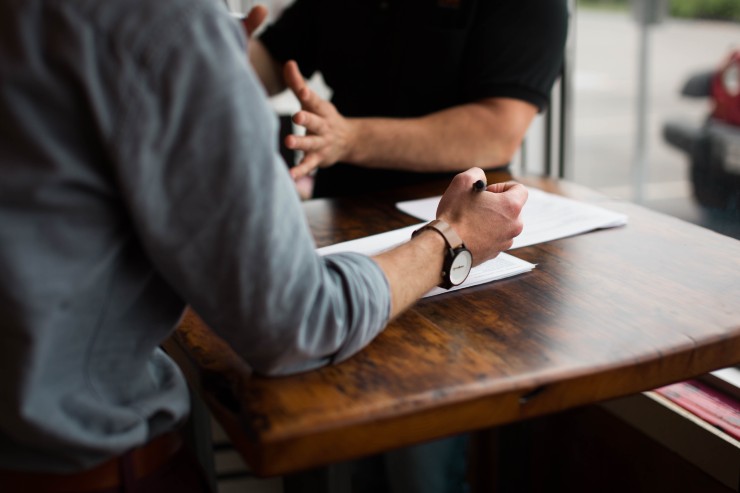 Should You Hire a Native Advertising Agency or Do It In-House?
So you decided to run a native advertising campaign. Where should you start? Should you do it in-house or hire a native advertising agency? Both options have their own benefits.
Although native advertising isn't rocket science, you won't go far without relevant experience. Native advertising know-how that an agency obtains can be critical for the success of your campaigns. On the other hand, who else but your in-house team will be so familiar with your brand values, goals, and culture?
To help you make an informed decision, we considered all the advantages and disadvantages of doing native advertising in-house versus hiring a native advertising agency. Let's see what we've got.
What do you need to start native advertising in-house?
The challenge with native advertising today is the variety of options and technologies it offers.
You or your team members should be able to choose the right native ad platform(s), select targeting settings, track performance regularly, and keep optimizing your campaigns to find the perfect mix.
If you don't have enough expertise or time to figure things out, you'd probably better not waste your resources but trust experts. But if you're ready to plunge into the process, this can become a fascinating journey.
Here are a few criteria that denote your team is ready to do native advertising in-house:
You've been running traditional banner ads before. It means you'll be able to leverage your experience and run effective native advertising campaigns.
You're either ready to hire one more team member or already know someone who could spend their time managing your native ads.
You have time to learn and test.
You have a clear understanding of your goals and how you're going to align your native ads with your marketing strategy. You already have one, right? If not, you should definitely go and check out our guide on how to create a marketing strategy.
What do you expect from a native advertising agency?
When you hire a native advertising agency, you'll get all your campaigns managed without any effort from your side. So, what exactly will you get?
A tailor-made native advertising strategy that fits your marketing goals.
Proper tracking and reporting setup.
Performance reviews and campaigns optimization.
If you've never had an in-house marketing team or simply have no extra resources to run multiple ad campaigns in-house, hiring an agency is the way to go.
Still, it doesn't mean you won't have to make any effort at all. It'll take a lot of communication before and after the campaign is launched. You should have a clear idea of your target audience, your brand messaging and objectives to explain them to an external agency team. But let's delve into these issues in the next section.
Agency vs In-house
Every option has its pros and cons. And we're here to help you figure out which advantages are the most appealing to you and which drawbacks should be considered.
In-house: Pros
Company vision. The familiarity that in-house employees have with your business's goals, vision and culture is the biggest advantage. Your in-house team knows about your brand much more than any other company will find out from a couple of conversations and documents. They already know what works for your target audience and what doesn't. They know your company's strengths and weaknesses. They know how to leverage this knowledge to develop powerful marketing assets.
Communication. Your in-house team is, you know, in-house. They work together in the same place, making communication much faster and more effective. Even if you have remote workers on your team, you can contact them via collaboration platforms and expect a fast response time.
Coordination. When it comes to information sharing and coordination with other major departments, in-house wins. In-house marketers have access to the resources external agencies don't. It's also extremely beneficial that in-house staff is more aligned with other departments, e.g. the sales team, that often provide invaluable insights on your target audience.
Reactivity. In-house marketers have only one project, and it's yours. You can prioritize tasks and make changes to your native advertising campaigns together, not having to wait for the agency to have a slot to discuss adjustments.
Industry knowledge. Who knows your competition and industry peculiarities better than people working in this business day by day?
On-Demand Video Course On Native Advertising
Boost your ROAS with native ads. Enroll now with our limited 30% discount.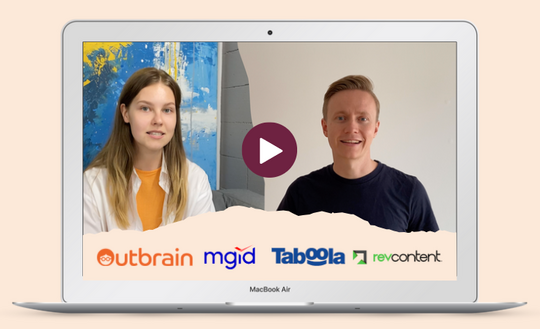 In-house: Cons
Lack of experience. It's not likely that you have a native advertising expert in your team (lucky you if you do). Not to waste your time experimenting, you'll have to either find a native ads consultant who will explain native advertising to your in-house marketers or hire a new employee with the necessary set of skills.
Technologies. The success of your native advertising largely depends on your ability to use the specific benefits of a certain native ad network. With an incredible amount of different platforms that have their own peculiarities, it can be difficult for your team to find the right one.
Time. Although communication is faster for in-house teams, it'll take longer for them to deliver tangible results than for a native advertising agency.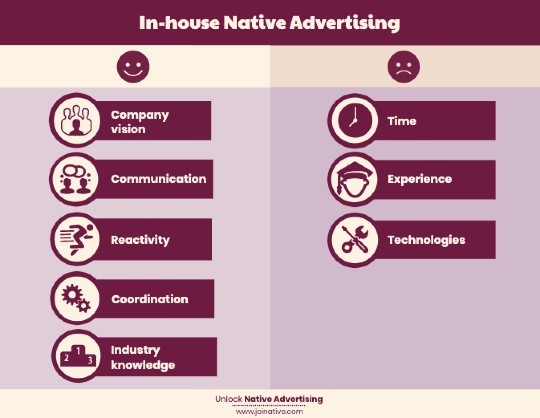 Native advertising agency: Pros
Experience. A native advertising agency focuses solely on this approach and knows the most effective techniques for different niches. Moreover, if they've already had a client from your niche, they must have already identified the go-to strategy.
Fresh vision. Over time, every in-house team gets so accustomed to the habits and culture of the company that thinking outside the box becomes almost impossible for them. While your in-house team got used to following the specific pattern, an agency may bring in fresh ideas.
Technologies. An agency is already equipped with all the industry's must-have technologies. They know how different native ad platforms work, and it won't take long for them to select the combination that fits your goals.
Time. Having extensive experience, native advertising agencies can minimize any roadblocks in the whole process. They jump in quickly, leverage their experience, and deliver results faster than your in-house team would do.
Cost. Considering the time spent and experience obtained, native advertising normally costs less when performed by an external agency.
Native advertising agency: Cons
Communication. An agency won't be immediately accessible. It's not as fast and reactive when it comes to communication. To get some update or discuss possible adjustments to your marketing strategy, you'll have to schedule meetings, often waiting for several days for an agency representative to get back to you.
Number of projects. A native advertising agency can simply get busy. If they deal with a lot of clients, it'll be difficult for them to dedicate their full attention to your projects. So, whenever you hire a native advertising agency, make sure they establish open communication with you right from the start.
Company vision. Agency's responsibilities to a number of other clients make it more difficult for an agency to fully understand your company's values and messaging.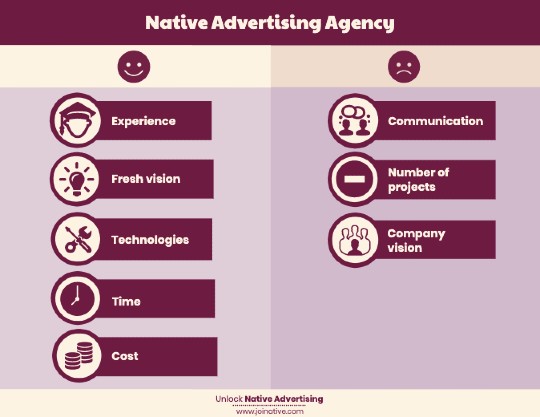 Best of both worlds
Choosing between doing native advertising in-house and hiring an agency, you should consider your specific use case.
It makes sense to hire a native advertising agency if you need immediate results or/and don't have resources to reach them yourself.
If you believe native advertising has strong potential for your company and consider it to be a part of your long-term strategy, you should definitely do it in-house. But as you can hardly predict such things, we offer a better option of getting the best of both worlds.
With our Native Starter package, you'll not only get your first campaigns set up but also learn how to run profitable native advertising campaigns yourself. We'll build a native advertising strategy together with you and your team, show you the best practices, and set up tracking and reporting for you.
This way, your team will have all the control over your native ad campaigns, gaining the relevant experience and being ready to manage your campaigns themselves.
Get in touch with us today to get started with native advertising.