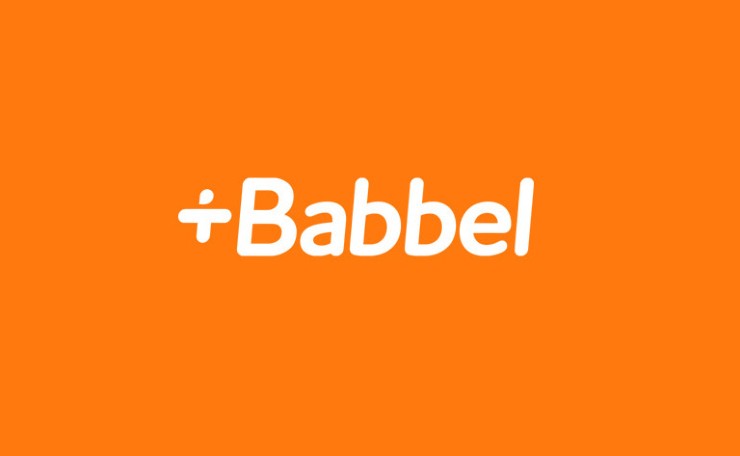 Native in Action: How Babbel Nails Native Advertising
Native advertising is not only a widely discussed advertising technique but also a widely used one. To prove a point, we're launching a series of native advertising case studies demonstrating how successful brands leverage the power of native ads.
The series is opened by Babbel – the world's first language learning app. To raise awareness of the platform and reach more people willing to learn languages, Babbel runs multiple marketing campaigns, native advertising included.
How does the company reach their potential clients with native ads? How do they align native advertising with their marketing strategy? Find these and other questions answered in this post.
Overview
Babbel's marketing strategy involves using a variety of techniques that help them reach users of different age groups, locations, or interests.
For instance, the brand has gained more than 30K of followers on Twitter, communicating with their target audience via fast replies and sharing their blog posts there. Along with social media marketing, the company focuses on other digital marketing approaches, such as content marketing, SEO, SEM, display advertising, email marketing, and more.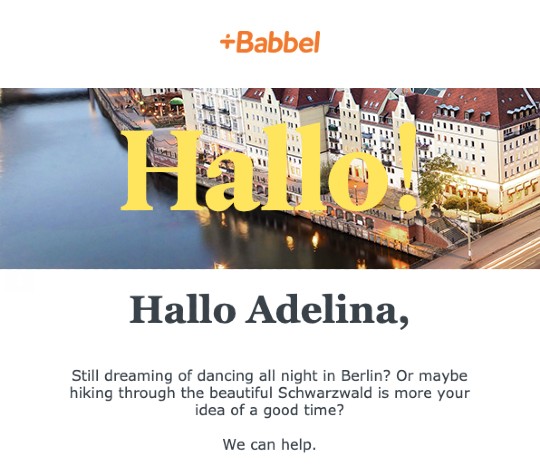 The example of Babbel's welcome email
Babbel's online magazine counts 6M monthly visitors – the result achievable due to the right combination of above-mentioned marketing techniques.
While it would take a book to define every technique separately, our initial aim is to highlight Babbel's approach to native advertising. Here we go.
Meet Babbel's native advertising campaigns
Babbel has been amplifying its content through a variety of popular content distribution platforms, including Taboola, Outbrain, Verizon Gemini, and Revcontent. Their ads are widely spread across the world's most popular websites, such as HuffPost, CBS News, Forbes, Reuters, and more.
According to Adbeat, most of the Babbel's ads are displayed across the news magazines: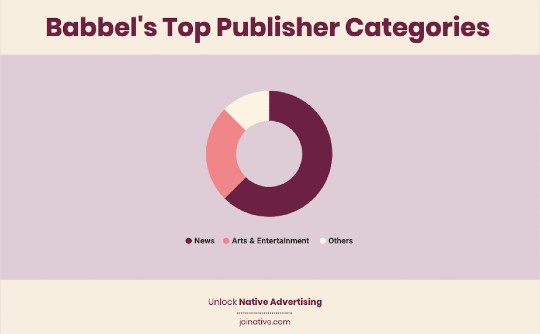 Babbel distributes their content across various publishers' networks, targeting different audiences based on their locations, device types, and interests. But what do their ads look like?
On-Demand Video Course On Native Advertising
Boost your ROAS with native ads. Enroll now with our limited 30% discount.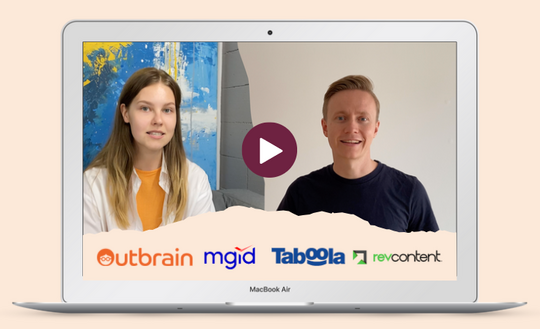 Ads & Tests
Babbel knows that faces capture users' attention more than anything else. And looking at the images they use in their ads, you can't help but notice it.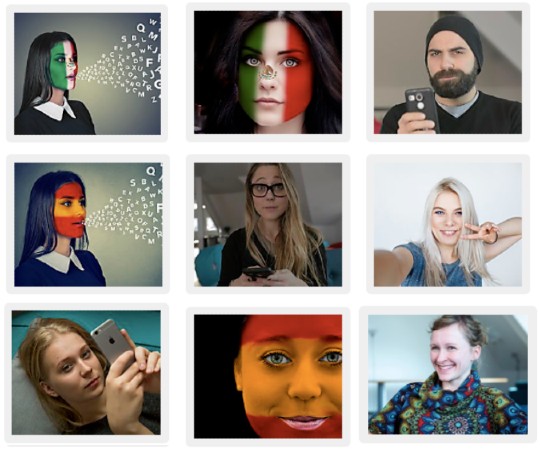 It's no secret it takes time and testing before one creates an effective ad. The company not only tests different images but also different combinations of images, headlines, and landing pages. Here's how ads promoting one landing page differ:

For their ads, they select a combination of images and texts, with most images demonstrating flags of different countries (in most cases, the flag relates to the specific language being promoted). This technique has proved effective, as these images are more attention-grabbing than the regular ones.
These examples also illustrate how Babbel tests different headlines for the same blog post – along with using the generic headlines for the post on the Babbel's benefits, they test more specific ones that target people learning the particular language.
Landing pages
Engaging creatives are important but landing pages matter most.
An effective landing page is designed to prove your brand's value and encourage visitors to further action. Whether you reach your campaign's goal or not highly depends on the message your landing page delivers.
The Babbel's landing pages are their blog posts. Babbel's main content marketing channel is their online magazine – it lets them connect with potential users and therefore achieve more registrations and downloads.
In their posts, you'll find nice-to-know information on different cultures, useful advice on learning languages, or persuasive facts on Babbel's effectivity. And this is where the marketing funnel comes in.
In our previous post, we've already talked about the importance of combining content marketing and native advertising. And Babbel leverages the power of this tandem successfully.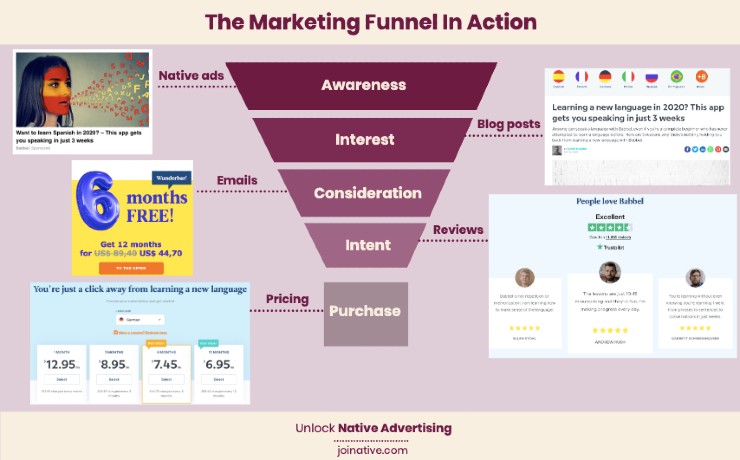 Imagine you come across one of the Babbel's native ads for the first time. Let's say, it's one of the ads illustrated in the previous paragraph. It says you'll be speaking a new language in three weeks. Sounds intriguing. You click on the ad to see the article that highlights Babbel's advantages and proofs from their users. They promise you'll make progress in three weeks, so you decide to go on. When you finish reading the article, you're offered to try a lesson for free. Still not ready for it? Then you might want to keep on reading their posts… and get ready to try their lessons. Want it or not, you're already in their marketing funnel.
Babbel's content marketing efforts help the company drive over 100,000 leads per month, and for good reason.
What's in it for you?
Whether you've already been running native ad campaigns or you're only looking into this advertising approach, it's worth paying attention to the companies that proved successful in this field. What are the combinations they're testing? How do they align their native advertising campaigns with content marketing efforts? Analyzing the examples of other brands, you'll not only get inspired but also avoid making common mistakes.
Don't know where to start? Or maybe you need assistance with making your native advertising more effective? Joinative is your partner for anything native advertising. Go for our Native Starter program, and we'll help you define your strategy, get your first campaigns started and teach you how to manage them. Read more about our services, our native ads management platform, or just get in touch with us directly.