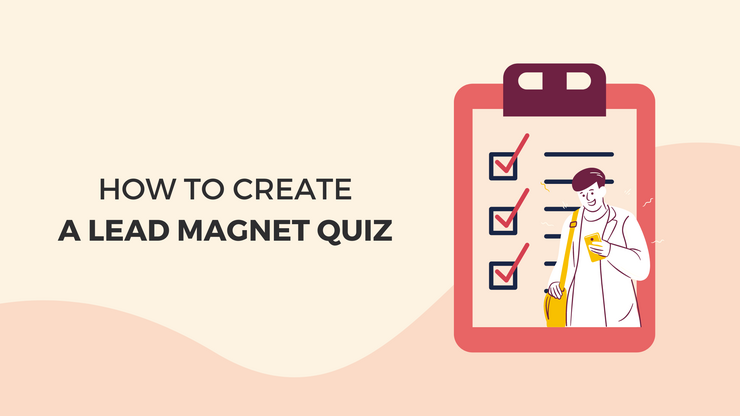 How to Use Quizzes for Effective Lead Generation
Businesses mostly use books, case studies, guides, and reports to attract leads. But while these lead magnets have proved to be effective, lead generation isn't limited to downloadable resources.
Bringing some diversity in your lead generation strategy and spicing it up a bit with quizzes can be a good idea. Quizzes deliver personalized results and make your prospects feel more connected to your brand.
There is one more key benefit you access with a good quiz. It's the ease of lead segmentation. Based on their answers, you can add respondents to different segments that you have set up in your list. The approach makes it way easier to personalize your marketing campaigns and convert leads into paying customers.
There's a common misconception that quizzes can only be effective for B2C lead generation. That's not the case. World-famous B2B companies, like Moz and Todoist, use the method to build their mailing lists.
That being said, there are a few things you need to keep in mind before you dive headfirst into creating a quiz. Let's take a look at them.
1. Choose the quiz type
Another important aspect to consider before creating a quiz is its type. There are two main types of quizzes based on their purpose.
Personality quizzes
This is a very common type of quiz that helps audiences to test personality traits, find out their personality type, evaluate their IQ, or find out their professional strengths and weaknesses.
On-Demand Video Course On Native Advertising
Boost your ROAS with native ads. Enroll now with our limited 30% discount.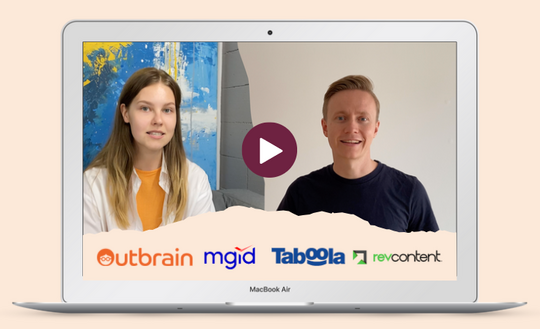 Such a quiz can be a great idea for those brands that rely on precise audience segmentation to make hyper-personalized product offers.
Below, you'll find just a few examples of personality quizzes:
Assessment quizzes
Professional assessment quizzes can be used as lead magnets in almost any industry.
Assessment quizzes come in different forms. They might test knowledge and skills or help to benchmark technology-readiness or business performance.
You can also offer such a quiz to better understand the awareness of your prospects about your brand, product, or particular product features.
Problem diagnosis quizzes
People turn to your company because they have a problem they want to fix. But before they make the purchase decision, they might also need your help to identify the best solution to their problem. That's where a problem diagnosis quiz comes in handy.
Along with delivering real value to your prospects and building brand credibility, problem diagnosis quizzes help to move leads down the funnel. While a person comes with a question specific to the awareness stage of the buyer's journey, the answer they discover after taking the quiz moves them to the consideration stage.
2. Draw attention with a catchy title
The success of your lead generation quiz highly depends on how catchy its headline is.
Value is important, for sure. But leads won't find that out if the title of the quiz bores them to death.
For reference, just look at BuzzFeed quizzes. How can you not click on the title like this?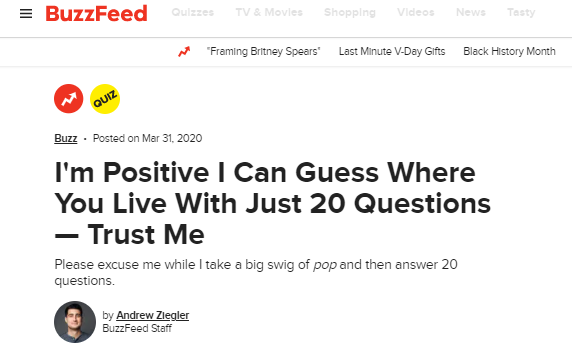 Of course, you can't apply BuzzFeed's approach to quiz titles to any business. For instance, a potential lead of a CRM software company would definitely find such a quiz title irrelevant.
Our point here is that you need to put yourself in your leads' shoes and consider what they might find engaging when it comes to quiz titles. Here are some general tips to push you in the right direction:
Address your prospects' pain points. Is there any question you could help them answer with a simple quiz? Your quiz might help you to assess their professional skills, share advice on their business strategy, or anything else that's relevant to both your audience's interests and your value proposition.
Target a specific emotion. The easiest way to encourage prospects to take this quiz is to evoke emotions.
Make it personal. The use of pronouns like 'you' and 'your' is strongly encouraged because it lets you address each lead directly. Besides, it makes your quiz seem more personal.
One more important point here – mind the length of the title. We quickly evaluated the top 12 Buzzfeed quizzes, and the average number of words came out to be about 15.
Important! No matter how engaging you want your quiz title to be, don't click-bait your leads. If you do, you'll end up wasting your time and money. Besides, such a shady technique will harm your brand's authority in your industry.
3. Craft engaging quiz questions
Now, as you've determined the quiz type and figured out its title, let's talk about preparing questions for your quiz.
Essay questions are not always the best idea – they take more time than other question types, and people often skip them for that reason.
Writing engaging questions for your quiz is no rocket science. Here are two key tips you need to follow to build a successful quiz:
Keep your questions short. Here, engagement overlaps with readability. The more difficult the question is to read and perceive, the more likely the lead is to click away. So, keep your questions straight-to-the-point. And, if you're struggling with readability, use Hemingway App to make the question clearer.
Don't make your questions too obvious. Yes, the questions should be straightforward, but it means that you shouldn't beat around the bush. However, don't make your questions too obvious as well – you don't want to give away the final answer too soon.
There's one more important thing to keep in mind regarding the quiz questions – they should come in a specific order and push the lead towards the goal of the quiz. At this point, you can use storytelling elements and make each question fit into a step of a journey.
4. Spice up your quiz with images
Visuals can transform your quiz and make it more informative. Sometimes, images can even replace the answers and make your quiz completely visual, like this one by BuzzFeed: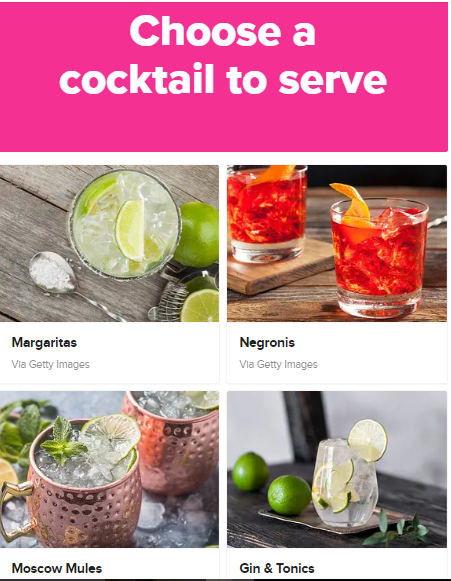 On top of that, if you add more images to your quiz, it might help you attract more new leads. After all, 65% of people are visual learners – the majority perceives and memorizes information better when it comes to images, graphs, or videos.
Also, with visuals, your options are limitless. You can even include the images of your product and use it as one more branding opportunity and a chance for the leads to learn more about your product.
How to choose the right visuals for your quiz to get more leads? Here are some recommendations:
Keep your visuals relevant. They should support the quiz questions and answers and not divert the attention from the quiz's main goal.
Include diverse images. Don't get stuck on the one type of visual. You can include screenshots, flashcards from a relevant helpful site, or even embed a video. However, all these visuals should be related to the topic of your quiz.
Mind the format. Remember: your visuals should load easily both on a desktop and in a mobile version and should not crash your website.
One more thing – if it's possible, avoid stock images. Sometimes, such visuals can make your quiz look very unprofessional and cheap. Instead, invest in professional photography, especially if you're planning to place the images of your product.
5. Keep the lead generation form short
Let's talk about one of the most important aspects of a quiz as a lead magnet – a lead form.
Requesting contact information after a prospect answers the last question is the most effective method. After carefully filling in every field, a person is more likely to share their email address.
On-Demand Video Course On Native Advertising
Boost your ROAS with native ads. Enroll now with our limited 30% discount.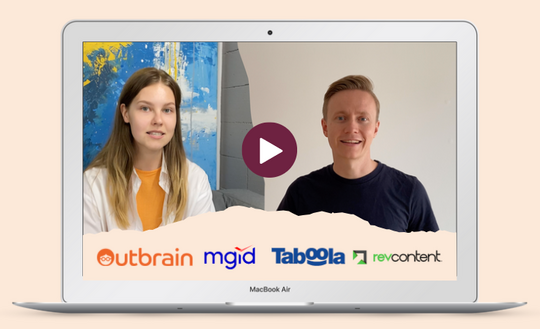 Keep your lead form straight-to-the-point. It's always better to ask for as little information as possible. A name and email address should be enough in most cases.
It's also a good idea to include social media registration forms to speed things up, like HIGH5 Test did: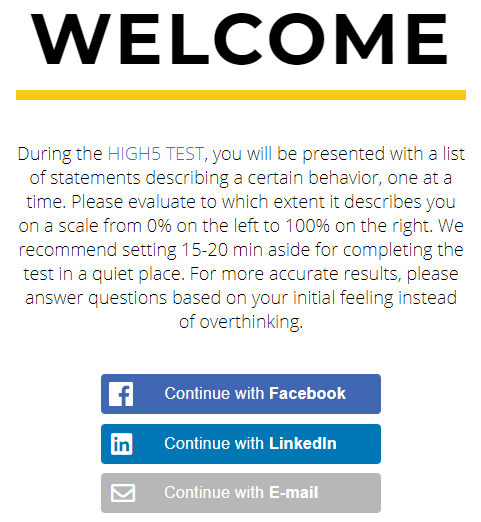 The choice of the contact information you will ask for in the quiz lead form will depend on who your target audience is and how you're planning to interact with them. But, if you're asking for extra information, explain why you need it.
6. Deliver on your promise
There are tons of online quizzes filled with well-thought-out questions… that just deliver flimsy results.
Although it's the easiest way to go, it's also a harmful practice for your brand reputation. After you capture your leads' email addresses, you also want to connect with these people and turn them into your paying customers. If they see you use deceptive practices to catch their attention, you'll need to work hard to change their attitude towards your brand.
Using Quizzes for Lead Generation: Quick Topic Recap
There is no doubt that quizzes work wonders as lead magnets – they are engaging, unique, and people love them.
But before you build your first quiz for lead generation, there are a few things to keep in mind:
Choose the type of your quiz. The type will determine the results.
Mind the title. It forms the first impression of your quiz.
Try to make questions as engaging as possible. Also, don't make them too obvious.
Use imagery. Visuals can add an extra layer of engagement to your quiz.
Keep a quiz lead form short. If you have to ask for extra information, share why it's important.
Deliver value. Trying to fool your prospects, you risk fooling yourself.
Here's one more thing – don't be afraid to let your creativity loose. After all, a quiz should express your brand's individuality.