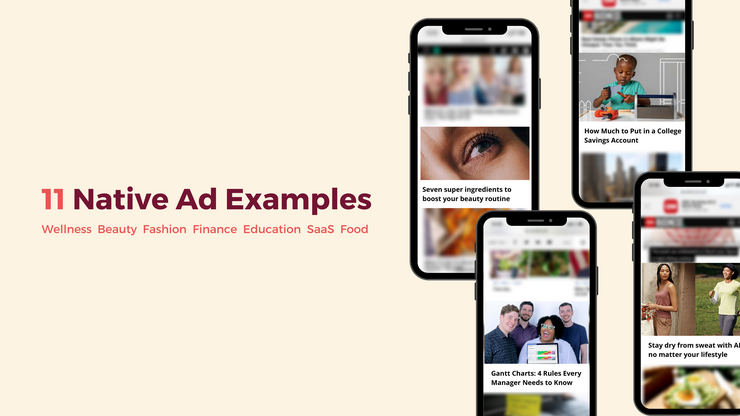 Iconic Native Advertising Examples of 2021
When done right, native advertising can be engaging, intriguing, inspiring, and just effective. And we're here to prove it.
You might have seen lots of examples of native ads – some of them are good, some are bad, and others are just awful. Yes, we know that what you see as 'recommended content' isn't always great. But that's the case with any marketing campaign. It's about people and brands that run these campaigns, not the marketing technique itself.
On-Demand Video Course On Native Advertising
Boost your ROAS with native ads. Enroll now with our limited 30% discount.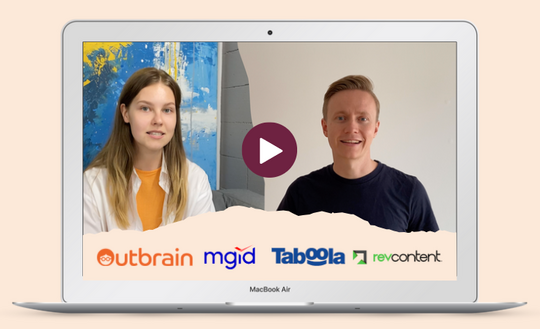 We love seeing successful native advertising campaigns and want to share a bit of this inspiration with you. In this post, we'll not only list the best examples of native ads but also show what landing pages stand behind these ads.
Important: In the article, we'll highlight native ads run across native ad networks, like Taboola, Outbrain, Revcontent, etc. We don't describe Facebook Ads or Google Display Ads as native ads.
Learn from our favorite campaigns, and who knows, maybe your next native ad will also fall into this list? If you need tips or assistance with your native ad campaigns, check out our native advertising consultancy and agency services.
Disclosure: This post may contain affiliate links. This means we may earn a commission if you buy something through our links at no additional cost to you.
First, what are native ads in advertising?
We've already said we focus on Taboola, Outbrain, Revcontent, and other similar networks when we collect examples of native advertising. These campaigns are displayed on publishers' websites, like online magazines, news websites, and blogs. Ads run across Facebook and other paid social channels are often defined as native ads, but we don't define them as such.
Ecommerce | Fashion: UNIQLO
UNIQLO is a popular clothing designer and retailer. You can find their native ad examples across the Outbrain, Taboola, MSN, and other large-scale networks.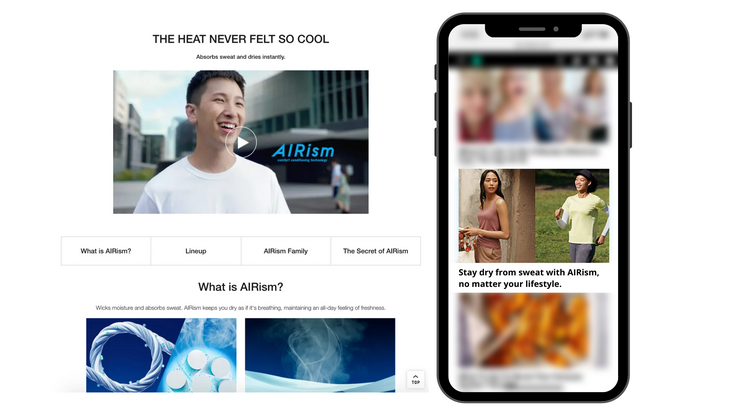 The campaign focuses on the prospects' pain point and offers a simple solution to it. Without pushing the product itself, the advertisers make it clear what the offer is and drive relevant audiences to the landing page.
Ecommerce | Beauty: Clarins
In their native advertising campaigns, Clarins uses questionnaires, articles, influencer-generated content, and product landing pages.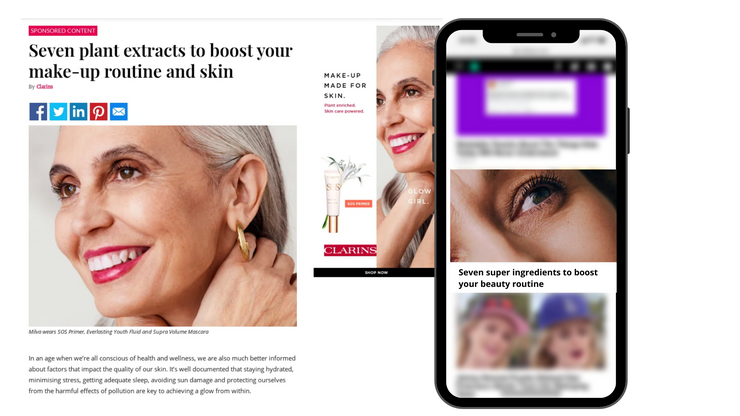 The article users land on after clicking the native ad doesn't look promotional at all. This way, the campaign fits perfectly in the environment and doesn't hurt the user experience.
And how do they promote the product with this campaign? Along with highlighting plant-based ingredients that are good for your skin, the writers also offer relevant Clarins products containing this or another ingredient.
Finance: Bright Start
The company offers college saving plans for future students. They run their native ads across the Newsmax and Revcontent networks.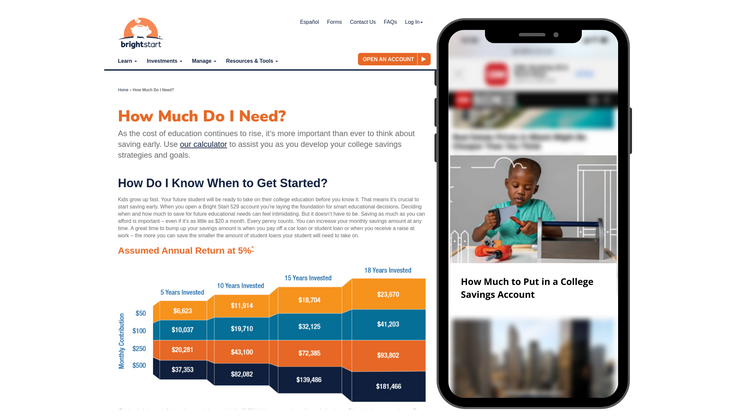 The native advertising example above perfectly illustrates the use of informative content with a purpose of driving prospects into the sales funnel.
The ad headline arises the question all parents face at some point in their lives. But beofore they read the ad copy, the image helps to attract their attention to it.
SaaS: Grammarly
Grammarly is a well-known digital writing assistance tool. The company actively promotes their campaigns across Google's and Taboola's networks.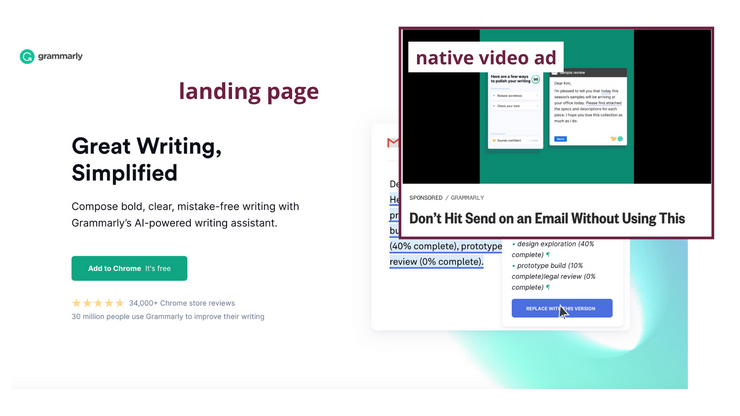 The message of the Taboola ad above perfectly fits the native advertising format. It's catchy and attracts the right audience – people who communicate over email a lot. By leveraging video format, the Grammarly team shows people how the tool works even before they click on the native ad, thus, ensuring only the most relevant ones make it to the landing page.
Education: Microsoft and LinkedIn
These two companies don't need an introduction. Companies use native ads to promote the course LinkedIn and Microsoft teams collaborated on.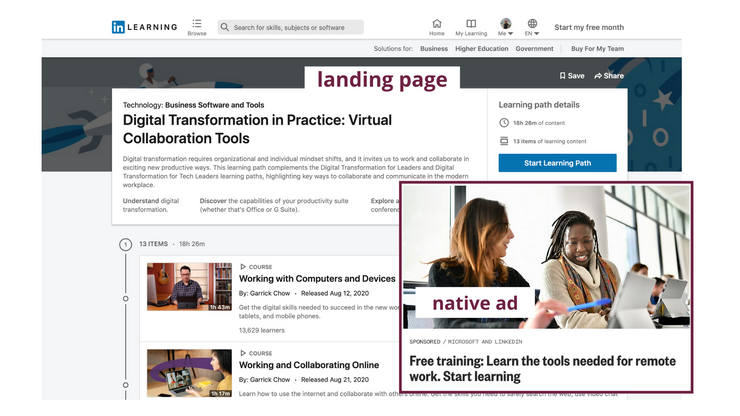 It's remarkable that even though both companies have their own platforms for advertising, they choose to add native advertising to their marketing mix.
Native advertising is particularly good for promoting online courses. This native ad example proves it. Audiences of news outlets and online magazines are often avid learners, and advertisers have a chance to reach their audience right when they are most likely to be open to discovering new information.
Software: Integral Ad Science
The first example is a native ad campaign by Integral Ad Science.
IAS is a tech company that offers solutions that help make the advertising ecosystem safer and more effective. The company develops technologies that address verification, fraud, and analytics issues.
This ad was spotted on The Drum and led us to the sponsored post where ad fraud problem is defined. The aim of this campaign is lead acquisition. How do they acquire leads? The paid post not only tells you about the ad fraud phenomenon but also entices you to download a whitepaper that helps you fully understand what ad fraud is and how to combat it.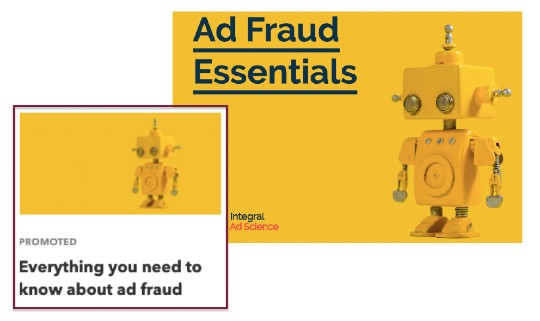 The campaign also shows the company's expertise in solving ad fraud issues and helps them build a reputation. If you want to establish yourself as a niche expert and strengthen your credibility, a well-crafted native advertising campaign will be the right way to go.
Fitness: 8fit
8fit is an app that offers custom home workouts for everyone. Their native ads are widely spread across premium publishers' websites.
You can see them testing different imagery, headlines, and campaign content.
This example illustrates the use of a promising headline, quality thumbnail, and a landing page that meets the reader's expectations (which is a rare occasion for ad campaigns).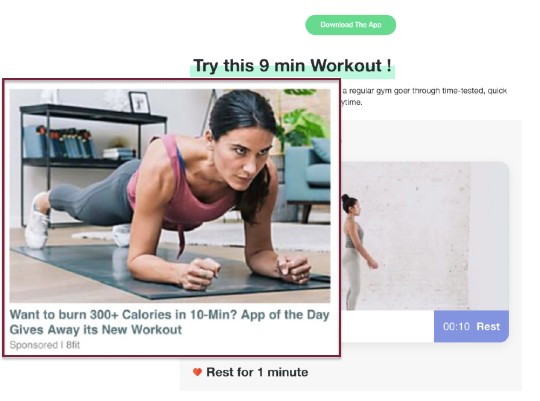 Along with showing you a few exercises that help you burn 300+ calories in 10 minutes (in 9, actually), they also encourage you to download the 8fit app. So, if you're already motivated to do sports at home, you should be interested in getting access to various workouts, customized meal plans, and the progress tracking feature.
Another great point of 8fit's landing page is that they display user reviews below so that a reader might get even more inspired to give it a try.
On-Demand Video Course On Native Advertising
Boost your ROAS with native ads. Enroll now with our limited 30% discount.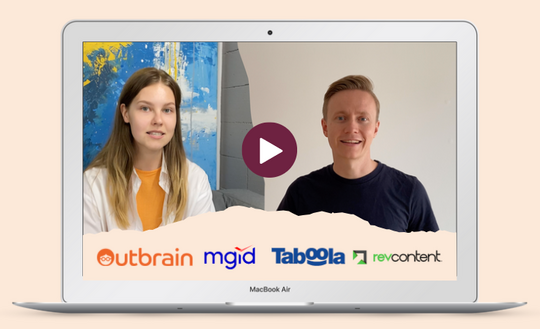 Education: Blinkist
We love Blinkist's campaigns, and therefore you might have already seen one or two examples in our blog posts. Blinkist is a book summary service where you can find insights from more than 3000 non-fiction books. Reading a summary doesn't take more than 15 minutes, and the app is positioned as a helping tool for busy and successful readers.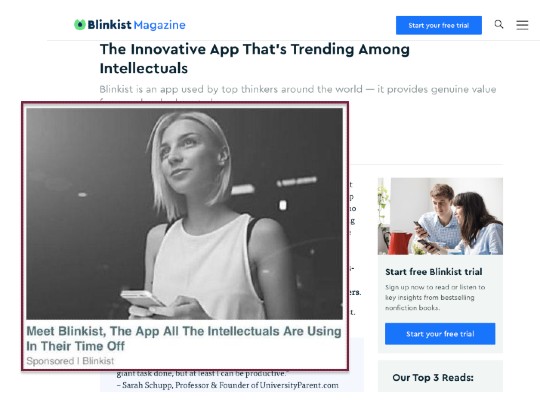 If rephrased, the native ad's headline says that if you consider yourself an intellectual (and who doesn't?), you should go and check this app. The ad leads to a blog post where the reasons why intellectuals like this app so much are described. The post is quite convincing – they show reviews from successful founders, quote Tim Cook's post about Blinkist, and mention you'll be in this club of intellectuals if you download the app. The company found their audience's 'pain points' and used this knowledge successfully.
Ecommerce | Food: Jean Patrique
This interesting native ad example was found on AOL. What's interesting about it? It's a sponsored post published on DailyMail which is in turn promoted on other news websites. You can come across similar scenarios pretty often. Some publishers even use content distribution platforms to promote their own posts on their own websites.
Let's get back to the native ad though. Jean Patrique is a cookware company. Their native advertising campaign tells users about some innovative pan that seems to be in great demand. The title promises us to uncover the secret of such popularity (and make us want to buy the pan). Although the headline could be much more engaging, the campaign is worth attention.
It's also important to note that the ad used is actually a video ad. Even if you aren't impressed by the title (which is very natural), the process of cooking being displayed will make you click on the ad at least to stop staring at delicious dishes.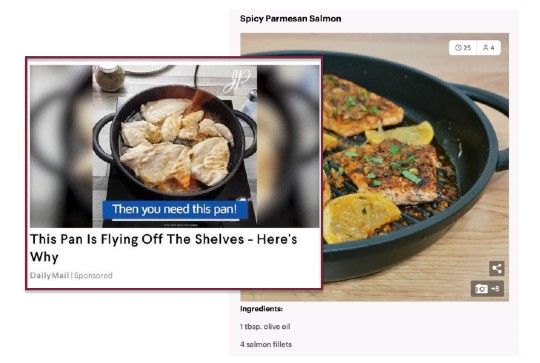 When you come to the page with the sponsored post, you see a detailed list of advantages of this pan, three recipes, images of chefs using the pan, and even customers' reviews. But beyond a comprehensive post, there is a goal of driving more sales – you can't help but notice a strong call to action there. Instead of just promoting a product page with a few characteristics, marketers decided to put content first. And they weren't mistaken.
Ecommerce: Amway
Amway is the world's largest direct selling corporation. However, their native ad campaign doesn't seem to be aimed at direct selling at all.
In their sponsored post on Forbes, they share tips for overcoming challenging situations in work and life. While the campaign might seem to have no relation to Amway's services, it has a goal. Apart from helping brands to achieve sales objectives, native advertising is also effective for strengthening customer loyalty. This is what this native advertising example is about.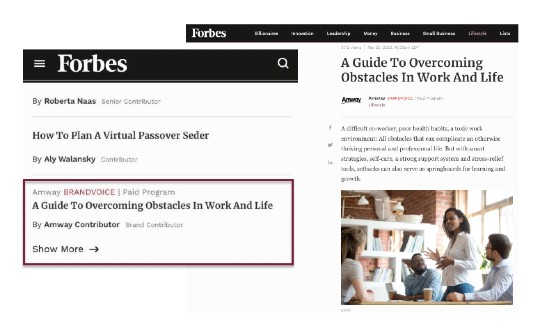 Ecommerce: Sebo
Sebo is a German company that produces vacuum cleaners. Their campaign is an amazing example of how native advertising should be done. While highlighting the problem and the solution, advertisers also appeal to users' emotions.
The title says 'Chaos after the kid's birthday party? No problem!' You see the problem stated and the brand name mentioned below, so it's most likely you already know what the video will tell you about (yes, it's a video ad).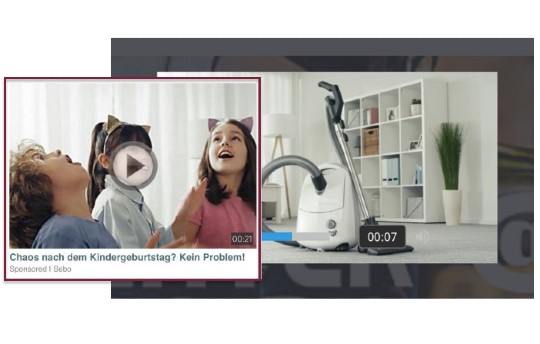 This sweet and more importantly short video tells the story of a kid's birthday party and shows how easily the chaos kids leave is removed with the help of the vacuum cleaner. Instead of highlighting multiple features or advantages of the product, advertisers decided to tell a story, which is always a good idea.
Bad native advertising examples
When you already know what great native advertising campaigns look like, let's pay attention to native advertising examples you don't want to follow.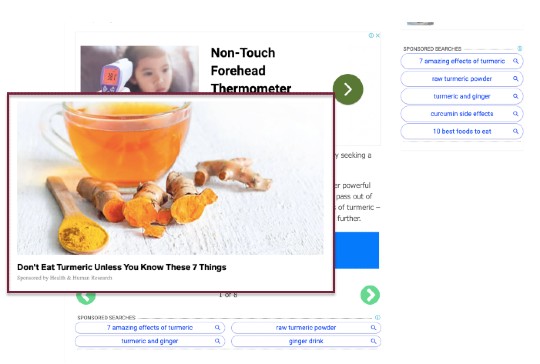 What's wrong with this campaign? First of all, distributing content that's not supported with scientific research is always a bad idea. Next, the landing page – an advertiser didn't really care about its quality. This campaign definitely has a goal – it drives website traffic that is monetized with tons of ads displayed on the landing page.
While every successful native advertising campaign has its own strengths, all bad native advertising campaigns have one weakness. Low-quality content is what distinguishes every junky ad campaign.
On-Demand Video Course On Native Advertising
Boost your ROAS with native ads. Enroll now with our limited 30% discount.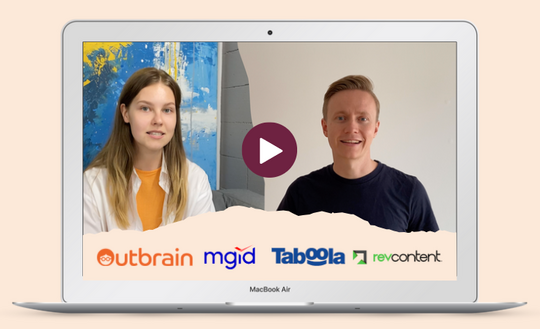 Looking for more examples of native ad campaigns?
While you might come across quite a few great native ad examples on a daily bases, finding the ones that are relevant to your niche isn't an easy task. First of all, you need to be targeted. Next, you should know sites these ads are most likely to be served on. And finally, you should be ready to spend a few hours per day on this research.
With Anstrex, you can conduct market research and get all the necessary data that you can leverage in your campaigns in seconds. Check out the ultimate review of the tool.
Enter the 'joinative' coupon code at the checkout and get a 20% lifetime discount on Anstrex.
Start a great native ad campaign today
When advertisers know their audience and how to approach them, many good examples of native advertising appear. These are just a few native ad campaigns that we wanted to share with you. And your next campaign can expand this list.
To see more advertising examples, check out our post with the best holiday marketing campaigns.
Do you still doubt that you can run a successful native advertising campaign? We at Joinative know how to address your concerns. With our Native Starter package, you'll learn how to develop the best native ad campaigns that appeal to your target audience and reach your business objectives.
If you want to try native advertising but have no time or resources available to manage your campaigns, our native advertising agency is right for you. We'll prepare, launch, and keep optimizing your native ad campaigns, while you're focused on serving your new customers.