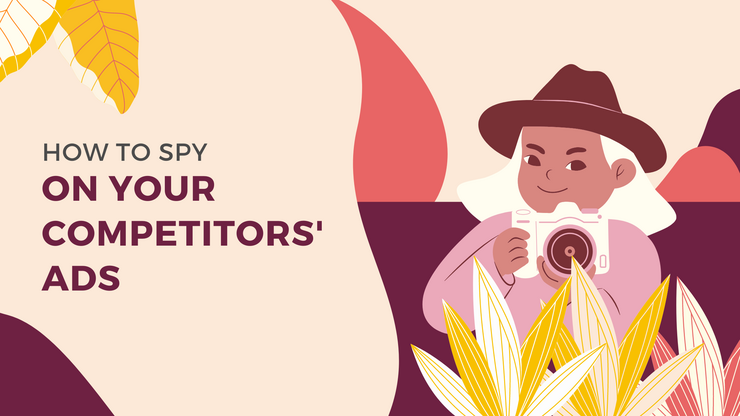 How to Find Your Competitors' Ads - Techniques And Tools
Where are your competitors advertising? What are other ads in the niche looking like? How do you find as many relevant ad examples as possible without spending too much time?
We know that spying on your competitors' ads is a tricky task. You can't just wait for these ads to appear in front of your eyes (but it's fair to say that sometimes they will).
In this guide, you'll discover techniques and tools that will help you find and learn from ads that other companies run.
Disclosure: This post may contain affiliate links. This means we may earn a commission if you buy something through our links at no additional cost to you.
The importance of competitive analysis in advertising
Competitive analysis is a technique of finding and researching competitors' marketing campaigns to better understand their strategy, foresee product launches, and get creative ideas for your future campaigns.
Here are the reasons why competitive analysis is an essential step for every advertiser:
It helps you determine the strengths your competitors are highlighting in their ads. This way, you might get a chance to have a look at your offering from a different angle.
You'll learn about product launches, discounts, and other exclusive campaigns that you might have missed. Knowing what your competition does to attract your target audience, you can do it better, faster, stronger.
When you run out of ideas for new tests to launch, nobody will blame you for having a peek at what other companies consider effective.
It's good to see what ads companies in other niches are running so that you can find completely new approaches to running campaigns in your niche.
Your template for analyzing competitors' ad creatives
What should you consider when analyzing competitors' ads? To help you make the most out of the research, we've prepared a template that allows you to organize the information you get.
Get the template for free.. Before using the template, go to the File tab and click on 'Make a Copy.'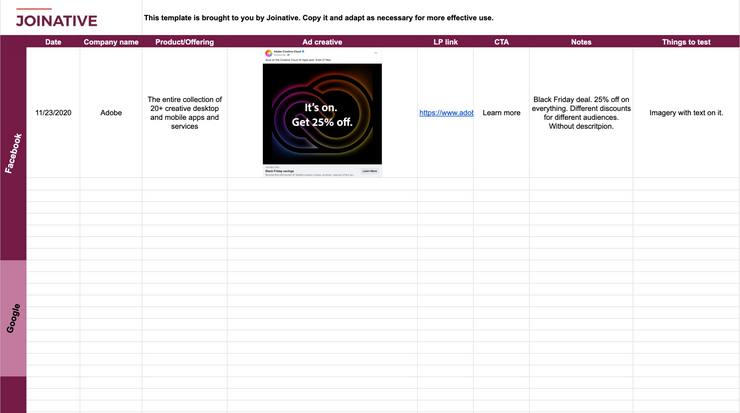 With this simple template, you can capture ads that especially interest you and get back to them when you want to test something new within your campaigns.
Finding your competitors' native ads
As we work with clients in different niches, we usually spend some time researching native ads run by other companies in the industry before we build an advertising strategy for a new client. We take this step to better understand what we can do to make our future campaigns stand out and learn how actively the competition is advertising on the specific channel.
How do you find native ad examples on the web? Usually, you see native ads within content recommendation widgets below articles on publishers' websites.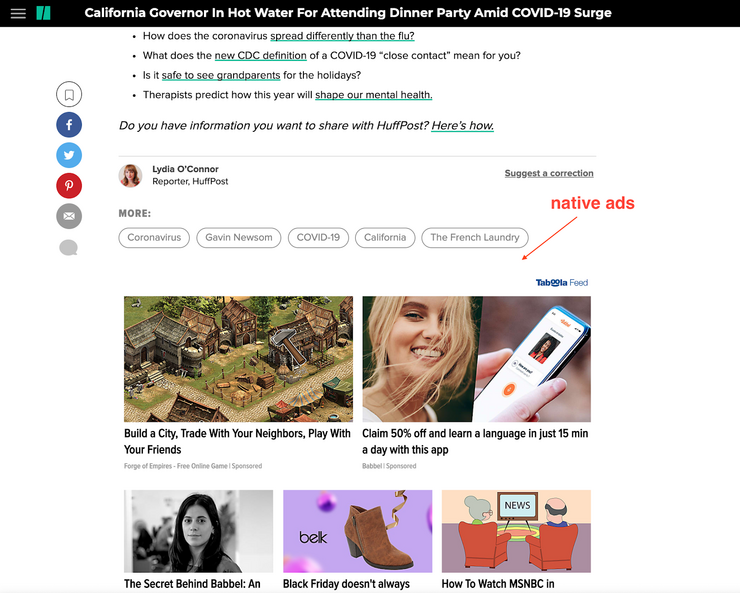 To see the specific advertising campaign, your online behavior should meet the criteria specified in campaign settings. Native ads are no exception. Campaigns displayed to you will depend on your location, sites you visit, the language you speak, and/or multiple other factors.
On-Demand Video Course On Native Advertising
Boost your ROAS with native ads. Enroll now with our limited 30% discount.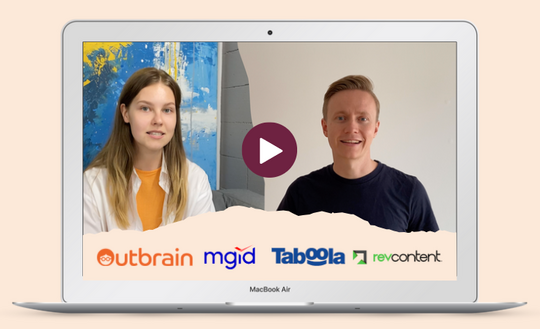 If you have plenty of time, you might want to imitate the user behavior of your competitors' target audience, But since you can hardly guess who they target and whether they actually run native ads, this is a lost cause.
The only viable solution is using a tool that will help you find and research your competitors' native ads.
Find native ads with Anstrex
Anstrex is a must-have tool in our team's toolkit. The tool collects ads distributed across 27 native ad networks, including top platforms like Taboola, Outbrain, Revcontent, Yahoo Gemini, and others.
With Anstrex, you access the ad data for all major countries and languages.
You can search for native ads based on categories, terms containing in titles, languages, ad networks, and texts containing in landing page URLs.
As it's likely that you aren't sure who you compete with on different channels, we recommend that you filter ads by categories and/or titles.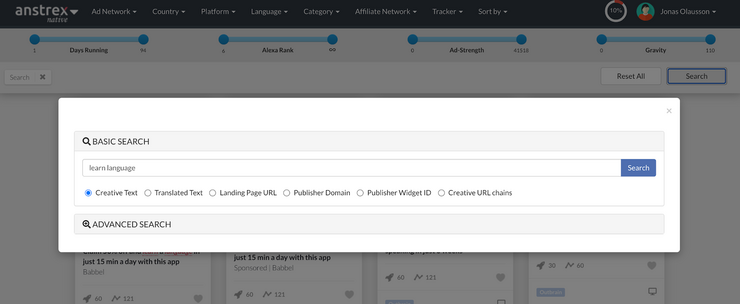 When you discover what companies use keywords similar to yours, you can dig deeper into campaigns of specific advertisers.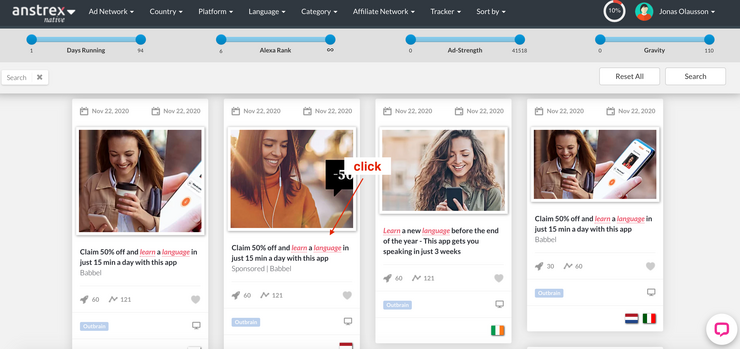 If you click on any ad on the dashboard, you'll see more detail about the campaign content.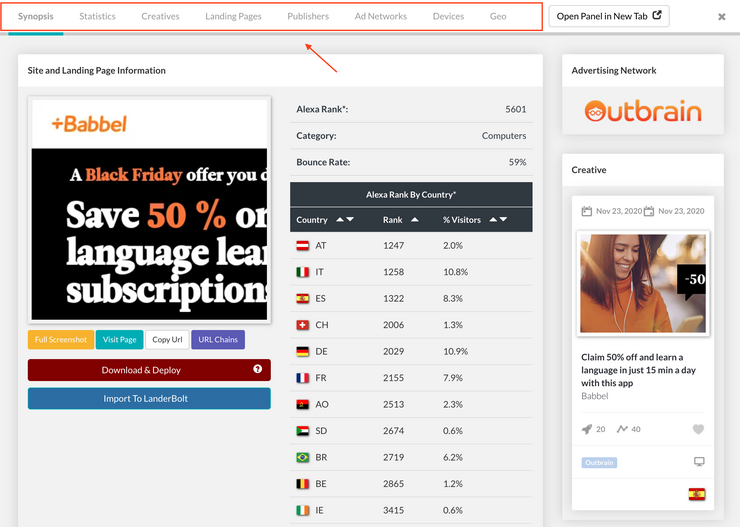 On the top of the window, there are tabs where the information about all native ad campaigns run by the advertiser is gathered. By switching between tabs, you'll find all the creatives your competitor has launched, their traffic share by country, native ad networks they use, and more.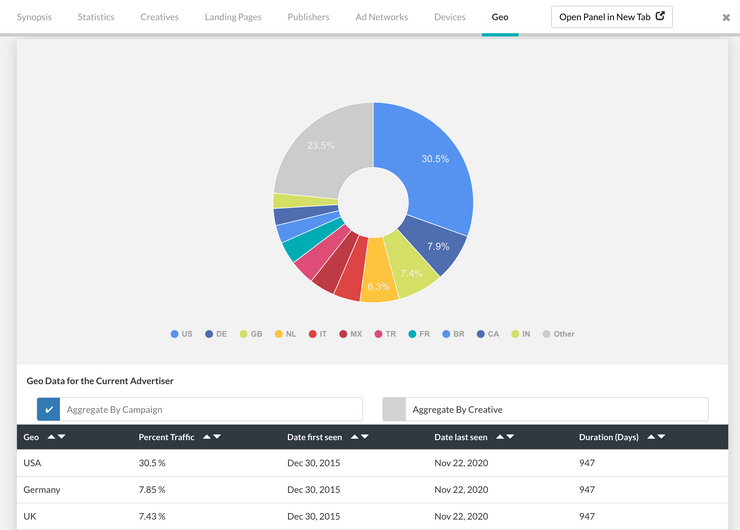 This tab illustrates the share of geos the company is getting traffic from.
The tool makes competitive analysis easier for native advertising experts.
Enter the 'joinative' coupon code at the checkout and get a 20% lifetime discount on Anstrex.
Finding your competitors' Facebook ads
Facebook is one of the most popular platforms for advertising. We won't waste time explaining why analyzing your competitors' Facebook ads is crucial.
Using free tools
Fortunately, there are quite a few free options that allow you to find Facebook ad examples.
The easiest way to find active ads run across the Facebook network is to check the Facebook's own ad collection.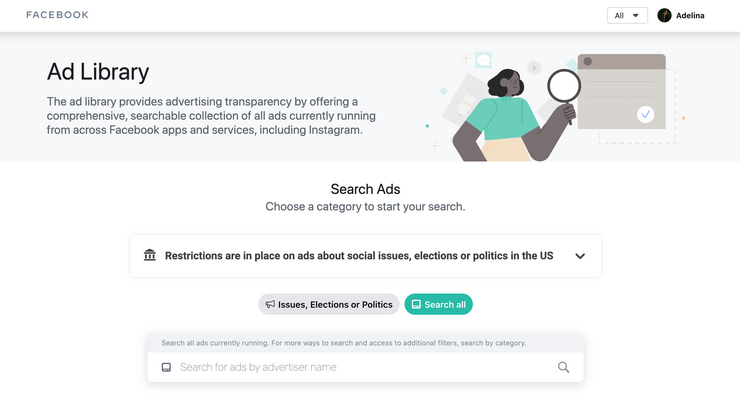 Note: Disable your ad blocker before you start your research. You won't see any results when it's active.
Here are the results we got when searched for the Target brand name: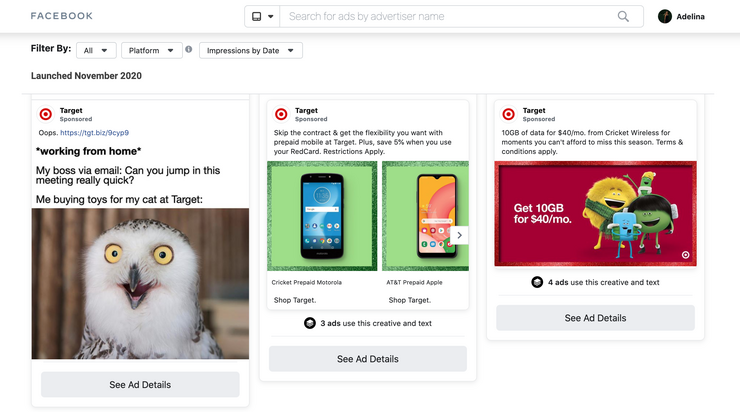 If you just need inspiration and aren't necessarily looking for your direct competitors' ads, you can start your research with Swiped.co. The platform has a library of ad examples that can be filtered by channels and keywords.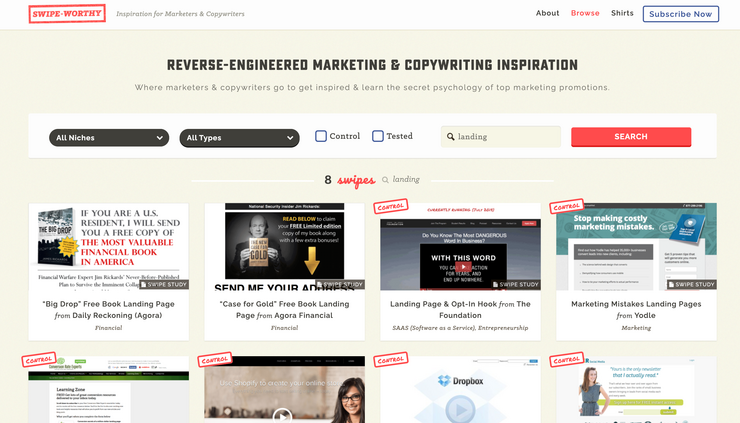 Using paid tools
You might be looking for a tool that provides deeper insights into other companies' ads, like CPCs, reach, target audience, and more. In this case, only a paid tool can help.
PowerAdSpy cost starts at $49/month, but you can also enjoy its free plan if you don't do more than 100 searches and 1000 ads in 10 days.
The tool allows you to spy not only on Facebook ads but also on ads run on YouTube, Google, major native ad platforms, Instagram, Reddit, and Quora.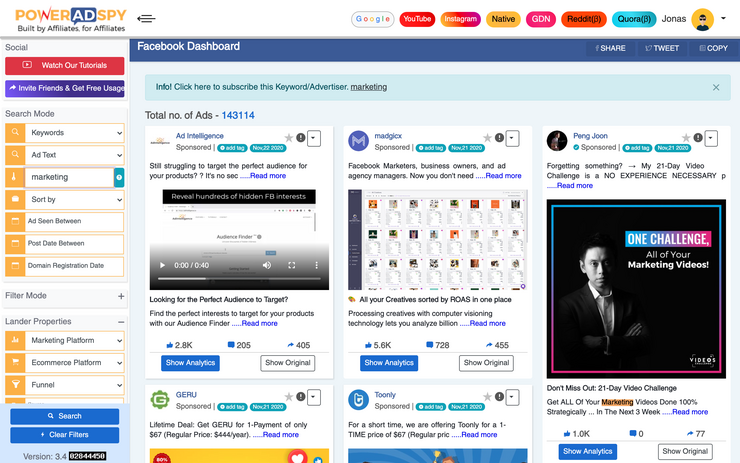 You can filter ads by keywords, brand names, domains, ad texts, and many other parameters. If you click on any ad on the dashboard, you'll see the data on its social engagement, a landing page used in this specific campaign, and a list of more similar ads.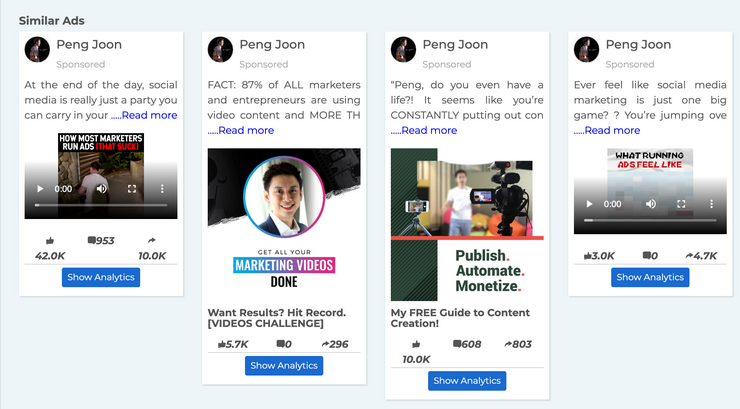 Tip: Identify your competitors' targeting options with 'Why am I seeing this ad?' feature
Seeing your competitors' ads in the Facebook feed? You can easily find out why you're being targeted by taking two simple steps.
When you see an ad you'd like to analyze, tap on three dots in the upper-right corner.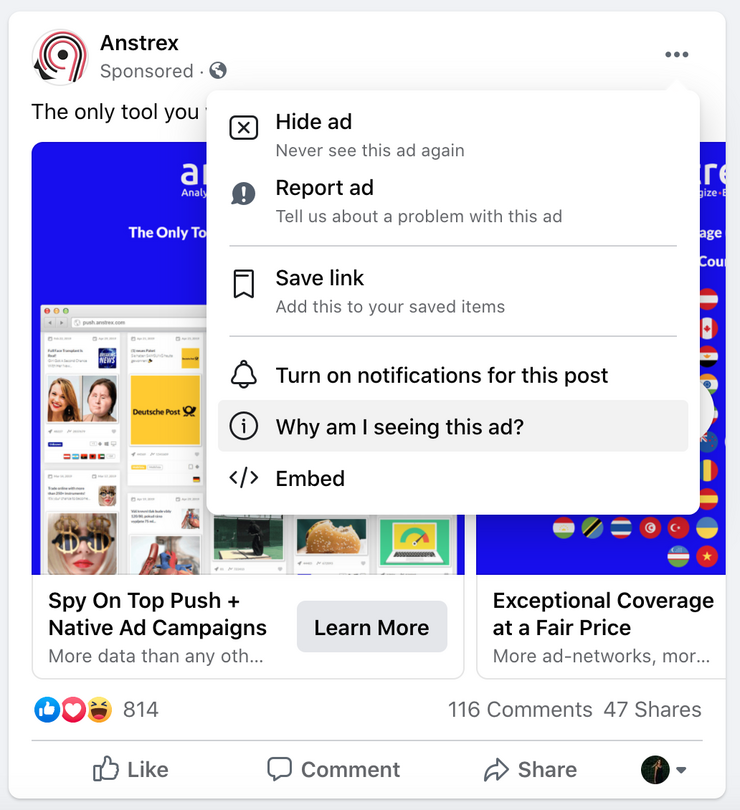 From there, click on 'Why am I seeing this ad?' Facebook tries to provide full ad transparency, and therefore, audiences have free access to the details of ad campaigns put in front of them.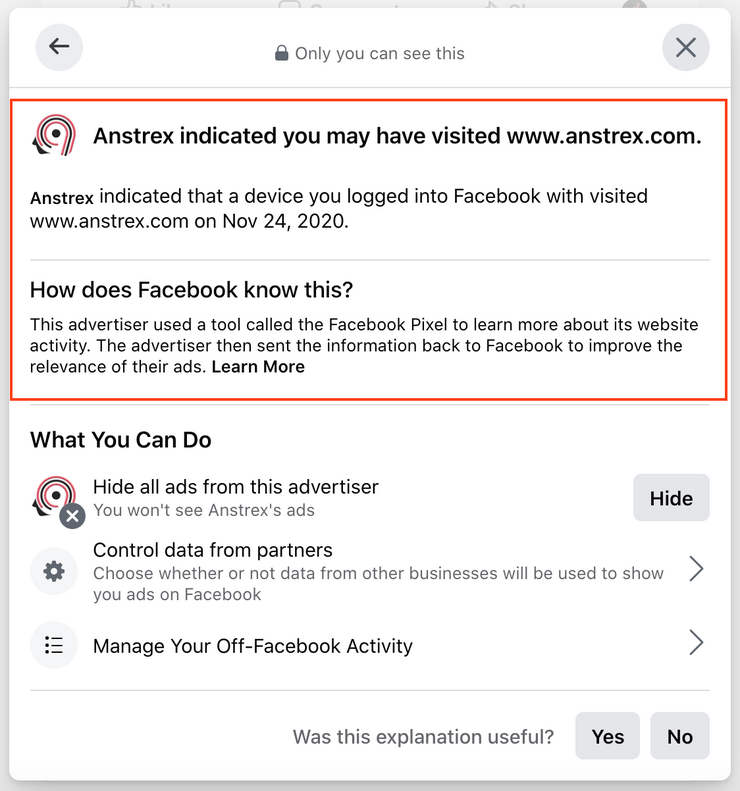 Finding your competitors' Google ads
Search ads
Analyzing your competitors' search ads is the easiest task among all the other options in this post.
Find search ads by keywords [manually]
Pick all the relevant relevant keywords and enter them in the search bar one after another to get as many ad examples as possible.
To get a list of keywords fast, you can use one of keyword research tools.
Even on a free plan of KWFinder, Serpstat, or SEMrush, you'll get way more keyword ideas than you would come up with by brainstorming.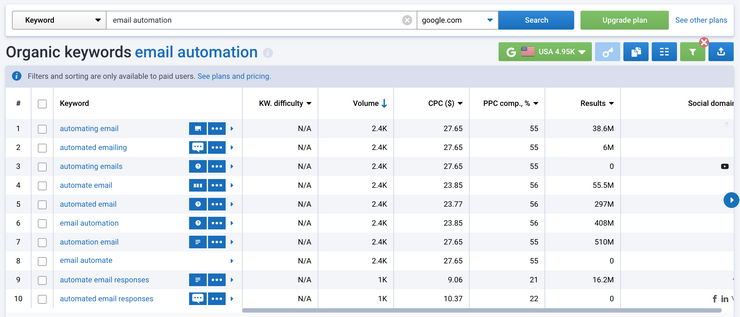 If you have access to the Paid Keywords feature on your plan, you can get the list of all paid keywords domains that rank on Google for the specified query bid on ads.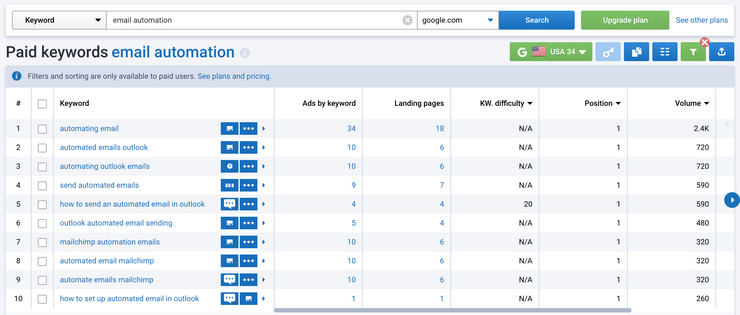 If you just want to find a few ad examples, you don't even need a keyword research tool. Just brainstorm a few keywords and expand your keyword poll with Google's search suggestions.
Note: Don't forget to add your and your competitors' brand names to the list.

When you're ready, go to the Google search and start typing in and analyzing your queries one after another.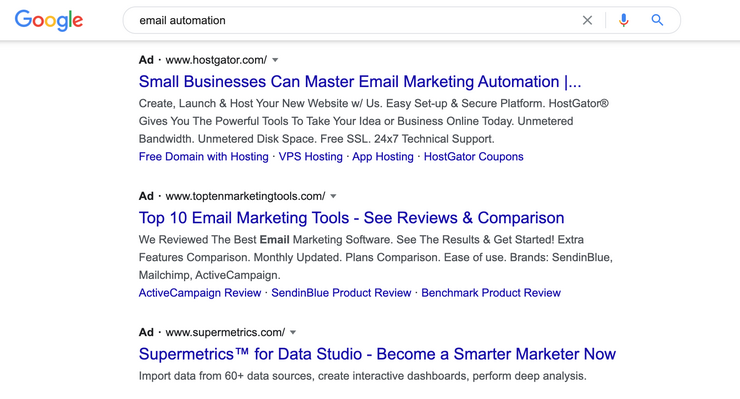 When you finish, you'll have enough insights into the strengths and weaknesses of your competitors' campaigns. Put this data together to build better search campaigns and outperform other players.
Using a tool
Although the above-mentioned approach is very simple, it takes time to find your competitors' search ads manually.
Fortunately, SEO tools, like SEMrush or Serpstat, can facilitate the whole process. By entering one target keyword, you'll find hundreds of ad examples in a few seconds.
Alternatively, you can enter the URL of your competitor and see what ads they're running, which keywords they're bidding on, how much traffic they're receiving from their paid campaigns, and who their main competition on paid search is.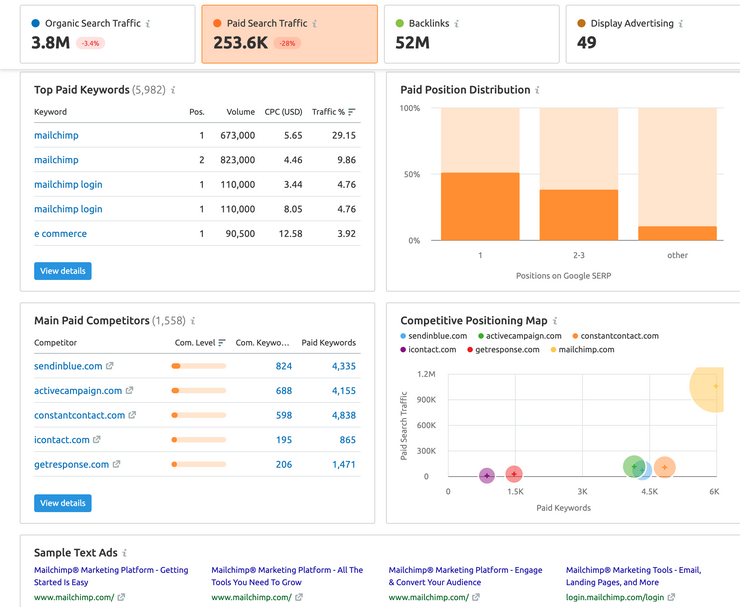 Display ads
How do you get information about your competitor's use of online display ads?
Spying on Google Display Ads is the most interesting part of the whole process. Advertisers usually take efforts to align their display campaigns with the marketing funnel. Once you manage to dig into their display ad strategy, you get a better understanding of how they reach people at different stages of the conversion cycle.
Spy tools for Google Display Network
To learn whether your competitors run any display ads, what publishers they get traffic from, and how much they're reliant on display advertising, you can start with SimilarWeb. Simply enter your competitor's domain into the search bar and entrust the tool to gather the data for you.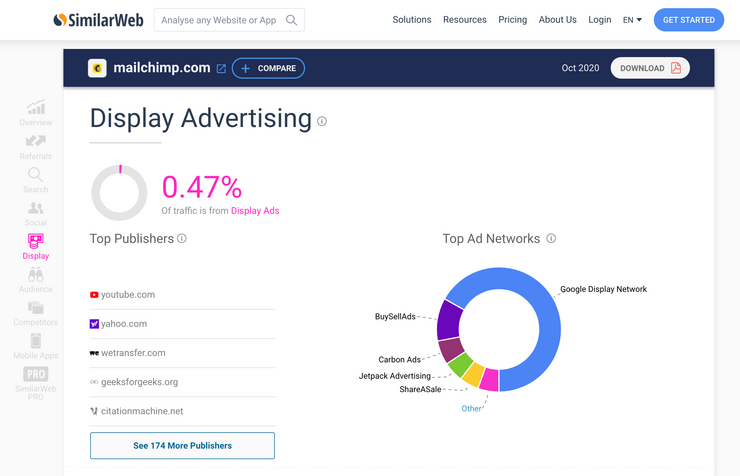 For more detailed insights, you can turn to SEMrush. In the Display Advertising section, you can take a peep at the advertiser's audience demographics, publishers, display ad examples, ad types, and more.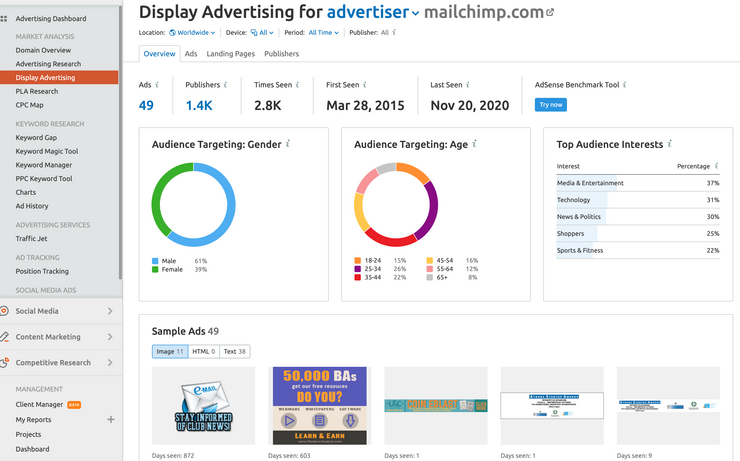 Finding your competitors' LinkedIn ads
B2B companies can find LinkedIn Ads extremely beneficial. However, it's also one of the most expensive promotion channels in terms of CPCs. To set more realistic goals and eliminate risks of wasting your advertising budget, you need to analyze your competitors and their activities on the platform first.
Which ad formats are they running? What type of campaign content do they believe performs best on LinkedIn? What kind of imagery is it better to start with? It takes exactly two clicks to learn the answers.
Manual method
Facebook isn't the only ad platform that has taken measures to provide higher transparency when it comes to advertisers' information. LinkedIn also allows you to see all ads associated with the page without using spy tools.
Start with entering your a company's name in the search bar at the top.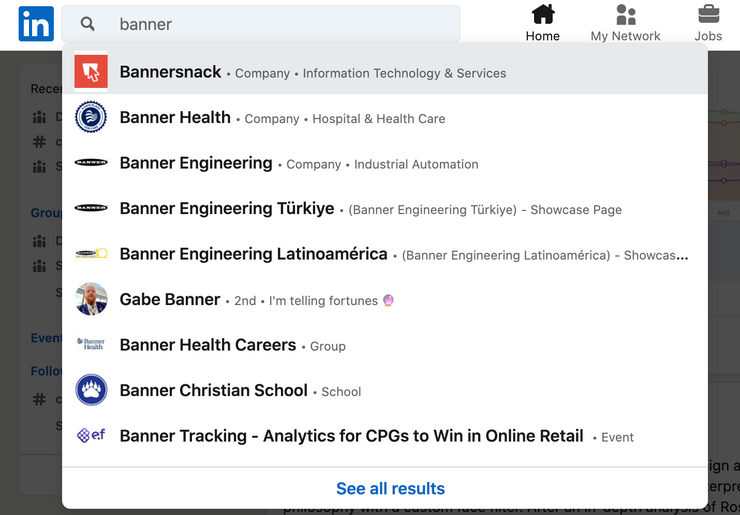 When you're on the right page, scroll until you see the feed and click on the 'Ads' tab. This method allows you to see any ads that have been displayed at least once in the past 6 months.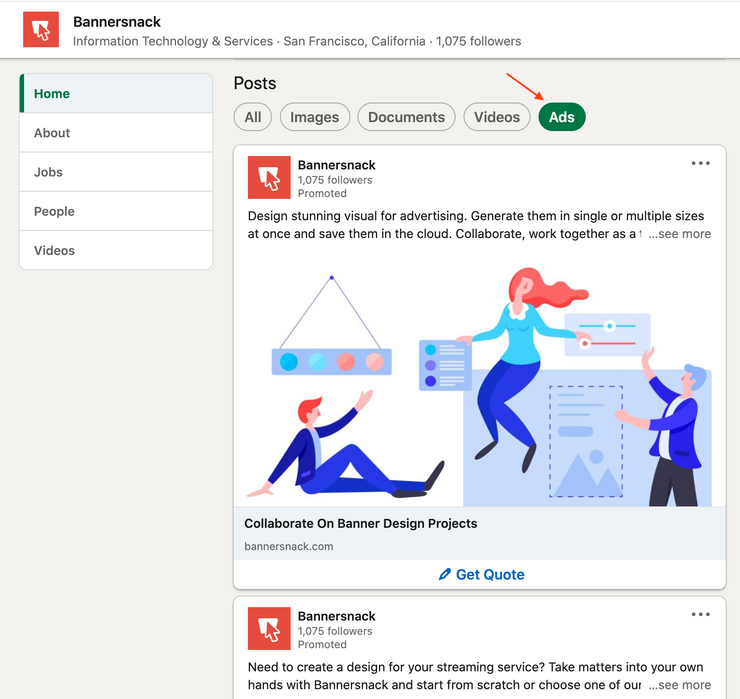 By checking your competitors' ads on LinkedIn, you'll gauge how actively they're advertising on the platform. If there are no or very few ads, it might be easier for you to reach your target audience since the competition level isn't too high.
Finding your competitors' TikTok Ads
TikTok advertising is on the rise. Search interest for the topic has tripled since the beginning of 2021.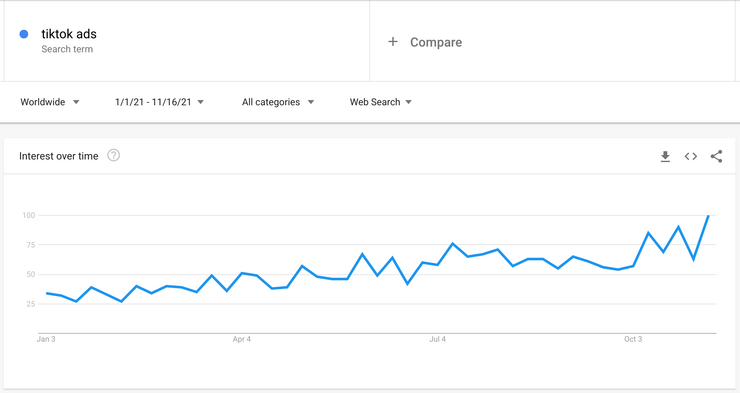 With an increasing amount of brands getting started with TikTok Ads, the competition grows and so does the need for competitive analysis.
How do you analyze your competitors' strategies on TikTok?
There are several ways (free & paid) to do it.
TikTok Creative Center
This is TikTok's Ad Library. The library works similarly to the one of Facebook.
The TikTok Ad Library displays the top-performing advertising campaigns run across the app.
All you need to do to access the best TikTok Ads is to sign up using your Business account credentials, which is absolutely free.
You can filter ads by country, category, campaign objective, video length, format, etc. You can also sort the results by reach, engagement, and the view rate.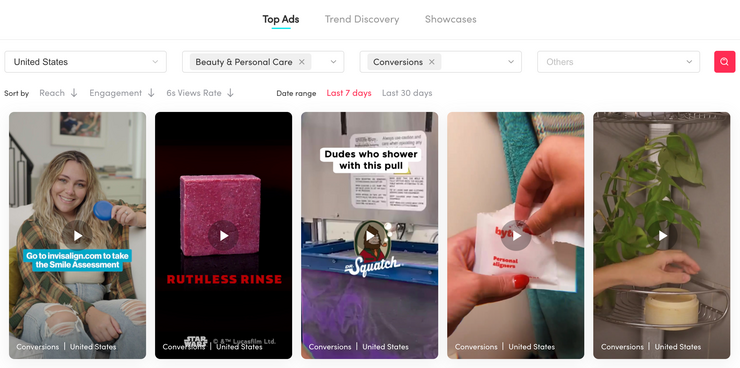 Given that you can't find specific advertiser's ads right in the app, this tool is extremely helpful.
Analisa.io
There are already quite a few tools offering advertisers to facilitate them with competitive analysis on TikTok. Analisa.io provides the most comprehensive reports on TikTok profile activity.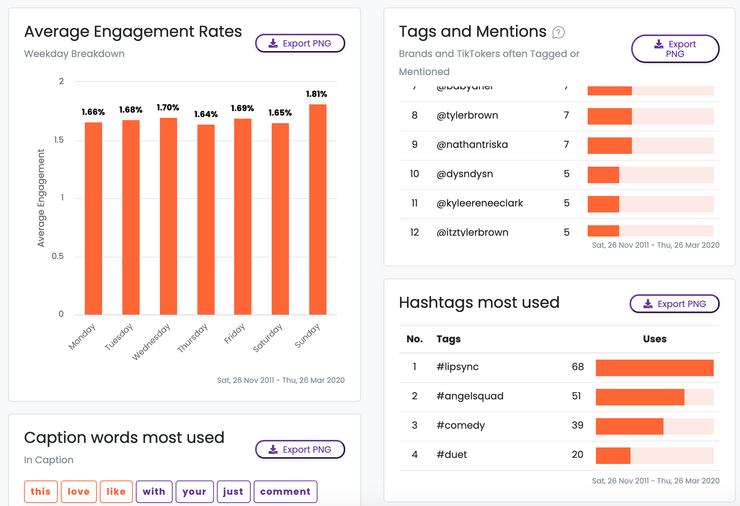 The tool allows you to access data on profile engagement, tags and hashtags, captions most used, and more. The pricing for the plans that include detailed reports for TikTok starts at $109.55 per month. It's also worth saying that most of the tools for TikTok analytics start at this price and can reach up to $300/month.
Grab your template and do competitor analysis now
Now, you have a competitor analysis action plan, all you need is to grab your template, follow our guidelines, and take notes of your competitors' strengths and weaknesses.
On-Demand Video Course On Native Advertising
Boost your ROAS with native ads. Enroll now with our limited 30% discount.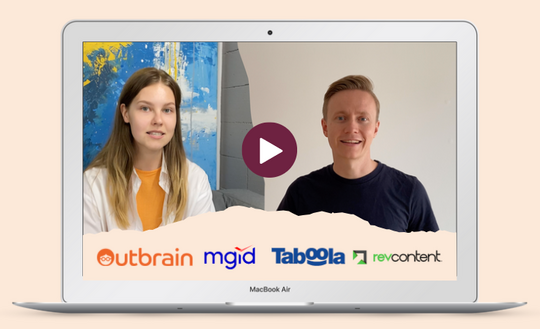 Let's wrap up with listing our most favorite tools that facilitate competitors analysis for advertisers.
Looking for an expert to manage your native ad campaigns? We can help. Get in touch with us today.