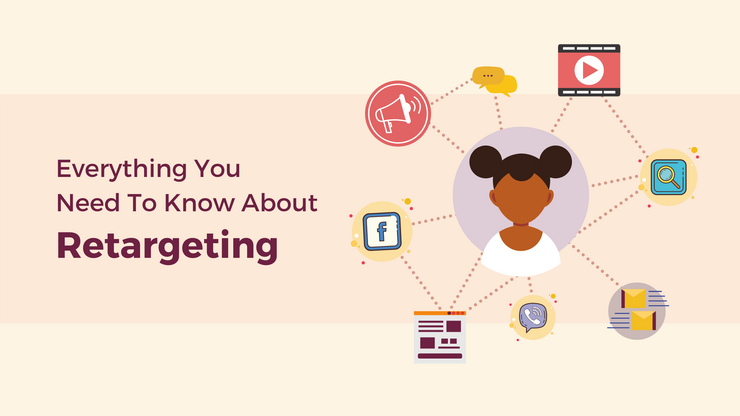 Your Ultimate Guide to Retargeting Ads
Retargeting is what helps marketing and advertising work. Without it, we'd keep building our strategies on assumptions.
Most of your website visitors won't convert after browsing it for the first time. And retargeting is your way to make these people return and become your customers.
To cover every possible aspect of retargeting and keep it useful for both newbies and experts, we've split this guide into two sections: Basics and Lab. In the Basics section, you'll find an introduction to retargeting, how it works, and when it can be useful for you.
If you already know quite a bit about retargeting but want to discover strategies that will help you put your campaigns to the next level, you can jump right to the Lab section.
Retarget your audiences with in-feed native ads on the world's top news websites and online magazines. Our agency experts will set up campaigns that reach your goals. Get in touch with us now or explore our blog to learn more about native advertising.
Basics: Retargeting defined
So, what's retargeting?
Retargeting is a technique of targeting people with paid advertising campaigns based on their previous actions.
Now, let us remind you of the last time you noticed that most of the promoted products you were seeing were related to the one you searched for a few hours or days ago. This is just retargeting in action.
How retargeting works
How do brands make retargeting work?
You can't just go and set up a retargeting campaign without any data in your pocket. To make it work, you need to set up tracking first.
This can either be a tracking pixel installed on your website, a lead generation form, or a dedicated paid campaign that will build a list of users who have clicked on your ads – we'll have a look at each of these strategies in the next section.
And once you have an audience, you can launch a campaign and build further flows (is this campaign the final point or just a beginning?).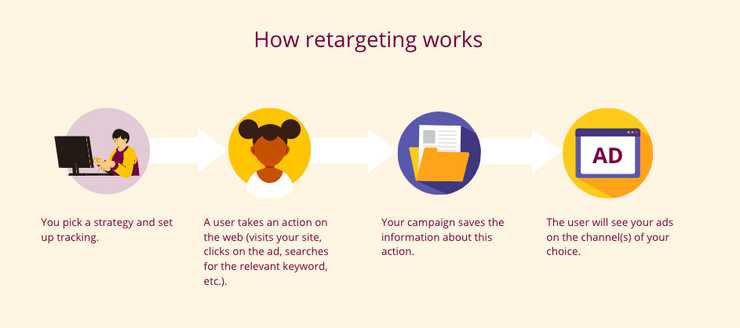 Types of retargeting
There are three major types of retargeting, which are based on the ways advertisers build audience lists.
Pixel-based retargeting
The most popular technique is pixel-based retargeting. By installing a tracking pixel generated for you by the platform that you advertise on, you can keep track of audiences who have visited specific pages, spent some time on your website, or took certain actions.
With tracking pixels, you can go even further than simply retargeting your website audiences. You can build a cross-channel advertising strategy and, let's say, target your Outbrain audiences with ads on Facebook or any other platform.
On-Demand Video Course On Native Advertising
Boost your ROAS with native ads. Enroll now with our limited 30% discount.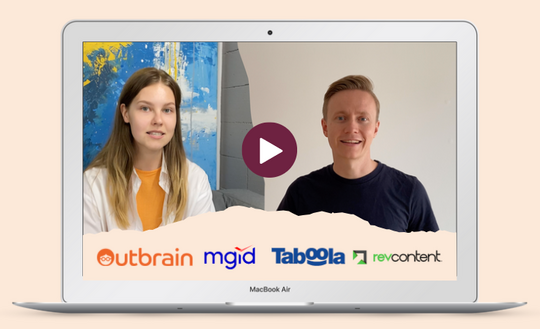 Retargeting campaign clickers
If you don't have a large enough website audience or want to reach new audiences, targeting users who have previously interacted with your ad campaigns will be a good idea.
For this, you can either leverage the data you get from previous campaigns or launch completely new ads that will attract audiences that meet the specific criteria.
List-based retargeting
Already have a list of your audience's emails, ZIP codes, or other information that your advertising platform can use? List-based retargeting is the right way for you to go.
You can choose to retarget your newsletter subscribers or people who downloaded your newsletter. All you need to create a new audience segment based on your list and add the audience to your new campaign.
This type of retargeting enables you to target the most granular audiences, but also has serious drawbacks as it's less automatic and scalable.
All three types can be effectively used in various retargeting campaigns that we'll guide you through in the Lab section.
Retargeting pixels explained
What are pixels exactly? Are they like cookies? What's the difference between cookies and pixels? Let us answer the questions one by one.
A tracking pixel is a piece of code installed on your website to collect information about visitors browsing it.
Tracking pixels have a lot in common with cookies, but they're not exactly the same. There's a difference in the way the data collected by these elements is sent and stored. While a pixel sends data directly to a server, cookies are kept right in users' browsers. Pixels can follow users across devices and browsers, but cookies can't.
How do you implement a tracking pixel without coding skills?
Without experience with HTML, installing the tracking pixel code on your website can (and will) be a challenge. But you don't have to worry about that even if you don't have a developer to help you.
First of all, ad platforms usually provide clear guidelines on how to install their tracking pixels. Also, top-notch platforms (e.g. Facebook, Taboola, Outbrain, etc.) allow you to implement pixels with Google Tag Manager. The process is pretty easy and won't take longer than a few minutes.
If your platform doesn't have this option, we highly recommend that you learn the HTML basics and implement the code by yourself. By expanding this experience, you'll be able to build an advanced tracking setup and make the most of your campaign performance data.
Retargeting vs Remarketing
When we know what retargeting is, how it works, how tracking is set up, and what differs a pixel from a cookie, let's dig deeper and have a look at one more term – remarketing.
These two terms are often used interchangeably, but just like 'pixels' and 'cookies,' 'retargeting' and 'remarketing' describe slightly different concepts.
When we speak about retargeting, we refer to the use of paid ads to retarget audiences. When we use the remarketing term, we refer to a broader concept. The term might describe both efforts to retarget audiences with your ads and doing email marketing to reach people who have previously interacted with your brand and left their contact information.
However, you'll see that many authors use both terms when referring to the use of retargeting ads.
Why you need retargeting
We've already brought up a few benefits retargeting has brought to marketing as a whole. But it's always a good idea to back claims with statistics.
Your ads get noticed. You know about banner blindness, don't you? Users unconsciously ignore ad content unless there's something that catches their eye. Seeing an image of a product they were exploring not so long ago with a peripheral vision, they'll give it a chance and pay attention to the ad.
So amazing fact #1 is that 3 out of 5 users notice and consider ads displaying products they viewed previously.

Conversions increase. Retargeting is the power that moves your prospects further down the funnel. People who come to your website after clicking on a retargeting ad are 70% more likely to convert.

Brand awareness and trust strengthen. When seeing a brand name they've already come across one more time, users are more likely to trust you more than companies they're looking at for the first time. Moreover, 30% of consumers have a "positive" or "very positive" reaction to retargeted ads. Only 11% of respondents claim they're negative about them, and the rest 59% are neutral.

Platforms retargeting is particularly effective on
It's clear now that your retargeting strategy will depend on the way you collect the data about your target audience. What else will affect the setup and results of your retargeting campaigns? Platforms that you run your campaigns on.
Based on your budget and experience, you can either choose one channel or build a cross-channel strategy – both ways are scalable and cost-effective when you know what you do. Here are a few platforms that have brought significant results in our experience both as individual channels and when combined.
Outbrain
Outbrain is a native ad platform that allows you to serve your retargeting ads to audiences of the world's top publishers' websites. Other standard targeting options are also available on the platform.
With 3rd party tags, you can retarget third-party media audiences (the ones of Google or Facebook) on Outbrain's native platform and vice versa. Outbrain also provides a tracking pixel so that you can retarget your website visitors with native ads.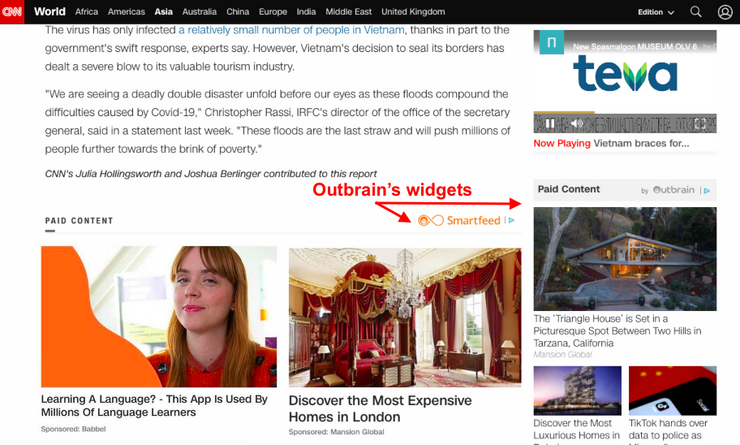 On the left, you can see Babbel's ad – the company has been actively advertising on native ad platforms for quite some time. Their strategy includes building audiences with the help of native advertising campaigns and retargeting them on social media channels, like Instagram and Facebook.
Facebook
Should we even explain why Facebook ads are popular?
Just like Outbrain ads, Facebook retargeting campaigns deliver extremely good results as a part of a cross-channel promotion. Finding new audiences with native or search ads and retargeting them on Facebook might be a better way to reach new people and go beyond worn-out audience lists.
If you haven't started running ads on Facebook, keep in mind that your ad account might get banned for any slightest inconsistency with Facebook Ads Policies. Not sure your future campaigns will meet all the rules? Don't have time to deal with ad rejections? Then don't risk and pick a more flexible and less restrictive platform.
On-Demand Video Course On Native Advertising
Boost your ROAS with native ads. Enroll now with our limited 30% discount.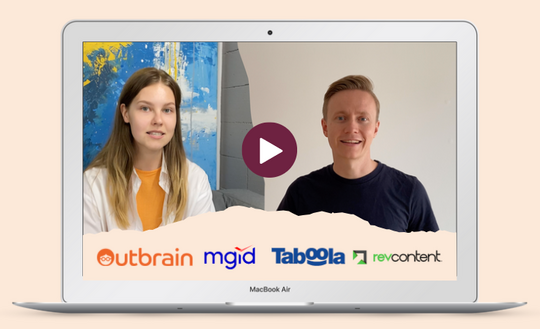 Taboola
One more native ad platform with an exclusive publisher network. With Taboola, you'll access audiences on NBC, Bloomberg, and other top-quality websites.
Whether you want to export pre-built audience lists, opt for pixel-based targeting, or retarget previous campaign clickers, you can do it all with Taboola.
The functionality of the platform is pretty similar to Outbrain, which means you can scale your campaigns by advertising on both platforms at once.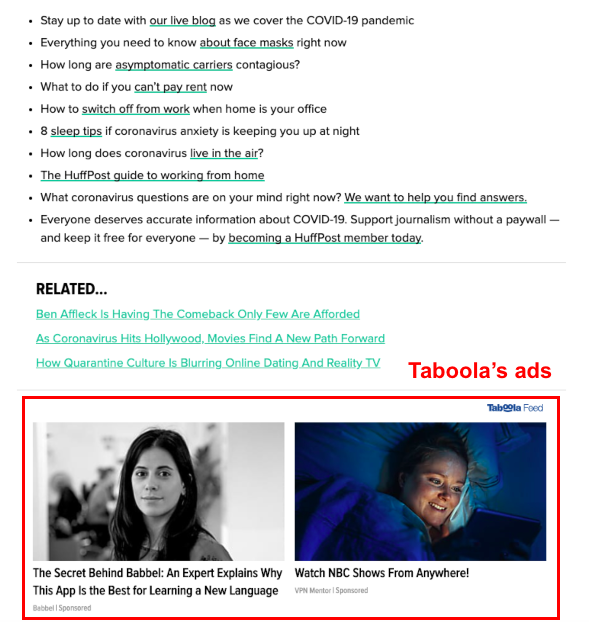 Pinterest
It's overwhelming how many marketers ignore Pinterest.
Considering that shopping is a top priority for 48% of Pinterest users, the channel is more than just a social network.
Along with visitor and list-based retargeting, you can benefit from reaching audiences that have previously engaged with your pins (bookmarks that people use to share and save ideas on Pinterest).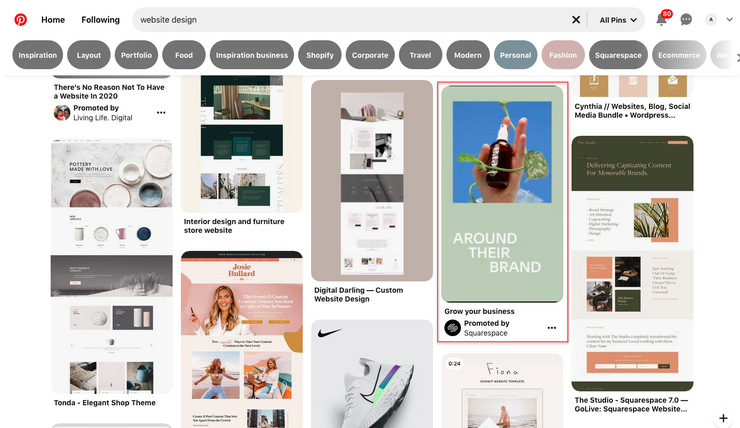 Google AdWords remarketing
Remember we were explaining the difference between retargeting and remarketing? Google AdWords remarketing is an exception that proves the rule. According to Google's definition, retargeting display ads and remarketing emails fall under a single term of 'remarketing.'
Google Ads remarketing is a form of online advertising that allows you to display your ads to your previous site visitors on partner sites in the Google Display Network.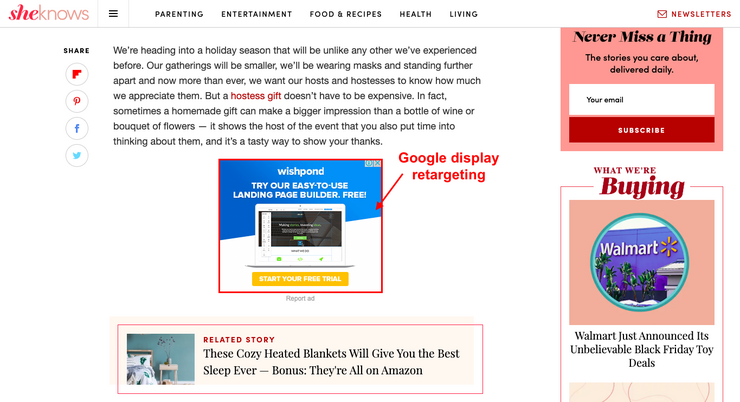 Lab: Advanced retargeting tips
Of course, if retargeting was that simple, you wouldn't be reading this post now but launching a new ad campaign targeted at broad audiences and then retargeting campaign clickers. But it's not. To make your ads work, you need to have a deep understanding of your customer journey and know how to align your targeting and creatives with its stages.
Top retargeting strategies
To provide the freshest tips, we not only talked to the Joinative advertising team but also asked advertising experts from other companies to share their best practices for retargeting.
Segment audiences based on their activity on your website
Targeting all website visitors in a single campaign isn't the best retargeting strategy.
Build different audience segments based on how much time people spend on your site, which pages they visit, how deep they scroll through the specific page, etc. Keep an eye on your analytics and use the insights to the benefit of your future campaigns.
Mitchell Robertson, Co-founder and Project Manager of Ecom Warrior Academy, says retargeting audiences that have spent some amount of time on your website in a given time frame has proved effective for his team: 'We've found huge success in the eCommerce and lead generation space by refining which web visitors we're targeting through our advanced remarketing campaigns.
One strong example would be dialing in on those who have visited specific product pages twice in the past 30 days, or five times in the past 180. Targeting audiences like this, we've seen ad sets consistently produce returns anywhere between 16 and 55x our spend.
The audiences are more limited, so there's a limit to how much this can be scaled, but using various combinations of these refinements is sure to yield great results!'
Combine advertising channels
We've already mentioned that cross-channel advertising can be more effective than a siloed retargeting approach.
By connecting the dots between your advertising channels, you'll build a strategy that drives your target audience to the purchase decision step-by-step.
For instance, if your customer journey is long, your cross-channel campaigns might work the following way. Once a person comes to your website from search, Outbrain starts serving retargeting native ads on news websites. After they click on one of your ads and spend at least two minutes reading promoted content, your Facebook Ads account collects the data and fires retargeting ads promoting a lead magnet. When a lead is created, you start reaching them with newsletters and special offers by email. As a result of one of the email campaigns, your prospect converts.
Companies, where the customer journey takes no more than a few hours or days, will go for a shorter but still very similar chain.
Leverage content
Retarget people who have shown interest in the specific product but never bought it with informative content built around the subject. In some cases, education is the best way to acquire new customers.
Michelle Devani, Founder of lovedevani, recommends: 'Shift the focus from your brand to your customer's needs. Your customers were already on your site but did not convert. Either they did not feel compelled to spend money yet, or just did not know what they could do with your product.
Utilize the traffic data to create segment-targeted content that piques your customer's interest. For example, for an art supply site, if a customer mostly looks at paints, promote an article for creative painting techniques using various brushes and tools to also promote other painting implements.'
If you add native advertising to your strategy, you might want to test this practice first. As readers of online magazines are very much open to exploring content, articles fit the native ad format the best (still, don't discard typical sales landing pages that are also popular on native).
Retarget site visitors with customer success stories
Brice Gump of Major Impact Media shares 'One of the most effective retargeting strategies that we have found is using Customer Success Stories to address the objections that potential customers have along during the purchasing journey.
If someone doesn't buy from you online, there's typically some objection they had that stopped them from completing the purchase.
… will this really work for me even if I'm XXX?
… yeah but what about YYY?
… how can I be sure what you are telling me is legit? (that's a big one online)
When you talk to your customers you can typically find 3 - 5 major objections that hold most people back.
Once you find out what those common objections are, go look for client success stories, testimonials, and case studies that show customers getting the results of your product or service while overcoming those objections.
Create ads out of those success stories and run them as retargeting.
That way when potential customers don't buy, you have your retargeting campaigns show them the story of your current customers experiencing the success of your product despite having those same objections.
One of the best parts about this strategy is that it works on all platforms. You can show testimonials and success stories on Facebook, Instagram, YouTube, and even Google Display Network.'
Retarget campaign clickers [advanced method]
Regardless of the number of channels you're running your ads on – one platform will also be enough – you should definitely test out retargeting people who have interacted with your previous campaigns.
To make the most out of this approach, we recommend that you go further than simply retargeting all campaign clickers without even identifying which stage of the customer journey they're in. The advanced method involves launching a dedicated broad campaign first where a quiz or other content that helps you to qualify your visitors is included. Later on, you get ready audience segments based on the quiz results and can retarget them with different campaigns or ads.
Kevin Ng says: With a quiz funnel, you can retarget using quiz answers and quiz outcomes.
Every lead will go through a set of 7-12 questions before they land on a specific outcome (landing page, sales page, etc.). All answers can be pixelated. This allows you to know more details about a specific group of customers that you couldn't know about with Interest Targeting or simple website retargeting.
Example:
You just found your old photo album with all your ups and downs in your copywriting career. How do you feel?
a) Excited – I spend some time digging through my dear memories! (A)
b) Nostalgic – I haven't seen it for a while so maybe it was time! (B)
c) I'm good – I'll just put it aside to look at it later. (C)
d) Indifferent – it's actually not that old, it doesn't even have that many photos yet. (D)
In the example above, the specific question targets how long they are in their career. Retargeting based on these specific answers allows me to know more about their journey so we can formulate a message that speaks directly to them.
Target cart abandoners
People add your products to cart because, you know, they want to buy them. There might be multiple reasons why they leave your website without making a purchase. Most of them aren't even related to any concerns about your product. Therefore, retargeting cart abandoners with ad campaigns is the best way to boost conversions.

Setting up these campaigns isn't rocket science. All you need to do is to have a tracking pixel installed and then create a custom audience inside of your ad platform. To specify cart abandoners, you'll need to include people who have visited any product page, added a product to cart, but haven't seen a thank you page.
You can improve the campaign performance by following conversion best practices, such as creating a sense of urgency, offering discounts, personalizing ad messaging, etc.
Here's what lovedevani's Michelle Devani recommends: 'Trigger FOMO. The constant bombardment and availability of information has instilled a sense of FOMO, or Fear Of Missing Out, into the general digital populace. Create time-limited "exclusive" offers to activate a sense of urgency and the feeling of being distinctive to convert your customers. You can even combine it with the coupons or discount codes to sweeten the deal.'
Retarget customers when their subscription is about to expire
Do you offer a subscription-based service? Launching ads that retarget users whose subscriptions are about to expire is your way to retain customers or even upsell.
Use your custom audience lists
Create custom audiences based on your email lists and target people outside of their inbox.
Why limiting your interactions with audiences that have previously left their contact details on your website to emails? As it's very likely that they hardly ever check the Promotions folder, you might be losing an amazing opportunity to catch the attention of people who have already shown interest in your brand.
'Most CMS & email software services, such as Klaviyo & Ontraport, allow advanced segmentation and also integrate with Facebook Audiences.
Therefore, you should be using those segmented audiences to deliver Facebook ads that are specific to the exact place in the customer journey that your subscriber is in.
For example, if you have an ebook-to-webinar funnel that sells a high-end product, your Facebook ads should only focus on the exact place in the funnel that they are. If they haven't yet opted in, then focus on the eBook. If they opted in yet haven't registered for the webinar, then have a series of ads to get them on the webinar. Once they've attended the webinar, use social proof ads to get them to order the product.
For eCommerce physical goods such as apparel, the same strategy can be used to escalate discounts until a customer makes their first purchase,' shares The Miracle Store's Chris Cade.
Retarget your customers to upsell them
When someone converts, their customer journey doesn't end. We'd even say it's only the beginning if you keep nurturing your relationships.
On-Demand Video Course On Native Advertising
Boost your ROAS with native ads. Enroll now with our limited 30% discount.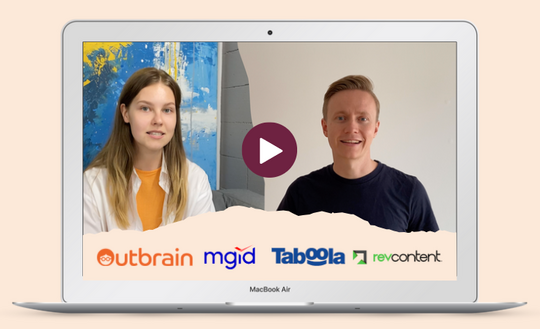 'One of the most underutilized retargeting strategies is post-purchase retargeting. So few brands actually thank their customers after they purchase it's a great way to stand out as a brand and create a high level of loyalty.
Simply create a sincere video from the founder or an employee thanking the customer for their business. Let them know your customer service phone number or email address and ask them to not hesitate to call or email if they have any questions.
This will minimize buyer remorse, decrease your return rate, and generate actual sales! For one of my clients, we've seen a 1637% Return (or a 16.37 ROAS) lifetime. To date we've spent $475.95 and made an extra $7,792.92!' – says Colin Little of Social Launch.
It's also a good idea to encourage repeat purchases by promoting exclusive deals to your current customers.
'Make sure that you acknowledge the presence of your loyal customers by giving them special treatment with your retargeting process. Create a separate strategy that only works for them so they can be more engaged in purchasing from your brand,' reminds Scot J Chrisman, CEO at THE MEDIA HOUSE.
Collect, segment, retarget, repeat
Just like any other advertising strategy, retargeting can either bring exceptional results or…. waste your budget. To make it work, you need to put your customer journey in the first place. When you know how your audience finds your company, what concerns they have, and what steps they take before they make a purchase decision, you have everything you need to build a solid retargeting strategy.
Make the most out of paid advertising. Entrust your native ad campaigns to our experts. We know how to build a native advertising strategy that will grow your business. Get in touch with us and tell us more about your company.