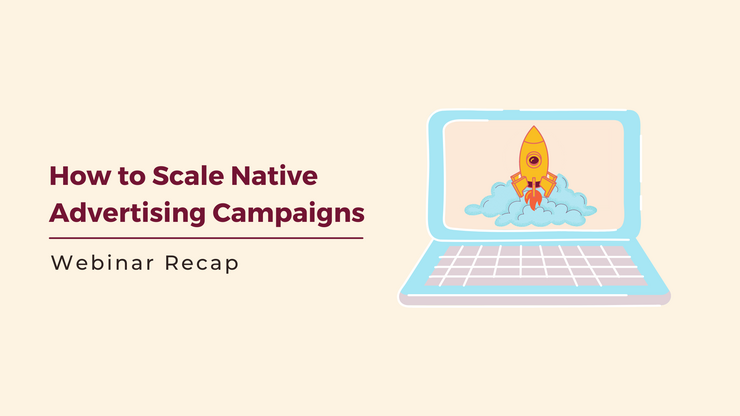 How to Scale Native Advertising Campaigns: Webinar Recap
So, you've already seen some success with native advertising campaigns. What are your next steps?
In this article, we're going to break down the common mistakes clients run into when trying to scale their campaigns. We'll also cover the solutions to those issues and the best practices for growing your campaigns specifically across Revcontent.
For starters, we're going to cover the issues people face when beginning to scale.
Click to watch a full webinar recording on the topic.
What are the problems with ad scaling?
Ad fatigue
The first big issue is ad fatigue. When advertisers scale campaigns, you expose yourself to the same audience members more frequently. As you get early adopters and converters, your CTR (click-through rate) will naturally decrease over time. The more you run the same campaigns, the less you see in conversion rates.
You've already reached the audience that's most likely to convert
The second major problem with ad scaling is reaching targets that are less likely to convert. As stated above, when you first run your ads you get the people that convert immediately. As you scale your campaigns, you start to reach audiences that are less likely to convert from seeing your product. Essentially, if they've seen your ads before, it's most likely not going to make a difference viewing them 5 more times.
Competition
The final major problem with ad scaling would be competition. This is a major issue advertisers run into when they are seeking to build out campaigns. It's not uncommon to see a 20% to 30% drop in CTR when a major competitor enters your vertical. Looking out for these trends can help you pivot your strategy and start to scale successfully.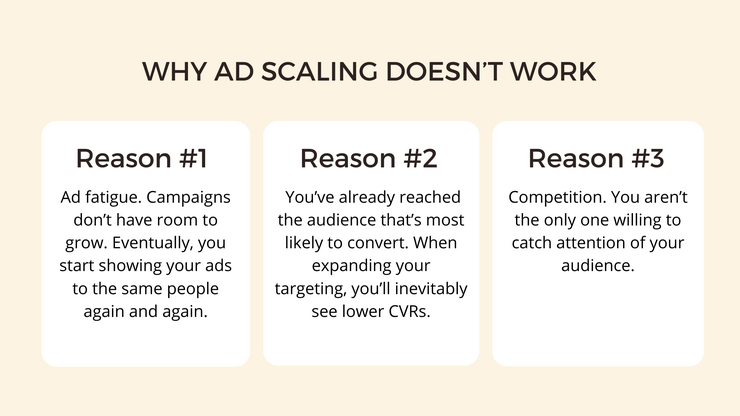 Solutions for successful ad scaling
With so many obstacles advertisers can face during scaling ad campaigns, it can be tough to pick the right path. But, with the right tools and knowledge, breezing past these issues won't be a problem at all.
Master Advertising On Revcontent
Register for the ultimate native advertising course and get exclusive insights into building successful Revcontent campaigns.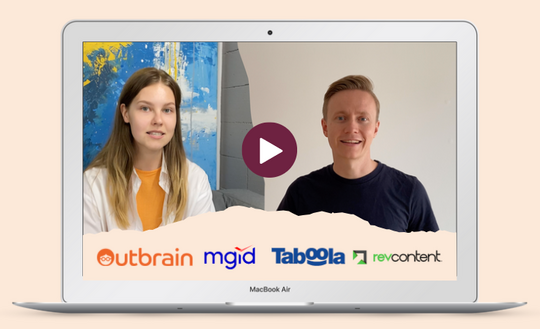 Vertical scaling
First of all, there are 2 different methods for variety in your scaling methods.
These solutions can combat ad fatigue, reaching less interested audiences, and competition.
The first is vertical scaling. Vertical scaling deals with staying within your target demographic but pushing your reach to a larger scale.
When you find something that's working for you, utilize vertical scaling. Increase your budget and bids, hone your ads, and target widgets within your vertical that are producing at the highest rates.
This will help you tap into potential within your market. It also helps you combat major competition that might have entered into your demographic as well.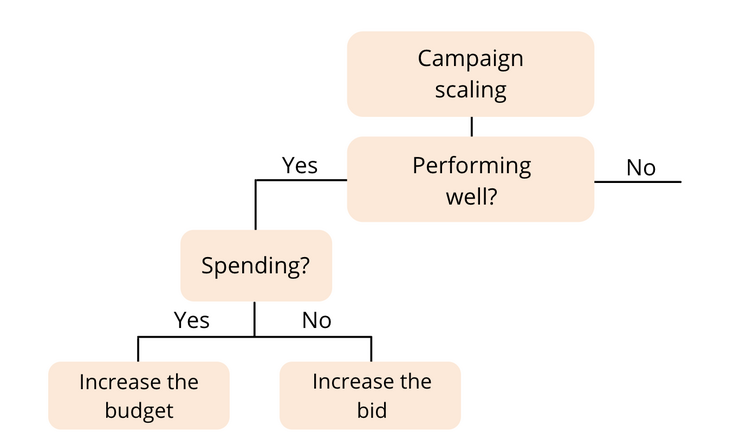 Horizontal scaling
The second solution is horizontal scaling. This helps deal with all three of the previously mentioned problems in scaling.
When using this solution, you want to test out adjacent strategies. Try entering new verticals with the campaigns that you're finding success in currently. Finding similar verticals helps boost audience reach and keeps CTRs where you want them to be.
Experimentation is key for both of the methods of scaling. You should diversify your creatives, your text, images, and budgets to see what works best with which strategy. Once you have that down, optimize, optimize, optimize. You always want to focus on what's working and make it better.
Vertical & horizontal scaling: Key findings
When scaling vertically,optimize your ads and widgets. If the campaign is spending through your budget, expand the budget. If not, increase your bid. Make sure you open up your restrictions and monitor your campaigns day to day for changes.

When scaling horizontally, add new publishers and different devices to test your ad sets. Once you have the sets, avoid adjusting them. This helps to see what's working in which vertical. Find new alternative messaging for new ad sets and use it with the original ad setup. Then, you'll want to test and run additional conversion flows.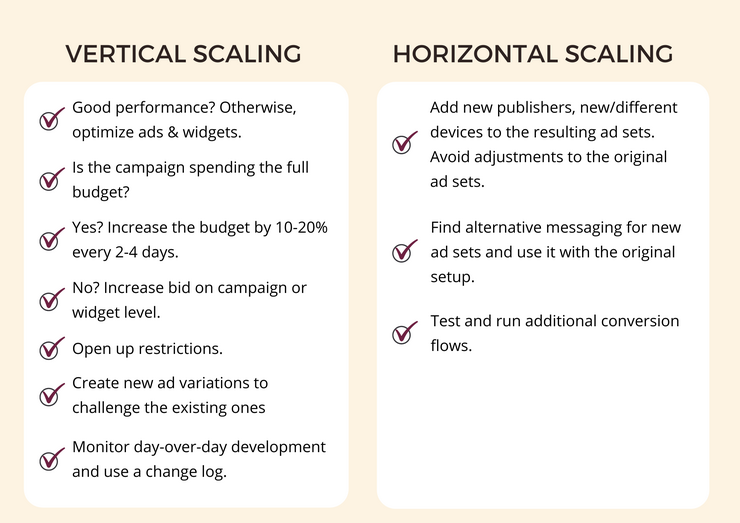 Diversifying Creative
This is a very important step for finding what images, text, and styles work best for which verticals.
It's important to approach scaling with multiple creatives ready to use (3 to 5 is optimum.) Diversifying your creative allows you to be first to market when it comes to interesting copy.
You'll get a chance to discover new audiences that might love your products! One creative theme will generate interest from one demographic. If you develop multiple themes, you will target multiple demographics for the same offer.
The big guns: Bid-By-Widget and Mining
These two tools are powerful technologies within Revcontent's proprietary software. When utilized, these tools can help you scale and manage your campaigns at a high level.
"If you have performance on any of your widgets or in your campaigns, don't mess up anything, have a conversation with your rep, ask for a lookalike audience, download the CSV, optimize your bids, reupload, and continue moving forward that way." - Jon Mitchell, Director of Sales, at Revcontent.
Mining
Mining for one, allows advertisers to find and identify the next highest performing widgets and what verticals they perform best in.
Mining is removing exposure to performing widgets by blacklisting them. By doing this, you can gain exposure to widgets you have not actively tested on.
This technique forces traffic to new, previously untapped widgets that may yield pockets of performance. By being proactive with this method, you can identify and implement strategies that keep you exposed to new opportunities.

Bid-By-Widget
Next is Bid-By-Widget. This technology allows advertisers to throttle bids for more or less exposure across ad widgets. By doing this, you can diversify your approach to scaling and gain valuable insights on where your widgets may be performing best.
Optimizing requires patience and in most cases can be accomplished simply by monitoring your established benchmarks in detail. This can be done manually or through a third-party optimizer. As always, you have your account representative on staff that can help with insights and critical information during your scaling journey.
"You can pull a list of all the widgets that you're testing on Bid-By-Widget if you download your CSV file. You're going to see all the bids associated with every widget and then you can create your mining list that way. Then you can reload it into a new campaign." - Jon Mitchell, Director of Sales, at Revcontent.
All in all, problems like ad fatigue, uninterested audiences, and competition can have major effects on scaling. But, if you utilize the tools and strategies we've suggested, you'll be able to handle these issues and many more that arise while scaling. And as usual, Revcontent's account management team is on standby to help our clients with any unforeseen circumstances.
How to Scale Your Native Ads: Webinar Recording
A huge thank you to Joinative for co-hosting our recent, "How to Scale with Revcontent" Webinar! Jonas Olausson, CEO of Joinative, and Jon Mitchell, Director of Sales at Revcontent teamed up to knock this webinar out of the park. We are thankful to have such an awesome partnership with Joinative!