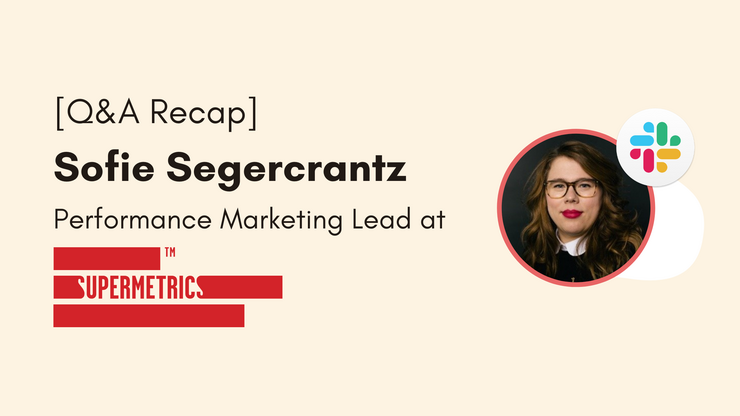 Supermetrics: Your Questions Answered [Q&A Recap]
What are the best practices for visualizing advertising data? What's better for marketing reporting – Google Data Studio or Google Sheets?
You'll find these and eight more questions answered in the recap of our recent Q&A session with Sofie Segercrantz, Performance Marketing Lead at Supermetrics.
Don't miss our future Q&A sessions, and join the Slack community today.
Without performance data, marketers are blind. Marketing reporting tools allow you to translate data from multiple sources into actionable dashboards. You can combine or slice reports, build custom charts, and manipulate the data the way you need to make informed decisions.
During the session, we learned about the tool that allows you not only to get informative reports from multiple marketing channels but also choose a storage platform of your choice.
Here's what Sofie told us on the subject.
Disclosure: This post may contain affiliate links. This means we may earn a commission if you buy something through our links at no additional cost to you.
Q: First off, would you tell a few words about Supermetrics so that everyone has a clear understanding of what we're talking about?
Supermetrics connects marketing platform data to reporting, analytics, and storage platforms. We help marketers automate the transfer and collection of marketing data so that you don't have to transfer or export data manually.
We currently connect to approximately 60 marketing platforms and offer solutions for tools like Google Sheets, Data Studio, and Excel as well as a variety of data storage platforms like Google BigQuery and Snowflake.
We also have the Supermetrics API, which is super versatile and, for example, connects to visualization tools like PowerBI, Tableau, etc.
On-Demand Video Course On Native Advertising
Boost your ROAS with native ads. Enroll now with our limited 30% discount.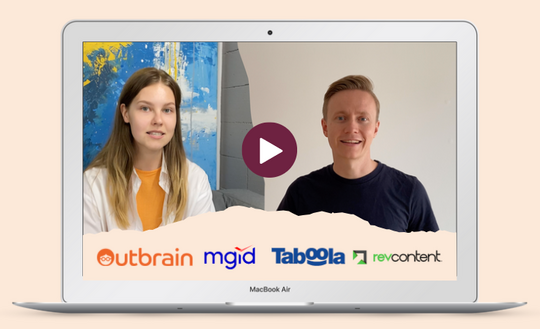 Q: How are accounts normally structured for Supermetrics? Specific accounts for each separate client or top-level cross clients agency accounts?
The majority of agencies and freelancers usually have a top-level account that they use to create reports for their clients. With one Supermetrics account, you can connect to many ad accounts and still keep the data separate.
However, the common setup varies a bit depending on what product they are buying from us, and for the more advanced data storage products, clients tend to have their own accounts.
Q: Supermetrics offers quite a few products for marketing teams. Which products would be most useful for advertisers?
The product I think any advertiser can benefit from is the Google Sheets add-on, just because it is very versatile. With it, you can both automate your reporting, collect, refine and combine data to analyze performance across accounts, and build tools for your optimization work, like spend trackers.
And if you prefer to work in Excel over Google Sheets, we have an add-in for Excel as well that functions in a similar fashion.
Q: What advertising platforms do you offer integrations for?
We offer integrations for all the major ad platforms like Facebook, Google, Microsoft/Bing, Twitter, and LinkedIn as well as native ad platforms like Outbrain and Taboola and display platforms like Adform, Criteo, and StackAdapt, to mention a few. Our developers are constantly working on launching new connectors, so the most comprehensive and up-to-date list of connectors can be found here.
Q: So, can advertisers display and compare the data from multiple platforms right on one dashboard? Or do you recommend splitting the reports into separate dashboards?
Yes! This is what Supermetrics is all about, bringing the otherwise siloed data together into one report or dashboard.
Personally, I like having everything in one report or dashboard so it is easy to find, but if you are working with Data Studio, you can split the data onto separate pages and in Sheets to separate tabs. It is all up to you!
Also, If you are using Google Data Studio, you should check out our Ad Data & Google Analytics connector, which combines the data from the most commonly used ad platforms with Google Analytics data and makes it super easy to create summaries with top-level metrics, without having to do data blending yourself.
Q: How does one choose between Supermetrics for Google Sheets vs. Supermetrics for Data Studio?
Before I joined Supermetrics, I was a client of Supermetrics via the agency I worked for and was tasked with choosing between Supermetrics for Google Sheets and Supermetrics for Data Studio.
I started by looking at what our most common use cases were and what types of problems we were looking to solve. For us, the main use case was automating reporting and building visually good-looking reports, while we had fewer use cases for data manipulation and analysis.
The number of users and their spreadsheet and data capabilities should also be taken into account. I think Google Data Studio is the easier tool to learn to use sufficiently, but you are more limited in the data manipulation department. Sheets is more versatile but has a bit of a learning curve for new users since it guides you less.
Q: Would you share a few ideas for advertising performance visualization?
For data visualization, I think less is more.
We've got so many metrics at our disposal, that we easily add too much to a dashboard. This principle also applies to all the elements within a dashboard as removing unnecessary grids and labels etc. usually makes them more comprehensible. Simplifying and clarifying are my guiding principles for building visually pleasing reports.
In Data Studio, one more uncommon idea I've seen utilized is to layer a chart as a background to one or a few scorecard metrics to show both the development and the current performance together. Also, Data Studio offers community visualizations, which I think are underutilized and I recommend you check out.
I don't know if this is a commonly used trick, but if you want to get written insights or any other text element into Data Studio that is as dynamic as the numbers and change with the time selected, you can write the text in Sheets and then import it in as a table. If you remove all formatting from the table, it will end up looking like a regular text field. This is one of my favorite tricks from my agency days.
Q: What are the most common issues and mistakes you see with advertisers/marketers working with data?
Not having anybody own the marketing data within the company is a common issue.
This usually leads to lower quality data and issues with technical development and implementation.
Another issue I've seen is that marketing is becoming data-driven and technical faster than the marketing people are, which leads to one of the most common mistakes: making assumptions about the data, without actually understanding it.
On-Demand Video Course On Native Advertising
Boost your ROAS with native ads. Enroll now with our limited 30% discount.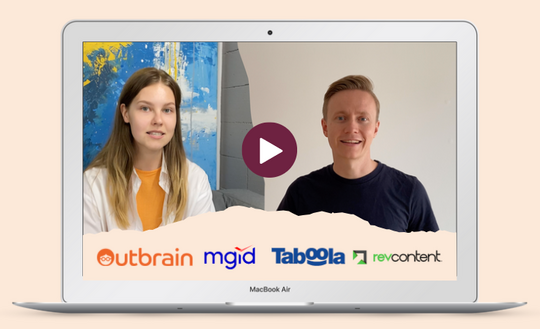 Q: How do you recommend convincing agency clients that they need marketing reporting?
This is a topic that was up for discussion internally at Supermetrics a few months ago, and our Content Marketing Manager Pinja ended up writing a whole blog post about it.
In summary, I would say that without reporting, there will be missed insights and wasted marketing costs. For the agency, it is a missed sales opportunity, as a good report can function as a way to introduce new opportunities and upsells to the client on a recurring basis.
However, you should probably start by figuring out why it is that they don't see reporting as necessary, and tackle it from that aspect. If they have negative previous experiences, can you create a report that serves the collaboration, instead of being just a ritual without benefits?
Q: Would you share free Google Sheet/Google Data Studio templates for Facebook Ads?
Yes, our team has put together several free templates for Facebook Ads for both of these tools, and they can be accessed from our template gallery.
---
Making sense out of messy reports can take hours of daily work. With a marketing reporting tool, you'll save time, and what's most important, nerves.
Find the Supermetrics discount code in our Slack community.