Top 10 Alternatives to Facebook Ads In 2022
Facebook advertising is effective. But it doesn't mean you should focus all your attention on it. There are lots of channels for paid advertising that might deliver you even better results.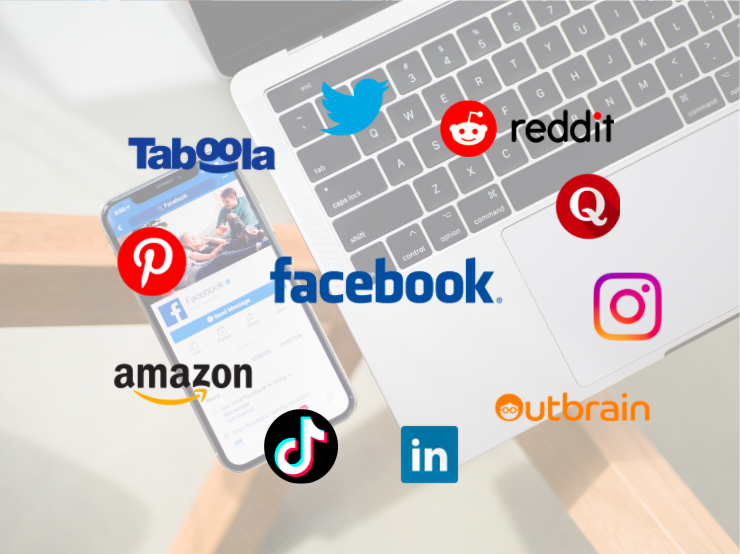 Whether you want to diversify your advertising, switch to another online advertising channel, or reach more customers outside of Facebook, you might be overwhelmed by the number of available alternatives to Facebook advertising. Paid search, Twitter ads, native ads, etc. – any of these options has the potential to deliver great results.
According to statistics, Facebook is no more the most popular advertising channel for B2B companies. LinkedIn has already outperformed it.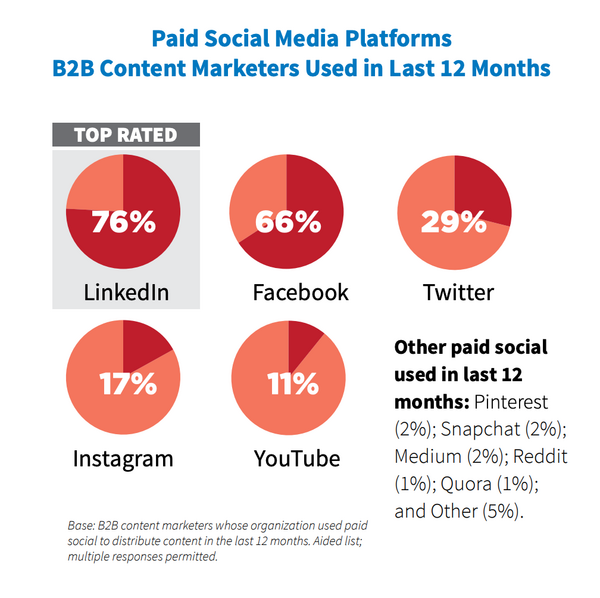 However, B2C marketers are still investing heavily in Facebook advertising.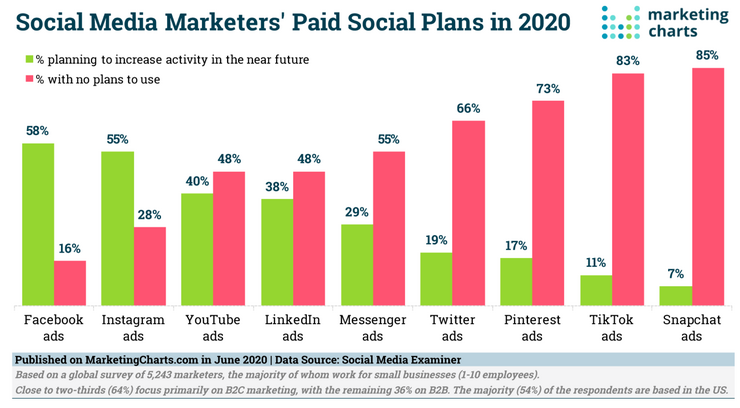 How do you choose the right alternative to Facebook ads? Should you even bother? Before making any decision, you need to consider all the pros and cons of every platform, evaluate your current campaigns (if any), revisit your goals, and, what's most important, understand it's not about signing up for one more platform that will give you access to different audiences.
In this article, we'll provide you with an in-depth overview of popular and often overlooked Facebook ads alternatives, highlight the categories they work well for, and help you pick the best one(s) for you.
Why look for Facebook alternatives?
Facebook gives you access to the most advanced audience targeting options. With over 2.6 billion monthly active users, the platform allows you to reach any audience segment available. Facebook's instant forms help businesses retain users' attention and acquire leads, without making them leave Facebook.
However, If you have experience with running advertising campaigns on Facebook, you know the benefits the platform gives aren't cheap at all. Some experts claim that constant increases in costs don't matter much if you still manage to deliver a high ROI. But what does it mean for advertisers that are trying to figure out how to make their campaigns work? They can't afford to spend a fortune before they find out this channel simply doesn't fit their needs.
Considering that the quality of leads you get for these costs isn't always high, business owners need to think twice before they opt for advertising on Facebook.
These days, more and more advertisers are concerned about their Facebook ad accounts being banned for no good reason. The issue has become a serious obstacle for people that build entire strategies on paid advertising.
It might also be the case that you've nailed Facebook advertising and are looking for a platform to scale your campaigns. You already know your audience, kinds of content they prefer, and titles that make them click. Why not go further and boost your online visibility by leveraging more platforms?
Marketing is all about testing, and by trying strategies and platforms, you can find new ways to increase your profits.
One common mistake advertisers make
Even if you've been running effective Facebook campaigns, you can't expect to use the same campaign content, targeting options, and creatives on other platforms.
You can indeed leverage your experience in your future campaigns. As we've mentioned previously, you have a better understanding of your target audience and these insights help a lot regardless of what marketing channels you use.
Advertisers often make a common mistake assuming they can spread similar ads across multiple platforms and this will work. It won't. You might be reaching the same audience on different channels, but your campaign settings aren't likely to be the same. Quora doesn't provide all the targeting options Google offers. It also doesn't mean it won't be effective for you. It only means it's different.
We also came across questions like 'What's better: Facebook Ads or Google Ads?' The only possible answer is 'it depends.' If you're running advertising campaign for an eCommerce brand and have a budget to target keywords with high commercial intent, go for Google Ads. If you're tired of the competition on Facebook and Google platforms, get ready to build a new funnel and look at other channels, like native ads or Pinterest Ads.
When you choose to run your advertising campaigns on several different platforms, get ready to inspect all their peculiarities and not just adapt but build new campaigns from scratch.
For example, even when designing your ads for the same audience on Facebook and Instagram, you need to consider different user behavior. People won't pay attention to your texts below a sponsored post on Instagram unless an ad image catches their attention. In fact, it's even more effective to avoid adding long-form texts below your sponsored Instagram posts. On Facebook, texts go before thumbnails.
The best Facebook ads alternatives
Where to run ads besides Facebook? Let's check 10 channels you'll want to benefit from.
LinkedIn ads
Audience size: LinkedIn counts 675 million active professionals.
Who's a good fit: Education, B2B services and products.
The first Facebook Ads alternative that comes to our minds is LinkedIn.
This network for professionals can become a great booster for the marketing of your business.
While LinkedIn advertising has proved effective for B2B, it won't perform equally well for all companies that sell to businesses. It's recommended that to achieve positive ROAS, your customer lifetime value should be more than $5,000.
However, it's not necessarily applicable to everyone. If you are experienced enough and know how to bring your campaigns to high performance in a short time, you shouldn't shy away from running LinkedIn ads for a product or service with a lower average LTV.
Apart from high costs (the minimum CPC bid is $2), there's one more obvious reason not to promote consumer goods on LinkedIn – its audience. Recruiting experts, marketing managers, CEOs, and other professionals don't expect to see electric toothbrushes in their feeds. We don't say they don't use them. But these people browse LinkedIn for professional purposes and are more likely to interact with ads that add value to their business or career path.
What ad types are available on LinkedIn?
There are four types of ads you can run on LinkedIn.
Text ads. These are ads displayed in the top- or sidebar of your feed or LinkedIn messenger.
Sponsored content. These are units that fit seamlessly into your LinkedIn feed. They look like regular posts with the 'Promoted' label.
Video ads. Video ads are a part of LinkedIn Sponsored content. Instead of using a single image ad, you can use a video.
Carousel ads. This is one more ad format available inside the Sponsored content format. It allows you to add swipeable cards and access more space to tell your brand story.
Sponsored InMail. LinkedIn makes it possible for advertisers to send sponsored direct messages to their audiences. In this case, advertisers pay per message sent.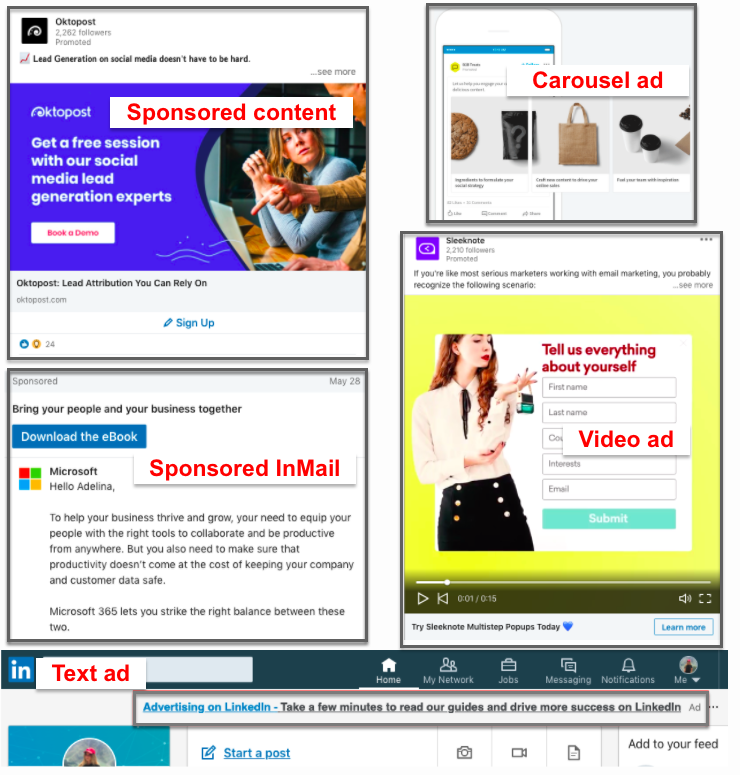 Native ads
Audience size: Depending on the ad platform you go with, the number of daily impressions per ad can reach up to 70 billion.
Who's a good fit: Native advertising is suitable for any category of products or services. Today, you'll find native ad campaigns run by SaaS marketers, eCommerce brands, app marketers, small business owners, demand generation experts, and others across publishers' websites.
And of course, native advertising is particularly popular among affiliate marketers.
Native advertising is probably the third option after Google and Facebook advertising that allows advertisers to reach audiences on such a wide scale.
With native advertising, you can promote your content, landing pages, or videos to audiences of the worlds' most popular and trustworthy websites. Different content discovery platforms host their widgets on websites of publishers that joined their networks, making it possible for advertisers to run their native ads across thousands of placements by working with only one platform.
Here's an example of native ads displayed within the Outbrain content recommendation widget on the CNN website: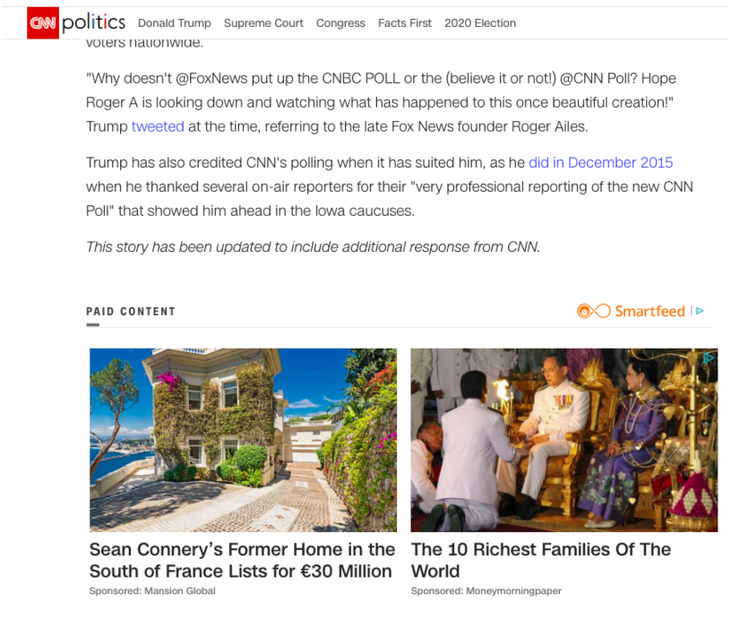 What about costs? Native advertising is more affordable, compared to Facebook and LinkedIn ads. The average CPC for a typical desktop campaign is about $0.40. For mobile campaigns, advertisers usually set a bid between $0.20 and $0.60.
Before launching your first native advertising campaigns, you'll need to select a native ad platform, like Taboola or Outbrain, or a demand-side platform (DSP) to work with. Native ad platforms give you access to wide networks of publishers, and DSPs typically collect inventory from several native ad platforms, allowing for higher scale. However, DSPs are also more difficult to use.
Check out our recent interview to learn more about the differences between ad platforms and DSPs.
By configuring various targeting options, you can either reach the widest possible audiences or show your ads to the most relevant people. Most platforms enable advertisers to filter audiences by location, browser, device, interests, etc. Retargeting campaigns are also available with native advertising.
Here are top native ad networks and DSPs you might want to consider:
What native ad types are there?
Different networks and DSPs might support different types of native ads. Most of the popular platforms serve the following ad formats:
Text ads
Image ads
Video ads
Carousel ads
Want to do native advertising but don't know where to start? With our Native Starter package, you'll learn the best practices for native advertising. We'll teach you to launch native ads campaigns from scratch and bring them to high performance.
Would you rather enjoy the benefits of native advertising without spending your time on it? Check out the Native Managed services. Our experts will set up, manage, and ensure high performance of all your native ad campaigns.
For more information about native advertising, enroll in our Udemy course.
Tiktok ads
Audience size: 800 active users worldwide.
Who's a good fit: B2C products and services in any category.
Still thinking TikTok is for teens? Tell it to RedBull, RalphLauren, and BMW.
Although in its first years, TikTok was targeting under 18s, its audience is aging up in 2020. From the beginning of the year to April, the number of USA-based TikTok users aged 18-24 fell from 41.1% to 35.3%. At the same time, the share of 25-34-year-old users increased from 22.4% to 27.4%, and the 35-44 demographic grew from 13.9% to 17.1%.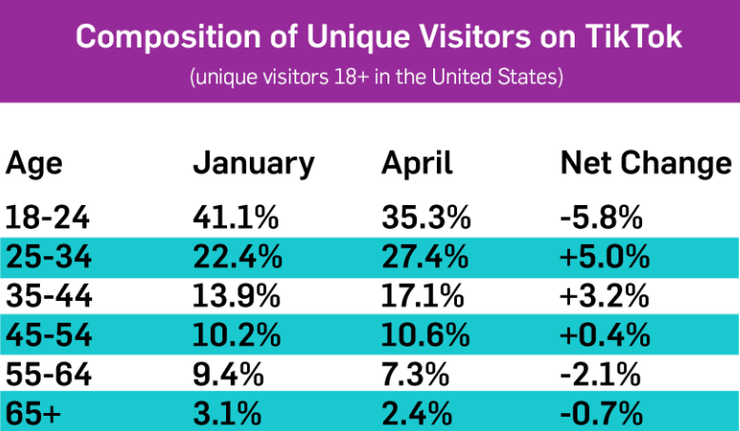 The growth in non-teen demographics brings even more opportunities for marketers that target Millennials and Gen X.
What about costs? The cost of your TikTok advertising campaign will depend on the solution you choose (we'll talk about TikTok ad formats a bit later). Most of the TikTok ads formats are quite expensive. In-feed ads are the most affordable option for small businesses.
The minimum required budget at the campaign level is $500, with $50 minimum for ad groups. The platform provides for bidding methods: Cost per Click (CPC), Optimized Cost per Click (oCPC), Cost per Mille (CPM), Cost per Thousand Views (CPV).
While CPC, CPM, and CPV are common methods across different platforms, what is oCPC? If you're running Facebook ads, you might already be familiar with this bidding model. This option allows you to set the cost you are willing to pay per result. The TikTok system will analyze your audience and show ads to users who are more likely to take the action.
What advertising options are available on TikTok?
On TikTok you access uncommon and highly engaging ad formats. Along with leveraging typical display formats, you can create branded stickers, filters, and more.
Here are 5 brand solutions available on TikTok:
Brand Takeover. This is one of the most expensive options. It's a full-screen three-to-five second image or GIF that appears when a user opens the TikTok app.
TopView. This feature is similar to Brand Takeover, with one difference – videos used as In-Feed ads can be also selected as advertising material.
In-Feed Ads. Promoted in-feed videos in TikTok are similar to ad formats you'll expect to see on Instagram or Facebook. They'll appear when users explore their feeds.
Branded hashtag challenge. This is the most engaging TikTok advertising format. Announcing branded hashtag challenges, brands encourage people to engage with them, add their touch to their promotional campaigns. With a sponsored option, branded hashtag challenges are displayed on the discovery page for six days.
Branded effects. Just like the AR lenses available on Instagram and Snapchat, TikTok's branded effects will allow advertisers to create branded face filters, 3D objects, and more.
Learn more about advertising on the platform in our comprehensive guide to TikTok ads.
Twitter ads
Audience size: 262 million active users internationally.
Who's it for: B2B and B2C companies.
Not sure you want to spend from $50,000 to $100,000 to take over TikTok? Let's talk about a more traditional alternative to Facebook Ads.
Given that Twitter is widely used both for personal and business purposes, it allows advertisers to promote a wider variety of products and services than LinkedIn and TikTok do.
Twitter ads are also known for their great targeting opportunities. With keywords and hashtag-based targeting, you can reach people who have mentioned a specific word or hashtag in the last seven days. As Twitter is one of the very few platforms where hashtags are used as intended – people really track different topical hashtags to discuss topics of their interest, hashtag-based targeting can be extremely effective for specific niches.
What about costs? Like TikTok ads, Twitter ads pricing highly depends on the ad format you choose. Nonetheless, it doesn't mean Twitter advertising is as expensive as TikTok. To estimate average costs of Twitter ads, let's look at every ad format separately:
Promoted tweets. Promoted Tweets are similar to Facebook and LinkedIn in-feed ads. They look like regular tweets but are marked with the 'Promoted' label in the lower-left corner.
Promoted tweets might cost between $0.50 and $2 per action. Billable actions might include likes, retweets, follows, website visits, etc.
This format also includes the Automated ads feature. If you're new to advertising but want to test Twitter ads, you might want to pay as little as $99 per month and allow the Twitter system to pick your regular tweets and your account to promote them automatically. The only few steps you'll need to take is define your target audience's interests and keep publishing your regular tweets.
Promoted accounts. Instead of promoting a single tweet, you might want to promote your brand's entire account. The card will be displayed in users' timelines, search results, and the 'Who to Follow' section.
When promoting your account on Twitter, you'll need to pay from $2 to $4 per follower.
Promoted trends. These ads are displayed under the 'Trends for you' section in your timeline and in the Explore tab.
This is the most expensive Twitter ad format. Advertisers should pay about $200,000 per day to serve their ads at the top of the Trends section.
Sponsored content
Audience size: The specific publisher's audience size.
Who's a good fit: Sponsored content can be effective for any vertical.
Sponsored content is a part of native advertising. The difference between native ads we described above and sponsored content is the way they're purchased.
Typically, to display your native ads, you would use a content distribution platform or a DSP. To place brand-sponsored content on a publisher's website, you'll need to buy ad space directly from the publisher. No need to participate in auctions, you just pay for your campaign content to be displayed on a website as long as your partnership lasts.
The sponsored content cards are displayed among editorial content recommendations. Most often, publishers have specific departments responsible for developing and running for paid campaigns. This is how the sponsored content section looks on Telegraph: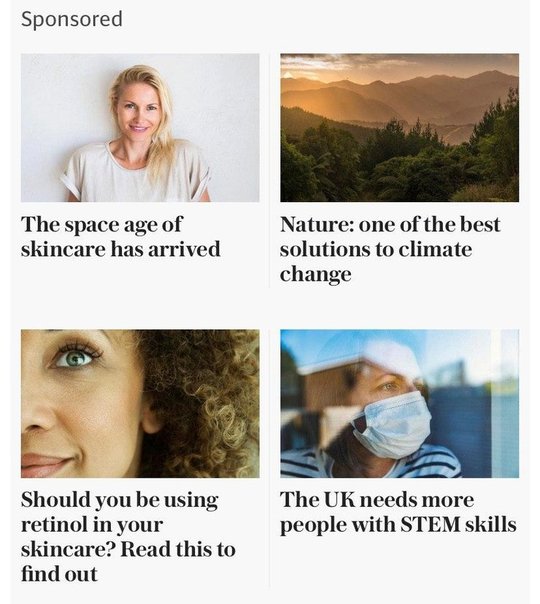 Even though sponsored content is clearly marked, readers won't pay much attention to it when the message is appealing enough. Native ads almost always resemble the look of editorial content, and so do sponsored content units. This advertising format goes even further – a sponsored article or landing page is usually published on a dedicated section which is still a part of the publisher's website.
For instance, when you click on one of the above-illustrated ads, you come to a page with the Telegraph SPARK label. So, if you need to boost brand credibility, such collaboration will definitely help you to reach your goal. Just mind that the minimum cost per article on one of the world's top publishers' websites will start from $50,000.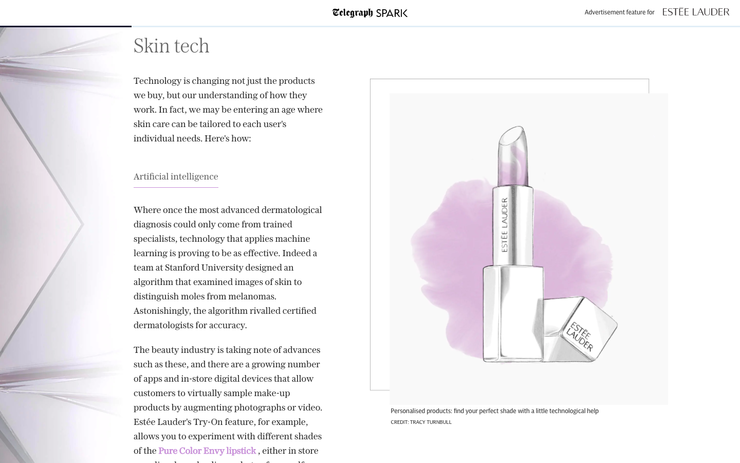 Fortunately, not all sponsored content is so expensive. Niche blogs also offer this opportunity. Usually, sponsored posts on quality blogs start from $500-$1,500. If you're lucky enough to find the one with an active audience, this campaign may bring a lot of new prospects to your website.
Quora ads
Audience size: 300 million monthly users.
Who's a good fit: Mid-price segment products.
Quora is one of the most popular Q&A platforms that marketers have been taking advantage of for the last few years.
Quora's question-and-answer format is ideal for brands and individuals that want to establish themselves as thought-leaders in the industry. Finding niche-specific or brand-related questions by keywords or topics, you can provide detailed answers and showcase your products or services when it's relevant.
But we're talking about organic Quora marketing. What about Quora Ads?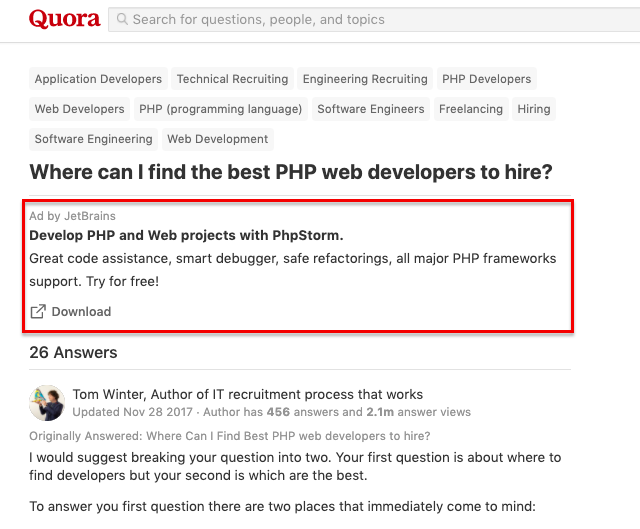 There are three types of ads supported by Quora:
Image ads. These are typical ads that include a headline, brief description, image, and a link to your landing page. You can choose to display your image ads below targeted topics, questions, and questions that contain specific keywords or phrases. Like on any other platform the average CPC will depend not only on the ad type but also on the targeting settings. When setting up your campaigns, Quora will provide you with a suggested bid.
Text ads. Text ads look native on Quora's predominantly text-based platform, allowing advertisers to insert brand messages into organic conversations occurring on the platform.
Promoted answers. This format is a great way to boost the visibility of your answers or someone else's feedback about your brand. These campaigns usually cost less than other ad formats. Typically, the CPC for promoted answers will start from $0.1.
The main advantage of Quora ads is low competition. Due to this fact, you can win your audience's attention for relatively low costs. However, it's also important to understand whether your product or service fits there. Even though there might be a lot of open discussions on the relevant topic, paid campaigns might fail to drive expected results.
Based on our own experience, we can conclude that Quora ads are effective for promoting mid-price products to the US-based audience (the most active audience on Quora).
Reddit ads
Audience size: More than 430 million active users monthly.
Who's a good fit: Reddit ads can be effective for any vertical if advertisers manage to identify relevant subreddit topics.
To run self-service ads on Reddit, you can start at $5. Sounds good, isn't it?
Indeed, Reddit advertising is one of the best options if you don't want to allocate a huge budget on ads. Just make sure your target audience is active there.
What ad formats are available on Reddit?
Reddit Promoted Posts. These are posts pinned to a given subreddit for a fee. You can promote your own posts as well as anyone else's ones. Mind that users are allowed to upvote or downvote your paid posts. So make sure your posts appear below highly relevant topics and don't evoke negative emotions.
Display Ads. These ads show up in the sidebar. To launch a display campaign, you'll need to work with a Reddit account manager. This opportunity is only accessible by advertisers with a minimum quarterly spend of $50,000.
Pinterest ads
Audience size: 322 monthly active users.
Who's a good fit: Pinterest works well for eCommerce stores, especially in the holiday, food, and home interior-related industries. Also, DIY-related guides and tips are extremely popular on Pinterest.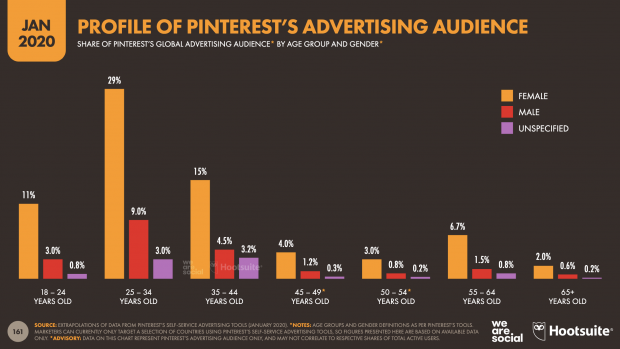 What about costs? Advertisers usually pay from $0.1 to $1.50 per click for Pinterest advertising.
If your offering appeals to Pinterest users' interests, you can expect great results from advertising on this platform. While delivering higher CTRs, Pinterest ads result in lower CPAs than other advertising channels do. For instance, by using ads on Pinterest Imperfect Foods managed to drive a 20% increase in signups at a 30% lower cost-per-signup than they saw on other channels.
What ad formats are available on Pinterest?
Promoted Pins. These are standard Pinterest ads. You can find them among regular pins in the news feed.
Buyable Pins. They appear in places of Promoted Pins. Instead of linking to a brand website, these pins allow users to buy products without leaving Pinterest.
Promoted Video Ads. Promoted videos can be displayed in the news feed, search results, and the "more like this" section.
App Install Ads. Available on iOS and Android devices, these ads also appear within the Pinterest feed, allowing users to download a promoted app directly from Pinterest.
Instagram ads
Audience size: More than 1 billion monthly active users.
Who's a good fit: Food, fashion, health, and other consumer products perform well on Instagram.
What about costs? As on every other channel, costs on Instagram ads will vary between industries, targeting options, and ad formats. On average, advertisers can expect to spend between $0.70 to $2.00 per click. However, for highly competitive industries, CPCs might reach up to $3.
It's important to note that Facebook Ads Manager selects both Facebook and Instagram placements by default when you create a campaign with Facebook ads manager. As advertisers can deselect one of the platforms and run ads on either Instagram or Facebook, we'll still consider Instagram as one of the Facebook advertising alternatives.
When mentioning Instagram among other Facebook alternatives, marketers have been strongly recommending taking into account the differences in target demographics of these two platforms. It's considered that Instagram audiences are much younger than Facebook active users.
We checked the statistics and saw that 70% of Instagram users were 34 and younger , which would have proved the point if we hadn't checked Facebook statistics. 62% of global active Facebook active users are under 34.
If age is an important factor in your marketing strategy, then Instagram might be the closest alternative to Facebook advertising for you.
Is it better to run ads on Facebook or Instagram?
Where's your audience? Do they prefer consuming visual content or texts?
Instagram is the right platform for building a mobile-first ad strategy with the help of highly captivating images and videos. Do you believe you're able to build ad creatives that will sell right away? Go for it.
It's also important to consider your audience's path to purchase. Are you good at converting mobile traffic? Often, mobile users are on the go, and they aren't ready to purchase high-ticket products. Therefore, you should either focus on the channel that drives desktop traffic or optimize your sales funnel so that you don't lost mobile users after the first interaction.
What ad formats are available on Instagram?
Stories Ads. Instagram Stories ads exist within Instagram Stories, which are accessed from the top of your Instagram feed. Like any other ad, Stories ads are clearly labeled. But when done right, they fit so seamlessly into the organic content flow that users might fail to notice they're watching ads.
In-feed Photo or Video Ads. In-feed ads tend to be more expensive than Stories ads. However, experts suggest creating ads for both placements to get the best results as soon as possible.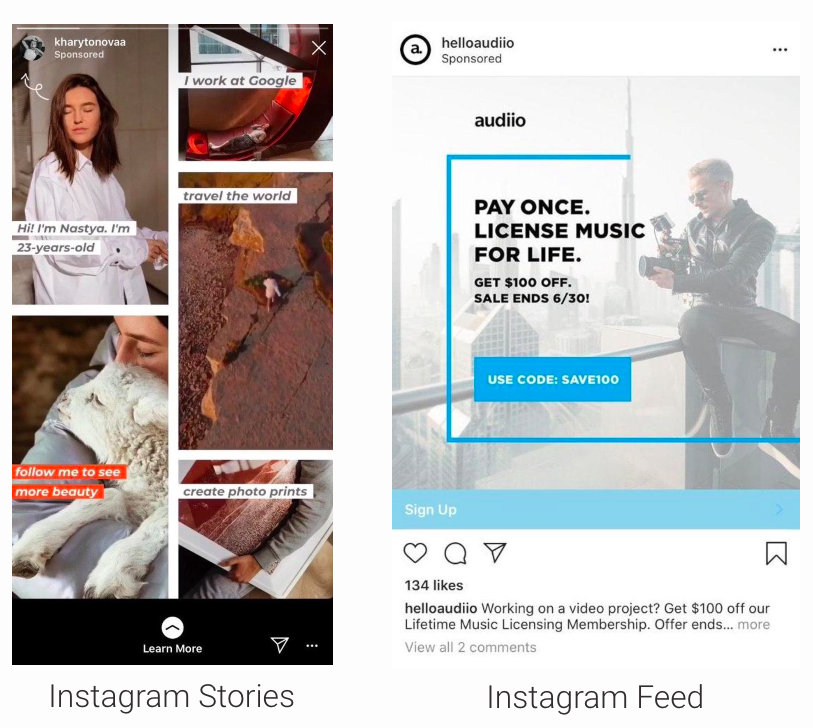 Carousel Ads. An in-feed ad format that allows combining multiple creative pieces in one ad.
Collection Ads. Instagram collections enable advertisers to showcase their brands and multiple products in feed and ensure the seamless post-click experience for your customers. These ads Include a cover video or image and a list of products featured below.
Explore Ads. These ads will appear when someone clicks on a post from Explore and scrolls down. Explore Ads aren't displayed in the Explore grid or in the topic channels.
Amazon ads
Audience size: Over 100 million monthly active users globally.
Who's a good fit: E-commerce.
What about costs? The average cost per click for Amazon ads is $0.97, according to Ad Badger.

What ad formats are available on Amazon?
There are three types of Amazon ads:
Sponsored Product ads. This is the most commonly used ad type on Amazon. They can appear both above the organic product listings and alongside other products. As these ads are usually displayed in a row, Amazon systems follow a specific algorithm to determine where this or another ad will appear in the results. They consider ad click-through rate history, conversion rates, total sales, product description, and more.
Sponsored Brands ads. These ads appear at the top of the Amazon search results, even above Sponsored Product ads. Unlike Sponsored Product ads, they promote a few different products at a time.
Product Display ads. This type of ad is available to Amazon vendors only. Product Display ads can be served in various places: on a product's detail page, below the search results, on customer review pages, in Amazon marketing emails, and more.
Which Facebook alternative is the right fit for you?
With so many advertising channels available, limiting your paid marketing efforts to Facebook is a serious oversight. One of these ten advertising channels can become fantastic traffic and profit source for your business, you just need to pick the right one.
If you want to explore native advertising, we at Joinative can help. We have three offerings for you:
Native Starter. With this package, you'll learn the best practices for launching and running native ad campaigns. We'll teach you and your team to prepare campaign content, define targeting options, align your campaigns with your marketing goals, and optimize your ads so that they deliver the best possible results.
Native Managed. Our experts will run your campaigns for you, ensuring your business goals are met.
Native Pro. Our native advertising reporting platform. With it, you can export reports from Taboola and Outbrain in one click, group and compare data, and get insights you wouldn't get from any of the platforms directly.