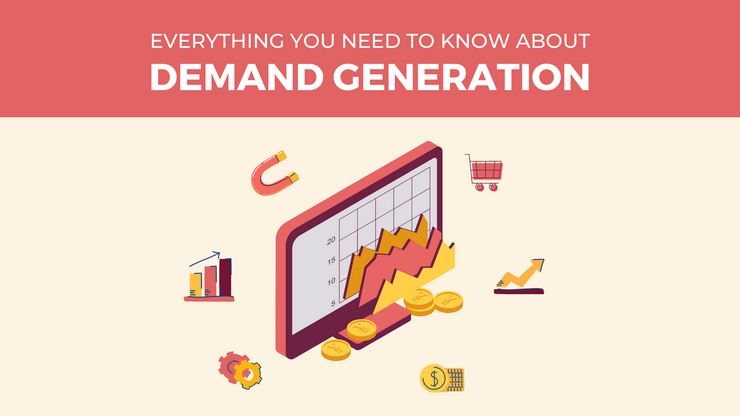 The Ultimate Guide to Demand Generation Marketing In 2021
You've heard this term tons of times. Some use it in the context of lead generation, others refer to it as an umbrella term. What's demand generation after all and how can you do it successfully?
In the guide, you'll learn:
why demand generation should be an inevitable part of your marketing strategy
how it's different from lead generation
how to build your own demand generation strategy
Here we go.
What is demand generation?
Demand generation is the process of building awareness and interest in your product or service with the help of a set of marketing activities.
Demand generation includes multiple touchpoints and campaigns aimed at identifying prospects, raising awareness of their challenges, and positioning yourself as a trusted expert they can turn to for the solution.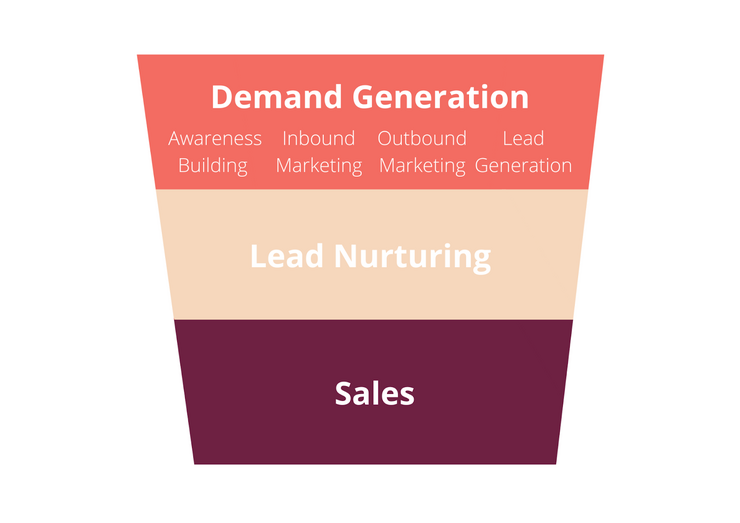 Very few companies can afford to only sell to people who perfectly understand their pain points and are actively searching for a way to address them. Most businesses would go bankrupt while waiting for clients to line up for their products or services.
On-Demand Video Course On Native Advertising
Boost your ROAS with native ads. Enroll now with our limited 30% discount.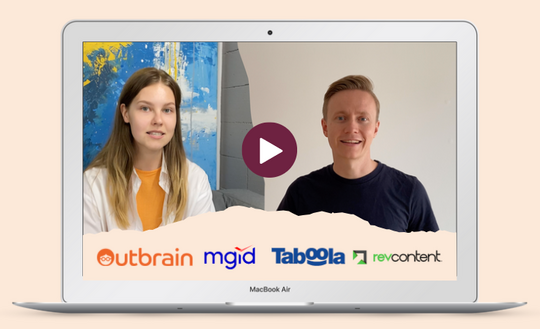 "Demand gen is your golden opportunity to actually help the people you want to sell to by listening to what their needs are and creating value-driven, human-centric content that serves those needs.
By helping people first, versus just selling outright to them, you're inherently creating demand for your business that's based on trust you can later nurture as you move those people move down your funnel," says Jacalyn Beales of Sensibill.
Demand generation marketing allows you to get proactive and make your audience aware of a problem that they haven't identified yet.
Have you ever bought anything you weren't looking into buying before seeing an ad? This is the example of demand generation done right.
Megan Zink, Director of Demand Generation at ReviewTrackers shares: "To run a successful demand generation program, keep two major strategies in mind: be data-driven always and foster and run an agile team.
To create efficient strategies, you must work smarter, not harder - you need to ensure you have regular checkpoints for identifying what's working and what's not, and you need to make sure you have regular touchpoints with other teams who actually work with your targets - the prospects and customers - to see what converts best.
You need to be comfortable with building the airplane while flying it - even the best-laid plans can go awry. Demand gen is constantly shifting but if you are in a place to shift with it, and make data-backed decisions quickly, that can become your greatest advantage.
What's the difference between demand generation and lead generation?

Unlike lead generation, demand generation is a way more complex process that starts even before a person enters the buying cycle (read: becomes aware of the pain point).
While these two definitely overlap, it's a huge mistake limiting demand generation to lead capturing.
First, what's lead generation?
Lead generation is the process of capturing the contact information of people who have shown interest in the subject related to what your company offers e.g. by downloading an ebook, requesting a quote, taking the survey, etc.
That's it.
On the other hand, we have already mentioned that demand generation involves awareness building, branding, prospect nurturing as well as lead generation.
If you think of demand generation as a jigsaw puzzle, lead generation is the last piece needed to see the full picture. It's followed by lead nurturing and sales activities aimed at converting a lead.
Jacalyn Beales adds: "It's easy to fall into the trap of using demand and lead generation simply to push products, but people don't buy products or solutions — they buy potential. Demand generation speaks to that potential, lead generation helps you sell it. It doesn't hurt, either, when you take a human approach to both."
In the end, it's clear you can't choose between these two or even compare them – although you'll find tons of articles where authors in all seriousness oppose demand gen and lead gen – one just can't work without the other.
Creating demand vs. capturing demand
Being a part of the demand generation process, lead generation can be described as demand capture – the term marketers mistakenly often limit demand generation to.
Tom Whiley, Head of Demand Generation at e-days explains the reasons many companies prioritize demand capture over demand creation: "There are two areas of demand generation. There's capturing demand or what we call "lead gen." These are people looking to buy and are a very small portion of your market. Then there's creating demand, which is by far a bigger market of people that are not in a buying cycle yet. You need to educate them and create an affinity with your brand and product.
The challenge is that marketing teams are not incentivized to create demand. They're shackled to the KPI of creating MQLs and contact details for sales teams.
Creating demand is difficult to measure, so that's why many marketing teams are told to just focus on capturing existing demand because they can say they've delivered an x number of MQLs for sales this month."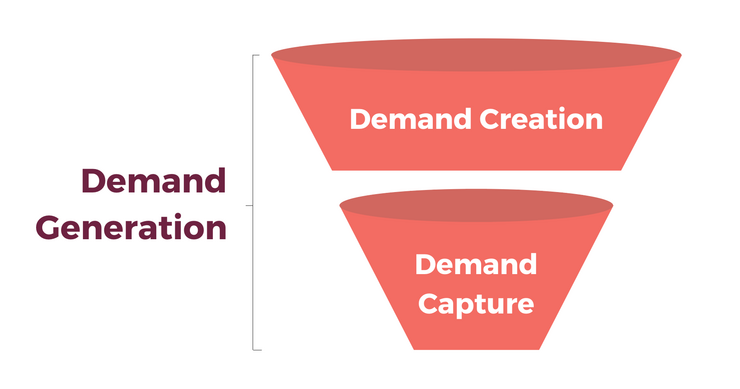 Right, it's easier to see your role as capturing demand. But if focusing on creating demand first, you'll be able to capture it effortlessly just as a natural extension.
"Successful companies are great at creating demand," Tom adds. "You see them constantly active in awareness channels like social media and the press. Sharing and creating unique content, and capitalizing with innovative tactics like influencer marketing and even podcasting. You could say that brand is demand.
Our SaaS solution, e-days, serves a very specific part of HR - absence management. So we find success with very targeted PR campaigns to help change the way companies approach employee absence. Therefore, creating a sustainable flow of new demand for our product.
Not only that, but we're present in key channels like SEO and PPC advertising with strong messages to capture them when they've entered the buying cycle. That is the model for successful demand generation."
How to build a demand generation strategy
There's no quick fix solution when it comes to demand generation marketing.
Demand generation takes a complex approach. Veronica French, Director of Demand Generation at Replicant says: "Great demand generation strategies are a perfect blend of your right brain and left brain."
Veronica highlights that "The best thing you could do for your demand generation strategy is to balance scale and personalization.
You have high growth targets, so investing in scalable tactics like paid search, display advertising, and content syndication is key to hitting your numbers and growing your database.
But you need to balance that with building an authentic community and giving prospects or customers that warm fuzzy feeling. This involves higher effort tactics like hosting intimate events, creating a members-only club and branding it, giving the spotlight to your audience and inviting them on as guest speakers, or sending them handpicked gifts that are genuine and thoughtful."
Below are our favorite strategies for demand generation.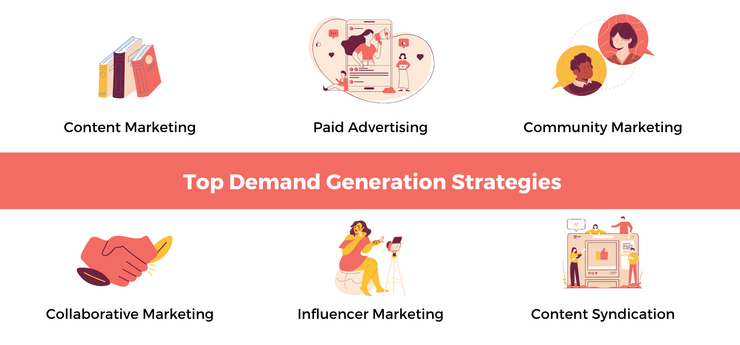 Content marketing for demand generation

"Demand generation programs rely on large amounts of content and distribution," says Megan Zink.
Big brands invest a lot in engaging video content, social media presence, publications on top news websites, etc. Do you think they do that for fun? Partly. The truth is, they know that relevant, quality content is the best way to get inside their prospects' minds.
Filippo Piras of Shield explains how the combination of content marketing and consistent distribution strategy help to generate demand and attract prospects with buying intent: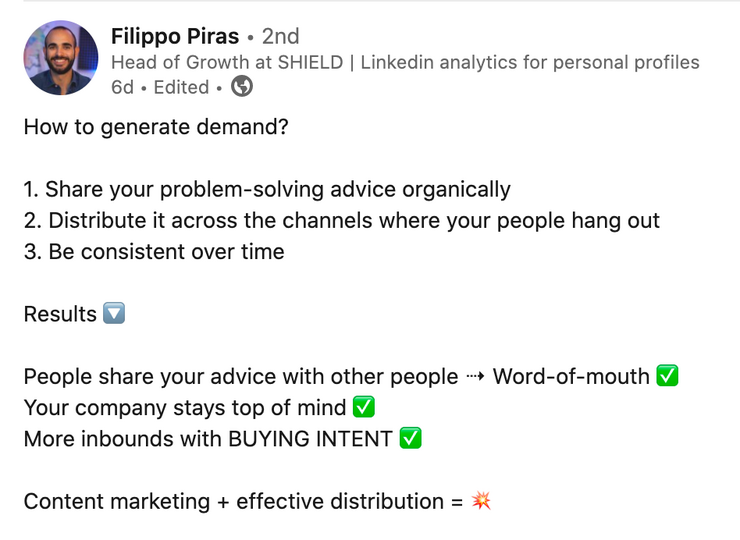 76% of organizations say content marketing is important to their demand generation efforts.
If you haven't done so yet, shift your focus to demand generation content now. It's a type of content that speaks to people who haven't even thought about looking for a solution like yours yet. Instead of nudging readers to buy, this content should make them aware of a certain problem and introduce your product or service unobtrusively.
"Content marketing is the most effective strategy for demand generation by a good margin.
You need to create comprehensive content that drives value while optimizing for SEO along the way. Don't mix up the priorities here—writing purely for SEO is a costly investment.
Get marketers and content creators who can provide real insights, then figure out ways to format it in the ways your prospective customers love. Images, videos, interactive content, and the standard written posts can all be combined to generate more demand," says Reuben Yonatan of GetVolP.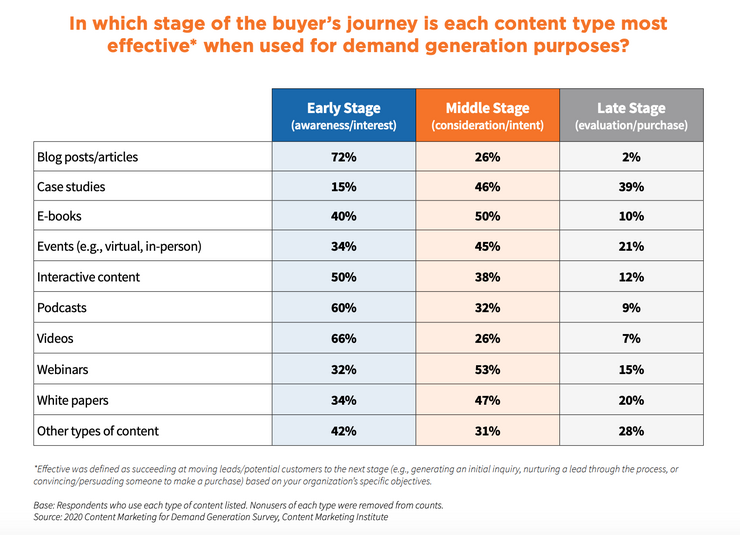 Source: Content Marketing Insitute
If you have to choose between using an ebook and a story evoking emotion to create demand, always go for storytelling. The percentage of demand generation content marketers who use storytelling/evoking emotion to nurture audiences increased to 49% last year, which speaks in favor of this approach.
To create engaging customer stories, you can use a brand advocacy program. Here's how Jessica Day of IdeaScale approaches it: "The number one driver of inbound interest and our best list-builder tactic is still our customer content in the form of video, downloadables, shareable posts, reviews, and referrals.
The most important thing that has resulted in qualified inbound leads for IdeaScale was creating a repeatable brand advocacy program. In other words, we found a way to automatically identify our advocates, encouraged them to tell their story, turned those stories into case studies, reviews, speaking engagements, etc., and then we rewarded them with recognition and maybe even some SWAG or a gift card."
Content syndication for demand generation

It's all very well, but how do you put your great content in front of the right audience? Try content syndication.
Content syndication is a form of content distribution when online content is re-published by a third-party website.
The approach allows you to reach audiences beyond social media or your own website. When you display your content on third-party platforms, you have a chance of reaching people who might not otherwise be actively searching for it but get interested after coming across your publication.
The key difference of the syndicated content from traditional ads is in the way the information is presented – it doesn't look salesy and offers only informative, engaging content.
How do you find opportunities for content syndication?
Paid content syndication
Paid content syndication can also be referred to as native advertising. If you go for it, your content will be recommended to audiences of big publishers' websites, like CNN or HuffPost, without the need to negotiate each placement and pay huge sums of money to get featured on a world-famous website.
All you need to do is to pick a native ad platform with a publisher network that reaches your target audience and add your campaign content through the platform's interface. The whole process is very similar to a campaign set up on Facebook or LinkedIn – you also create 'ads,' specify your target audience, set bids, and your campaigns participate in an auction before they get displayed.
The difference is that promoted landing pages work best when they contain engaging content rather than product descriptions.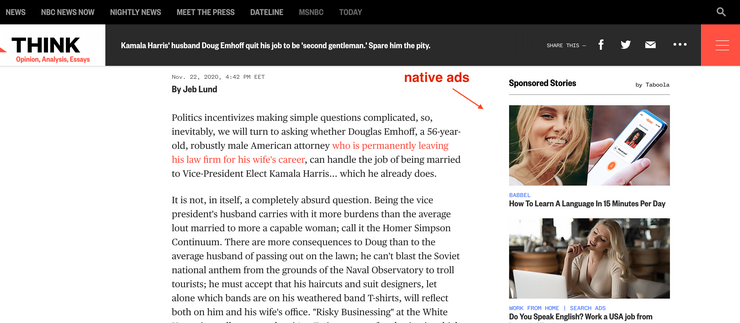 Here are the platforms you should consider in the first place:
… or check the list of top native ad platforms recommended by our team of campaign managers.
We at Joinative specialize in running demand generation campaigns through native advertising platforms. If you don't know where to start or haven't seen any success with native advertising yet, entrust your campaigns to our experts. Get in touch with us to learn how we can help you reach your revenue goals.
Free content syndication
There are free ways to syndicate your content. They're way less scalable and require a great deal of consistency, but you can make it work.
Below are platforms where you can share your content without anyone's approval:
It takes time before you get traction on these platforms, so don't give up after publishing the first few posts and not seeing engagement skyrocket.
Paid advertising for demand generation
Together with good demand generation content, paid advertising campaigns will boost interest in your services and drive a lot of quality prospects to your site.
"Facebook remains to be the holy grail of demand generation, and nothing works better than lookalike audiences on this platform.
Take advantage of data that you already know about your customers to create lookalike audiences on Facebook for more successful demand generation efforts. Identifying new characteristics by which to further segment and refine your audience will combine well with lookalike audiences on Facebook," explains Harriet Chan of CocoFinder.
On-Demand Video Course On Native Advertising
Boost your ROAS with native ads. Enroll now with our limited 30% discount.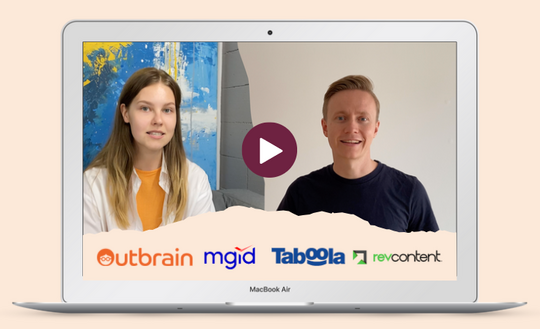 John Ross, CMO at Test Prep Insight leans towards YouTube ads: "I am very big on YouTube as a channel for demand generation and keeping customer acquisition cost low.
Not only does video content continue to rise as a segment of overall content consumption, but with more influencers than ever, rates for paid placements and shoutouts have become extremely affordable.
You're not limited to the same set of major lifestyle influencers anymore. Niche influencers have started to appear in specialized markets, like nursing for example, and they often have even more rabid fans than your traditional influencers.
In addition, YouTube display ads are highly effective based on ROAS figures. That is why for demand generation reasons we are doubling down on YouTube this year through our own channel, display ad budget, and using new influencers."
Community marketing for demand generation
Jennifer Zapp, Director of Marketing at SaaSquatch says: "Building a community of advocates and scaling word-of-mouth is one of the most effective demand generation strategies of 2021.
With paid ads becoming more expensive and less effective, marketers can shift their focus to customer loyalty and referral campaigns to continue to meet their growth goals and improve customer retention at the same time. In today's competitive landscape, demand generation strategy must incorporate the entire lifecycle, not just the top of the funnel."
"Community marketing is another demand generation machine when you have a group of people who really want to learn about your business. In our case, we had a beta tester community before public launch that helped us massively when it comes to improving our product and finding better ways to market it," shares Nadiia Shevelieva, CMO at Trust.
Collaborative marketing and sponsorship for demand generation
Partner with strategic alliances to tap new audiences.
Go find companies that offer complementary services and co-host online events or create co-branded content to boost your brand awareness and create demand.
"Marketing, while extremely successful, can be very costly. You can combat this by working with a similar company to jointly market the brands.
Co-marketing allows you to reach out to a whole different group of people who may be interested in your services or goods.
Events, joint blog posts, cross-promotional agreements, webinars, and other types of co-marketing events are all possible. All of these marketing efforts are beneficial in attracting a new audience's interest.
Simply make sure that their target demographic is similar to yours and vice versa, as this would help both businesses," recommends Jeff Cooper, Manager of Messagely.
Demand gen ≠ lead gen
To succeed in demand generation, you should be ready to focus on other things than capturing leads' contact details. First of all, demand generation is about generating interest in your products and services for people who haven't even entered your marketing funnel yet. To do so, you need to focus on content creation and distribution.
Ready to do native advertising for demand generation?
We can help. See how Joinative has helped dentolo, a Berlin-based insurance startup, to reach the Outbrain CPL 33% lower than the one of paid social campaigns.