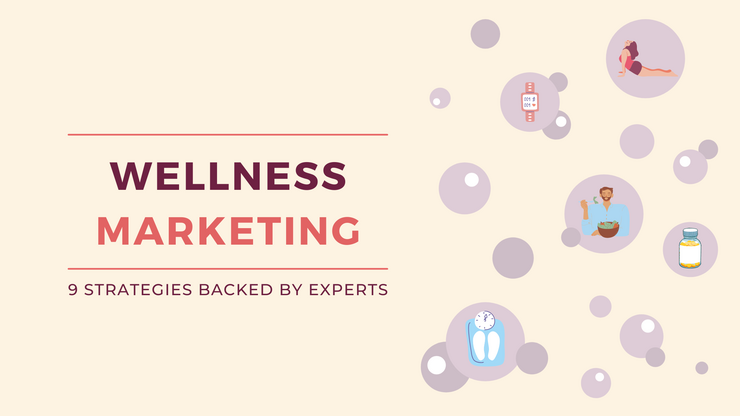 Wellness Marketing: 9 Easy And Actionable Strategies For 2022
Consumer trends are shifting towards health and wellness. This not only results in higher demand for wellness products and services but also creates an extremely competitive landscape.
In the first quarter of 2020, health and fitness apps generated 656 million downloads worldwide. In 2021, there will be 84 million health and fitness apps users in the United States.
Statistics on dietary supplements show that 74% of surveyed US adults aged 35-54 take dietary supplements. They're closely followed by 18-34-year-olds – 69% of respondents reported taking nutritional supplements.
The data above proves that the demand is huge. There are millions of people looking for your products or services. To realize your full potential, you just need to revamp your marketing strategy.
In this guide, we won't share generic tips on building a website or recommend you to look into launching a paid social campaign. We assume you've already done so.
Instead, we'll guide you through 9 proven marketing strategies that will bring your more leads and clients.
Whether you are marketing a diet app, supplements, wellness programs for enterprises, or any other health products, get ready to find profitable ideas that are applicable in your niche.
Make a list of your competitors
Before you launch any marketing campaign, you need to know how your competitors promote their products or services.
If you haven't done so yet, start with determining industry leaders and your closest competitors.
The easiest way to discover who you're competing against online is to use one of the SEO tools. Who ranks for your target keywords? You can find the answer either by entering your domain name or keywords (one at a time).
It's likely that eight out of ten pages ranking on the first page for your target keyword will be aggregators and review platforms featuring various products on one page. Click through every page to identify your competitors fast.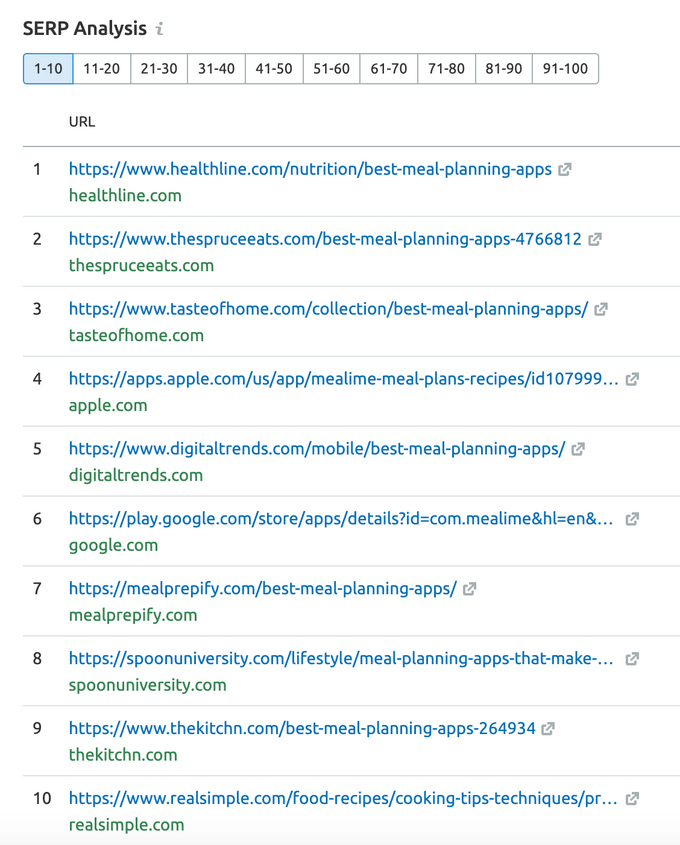 Note: Bookmark lists that feature your competitors' products. Later, you can reach out to their authors or website owners to add your company to the list.
When you have a list of your competitors, look at each of them separately and try to answer the following questions:
How do they position themselves?
What channels are they active on?
How do their ads look like?
What benefits do they stress in their campaigns?
What do they miss in their campaigns?
Since SEO tools are useful only for analyzing paid search ads, here are tools and resources that you might want to use to get information on other advertising channels your competitors use:
In our guide to competitor analysis, you'll find step-by-step instructions on analyzing competitors' strategies with the above-mentioned tools.
Such analysis will allow you to single out channels your competitors find effective and the ones they haven't crowded yet. You'll also need to think of the reasons they neglect some approaches – is that because they haven't proved effective or your competition hasn't tested them yet?
After a few hours of basic research, you'll have a bunch of data on your competitors' strengths and weaknesses that will help you make informed decisions on your own campaigns.
Educate your audience
Even though all of us try to maintain our health as far as possible, wellness is a topic very few people are proficient with.
Before a person subscribes to a meal-planning app, they typically spend a few hours, days, or even months actively searching for tips for healthy eating and trying to implement them in their lives. So why not help them with their research?
Educational resources, be it a blog, podcast, YouTube channel, or all at once, are perfect for connecting with your target audience in the early stages of the buyer's journey. This way, you can guide them through all the way from realizing the need, say, to lose weight to deciding your company offers the best solution to their problem.
Consumers are 131% more likely to purchase from a company right after they consume early-stage, educational content.
Jeff Goodwin, Senior Director of Performance Marketing & eCommerce at Orgain says blog articles help him nudge customers to make purchasing decisions: "Our company thrives on the ability to offer nutritional wealth to our customers through powerful plant-based food choices. Resources for healthy food education can be inaccessible to a lot of our audience so we use our blog to help add educational value to the products we sell.
We distribute free recipes, fitness and wellness guides as well as other nutritional resources to inspire our readers and empower them to live their best lives. Providing more in-depth and practical instructions on how to incorporate our products into their meal regimen helps our customers feel comfortable and more assured of their purchase."
Benjamin Smith, Founder of Disco agrees: "With the turmoil the pandemic has caused, our blog has become a wellness resource for men to learn about self-care and grooming. As trivial as some might think beauty and wellness are, self-care is a major component for managing mental health.
This component of our brand has been a vital tool we have used to ease the stress and tension the global crisis has taken on our customers and readers as well as staying connected with our audience and widening our reach."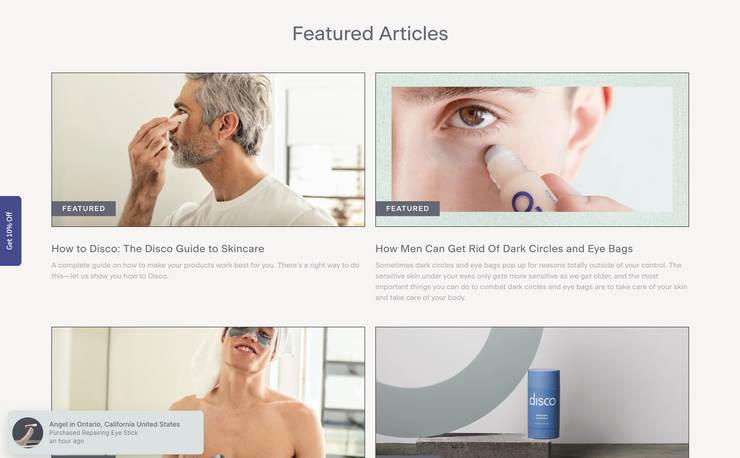 Share success stories
Kristy Esch, Content Marketing Director at Marathon Health says: "My best advice is to tell the stories of success of your patients – it humanizes your brand. If you can show that other patients are getting healthy and sharing the steps they took on their wellness journey, it makes it more relatable for other consumers. We give our patients the ability to submit their success story for a chance to win $250. They answer an online form with multiple questions, along with a photo and they sign an agreement that we can use their story in marketing materials.
The success stories are really our best content. We hear stories about patients lowering their blood pressure, lowering cholesterol, managing chronic health conditions better, getting help with anxiety and depression, quitting smoking, losing weight and more. It's heartfelt when you hear a patient say they now have more energy to play with their grandkids again or they're in the best shape of their lives or how we caught a cancer diagnosis early and saved a patient's life. We share these stories online, on social media, in marketing materials, in sales decks, in emails, etc.
And don't forget to the tell the stories of the healthcare teams who also make a difference in patients lives. They're on the front lines day in and day out. They have great expertise you can leverage in the stories you tell. Again, it's all about making your brand relatable."
Distribute your content on Pinterest
77% of Pinterest users admit they have discovered a new brand or product while browsing on the platform.
Many people use Pinterest as a visual search tool. With health and fitness being included in the list of the most popular categories on the platform, Pinterest has become an incredibly powerful tool for wellness marketers.
If you have tried to distribute your content on other social media channels, like Instagram or Facebook, you know it's a tough task. With Pinterest, it's easier to make your content go viral. Here's how.
Create infographics or other types of visual content to illustrate the resource you want to promote.
Experiment with colors and layouts to make your images stand out. Add texts on top of your images.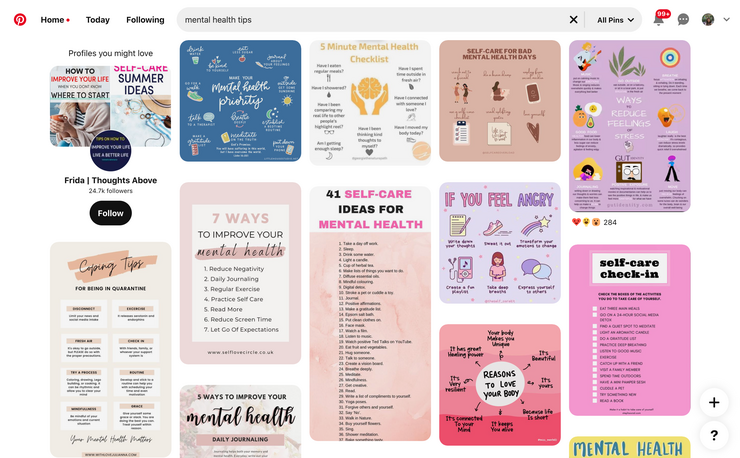 Write keyword-rich descriptions.
Along with providing extra information that convinces users to click through, a detailed description is also an opportunity to add keywords you want your pins to be associated with.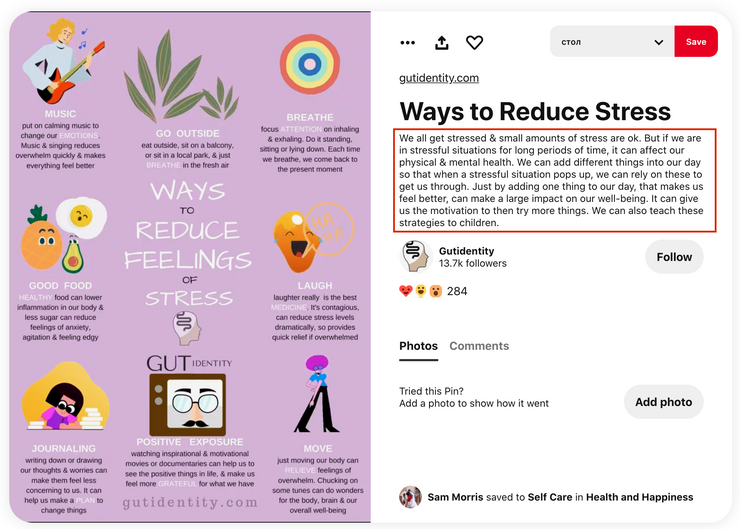 Post regularly.
Make sure you pin consistently in the best times of a day, which are the late evening and, surprisingly, the middle of the night.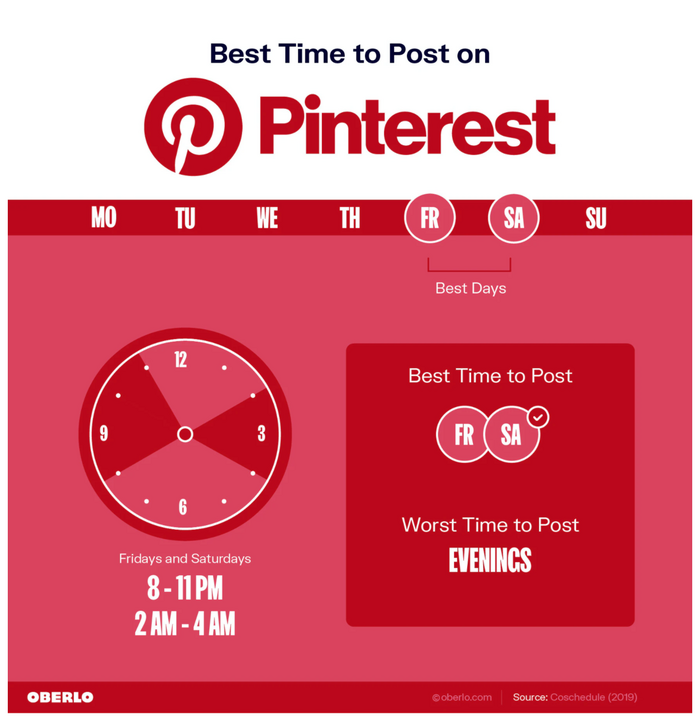 Collaborate with other pinners to contribute to group boards.
Group Boards are shared Pinterest boards that multiple Pinterest users can contribute to. You can either find the most relevant existing boards your potential partners (companies with the relevant target audience but a different product or service) have already created or launch a new board and invite collaborators.
Find existing group boards is easy:
Type a keyword relevant to your area of expertise into the Pinterest search bar.
Tap "All pins" next to the search bar and select "Boards."
If a board is shared, you'll see an icon with multiple profile images.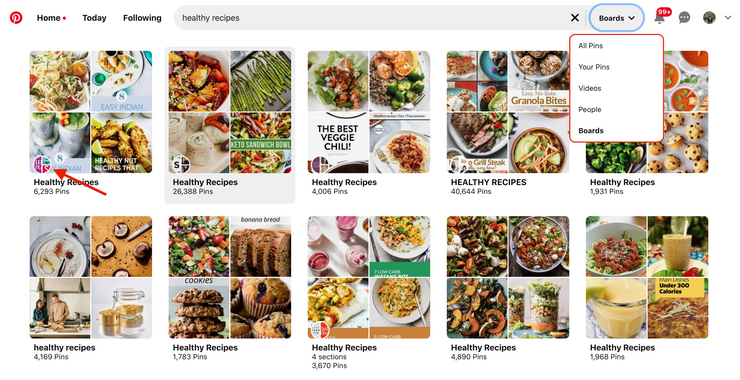 Always add a subtle brand logo to the images you share to boost brand awareness.
People might not remember what content you offered, but they will recall they saw your brand name and logo somewhere before. This simple action will make your prospects feel familiar with your brand when they stumble upon your product or service next time.
Generate leads
Most people who come across your social media profile or visit your website won't buy from you. They will leave to keep exploring other options or just get distracted by something else.
After all the effort taken to create content and put it in front of the relevant audience, you don't want to lose these people forever. And you don't have to.
Lead generation is the process of capturing the audience's contact details that are being shared in exchange for something valuable.
'Something valuable' is any free asset that would be useful for your potential clients. It's called a lead magnet and can take many forms:
Exclusive content (videos, guides, templates, checklists, etc.)
Free access
Free consultations
Discounts
Say, you want to promote your 4-week beginner's workout program. How do you encourage your audience to give you their email addresses so that you could reach them with the invitation to your paid program?
Give away a free 15-minute workout that can be accessed only after a person filles in the form. Mind that YouTube is full of similar videos, and your offer should be compelling enough to make the audience want to fill in the form and access your content.
Snap Agency's Abby Herman says free content is the most powerful lead magnet when used correctly: "Most of my clients sell services such as online courses on how to do certain things yourself, OR even how to become a certified wellness coach. This past year has been an absolutely insane year for content creation and people seem to be craving any how-to videos or cheat sheets they can get their hands on.
According to our data, the highest number of click/open rates as far as lead magnets come from either PDF guides on how to get more business as a wellness coach and scale up your business, or other how-to and education blogs and videos that are advertised on the landing page in order to grow the business owner email list.
Lead magnets are the most effective when you offer valuable content for free, with an offer at the end. When I say effective, however, I have to point out that the copywriting needs to be really compelling, it needs to relate and captivate the reader otherwise they will just exit it out of there without a second thought.
Regardless of what they offer, and where they market it, I also like to recommend video content whenever possible. The reasons are simple: they are easy to digest, and also puts a person in front of the camera, so people see that it's not just a business but there's a real human there making things work so potential leads get good products and services."
Indeed, value-driven video content can help you get higher traction and generate more leads. To save create video content without investing too many resources, you can convert text to video and transform old guides and blogs into much more visually appealing formats.
Advertise on publishers' websites
As we've already said, you won't find instructions for launching Facebook Ads in this guide – the Internet is full of similar content.
Native advertising is the best way to diversify your marketing efforts. It gives you an opportunity to go beyond traditional advertising and be more authentic with your audience.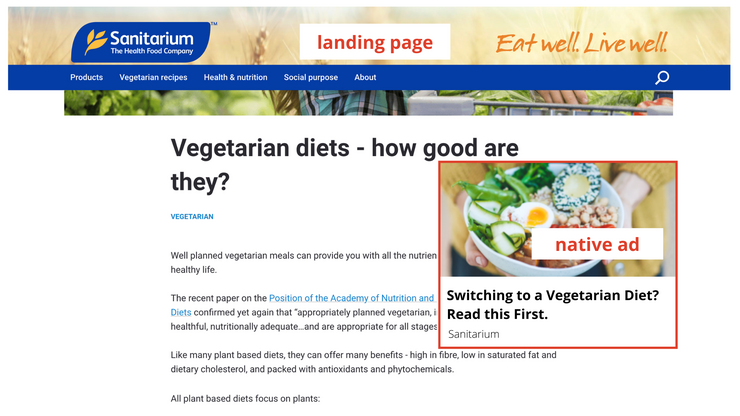 How does it work?
Native advertising is an advertising method where ads are displayed within the editorial content of publishers' websites and fit the website environment almost seamlessly.
The best part about modern native advertising is that you don't need to negotiate your ad placement with a website owner – ads are traded programmatically, via native ad networks.
The process of launching a native ad campaign with the help of a native advertising platform is very similar to the one on any other ad platform.
The main distinguishing feature of native ads is the intent of the audience that interacts with them. People who read news outlets or blogs are concentrated. On social media, users tend to scroll fast and are typically easily distracted. That's why native advertising is highly effective for distributing long-form content, customer stories, use cases, videos, and other forms of engaging content that require some commitment from a reader.
If you'd like to learn more about adding native advertising to your marketing strategy, get in touch with our team. We at Joinative have strong experience with launching high-performing campaigns that reach our clients' goals.
Build a personal brand
Who is there behind your brand logo? Your prospects want to know it.
Building an online presence not only for your brand but for your Founder, CEO, and/or employees is crucial.
Customers want to see how real people use the product they're interested in – so why not use your social presence to market your brand?
Start with just one social media channel – be it Instagram, Facebook, or LinkedIn – and show how your lifestyle is aligned with your brand values.
Sakara is a company specializing in the delivery of plant-based, organic ready-to-eat meals. Sakara's founders, Whitney Tingle and Danielle DuBoise actively advocate for the company's mission and share their own experience of living healthy, empowered lives in their publications.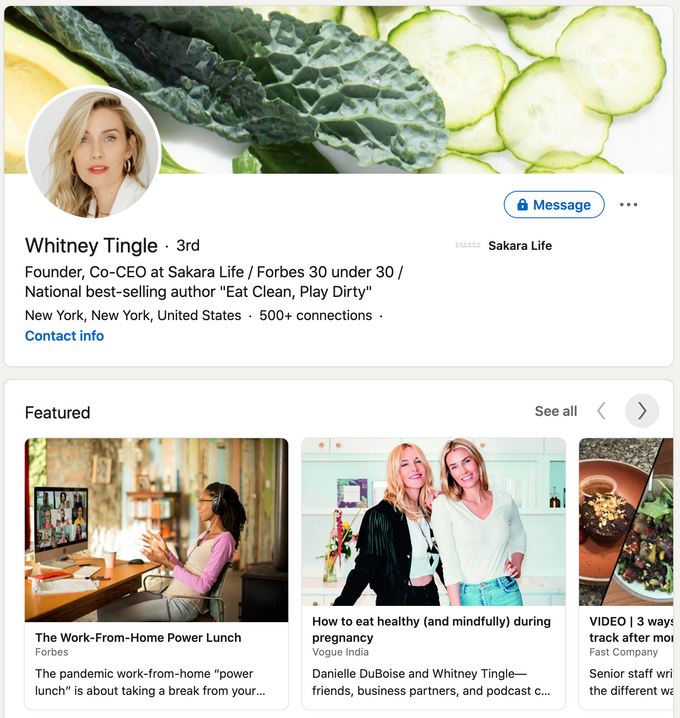 Reach your audience on Quora
Quora has been a popular promotion channel for marketers in different industries for a while. However, this channel is still overlooked by the majority of wellness marketers.
If you enter relevant keywords in the Quora search bar and choose the freshest questions by picking 'Past month' or 'Past year' time range, you're very likely to see tons of opportunities to promote your brand.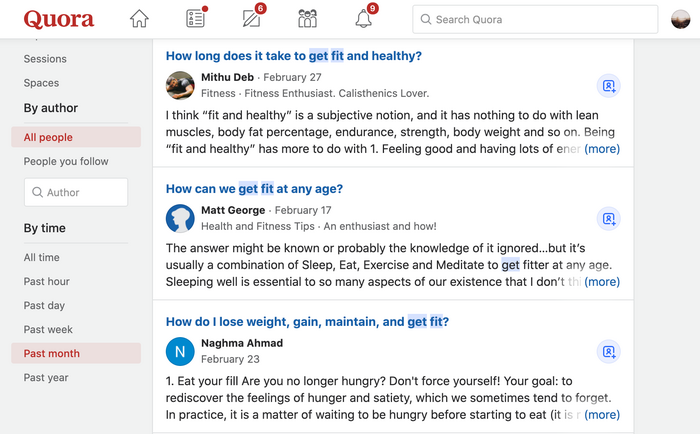 Answers to the question below received 500-700 views in just 3-5 days, which makes us think of Quora as one of the best channels to go viral fast and deliver long-term results.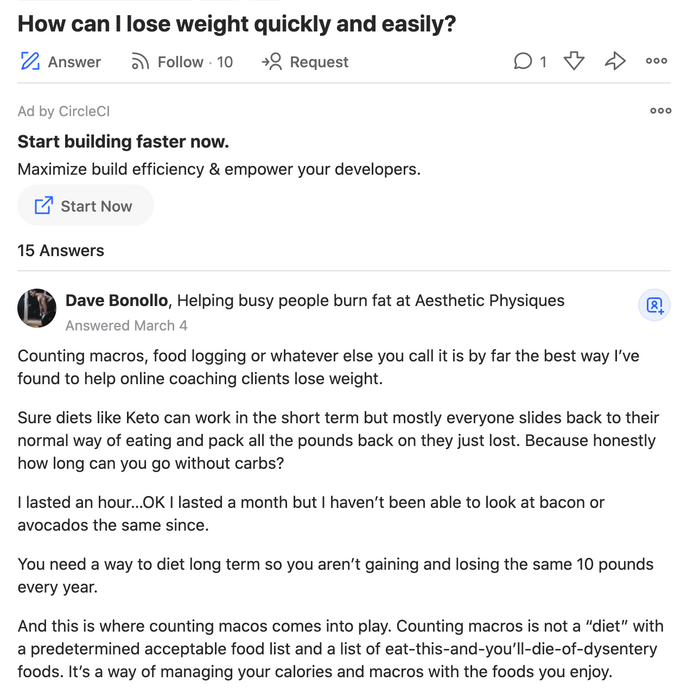 How do you promote your business on Quora?
There's only one rule for Quora marketing – your answers should be useful. If you just share links to your content without any explanations, the Quora team will delete your answer.
Choose fresh questions followed by at least 5-10 users, provide clear answers, and link to your products, services, or blog posts for further reference – this simple strategy will boost your content marketing and help you reach more potential customers.
Collaborate with micro-influencers
While Quora is underutilized by wellness marketers, influencer marketing is one of the most popular strategies in health and wellness marketing.
"Influencer marketing for wellness products can be powerful, however, it needs to be more than a "one and done" post on Instagram. Grow higher authenticity campaigns that are LONG term.
Use natural Integrations into YouTube videos (allowing the influencer to actually show the product or service being used, etc), use unique referral codes and links for better measurement.
Don't sleep on long-form blog content as well. These pieces can be evergreen and grow with SEO," comments Rebecca Pytell, Founder at Strength and Sunshine.
"Once you target the right audience and the right influencer, it pays off really well," says Luat Duong, Search Engine Optimization Lead at Scandinavian Biolabs. Luat has shared five key tips for wellness marketers willing to partner with influencers for the first time:
"Always research the audience of your influencer.
Check their engagement, not their follower count.
Be clear and straightforward about what you require.
State the value you will give first in your pitch. It is faster for both parties.
Write up a contract if you are in doubt. Influencer scams are a thing and it's terrible to experience."
Rachel Weber, Founder at Groovy Butter agrees: "Choose influencers who are highly aligned with your wellness niche. Fewer highly engaged, wellness-obsessed followers are far more valuable – and likely to convert – than an influencer with a massive number of followers in an irrelevant niche (e.g. fast-fashion looks of the day).
If you are looking for product reviews from influencers, review their past brand collaborations. Figure out their style by listening and comparing the tone of their voice and their expressions in their organic versus paid recommendations and collaborations. Do their collaborations feel genuine and authentic, or forced or fake? Are you personally convinced? True recommendations are powerful, but inauthenticity can ring extremely loud on branded collaborations, so it's important to find influencers who successfully portray themselves as true brand evangelists.
An influencer who finds you authentically and reaches out about your product is your best resource. Work with them whenever possible – if they're already your fans, they may be open to more creative collaborations beyond a standard pay for post."
It's great if you already follow relevant influencers and have an idea of who you could reach out to. If you don't, you can quickly find influencers with a tool designed for this purpose:
Tribe. Have influencer campaigns launched for you. Vetted influencers prepare content and visuals, and you pay for it… if you like it.
BuzzSumo. With the tool, you can find trending content around the specific topic and identify people who have published it.
AspireIQ. The tool pairs you with influencers that meet the criteria you've specified. Simple as that.
Build an online community
In the world of remote everything, online communities have become places where people can socialize and unwind outside of working hours.
Build a close-knit online community of your own, and you'll keep your brand at the forefront of people's minds. Moreover, it's an effective way to increase brand loyalty. 58% of businesses say that their customers are more loyal to the brand because they offer exclusive community membership.
Depending on your niche and the product type, you can either choose to build a branded community or start with gathering people around some wellness-related topic.
With an active online community, you don't need to come up with extraordinary incentives for people to sign up – the opportunity to connect with like-minded people is great enough.
To ensure regular engagement with community members, hire an experienced community manager who will establish a content calendar and post in the community regularly.
Wrapping up
The above-mentioned tips will help you stand out and reach your customers on channels your competitors haven't crowded yet. Pick a few strategies to begin with and see how your traffic and conversion grow without huge investments.
Want to explore the benefits of native advertising? Our agency experts will set up and manage high-performing campaigns for you.
We'll guide you through your first steps and consult you whenever you need help.