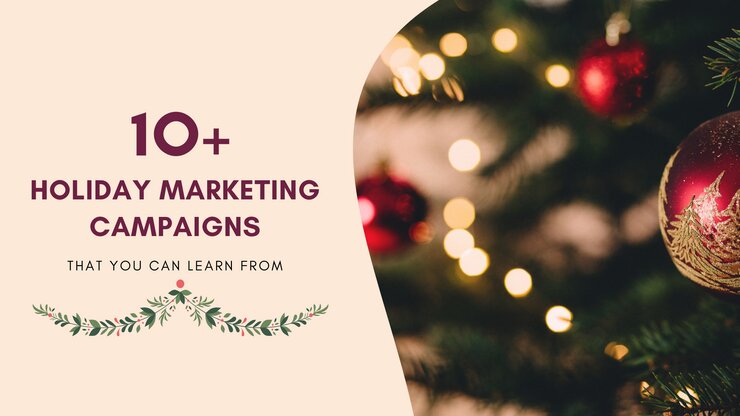 Best Examples of Ho-Ho-Holiday Marketing Campaigns [2021 Update]
The holiday season always sees a splash of creative marketing campaigns. Consumers are never so open to brands' marketing efforts as they're during the festive season. They browse their favorite brands' websites and social media accounts in the hope of finding any ideas for gifts for their loved ones (and often for themselves).
Not willing to miss this chance, brands are doing their best to stand out from this festive crowd. Christmas sales, special offers, giveaways – companies are finding new ways to establish their brand voice and reach their clients during this Christmas season.
Which brands coped with holiday marketing particularly well this year and what could you learn from them? Let's find out right now.
On-Demand Video Course On Native Advertising
Boost your ROAS with native ads. Enroll now with our limited 30% discount.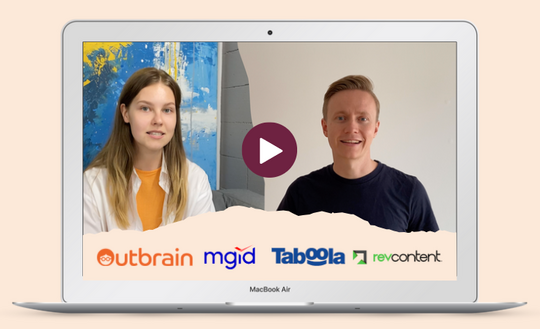 Landing pages
Companies leverage various marketing channels to promote their products or services. But whatever approaches they use, they're aimed at drawing attention to their owned media, i.e. their websites or blogs. So, we'll start with a couple of amazing Christmas landing pages.
Kiehl's sees sales boost during the holiday season. People are searching for colorful, fresh gift ideas, and the company's holiday-themed packaging is their best marketing asset. Their site is always fully prepared for the festive season with an updated design as well as additional sections and special offers for gift givers.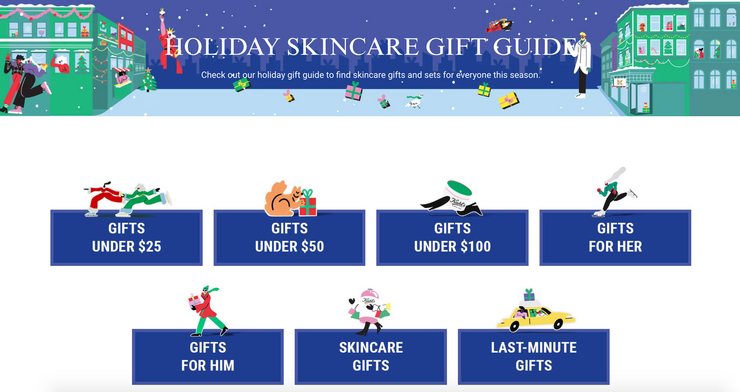 What makes it good?
It's not uncommon for brands to offer gift sections in their sites during the holiday season. But the idea of grouping the gifts not only by gender but also by price will help last-minute buyers a lot.
You can't help but notice that Starbucks is an absolute holiday marketing winner. Their icon red cups are a sure sign Christmas is around the corner for lots of coffee drinkers.
Here's how Starbucks's landing page looks like this December.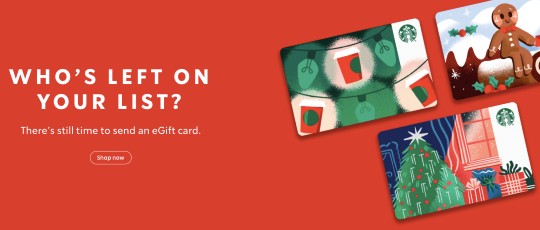 What makes it good?
It's simple and sweet. Have you been wondering what you could present to your colleagues? Here's a hint – customizable eGift cards that will be delivered on the selected date.
Video campaigns
The holiday season is the right time to double down on brand awareness campaigns.
Christmas commercials deserve particular attention. Done right, these videos make the audience cry, laugh, and sympathize with the characters.
The campaign is presenting Taboola's reached milestones in 2021. Each achievement is presented as a scene packed into a snow globe. In fact, it looks better than it sounds. See for yourself:
What makes it good?
A lot of companies recap the highlights from the past year in their holiday campaigns - most often, these are quite boring. Taboola is sharing their achievements in the most non-disruptive way. With this video, the brand has successfuly connected with their audiences and created a positive brand image.
On-Demand Video Course On Native Advertising
Boost your ROAS with native ads. Enroll now with our limited 30% discount.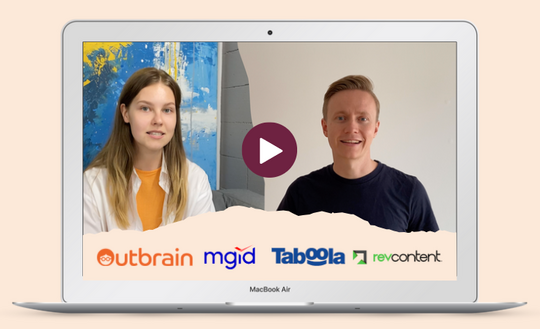 This clothing and fragrance brand wishes their customers to celebrate every moment of their lives and spend Christmas with their loved ones.
Here's what their landing page says: 'With this season comes a moment to escape. Departing from everyday schedules—to bond over new experiences or to honour annual traditions — has a way of bringing us closer to home.'
The commercial illustrates families, couples, and friends enjoying the winter season together (dressed in Ralph Lauren clothes, for sure).
What makes it good?
Like in any other holiday commercial, the emotional aspect plays an important role here. The brand not only provides clothing lines for adults, kids, and babies but also fragrances and home accessories. It seems that every family member will find something worth attention in Ralph Lauren. When you watch the video, it's not difficult for you to put yourself in the place of one of the characters.
Bonus: If you scroll down the page, you'll find a Holiday Run game. It made us interrupt the process of content creation and waste some time on Ralph Lauren's website.
The next prize for the successful holiday marketing campaign goes to Aviation Gin. The marketing team of America's original craft gin knows what makes content go viral.
Soon after Peloton's new commercial gets widely criticized, an actor and liquor brand owner Ryan Reynolds produces a sequel commercial. The ad casts the actress from the Peloton ad, Monica Ruiz, showing viewers where the 'Peloton girl' is now.
Exercise bike not included. #AviationGin pic.twitter.com/jYHW74h81l

— Ryan Reynolds (@VancityReynolds) December 7, 2019
What makes it good?
The commercial went even more viral than its 'prequel'. What led the company to this triumph? Of course, its stunning success was largely prompted by the brand's ability to quickly respond to a fiercely debated topic in real-time.
But we shouldn't also forget that not every company does have Ryan Reynolds as the face of their brand (actually, only Aviation Gin does). Although the ad itself is an example of brilliant real-time marketing, would it have gone viral so fast if it hadn't had such a jumpstart?
Apple's holiday commercial is completely different from the two previous examples. This heart-wrenching ad tells the story of a family that travels to their grandfather's to spend holidays together. On their way to their mother's father, kids are fighting for the iPad their dad gave them to calm them down.
The day before Christmas is full of sweet moments, but it feels that the granddad is still trying to cope with his wife's death. When the Christmas morning comes, and the family members unwrap their gifts, the two little sisters reveal the surprise they prepared with their iPad – a thoughtful slideshow with photos and videos, showing the history of their family and reminding that their grandma will always be there for them.
What makes it good?
Emotions.
The ad says: 'Sometimes, the best gifts can come from the most unexpected places.' The film might seem to be emotionally manipulating, but it has hit the target.
On-Demand Video Course On Native Advertising
Boost your ROAS with native ads. Enroll now with our limited 30% discount.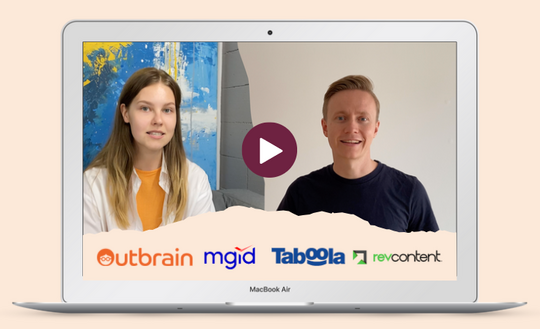 Native ads
Native advertising is the method of displaying sponsored content within editorial content on publishers' websites, such as CNN, Vogue, Business Insider, and many more. Just like Facebook or Google Ads, native ads are traded programmatically through native ad platforms, like Taboola, Outbrain, Dianomi, and others.
Native advertising keeps up with the rest of the marketing techniques on holidays. Let's look at several native advertising examples we liked the most during this Christmas season.
The children's clothes brand runs this Christmas native advertising campaign to generate leads. A user sees a catchy title offering them to take a quiz to identify a perfect gift for their kid - as simple as that.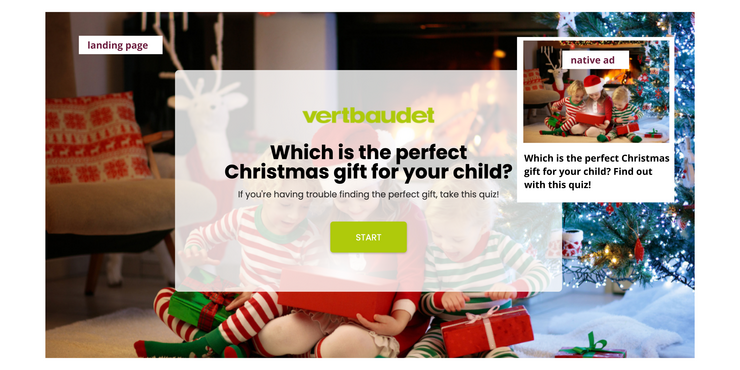 What makes it good?
Quizzes work particularly well within native advertising, and it seems that the advertiser is aware of it. Instead of running a sales campaign, they're generating and capturing demand, which is the right thing to do when you run a native advertising campaign. When a visitor has answered all the questions, they're asked to leave their email address to see the results. This way, Verbaudet drives them right into the funnel so that they can convert them with further email marketing or retargeting campaigns.
StyleCaster is an online magazine where you can find tons fashion, beauty, and lifestyle topics. To monetize traffic, StyleCaster editors often share affiliate links in their articles. The holiday season is the best time for gift guides, and the team decided not to miss out on the trending topic.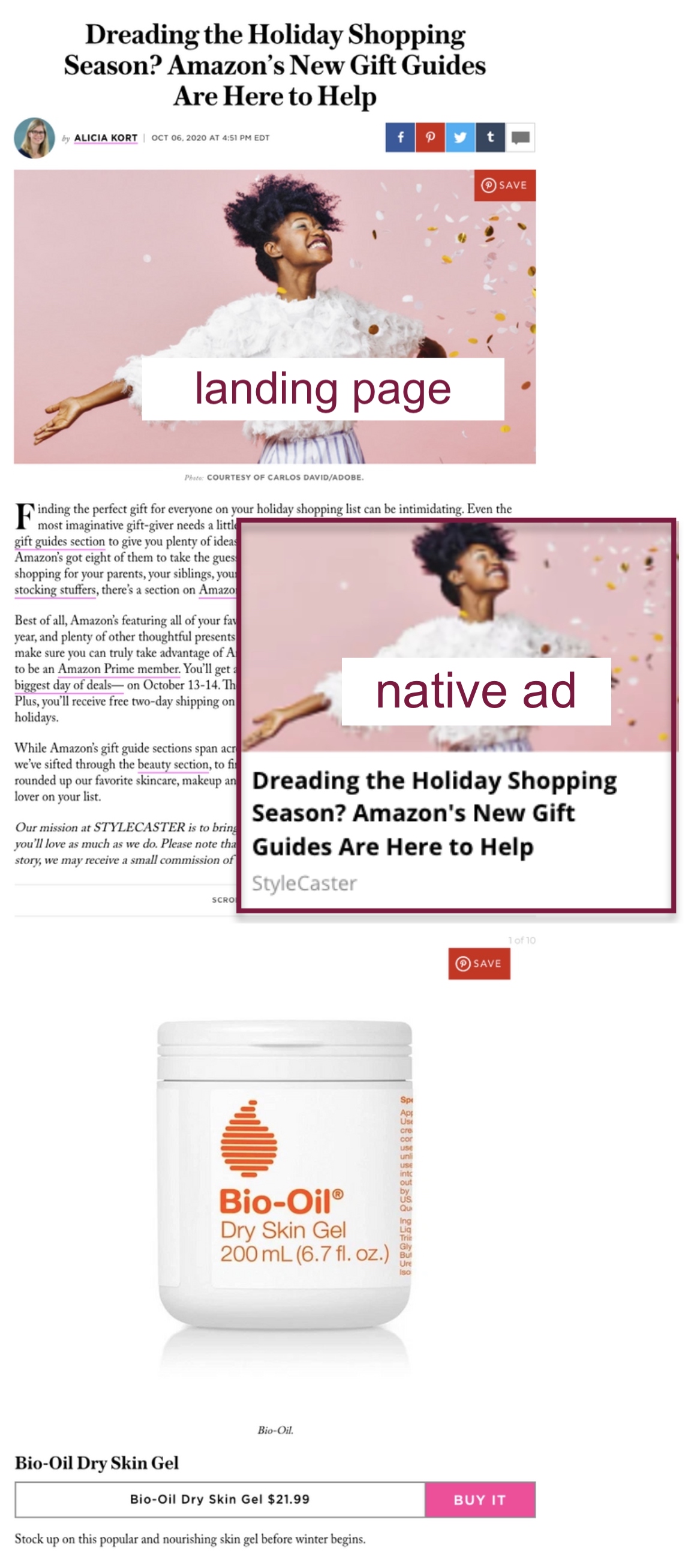 What makes it good?
In the ad headline, the author highlights the most common pain point of every person who has ever done holiday shopping. The question appeals to wide audiences and makes people click to find the solution. The article itself is well-structured, with clearly marked pricing and CTAs boosting its conversion rates significantly.
On Oprah's website, we found Mansion Global's native ad distributed by Outbrain. Mansion Global is the premier source of global real estate market content. The company produces relevant news, conducts market analysis, and offers lists of luxury listings for sale around the world.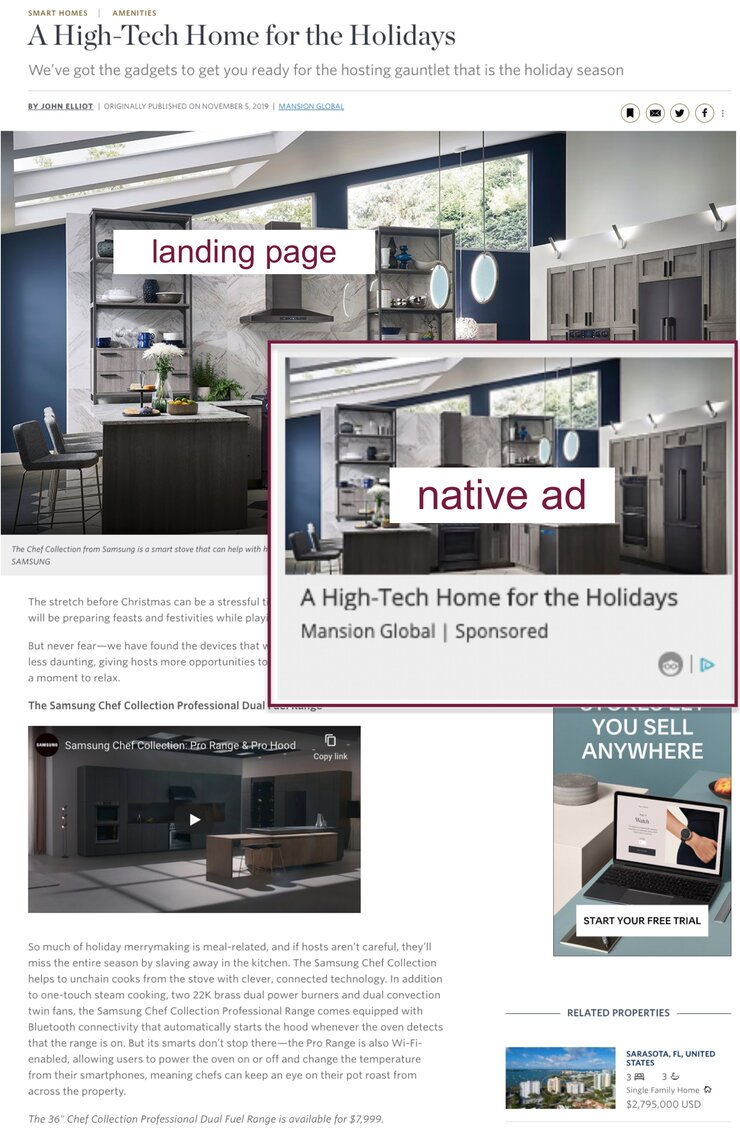 What makes it good?
Have you ever tried to get your home ready for hosting a festive crowd that is your family? From the first sentences of the promoted blog post, it feels that the author knows your pain points. Calling Christmas season the 'hosting gauntlet,' he appeals to everyone who has ever invited relatives and friends for Christmas holidays.
Want to create effective holiday ads? Check out these 16 tips to building a holiday advertising strategy that cuts through the noise.
Social media
Once the countdown for Christmas begins, following brands on social media becomes much more fun. Quizzes, polls, contests, giveaways, etc. – all the creative approaches are being used.
SEMrush doesn't get lost when the time for Christmas marketing comes. They send nice gifts to influencers, announce end-of-year offer, and what we like the most – run #SEMrushSanta giveaway on Twitter.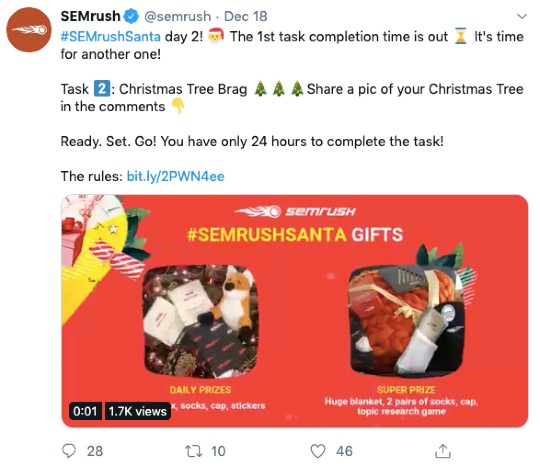 What makes it good?
Who doesn't like gifts? SEMrush not only offers free merchandise to their followers but also encourages their audience to engage with the brand on Twitter. Along with establishing stronger relationships with their clients, SEMrush builds brand awareness increasing its social profile's visibility.
We've already shown the company's landing page but their Instagram account is worth particular attention.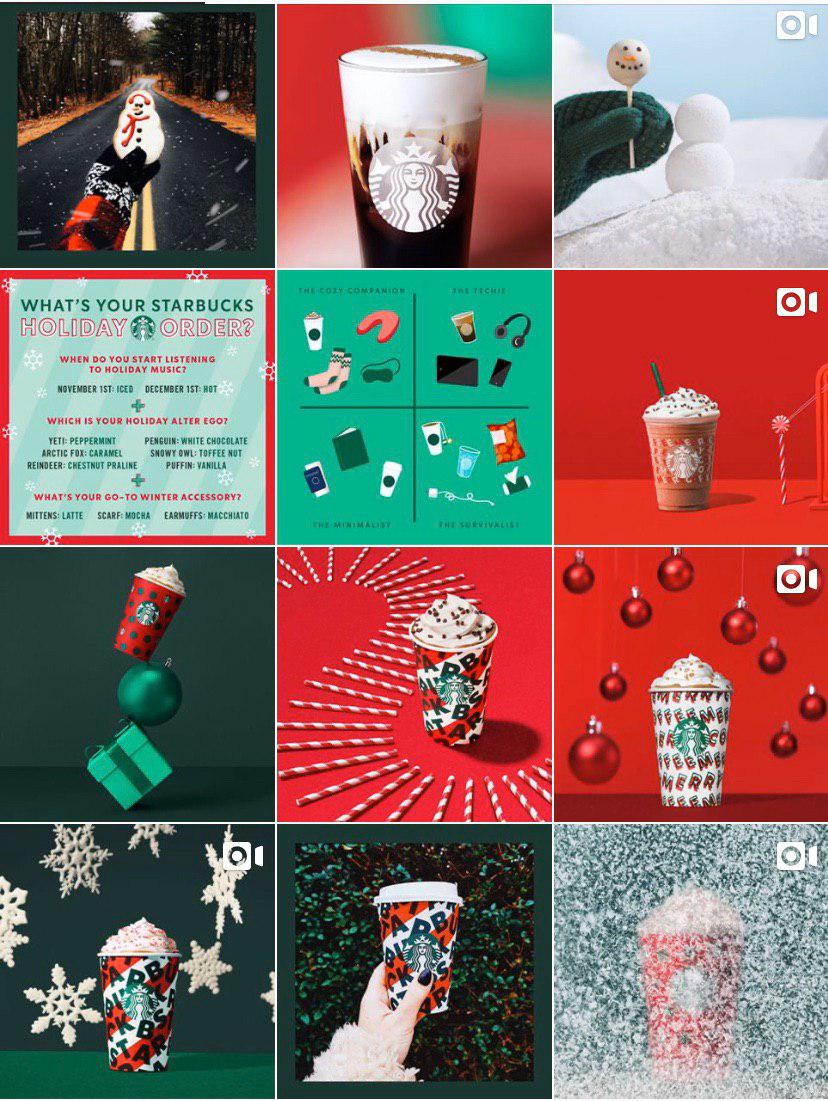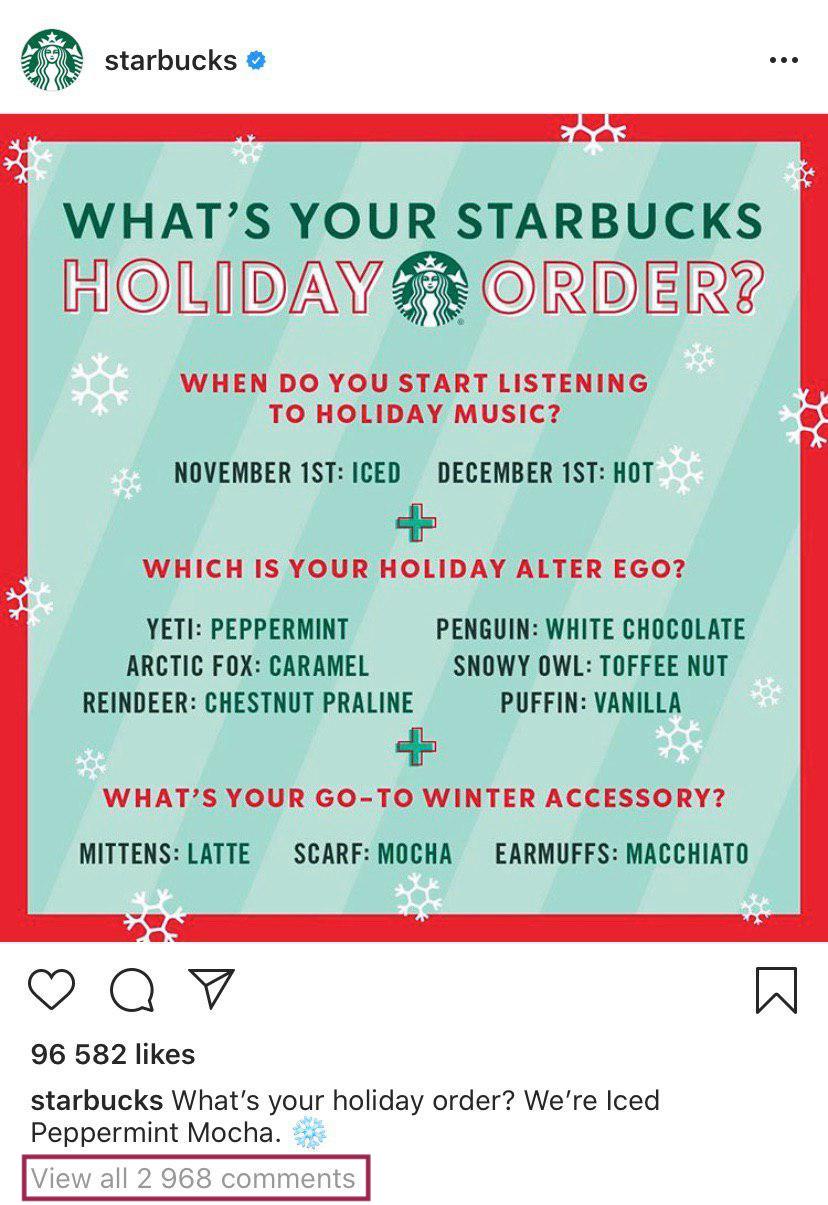 What makes it good?
First, look at the brand's feed. It turns into festive colors starting from November till the end of December every year. Since then, every post is created to share a bit of Christmas mood with everyone seeing it (and make followers want to spend a cozy evening with a cup of Caramel Brulee Latte).
Next, Starbucks does a great job of communicating with their followers: the company shares photos taken by their customers, runs flashmobs, and offers fun polls. What's there below one of the Starbucks Christmas posts? There's a number – 2,968 comments per quiz, and it says the brand has nailed social media marketing.
Email marketing
There are many ways brands can impress their customers, but holiday newsletters are a classic.
Boxed offers a simple message that includes all the necessary elements – a few banners, a few links, deals of the week, and social media icons.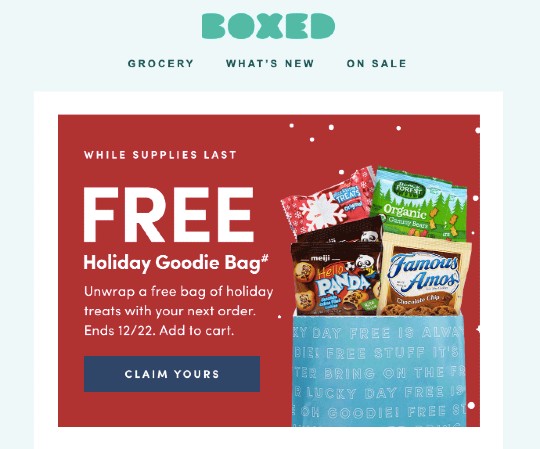 What makes it good?
Besides the main offer, there are several secondary offers, like discount codes and deal of the day. With lots of guests coming to your house during the holiday season, having a couple of coupons on holiday treats is always a good idea. No extra information or other disruptive elements. Just a clear offer and nothing else.
BONUS
Up until Christmas Eve, you can have a peek at the 'North Pole' and explore Santa's digital village. It means that Google's Santa Tracker is now live and available. Make sure to enjoy a wealth of entertaining and educational games before Santa ends his journey.
What's most important, Google's developers shared the code of the app so that other developers can 'see how we used our developer products - including Firebase and Polymer - to build a fun, educational and engaging experience,' writes Google's Developer Programs Engineer Sam Thorogood.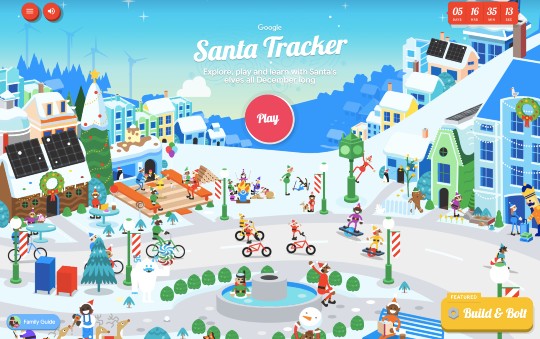 Be Merry and Bright
The holiday season is extremely busy and tight for marketers. As it's finally coming to an end, you can slow down, relax… and start drawing inspiration for the next season.
The life of a marketer is all about rushing around, but you don't have to take everything on. Joinative is your partner for anything native advertising. Are you starting to explore the topic? Or maybe you need a better way to manage your campaigns? We'll help you build an effective strategy to achieve your goals and show you how you can keep managing and improving your campaigns. Read more about our services, our native ads management platform, or just get in touch with us directly.