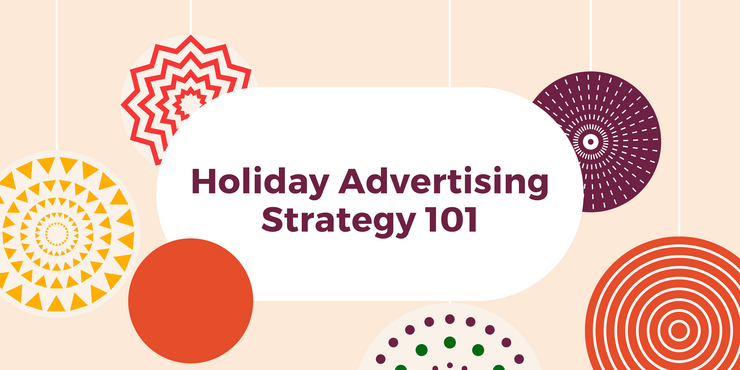 16 Tips For a Holiday Ad Campaign This Year
How do you prepare your advertising strategy for the holiday season? Adding different headlines is not enough. Let's go through the most effective strategies for creating holiday ads that work.
50% of consumers say holiday ads impact their purchasing decisions. Isn't it the most wonderful time of the year for advertisers? Indeed, it is. All you need to do is to outperform your competitors (which are insanely active these days) and break through the advertising clutter. But how?
In this post, you'll learn 16 tips for planning holiday ad campaigns that cut through the noise and reach the goals set.
Tip #1: Plan beforehand
When are you planning to launch your holiday ads?
People start searching for holiday gifts in late October or early November. And this is the best time to start running holiday advertising campaigns.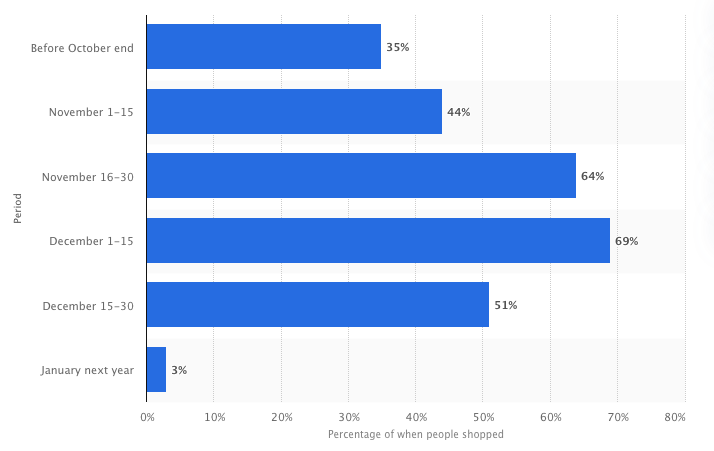 35% of survey respondents stated that they were likely to start their holiday shopping before the end of October in 2019, Statista says.
And here's how the popularity of the 'gift ideas' keyword changes throughout the year.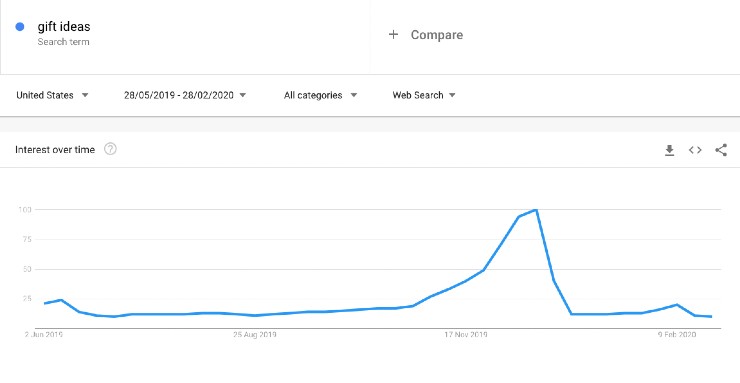 With this in mind, the ideal campaign timing for Q4 looks like this:
August: Start planning promotions,
September to October: Awareness and lead generation campaigns.
November to December: Sales campaigns.
January: Post-holiday sales.
Holiday campaign planning involves more steps than simply developing new creatives. Before you boost your website traffic with newly-built campaigns, make sure your website and landing pages are prepared for serving thousands of visitors.
Here are 4 primary aspects you should consider:
Compress and optimize files and images. Make sure you didn't damage the quality of images.
Want to target audiences worldwide? Translate your landing pages into the language of the countries you're targeting. Double-check currencies, CTAs, and other navigation buttons.
Use popular payment methods. Convincing your customers to purchase isn't enough if you don't provide an easy payment process.
Check whether your hosting provider can handle higher levels of traffic.
When you're sure your website is ready to host new visitors, you can proceed to campaign creation.
Tip #2: Align your holiday ads with your funnel
It's likely that you're running ads across a few different channels. Or you're planning both lead generation and sales campaigns within one channel. If you're nodding now, the following tips will help you put the dots together.
To better understand how your campaign mix should work together, set clear goals first. With all the chaos, it's easy to lose your mind and go for the 'selling as much as possible' approach, which will lead you nowhere.
At the early stages of campaign planning, define the number of conversions you want to hit, how much these conversions should cost you, and by what date you want to reach these results. Your goals will be the benchmarks that you'll be comparing your results against.
Next, think of how your campaign clickers will move further down the funnel. Is your campaign goal a sale? Look at the bigger picture. Now you have the contact information of a person that has shown their interest in your product or service once. Why not turn them into a repeat customer? This is where you'll need to involve email marketing or your customer loyalty program.
Consider your advertising strategy a part of a bigger marketing plan and make all your channels work for it.
Tip #3: Leverage new formats
It's not just the purchase intent that's growing during the holiday season but also the competition. That's why CPCs on Facebook, which are already high, are increasing around the holidays.
This alone might become a good incentive to test new platforms and channels for your brand promotion during the festive season. As a result of these tests, you might find something that will fit well into your strategy year-round.
Native advertising
If you haven't run native ads before, allocate some percentage of your budget on one of the native ad platforms.
By combining the power of content marketing and paid advertising, native ads deliver exceptional results during the holiday season. Your campaigns will be distributed across thousands of online magazines and news outlets, attracting readers that have enough time to explore your content and offers.
Typically, advertisers promote articles, lists of products, quizzes, and similar content on landing pages. Users get into the sales funnel and move through it as they're making it to the bottom of the page, where the CTA is already waiting for them.
Here are a few examples of holiday native ads: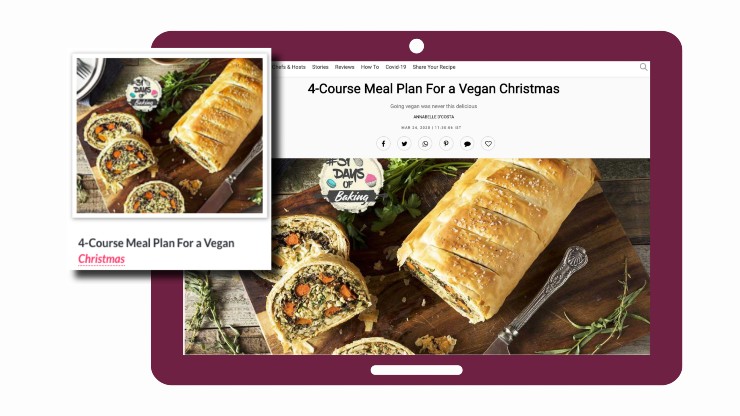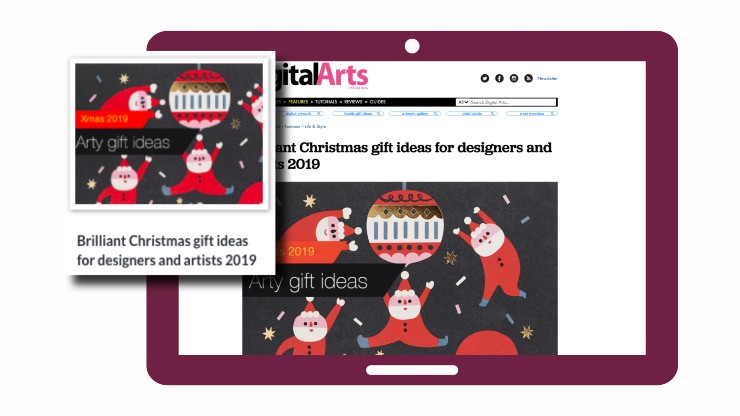 Combining online ads with content that's useful or entertaining, you'll attract new audiences for lower costs.
On-Demand Video Course On Native Advertising
Boost your ROAS with native ads. Enroll now with our limited 30% discount.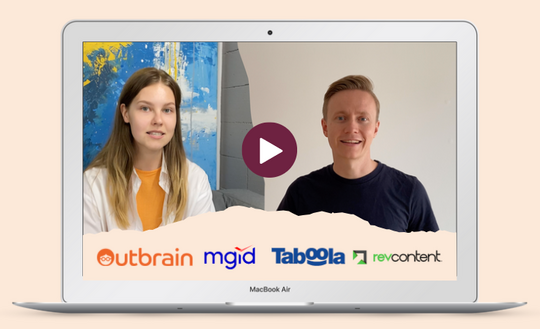 As native isn't just an upper or mid-funnel tactic, you can also use it to run transactional ads. For instance, with Outbrain carousel ads, you can showcase up to 10 products in one ad and boost engagement significantly.

Instagram Stories Ads
Did you know 15-25% of Instagram users swipe on links in paid Stories?
'Instagram Stories are highly underutilized in selling products during the holidays. Most advertisers don't realize you can piece three 15-second clips together similar to a 45-second video in the feed. Stories have produced over 60% of holiday sales for my clients in the last 3 years,' says David Schloss, Founder and Advertising Specialist at Convert ROI.
Looking just like regular Instagram Stories, Sponsored Ads allow you to 'insert' your branded offer in between user-created stories.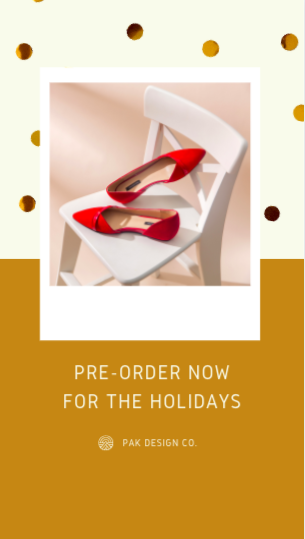 To capture the most engagement for your holiday campaigns, it's recommended that you use Instagram Stories Ads to re-engage your website visitors or target lookalike audiences (the users whose demographics and interests are similar to your existing customers' ones).
Pro Tip: You'll find lots of free templates for your holiday Stories Ads on Canva.
Messenger
Messenger Ads bring in the opportunity to provide more personalized experiences than ever before.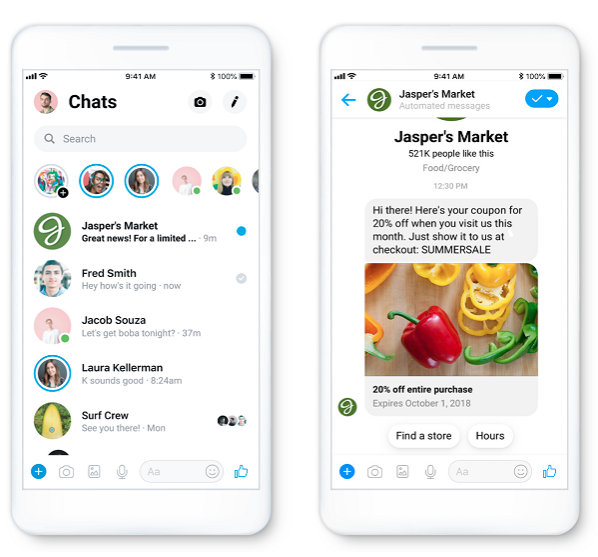 Source: Hootsuite
'Don't underestimate Messenger. If you've already communicated and engaged with an audience via Facebook fan pages or Instagram profiles, you have an opportunity to push sales with customized discounts for those who've supported your content. Sponsored Messages make it very easy to deliver a targeted message to these engagers so they personally see these "holiday specials" for anyone else thus making them feel special,' adds David.
To find more formats to diversify your advertising mix during the holiday season, check out our guide to top 10 advertising channels.
Tip #4: Warm up cold audiences
Holidays are rare days (or months) when people buy something that isn't necessarily related to their interests or needs. They buy gifts. The holiday season is the right time to widen your targeting.
But targeting cold audiences when the CPCs are well above average doesn't sound like a good idea, does it? CPCs are getting higher starting from mid-November and reaching the peak on Black Friday. Before this happens, you should take an effort to attract and warm up cold audiences.
If you start with running brand-building ads (customer reviews, stories, free resources, blog posts) in October - early November, you can re-engage past campaign visitors with retargeting ads as the holidays are getting closer.
Tip #5: Good old retargeting
Whether you want to reach gift-givers, your regular customers, or all of them, retargeting is what will work the best for transactional holiday ads.
Take the lists of people that purchased during last year's holiday season, build audiences from your website visitors, social media followers, and other people that interacted with your brand previously, and you'll have plenty of audiences to include in your campaigns.
The most popular retargeting strategies include:
Retargeting campaign clickers;
Retargeting customers that converted from your holiday ads in previous years;
Retargeting audiences that visited specific sections of your website (it's always better to split these audiences into different campaigns, based on which products or services they're specifically interested in);
Retargeting repeat customers;
Retargeting social media followers;
Retargeting people that interacted with your content on social media, etc.
Tip #6: Increase your budgets
With every brand willing to bite the holiday money-pie, you'll need to at least double your pre-holiday advertising budget and go for higher bids to gain decent impressions for your holiday ads.
We don't recommend that you spend much time trying waters with low bids – in such a competitive environment, you'll just be wasting your time and money without getting any results and learnings. On the contrary, start with bidding aggressively and scale down day by day if necessary.
Tip #7: Schedule like a pro
It's important to split your holiday advertising strategy into different phases so that you don't just launch new ads but also optimize them towards higher conversions.
The following template will help you plan your Q4 campaigns and optimize them for demand spikes.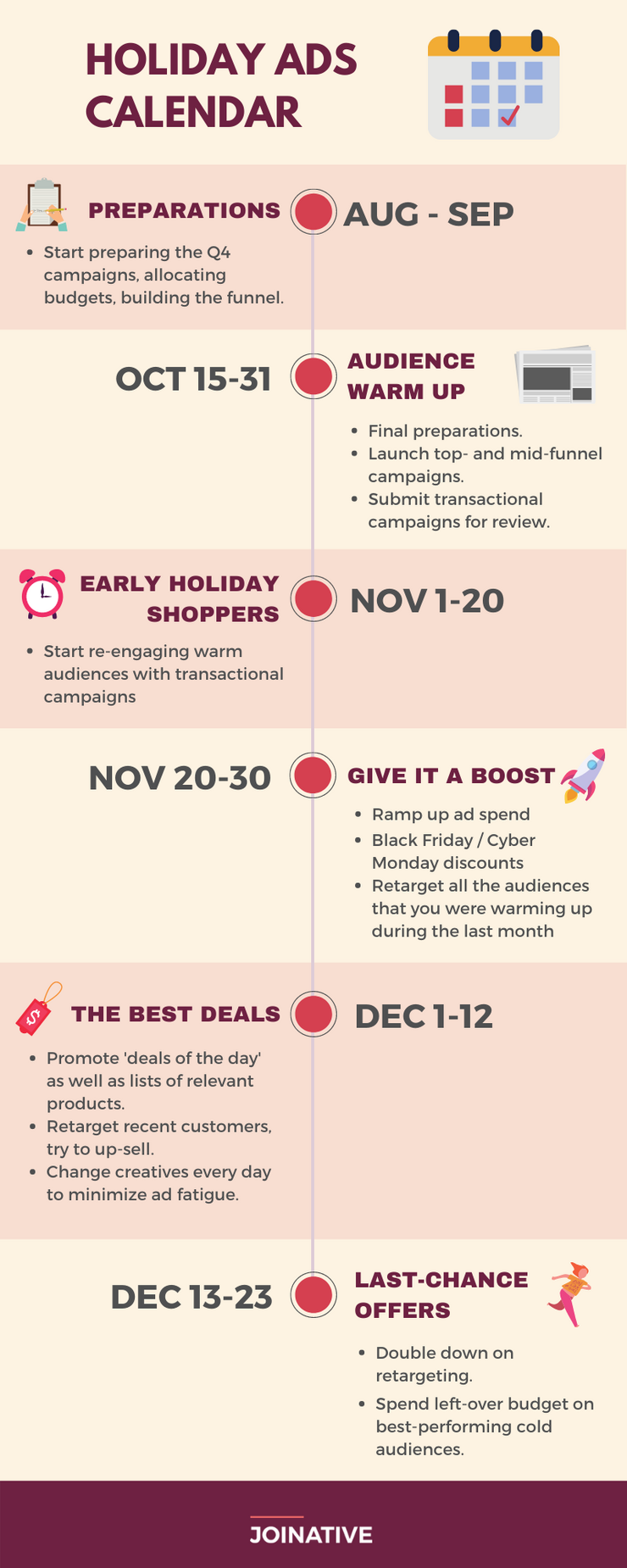 Tip #8: Analyze last year's results
The best way to learn what resonates with your audience is to look back at your past campaigns.
Even if you haven't been running holiday ads for your company before, you can still find data that will be useful:
Analyze traffic insights inside GA to learn what pages or posts your audiences were interested in during the holiday season. If you saw surges in traffic, identify pages that were driving the highest engagement and think of how you can create the opportunity out of these insights.
Check with your sales department to learn how customers are making purchases during the holiday season. This information will give you a better understanding of what offers will work best for promotion and which messaging will be right for these campaigns.
Tip #9: Learn by the best
It's always a good idea to check how niche leaders were approaching holiday advertising in past years. After you look through various ad examples, it'll be easier for you to come up with your own creative ideas for effective holiday advertising.
Where do you find inspiring examples of holiday ads?
Check out our list of the most remarkable holiday marketing campaigns of previous years.
Use an ad spy tool. By entering relevant keywords or picking your category, you'll be exposed to thousands of ads. We at Joinative usually use Anstrex to get some inspiration for future campaigns.
Go on Pinterest. Here you can search for 'holiday ads' or 'Christmas ads' keywords and find tons of interesting ideas for your future campaigns.
Explore Ads of the World. The website showcases creative adverts from around the world. You can filter ads by industry, country, and medium.
Tip #10: Craft dedicated copies and landing pages
Adjust your copies and landing pages for specific audiences. While gift guides will help you attract the attention of cold audiences, it's better to retarget your repeat customers with products they've shown the highest interest in.
Diogo Valente, Senior Global Biddable Media Manager at Kaspersky, shares his approach to creating and testing ad copies and landing pages for PPC during the holiday season:
'Ad Copies - When it comes to PPC, your ad copy is the first touchpoint the user will see and react to. During the holiday season, the user mindset is focused on the seasonal messages, and your ad copy should be personalized to the season without losing the keyword relevancy. If you have a specific promotion don't be afraid of mentioning it.

This is also a period where we shouldn't save on ad extensions. Price extensions, promotion extensions, and other clickable extensions tend to be neglected throughout the year, but during this time we need to have them updated to reflect the holiday promos.

Landing Page - You can have award-winning campaigns, with granular keyword structures, tailored ad copies, high-levels of keyword relevancy as well as full usage of ad extensions and audience targeting but if you don't look at your landing page, your account might be completely disconnected. Remember that you must have a seasonal landing page that you can connect with your ad copies and improve the path-to-conversion.

AB Testing - Don't forget to test and keep a record of your A/B tests for future reference. You can test your content during your holiday season in many ways. Ad copies, ad extensions, or landing page content. Make sure your test hypothesis and components have a rationale behind and that the outcome of the test has statistical significance so you can apply the learnings in the future.'
We should highlight that the recommendations for landing pages creation and AB testing can be applied to any other advertising technique besides PPC.
Tip #11: Define your promo
Remember we said it's important to break through the noise? What's your hook? No need to come up with shocking ideas, just bring in your main competitive advantage. This might be the quality of your product, a special offer, a success story – anything that will help you catch your audience.
'Сompanies should be specific in regards to their promotions and try to stress things important to holiday shoppers like a guaranteed delivery date or gift boxes. As the holiday season/day comes to an end companies should include wording on last-minute deals since a lot of shoppers tend to shop late. Overall, ads that incorporate a clear holiday offer tend to perform better and stand out more than other generic holiday ads,' says Martin Soto, Freelance Advertising Copywriter.
Tip #12: Create video campaigns
Film and promote a festive video featuring your team members, announcing a discount, or sharing a story from your customer.
Here's what Simonas Steponaitis, Marketing Manager at Hosting Wiki, says: 'Video plays an important role in marketing these days, making it the perfect partner for your holiday campaigns. In fact, 51% of marketers say video content provides a higher ROI than any other type of content. Videos are popular with consumers because they give your audience a more personal relationship with your brand.

Start by posting a teaser on social media or email to let your audience know when the holiday deals are announced. Then post a live stream to Instagram or Facebook to share your holiday sale - whether it's free shipping, big discounts on large purchases, or even holiday-themed merchandise.'
Tip #13: Make things ridiculously simple
This tip relates to design, messaging, sign-up forms, and everything else that might affect your customer's decision to buy from you.
Choose easy-to-read fonts for important information, use contrasting colors, don't overdo with texts on your landing pages.
If you want to announce a contest or giveaway, make sure the requirements aren't too complicated. The fewer steps you include, the more likely your audience will participate.
Planning to include a sign-up form on your landing page? Don't ask for too much information. Most leads will bounce when seeing a long sign-up form.
On-Demand Video Course On Native Advertising
Boost your ROAS with native ads. Enroll now with our limited 30% discount.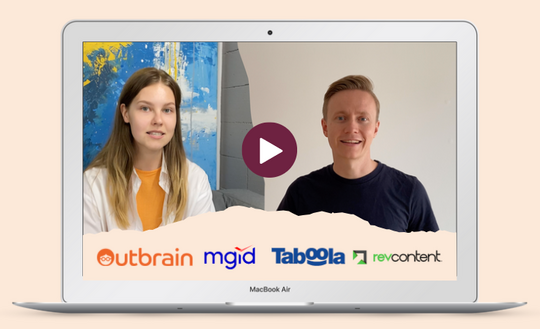 Tip #14: Set up tracking
Without a proper tracking and reporting setup, you're blind. And you can't afford this when your campaigns are relevant for such a short period of time. You won't have plenty of time to identify and fix arising issues – everything that can be prepared should be in place before you launch.
Tip #15: Submit your campaigns beforehand
Plug your campaigns into an ad platform at least a week in advance.
First of all, the approval process often takes longer than expected. Secondly, your ads or landing pages might simply get rejected, and you'll need time to fix them and pass the approval process again.
Tip #16: Measure early performance metrics
After you launch your first holiday campaigns, track early performance metrics in the first hours/days (depending on how fast your campaigns are picking up traction). By measuring signals, such as time on page, bounce rates, and scroll depth, you'll identify weaknesses before you notice your CTR and conversion rates leave much to be desired. As holiday ads are relevant for a limited time, it's crucial to recognize and address performance issues promptly.
---
Joinative will help you build native ad campaigns that reach your business goals this holiday season. Ready to boost your profits? Check out our services: