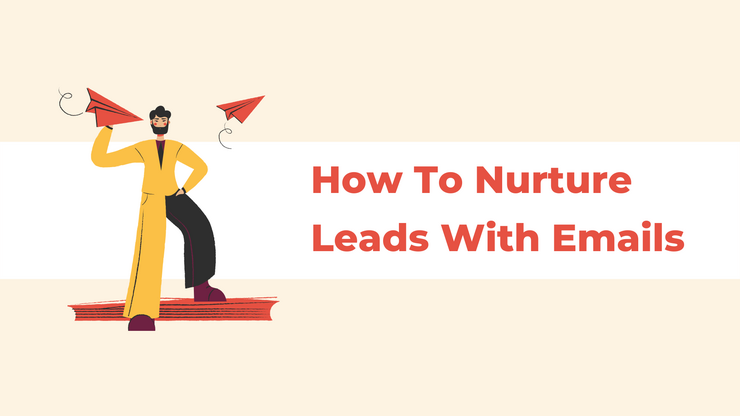 5 Tips for Writing Better Lead Nurturing Emails
Before you even generate leads, you should have the lead nurturing strategy in place. Even the most successful lead generation campaign will drive little result if you can't turn those leads into paying customers.
And how do you achieve that? Most often, companies launch email campaigns to nurture leads.
But the average office worker receives up to 121 emails per day. How do you make sure your email will not only get noticed but also clicked on and read through? You need to send out content that appeals to the audience. And it's not an easy thing to do.
How can you use email to nurture leads and turn them into loyal customers in 2021? Keep reading to find the answer.
What's lead nurturing?
Lead nurturing is a marketing strategy that allows you to maintain relations with leads and offer them goods and services down the line.
When a visitor leaves their email address or any other content details on your website to get free access to assets closely related to what you sell, it indicates they might be potentially interested in your products or services. However, they haven't become your paying customers yet – something holds them back. The task of your lead nurturing activities is to uncover any concerns a lead might have and allay them.
How to write lead nurturing emails that sell
1. Write different types of lead nurturing emails
An important thing to remember when it comes to nurturing leads via email is that you are not bound by a single content type. Just like in social media marketing, you can write various types of emails with the intent to spark your customers' curiosity. Some of the email types you can write include:
Free resources. Can you offer any other useful asset(s) for free? Do that to build trust with your potential customers.
Exclusive codes and coupons. The best way to encourage a person to make a purchase is to provide them with a lucrative offer they can't resist.
Newsletters with blog posts. According to Content Marketing Institute, 31% of B2B marketers agree that newsletters are the best way to nurture leads.
Case studies and success stories. Show your leads that other players in their niche have already seen great results from collaboration with your company.
A good example of a varied, engaging lead nurturing strategy can be seen in Book Depository, an eCommerce platform specializing in worldwide book sales. Their strategy is to offer insight into the most popular products on their marketplace, send discount coupons, and publish blog posts for their customers' benefit. This is a great way to subtly nudge existing leads into buying more products from your store, while also being professional and not overly sales-oriented.

2. Segment your leads for better engagement
Given how personalization has taken the spotlight in digital marketing, it should find its way into your emails. Studies have shown that segmentation can lead to 89% sales uplift and 58% increase in average order value, given its increased focus on personalization.
Segmenting your leads into several categories based on their activities on your website and purchase habits is important. It will allow you to write more targeted copy while also enabling you to speak to different audience segments directly. An email meant for one-time customers should not be the same as the one you sent to cold leads or those that purchased multiple times. So it's better to segment your customers based on practical engagement data.
To segment leads effectively, gather the data that will help you split them into different groups right with your lead capture form. Does the information on the lead's company size really help you to create personalized campaigns? Think of the data that differentiates your customer profiles and craft your lead capture forms accordingly.
3. Adopt a unique voice and writing style
Develop your own voice and writing style and follow it when creating all your campaigns. An example of this tactic can be seen in Animalz's email newsletters. Ryan Law, Director of Marketing at Animalz, adds a personal note at the beginning of each newsletter. The simple step humanizes the campaign and builds connection with subscribers.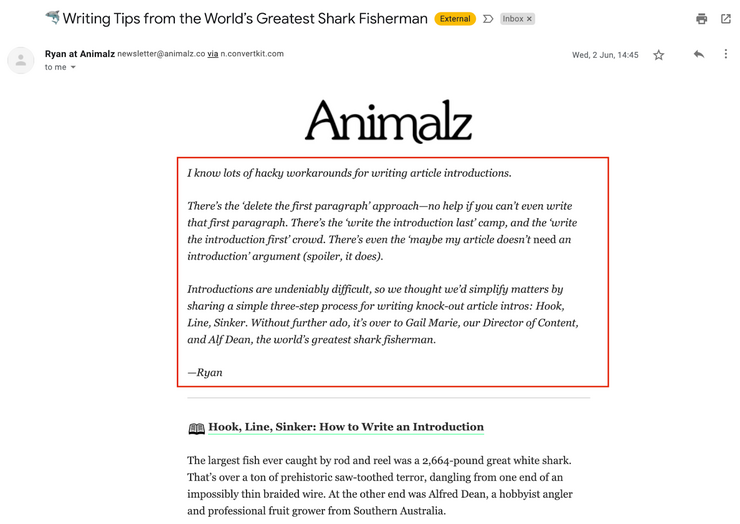 Rely on Edubirdie to clean up your writing style and adopt a different approach to editing and formatting than most brands use in email marketing.
The worst thing you can do in emails intended for lead nurturing is to come off as boring or disassociated from your industry. Writing your emails more creatively can amend that significantly and help you re-engage existing leads.
4. Calls to action are essential to increase engagement
Calls to action are a tried and tested marketing tactic. In lead nurturing campaigns, CTAs help to increase your content's engagement. It doesn't mean you should try to sell something in every email – we recommend that you only do that when leads are far enough in their buyer's journey. Still, you can include CTAs that encourage leads to take action on your site, interact with your reps, watch something, etc.
Failing to add a call to action to your emails is a wasted opportunity, as people will passively read through your content. While some may go back to it at some point, others will file it away and forget you ever reached out.
5. Add engagement incentives through coupons and gifts
Customers inherently want to save as much as possible when purchasing products online. That's why you can find a lot of success in attaching exclusive discounts and sales offers to your emails. In their email campaign, the Serpstat team has offered a 25% discount to their existing customers and an exclusive 30% discount to those who haven't purchased the product yet.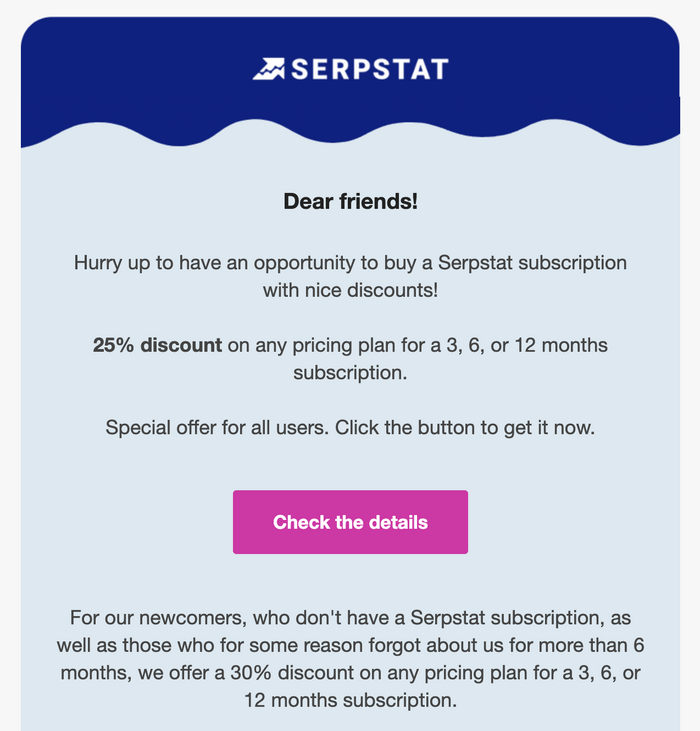 You can use several incentives to re-engage existing leads, including points toward exclusive rewards, adding discount coupons, or, sending them personalized sales offers.
Lead nurturing campaign mistakes to keep in mind
While there is plenty that you can do to improve your lead nurturing results, the opposite is also true. Based on recent reports, nurtured leads spend 47% more than cold ones, with lead nurturing emails having 8% higher click-through rates than traditional email marketing. Making mistakes in your email lead nurturing efforts will drive away existing leads and make it difficult to generate new ones. Here are some of the mistakes you should avoid or fix as soon as they appear in your email funnel:
Lack of research into your customer base
Before you make any decisions as to how to nurture leads, you should go over your website's performance analytics. How many people created accounts on your website and buy products? What kinds of products did they buy and how many times? Don't make assumptions based on industry trends and cater specifically to your leads.
Lack of email marketing monitoring and analysis
Once your email lead nurturing strategy is underway, you should monitor its performance periodically. How many people opened your email and followed up on the attached links? Did your initial segmentation effort go well or is there something you can do to improve lead nurturing further? Don't simply send lead nurturing emails and call it a day – follow up on them with diligent analysis and improvements for future emails.
Poor email copy quality with cheap sales tactics
Relying on cheap tactics such as all-caps subject lines riddled with special characters which are intended to create FOMO won't work well for lead nurturing. To improve click-through rates of your emails, you need three things: address leads by their first name, provide valuable content, and make your emails feel personal.
Lead nurturing is an ongoing marketing strategy
Once you start seeing tangible results from email lead nurturing, it will be difficult to abandon the strategy. You can nurture leads via email for extended periods to add value to their initial subscription or purchase. Find new ways to deliver quality content to them through blogs, sales, and industry insights. This will lead to organic word of mouth and referrals for your business, prompting cold leads to check your website out for themselves.