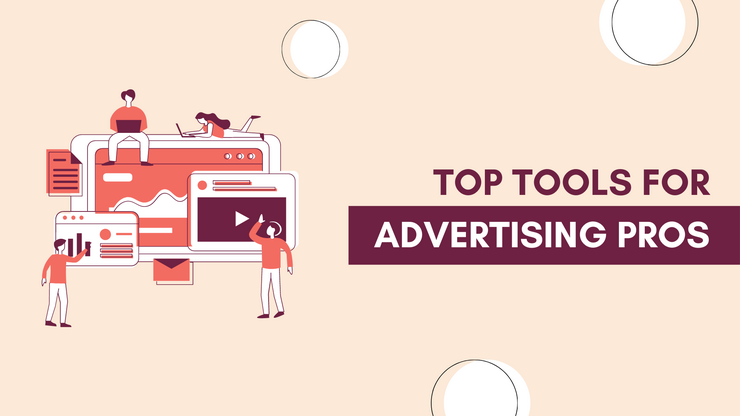 Top Advertising Tools To Boost Your Campaign Performance
Effective advertising demands both inspired creativity and detailed data analysis. You not only constantly search for a never-ending flow of new, out-of-the-box ideas but also need a proper setup for keeping track of and evaluating all the results your campaigns are delivering.
And while talent and experience are important, even the best advertisers will benefit from software tools that can both inspire and organize creativity.
Here are the 17 best tools that will facilitate the daily routine of any advertising expert.
Disclosure: This post may contain affiliate links. This means we may earn a commission if you buy something through our links at no additional cost to you.
Creativity tools
Pro creatives know that inspiration strikes continually – the key is just to capture it.
Below you'll find tools that spark new ideas as software that helps to organize them.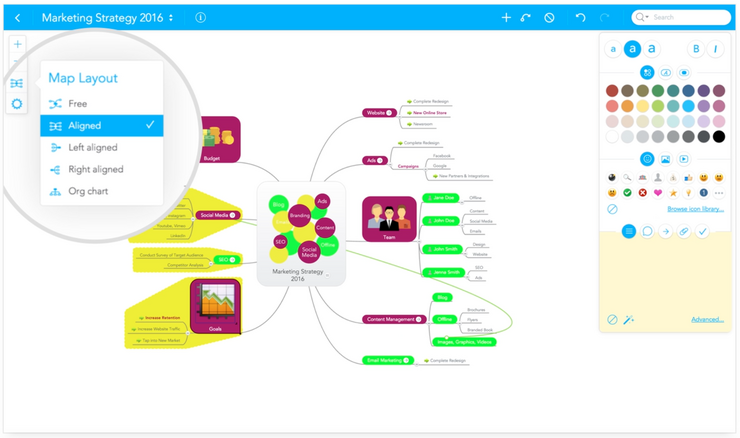 If you want a more visual tool for brainstorming and capturing ideas, Mindmeister could be the perfect solution. This user-friendly mind-mapping software lets you map connections between ideas and brainstorm ideas in a non-linear way. You can also collaborate with your team, attach files, and export pdfs. Mindmeister is cloud-based, so it will automatically sync among all your devices.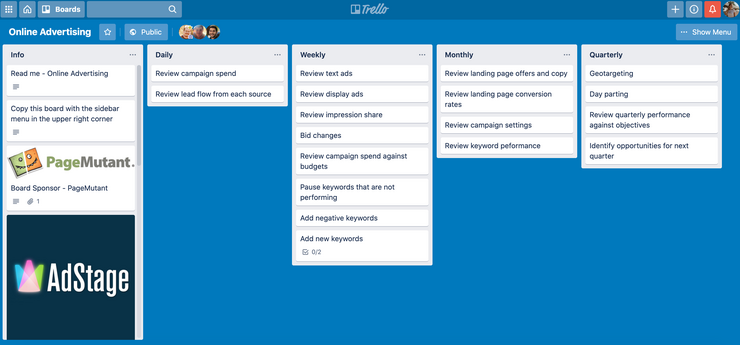 Trello allows you to combine list-based note-taking with the visual organization. Trello cards can include text, images, video, or attachments. But instead of being organized into folders, they're organized into visual columns of boards, and the cards can easily be moved from one column to the next.
Trello is ideal for tracking the progress of your campaigns and client work through a workflow process. It's also great for collaboration since cards can be assigned to different users.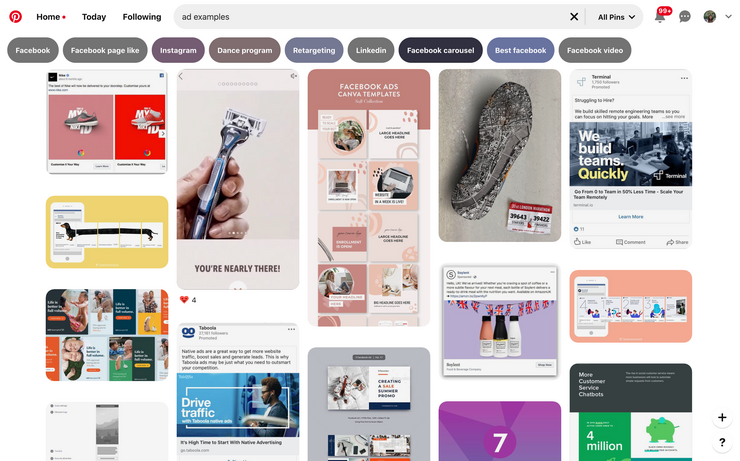 Ideas don't come out of nowhere, and Pinterest is the place to find and collect inspiration.
Add images from anywhere on the web, and arrange them into topical boards. As one of the older and still important social media platforms, Pinterest is also a great place to listen to your market and test visual ideas. Use the images that your audience responds to on Pinterest as inspiration for advertising ideas (and, of course, you can run ads on Pinterest, too).
Landing page builders
Building a high-converting landing page is the key to campaign success. The following landing page builders enable you to build amazing landing pages in a few clicks.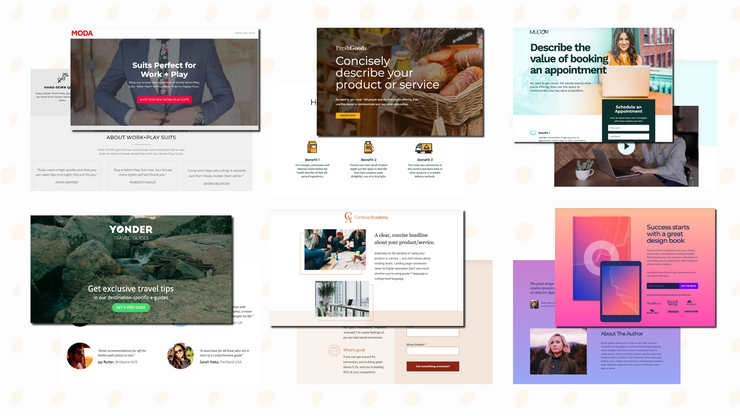 The landing page builder allows advertisers to create high-converting pages from scratch or choose from over 100 templates pre-built by CRO experts.
Unbounce pricing starts at $80/month, but you can get it with a 20% discount if you follow the link.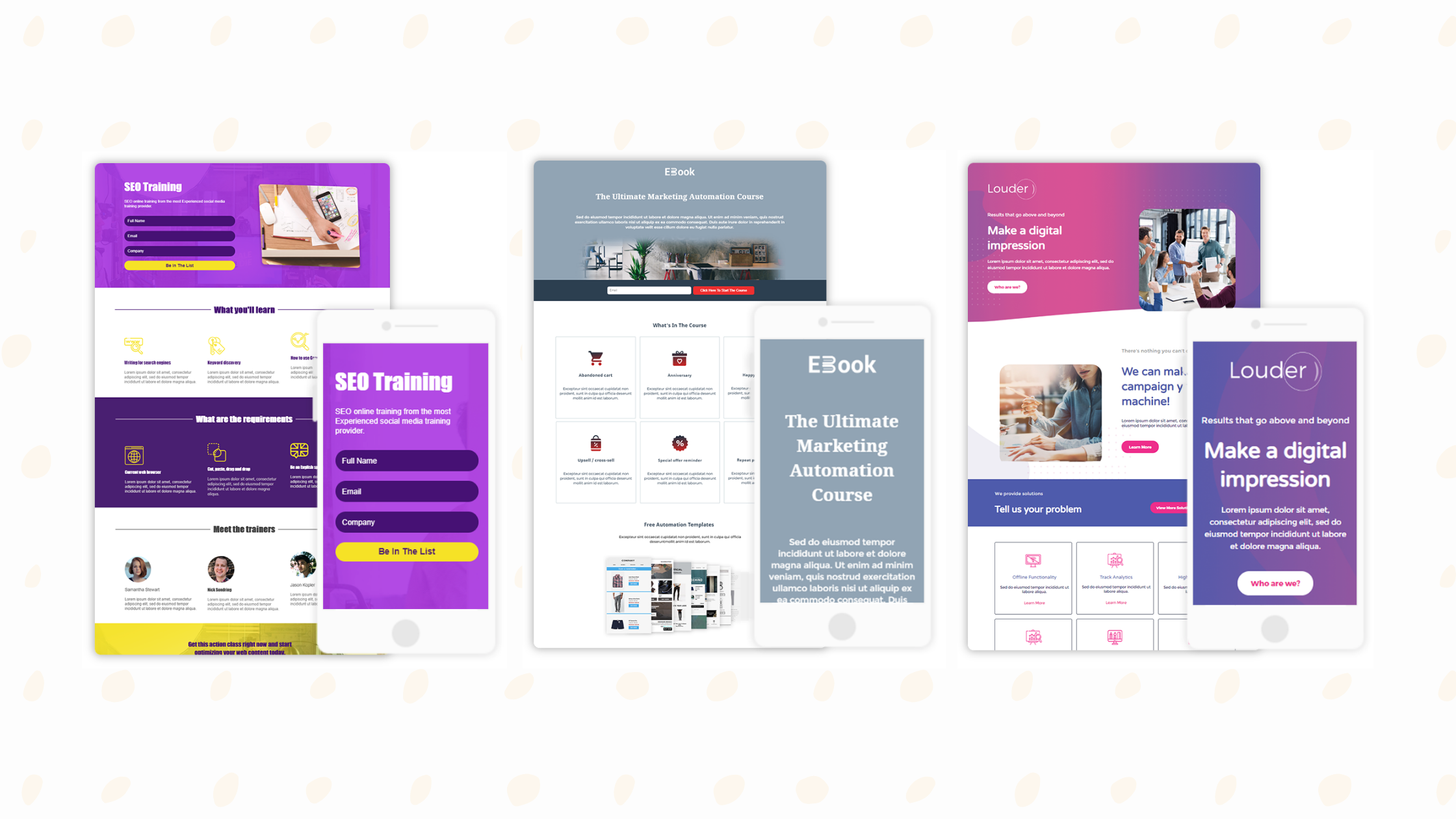 Moosend is a less pricey option for advertisers who don't need all the advanced features of Unbounce.
With the Moosend landing page builder, you also get access to the library of responsive templates designed specifically for your industry and goals.
On-Demand Video Course On Native Advertising
Boost your ROAS with native ads. Enroll now with our limited 30% discount.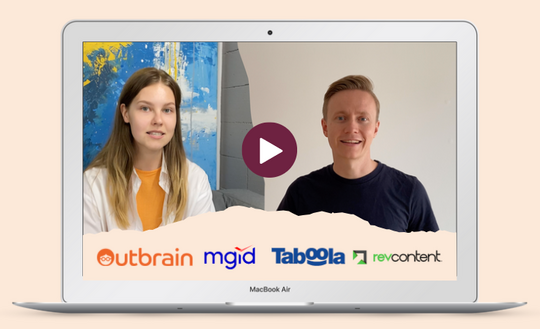 Image design tools
When you're running native ads, the image is arguably the most important piece of your design. The image is the thing that draws the reader's eye; without a good image, you'll never get attention to your ad.
For most ad campaigns, less is more when it comes to design, and a good photo with minimal editing will usually win in A/B tests. Many ad platforms also discourage text on your image or limit how much you can use.
However, you'll still need to design your ad images. The best way to create ads is to use your own photography, which means you'll need to edit the raw image for brightness, contrast, and frame. Editing software can also help you with A/B testing, allowing you to test different colors in the same image or to test black & white images against full color.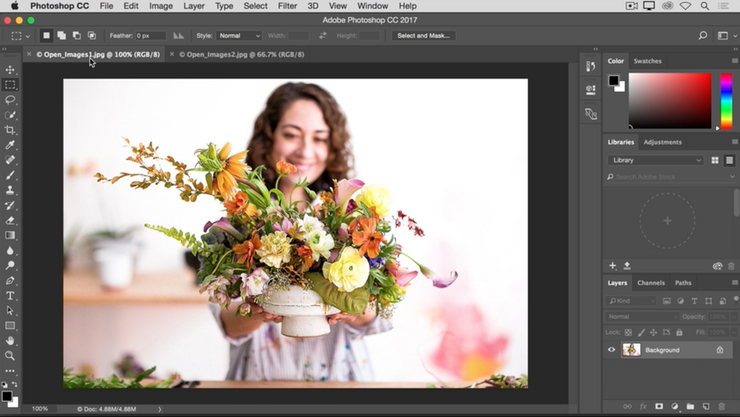 Photoshop is the gold standard for professional designers. For touching up photos, fixing colors, adjusting contrast, and removing distractions or blemishes, Photoshop is one of the best tools on the market. Its photography editing capabilities are endless – if you can imagine it, you can do it with Photoshop. For ads, and for native ads especially, the most important thing with Photoshop is to not overdo it.
If you're working with a lot of original photography, Adobe Lightroom is a core tool for both editing and organizing your images. Designed for professional photographers, Lightroom enables you to manage large collections of high-quality photos and to quickly touch up, crop, and prepare images for publication. Although it doesn't include all the detail editing features of Photoshop, it's ideal for managing lots of images and finalizing beautiful, natural photography.
Adobe Spark enables you to quickly create branded images, text overlays, and video stories. It includes an extensive collection of themes, fonts, and free photos, and you can use your own photos as well. Spark is designed for creating digital stories, so its templates are optimized for social media and the web.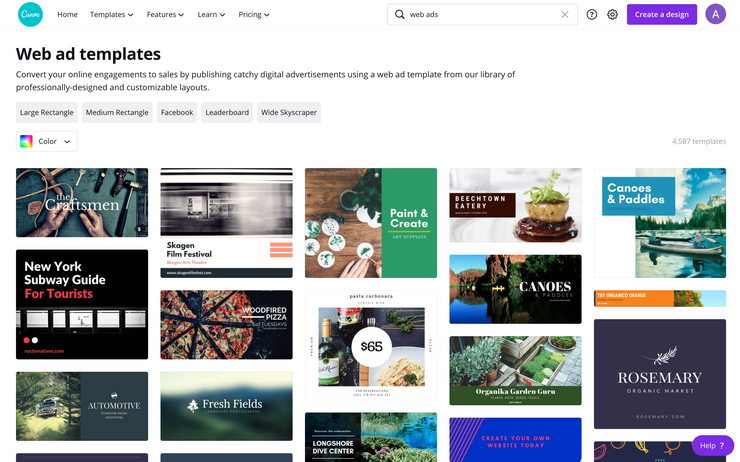 Canva doesn't offer as many design capabilities as the Adobe suite, but what it lacks in power, it makes up in simplicity.
Canva's user-friendly interface and drag-and-drop approach makes design accessible for everyone. Its key advantage for marketing teams is the ability (in the pro version) to create brand templates for a variety of social and digital platforms. Once you've saved a set of templates, anyone on your team – even people with minimal design skills – can quickly create stunning designs with a few clicks. Canva also offers built-in templates and free images to help with inspiration.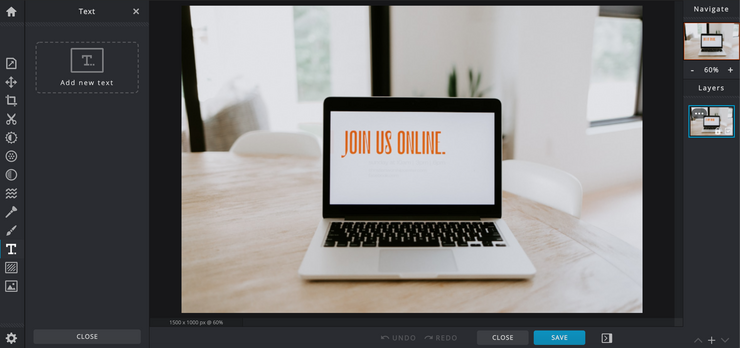 If you want the flexibility and simplicity of a cloud-based app along with more complex features for more advanced design, Pixlr offers the best of both worlds. It includes many of the features you expect in professional image editing software, such as sharpening, adjusting brightness and contrast, and layers. It's more intuitive to learn than most professional software, and it's free.
The app also includes Pixlr Express, which enables you to perform quick, mobile-friendly edits such as cropping or adding filters.
Ad copy tools
The image in your ad is what attracts attention, but your copy is what earns the click. Can software help you write better headlines? Short answer: No. At least, it can't predict what copy will be more effective. Only A/B testing can do that. However, the software can give you useful information about your copy, from the emotional content of your headline to the reading level of your copy.

The oldest and best-known headline analyzer on the internet, the Coschedule analyzer promises to help you improve your headline's balance, word count, and emotional content.
The analyzer gives your headline a score and makes recommendations on how to improve it. Coschedule has also created an updated version with more features, Headline Studio.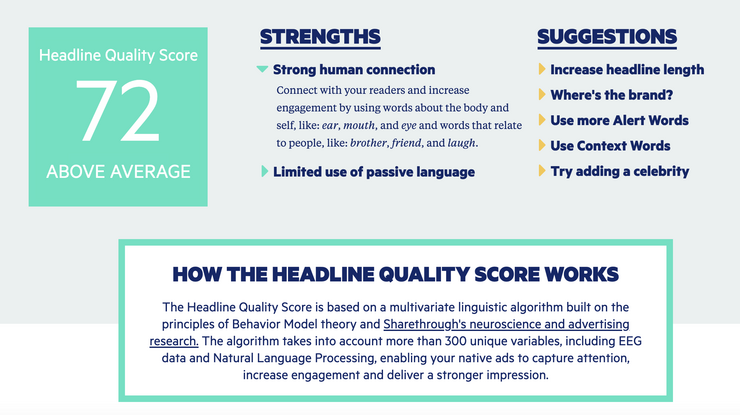 Sharethrough is a native ad platform, and it claims its headline analyzer is based on data from its own studies of attention and eye-tracking on social feeds. Its report gives your headline a score and suggestions for improvement. Since this analyzer is specifically designed to improve native ad headlines, it's particularly useful for advertisers.
Your headline is the most important text in your ad, but your copy matters too. Even the best copywriters can always use a second pair of eyes, and the Hemingway Editor is a set of (bot) eyes that will highlight every adverb, passive tense, and complex sentence in your writing. Its goal is to make your writing "bold and clear."
Advertising reporting tools
Data, reports, and dashboards – three components that dominate in a data-driven marketer's workday. Whether you deliver reports for your clients or build graphs to visualize the development of in-house campaigns, compiling all the data manually must be consuming the better part of your workweek.
With the right reporting tool, you can save your time significantly and focus on increasing your ROI.
Supermetrics is a tool for marketers who value flexibility and need a tool to feed their data into internally built tools.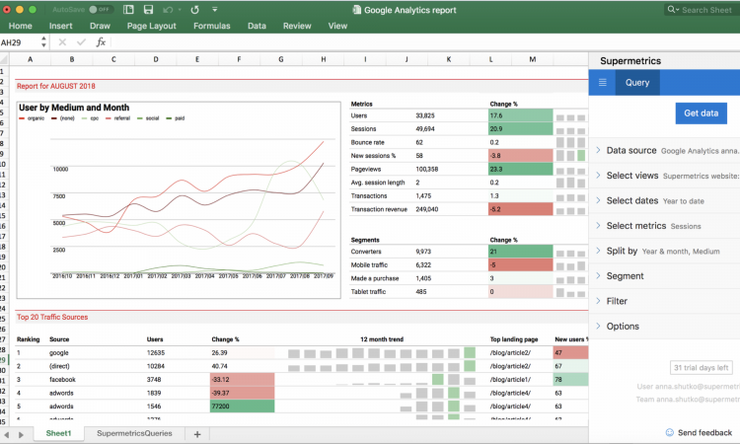 It doesn't offer ready-made dashboards as Cyfe does, but it provides many more customizable solutions. With Supermetrics, you can automatically upload the data for your advertising costs from any source right into Google Analytics.
Pricing: It depends on the destination you choose. Supermetrics has different pricing plans for feeding data to Google Sheets, Data Studio, Excel, and other solutions. For instance, if you want to access the Supermetrics data in Data Studio, the pricing will start from $39 per month. However, this basic plan has very limited opportunities and doesn't include connectors for Google Analytics and other essential tools.
Native Pro is a native advertising reporting tool that gathers data from Taboola and Outbrain and delivers it to one dashboard.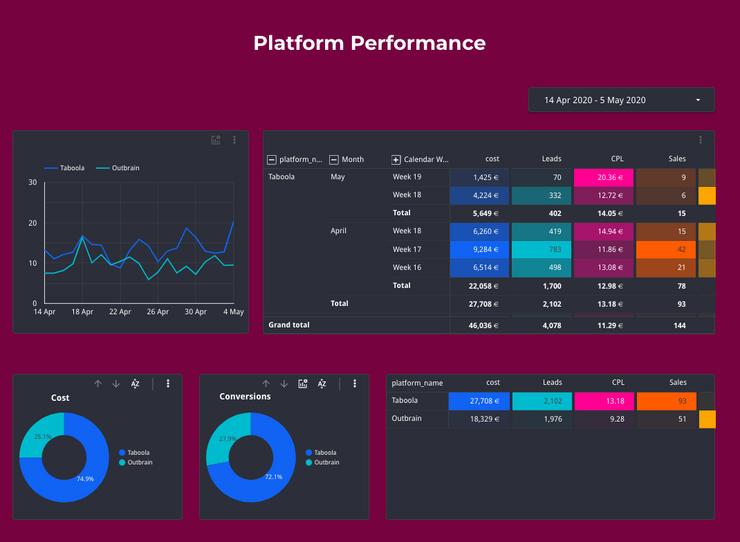 What makes the tool so valuable is its flexibility. Its unique features enable advertisers to structure the data the way they want and conduct a 360º campaign analysis. You can assign labels to campaign or ad sets, define trigger events and receive notifications of any arising issues, upload conversions from your internal tools, and more.
Get in touch to learn more details.
Sprout Social is a powerful platform for social media listening and paid social reporting. With it, you can track your organic performance as well as paid campaigns run on Facebook, Instagram, Twitter, and LinkedIn.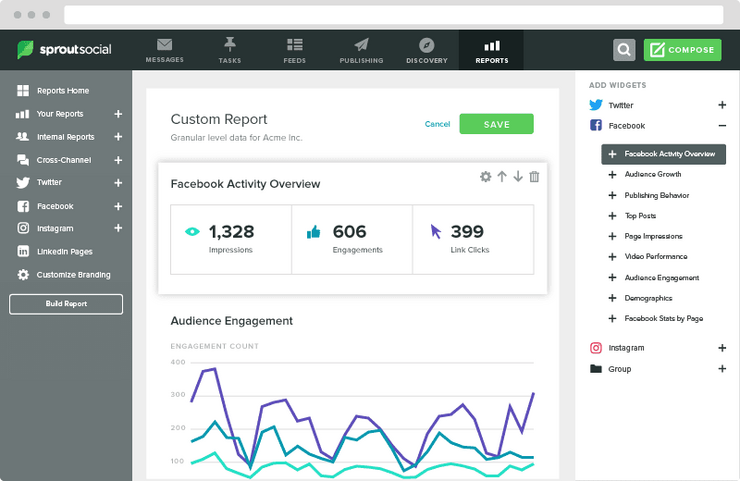 When talking about its paid social reporting capabilities, the following features should be highlighted:
Cross-network reporting
Platforms comparisons
Sortable views
Charts built around specific KPIs
Pricing: Sprout Social plans start from $99 per month, but to access paid social reporting, advertisers need to purchase a $149 plan.
On-Demand Video Course On Native Advertising
Boost your ROAS with native ads. Enroll now with our limited 30% discount.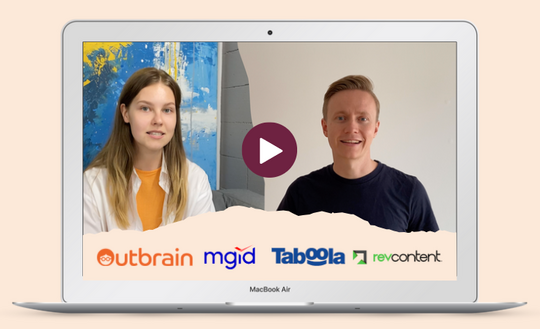 Summing up
Great software and tools, of course, aren't everything. The best tool for every advertiser is your own creativity: your ideas, your strategy, and your ability to analyze and respond to data. But good ideas and data analysis are only as good as the ideas you capture and the data you track. That's why the right tools are key to taking an advertising campaign from good to great.