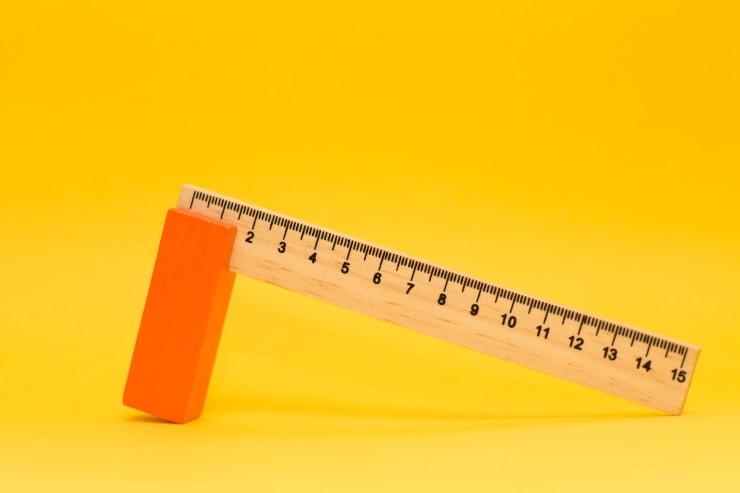 How to Measure Native Advertising Performance
To ensure you're achieving your marketing goals, you need to keep monitoring your marketing campaigns. Native advertising is no exception.
Measuring native advertising performance will help you not only evaluate its effectiveness for your brand but also optimize your campaigns for better results. Check the data regularly, and you'll be able to fix things that aren't working out the way you want.
It's crucial to know what metrics you should be tracking on your way to reaching your native advertising goals. And here's where the biggest challenge for many marketers arises. Your native advertising performance metrics will differ depending on the goals you set.
Here you'll find out how to measure native advertising effectiveness and align your KPIs with your business objectives.
What are your native advertising goals?
Before you set up a native advertising campaign and start measuring its results, you need to specify the goals you want to achieve with it.
It's essential that you set specific goals, e.g. not only define you want to increase brand awareness but also specify how many viewable impressions or unique visitors the campaign should deliver. This will let you understand later whether your campaign is effective or not.
Typical native advertising goals include:
Let's check out how these goals align with the KPIs you'll need to track.
Build brand awareness
Brand awareness is about establishing a strong online presence for your brand. If you manage to build a general knowledge of your brand among your target audience, it's likely that your brand becomes the first thing coming to mind when these consumers are ready to take action.
Many brands leverage native advertising to achieve brand awareness goals. Displaying their articles and videos on the world's most popular websites, they reach wide but still highly relevant audiences.
If you decide to use native advertising to boost brand awareness, the following metrics will show you whether you're on the right track.
Viewable impressions
Native ads leave a brand impression on viewers, even though they don't continue on to your website.
Viewable impressions tell you how many times your native ad is seen by users. Don't confuse it with the 'impressions' metric that counts how many times a campaign item is displayed.
Although this metric alone doesn't indicate how people interact with your content, you can compare it with the number of clicks to better understand how your native ad was received. You can either measure viewable impressions with third-party tools or get them directly using Taboola native ad platform.
Unique visitors
How many people visited your website after seeing your native ad? If your website traffic increases significantly after you launch your campaign – that's a good sign of growing brand awareness. Otherwise, it might be a reason to revisit your campaign settings.
CTR
The click-through rate (CTR) is a traditional but still effective way to evaluate the impact of native advertising.
By analyzing the CTR of your campaign items, you can better understand if the content you promote meets the interests of the publisher's audience.
Low CTR might denote one of the following issues:
The title and the thumbnail of your native ad don't reflect all the potential of the content it promotes.
The content itself isn't relevant for the audience you target.
NOTE: Mind that the numbers will be different for different device types. The average CTR for native ads viewed on smartphones is 0.38%, but on desktop, it's 0.16%.
On-Demand Video Course On Native Advertising
Boost your ROAS with native ads. Enroll now with our limited 30% discount.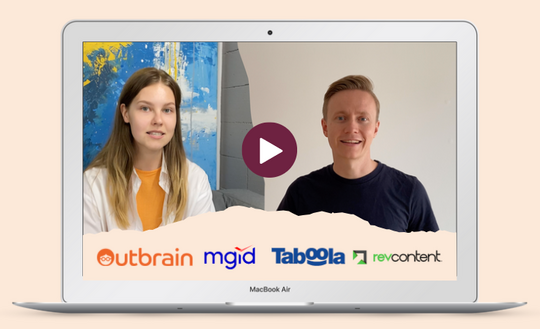 Behavior metrics
After people click on your native ad and come to your website, they interact with it differently. Along with measuring the number of visitors, you need to analyze the quality of this web traffic with Google Analytics.
Here are the metrics that allow you to understand how well your sponsored content is performing:
Bounce rate. This metric measures the percentage of visitors who left the page without interacting with it. In most cases, a high bounce rate means you failed to make your content meet the expectations you set with your native ad. Monitoring it, you can notice the issue before it's too late and fix either the creative or landing page content.
Pages per session. How many pages are viewed during a session? The more pages per session are viewed, the better.
Average session duration. It's an average length of a session in a particular time period. This is another metric used to identify how effectively your sponsored content encourages your site visitors to keep navigating your website.
There's no sense in driving visitors that just bounce directly. It's easy to spend a budget gaining clicks from users that aren't likely to ever interact with your brand. So, even if your CTRs are growing, keep tracking behavior metrics to ensure your website traffic has any value.
Video views and video completion rate
If you use native advertising to promote videos, these metrics will be the most important for you. With content discovery platforms, such as Taboola or Outbrain, you can track the number of completed views only. Placing native ad videos on social networks, including Facebook or YouTube, you'll find data on average view duration, audience retention reports, and completion reports.
Increase engagements
Native advertising has already proved extremely effective for reaching your performance marketing goals and increasing purchase intent. It allows you to attract leads by driving your readers to complete specific actions, such as downloading your application, signing up for a newsletter, or any other action that connects your prospect with your brand.
Conversions: signups, downloads, etc.
A conversion driven by your native ad campaign isn't necessarily a sale. At this stage, conversions include ebook downloads, signups, and other actions that help you attract leads. If you've been successfully building brand awareness for some time, you might want to move on by creating true brand affinity.
How many people completed the desired action? Analyze the number of conversions your sponsored content generates to understand how it's perceived by your target audience.
Conversion rate
Let's say you want to drive a number of free trials started after seeing your sponsored content. But conversions isn't the only metric you should be tracking.
The conversion rate is the percentage of people who completed the desired action out of people who clicked on your ad. For instance, if 1000 people visited your website and 100 of them started a free trial, your conversion rate is 10%. This metric will tell you whether you should audit your landing page, revisit your messaging or even reconsider your initial objective.
What's a good conversion rate? Across the industries, the median is 2.35%, and 5.31% is considered to be an awesome result only the top 25% of brands reach. However, it still highly depends on your niche and what you define as a conversion.
Drive sales
Advertisers aim at driving direct sales less frequently than building brand awareness or increasing engagements, but it doesn't mean the contribution of native advertising to the sales process isn't worth mentioning.
In this case, your KPIs will be similar to the ones we mentioned in the previous paragraph, except for the conversion will be a sale.
Still, it's not likely that someone will find your brand appealing enough to make a purchase when seeing your sponsored content for the first time. That's why campaigns aimed at driving sales are more likely to be successful when you're targeting people who are most interested in buying your products, e.g., retargeting your website visitors.
Moreover, when your goal is to drive sales, you might want to use native ads for driving leads that will later convert into customers.
Align your native advertising goals with business objectives
Your native advertising goals should be aligned with your marketing goals. Is your campaign aimed at gaining 1,000 clicks? Why do you need it? How will it help you reach your business objectives?
Native advertising is only one of the multiple techniques you'll be using to promote your brand. But its success will affect the success of all your marketing activities.
Attribution models
When your goal is a conversion, native advertising should be measured not only as a separate technique but also as a part of your overall game plan. To be fair to each piece of the customer journey, you'll need to turn to attribution modeling.
What credit do you assign to the touchpoints of the customer journey when they finally convert?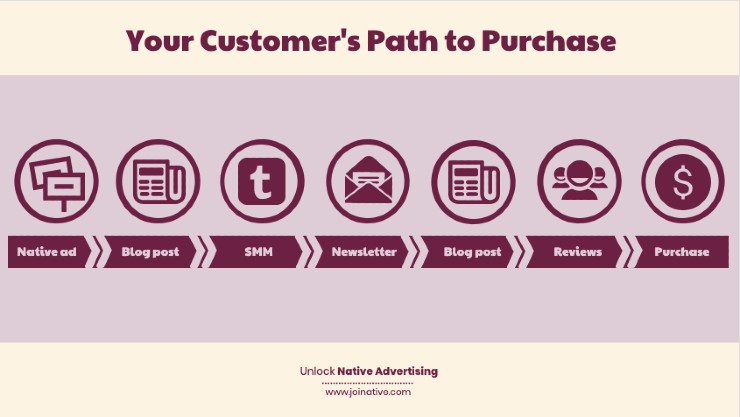 If you want to get more sales and you only look at the last click, it's no surprise you might find native advertising ineffective (whereas it can be really powerful for lead generation). To build your KPIs, you need to consider the buyer journey. Customers will find your brand at different stages. Do you understand how every piece of content you produce contributes to the sales process?
With attribution modeling, you can choose how much credit you assign to every interaction that precedes the conversion.
There are various attribution models that differ in weight assigned to different clicks and timeframes considered. The most common attribution models are the following:
Last click. All the credit is attributed to the last click. For instance, if your customer converted after seeing your pop-up ad, it gets full credit for the conversion.
Linear distribution. Every click gets equal credit. So, if there are 4 touchpoints, every click will get 25% of the weight.
Position-based, or U-shaped model. It credits 40% to the first and last-clicked touchpoints and splits the remaining 20% across the other clicks on the path. You can also change the percentage to better fit your customer journey.
Time decay. The longer it takes for a customer to convert, the less credit the first clicks get. It's fair enough that if your native ad was clicked on two weeks ago, it doesn't weigh as much as recent interactions before the conversion.
Beyond that, there are various ways to make traditional models more advances, including leveraging AI to determine the impact of different touchpoints on subsequent conversions. When it comes to including native advertising to the attribution modeling, there are two types of conversion attributions you should choose from:
Post-click conversions. Some weight is given to a native ad when a person that clicks on it later takes an action on your site within 30 days.
View-through conversions. You assign credit to a native ad when a person that sees your ad but doesn't click on it takes an action on your site within the next 24 hours.
As the brand effect from seeing a small format ad is limited, we recommend that you focus on post-click conversions and select one of the most popular attribution models. It's also a good idea to use attribution modeling for early conversions (e.g., attracting leads) and then give credit for the sale to the last click that brought the lead.
Summary
How do you set native advertising KPIs? Simply know your objectives, understand how you want to achieve them and set measurable metrics. If you aim to build brand awareness, your KPI should be based on your native ads' reach, behavior metrics, or video views. If you want to attract leads, then focus on downloads and conversion rates.
While monitoring how your native advertising campaign performs towards reaching your specific goals, you shouldn't forget about your business objectives. Measuring clicks and impressions is important, but you need to remember native advertising is also a part of a big marketing strategy.
When you're only starting with native advertising, selecting the right goals and KPIs might seem to be confusing. With Joinative, you'll learn how to address these challenges and run native ads successfully. We'll help you or your team to build a strategy, set up native advertising reporting, and optimize your campaigns for better performance. Read more about our Native Starter and Native Managed packages or just get in touch with us today.
Are your native advertising campaigns up and running? It's time to learn how you can use your performance data to your advantage. With our native advertising reporting platform, you'll get informative reports and access dashboards you won't find in Taboola or Outbrain interfaces. Book a free demo to learn more about Native Pro.