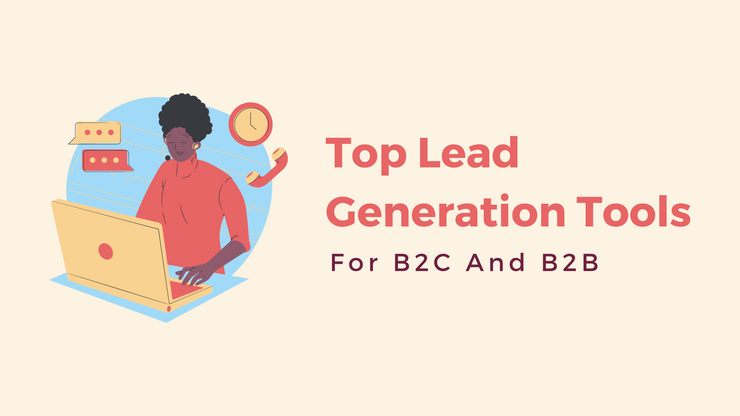 17 Best Lead Generation Tools
Do you need tools for lead generation? If so, how do you choose the right one? We're here to help you find the answers.
Lead generation is a type of lead management, which consists of finding potential customers with specific contact information.
The success of your lead generation strategy has a direct impact on your company revenue. The more quality leads you generate, the more sales you make. Easy, right? Unfortunately, things aren't so straightforward in reality.
Lead generation involves:
building your presence on the channel your target audience is active on;
creating and promoting an irresistible lead magnet;
building a captivating online form;
developing a setup that allows you to keep track of and qualify every incoming submission;
building flows that trigger personalized nurture campaigns for leads based on how they meet specific criteria.
The process described above requires a deep understanding of your target audience, clear business goals… and the right toolkit. If you don't want to spend hundreds of hours designing landing pages in HTML or searching for ideal prospects manually, you'll need tools that will facilitate the process.
Before we move on to the list of tools we use for attracting and capturing leads, let's quickly go through the mechanics of lead generation.
Disclosure: This post may contain affiliate links. This means we may earn a commission if you buy something through our links at no additional cost to you.
Lead Generation Mechanics
Message Funnel
Potential customers can search for your products/services online on their own or after they become interested in your advertising.
According to Matcha Business LLC, the task of advertising campaigns is to attract the maximum number of consumers within the budget. To increase the reach and number of orders, you have to spend more money. Such a scheme is not always justified, however - you can reduce advertising costs and improve the lead generation process through a message funnel. How does it work?
At the first stage of lead generation, it's necessary to acquaint the target audience with the product, its uniqueness, and features, i.e. to create value. To do this, marketers use outreach campaigns.
On-Demand Video Course On Native Advertising
Boost your ROAS with native ads. Enroll now with our limited 30% discount.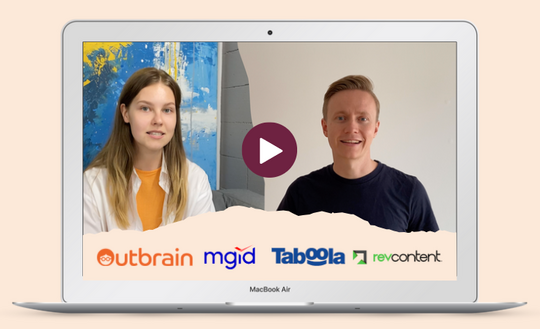 The next step in lead generation is to offer something free in return for the lead. This could be an introduction video, a PDF brochure, a discount, etc. - it has to be something useful to the user. Once the contact is received, a personalized message chain is triggered. This kind of customer lead generation is available through messengers and social networks. The result of successful lead generation is the sale of a service/product (since you don't need leads themselves).
Take Japanese language courses for example:
After receiving customer's contact information, we can share the benefits of our courses at the school (native speakers, convenient schedule, possible month results, etc.);
Then we should send a link to a video presentation and a feedback page about the school;
An offer to sign up for a free trial lesson come next, including a 30% discount;
Within a week, we remind the customer about our offer, mentioning the possibility to unsubscribe at any stage.
The lead generation funnel through messages allows you to significantly increase the number of conversions. In this case, there are different mechanics of lead generation: from very simple to more complex ones, when, for example, companies create an entirely separate service to attract leads.
Lead Magnets
Simply put, the term "lead" means a potential customer of a company who has shown interest in the services the company provides. Such interest can be filling out a questionnaire, a request to attend an event, a request for a callback.
Thus, the visitor or subscriber to your page becomes a lead, a lead then becomes a customer, and a customer becomes a regular client.
The name speaks for itself - lead magnets attract leads. It has to be something really attractive, e.g. a bonus, useful information in exchange for your phone number or email. This helps increase conversion rates and builds product and brand loyalty.
A lead magnet can be a consultation with a specialist, a free lesson, or a demo version. This can be a powerful lead generation channel if you know how to use it.
The secret of a successful lead magnet is in the needs of your target audience - all you have to do is find out what they want and give it to them.
The second point about lead generation is that your lead magnet should not kill your business. If you start handing out discounts left and right for marketing purposes or running a bunch of free classes, when are you going to make money?
Check out the following 4 tips to create a powerful lead magnet:
Offer an idea and show results - e.g., "7 Ways to Increase Conversion Rate by 30%.";
Create a lead-magnet with care for your clients - help them solve a specific problem or simply make them feel good;
Make it brief and clear - no need to spend too much time on research - the essence is clear even if you read between the lines;
Content should be clear, engaging, and look professional. They won't get it if it's messy.
Lead magnets can be educational (books, courses, reviews), entertaining (surveys, tests, contests, comics, games), and provide real benefits (discounts, coupons, free services, demos, etc.). Your imagination is the limit.
The main task of a lead magnet is to inspire people to leave their contact information. After that - it's all up to you - gain their trust, develop a strong relationship, and gently push them towards a purchase. You can do this either through email marketing or by calling your customers to make personalized offers.
How do you create catchy landing pages and visually appealing lead magnets? Below are a few easy-to-use landing page builders and a graphic design tool.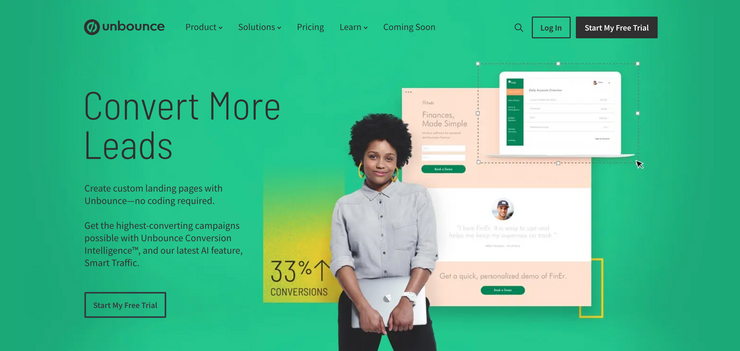 This service helps increase conversion rates for website landing pages and set up a steady stream of inbound leads. Choose templates from an impressive library, design sections of sites, and fill them with engaging SEO-optimized content. Design + smart navigation + informativeness + a clear CTA = more engaged users and B2B leads.
Price: starts at $72/month, 14-day free trial available.
If even one page of your website takes a couple of seconds longer to load than necessary, you risk losing a potential customer. He/she might still wait, and then you no longer have the right to disappoint him/her with a sloppy and uninformative webpage. Instapage helps increase your site's load speed, optimize pages, improve design, and customize a mobile version.
Price: from $149/month, 14-day free trial.

This is a perfect tool for creating amazing ebooks, cheat sheets, and templates. The platform provides a lot of great features on a free plan, so you won't need to spend a penny if you don't want to use exclusive visuals.
Price: paid plans start at $9.99/month, free version available
Lead Ads
Lead Ads are a handy new mechanism for lead generation. It allows you to collect leads and contacts directly in social networks or searches, without having to visit a website.
Using standard news advertising, you can integrate a subscribe button into your ad, which allows you to establish direct contact with your potential customers in two clicks. It's a great way to expand your subscriber base to spread the word about a groundbreaking product launch or large-scale event.
After clicking on a social media video ad, a person is immediately taken to a ready form with filled-in personal information pulled from their profile, which simplifies lead generation. A contact form to be filled out is then shown on the search screen.
The main rule is - the fewer fields, the better it is for lead generation. This will allow you to get more leads.
Lead Ads expand the possibilities of ads. You can use it on Facebook, Instagram, Google Ads, etc.
On-Demand Video Course On Native Advertising
Boost your ROAS with native ads. Enroll now with our limited 30% discount.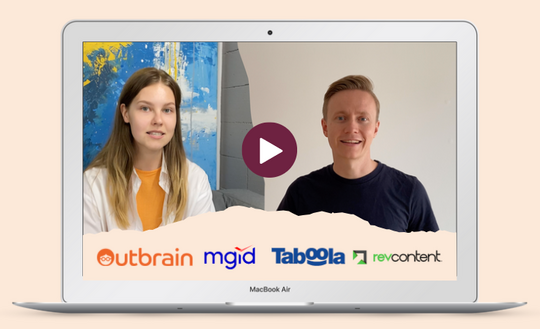 When creating a lead generation form, keep a few things in mind:
Precise target audience;
Eye-catching images;
Beneficial offers;
CTA (Call to Action);
Additional questions with answer options to minimize accidental applications.
Process each new lead as early as possible (within an hour). For this, it's better to integrate a CRM system (e.g. Zoho), so that you could instantly see your leads in a convenient way for further processing. You can bring back people who opened the form but did not send it, by showing ads with a better offer. It's also necessary to regularly analyze the effectiveness and optimize the ad campaign by changing the rates, questions, and images.
Quizzes
Interactive advertising formats are becoming more and more widespread, and quizzes are a popular business channel for lead generation. Quizzes are tests, surveys, and polls that help get to know consumers better and achieve higher levels of engagement. They solve problems ranging from maintaining brand image to increasing sales. If done right, they will have a positive impact on lead generation.
A quiz can increase the number of applications by 4-6 times and it's easier and cheaper to create than a landing page. They can bring more likes and are willingly shared among friends on social networks. With their help, you can unobtrusively gather additional information about the needs of your target audience, get a lead, or help decide on a choice.
If you sell by phone, you'll already "be armed" with information about your potential customer's desires when you make the first call. Quiz conversion is between 12% and 30%. Not bad, right?
7 tips for creating a quiz:
Study your customers' "pains" to increase your chances of attracting prospects' attention;
Make up relevant short questions;
Specify the number of questions so that the person understands how long it will take to complete the quiz;
Offer a solution at the end of the quiz;
Add a discount that will increase as the quiz progresses;
Make the quiz visible on the landing page;
Offer additional bonuses.
Quizzes can sell, entertain, build audience loyalty, and explore audience needs. Therefore, this method of lead generation is used in different niches and businesses.
Here are a few form builders you might want to use to create your next lead gen quiz.
There's no better tool for creating quizzes and surveys for lead generation. You can choose between one-pagers and multi-page quizzes, create custom designs, and access various widgets, including an image slider, dynamic checkboxes, date pickers, and more.
The platform integrates with many popular tools and CRMs, like Slack, MailChimp, HubSpot, and many more.
Price: paid plans start at $24/month, free version available
Also an online form builder, Typeform offers a more advanced reporting functionality (e.g. question by question drop-off analysis).
Price: paid plans start at $35/month, free version available
In order to understand the needs of B2B customers, just ask them directly. Run online surveys with Qualaroo to get regular feedback on your products and services, understand what changes your potential customers are interested in, and what you should work on.
Price: from $160/month.
Online Chats
Chatting has become a part of life. Businesses are now using online chats as an effective lead generation channel. A study of FB IQ showed that about 60% of users prefer to solve questions by phone but in chat rooms.
How to set up a chat that will help both the business and the customer? Check out the following tips:
The chat window should not cover the content;
Constantly popping up chats with loud sounds can be annoying (or even scare your customers);
The live operator should understand all the details and respond quickly;
Chat should have a picture of a real employee;
Avoid standard "one-size-fits-all" greetings and questions.
There are online chats that adapt to the request of each visitor, can be integrated with social networks and messengers, engage in dialogues via popups, etc. When set up correctly, an online chat facilitates lead generation and works effectively to increase conversions and customer loyalty.
By adding an automated message asking for contact information before the conversation starts, you can speed up the lead generation process.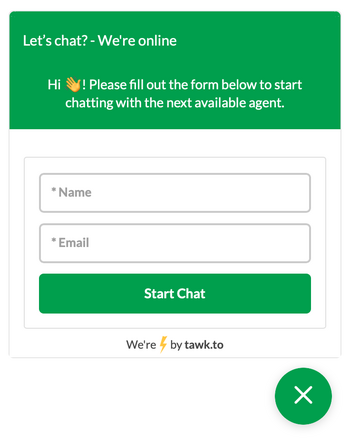 A 100% free live chat software, Tawk.to gives access to certain features not available on other tools' free plans. While you can't add automated messages without switching to a paid plan on Drift or LiveChat, Tawk provides forever free access to this feature.
Price: free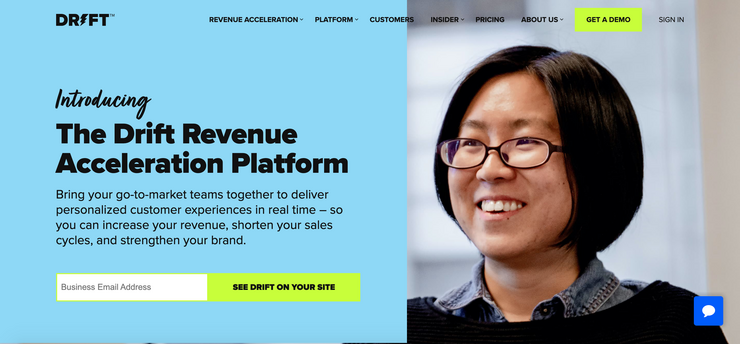 Drift is one of the most popular live chat tools. With it, you can add calendar widgets, share videos, and personalize welcome messages based on the user activity.
Price: from $40/month, free version available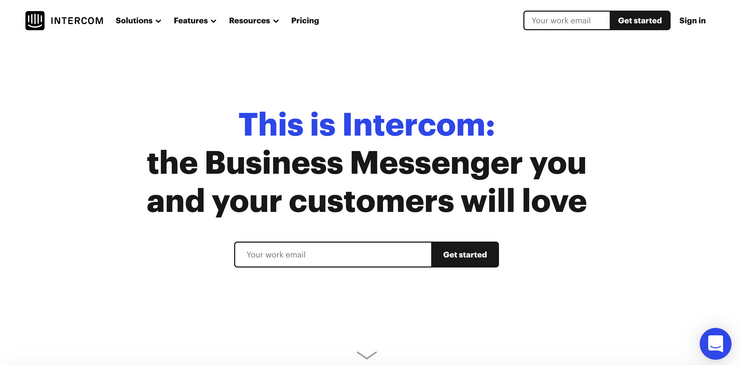 This service helps win a visitor and convert him/her into a loyal customer. Set up chatbots to promptly answer questions of your potential customers, run site tours, tell about products/services, send personalized messages, and build long-lasting and warm relationships with B2B leads.
Price: from $59/month, free trial available.
Chatbots
Chatbots are automated AI-based assistants, robots that respond to questions in chat according to a preset algorithm. They can replace a customer support operator, "work" round the clock, quickly establish communication, identify client needs, and smoothly perform routine tasks.
Chatbots are a powerful way to generate leads. They are suitable for products with a long sales cycle, as well as for products that cannot be promoted by traditional methods (pharmaceuticals, alcohol, tobacco products).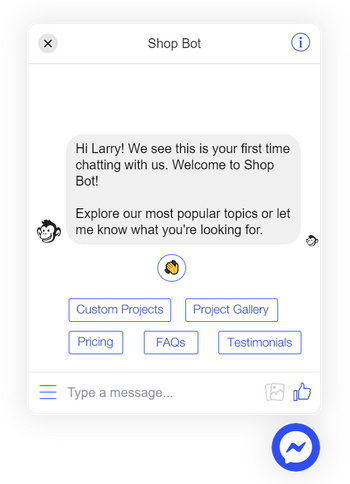 Chatbots live in social networks and messengers, will help to choose products, answer questions, give advice, tell about products and services, inform about discounts, promotions, etc. They can be simple or advanced, i.e. understand live speech and learn on their own.
Give users the ability to reach you promptly everywhere you can: your website, social media, messengers, and so on.
With Mobilemonkey's OmniChat you can manage your inbound messages from all channels and promptly respond to future B2B customers.
Price: from $22/month, free, the Free Forever Edition available.
Freebies
Some brands create free services for lead generation traffic. This can be a useful tool of some kind: a website builder, a service to find a job, an apartment, or airline tickets. The service itself may not be monetized in any way, but registration for it allows businesses to receive a large number of leads to further promote paid services. For example, to start using a free website builder, you have to register, i.e. enter your contact information.
Gamification
Useful content also becomes tiresome over time, and new methods of lead generation come to replace it. Gamification reduces the "advertising aspect" of the product, i.e. the customer does not feel that you just want to sell him/her something.
Gamification is the excitement and spirit of adventure. Attracting customers to play a game is easier than trying to make them visit your landing page, which enhances lead generation. What's cool is that gamification is viral - play it yourself, tell a friend. Despite serious investments, the effectiveness of games turns out to be several times higher.
Gamification helps to do the following things:
Attract new customers and bring back those who have already made a purchase;
Create a need for products or services;
Increase loyalty and evoke positive emotions;
Increase audience reach.
Newsletters
Newsletters are still kicking! They are still effective at attracting and retaining an audience. Campaign Monitor claims that every dollar invested in email marketing can generate $40 in profits.
Email marketing automation tools are proving to be effective these days, and well-set email chains help drive more customers.
Check out these four effective email marketing tips:
Think through your chain of emails;
Your content should be useful;
Use creativity and humor;
Use A/B testing.
To enhance lead generation, your newsletters should be as personalized as possible. You can use lead magnets, services, and quizzes to find out the portrait of a potential customer. There are services with pre-made mailing templates, e.g. Sendinblue, ActiveCampaign, or UniSender. They have already thought of everything for you - the only thing that's left is to customize the template for your own purposes and try your hand at email marketing.
Cross-Channel Marketing
According to statistics, more than ⅔ customers use more than one advertising channel to make a purchase. They can click on a banner on a website, make a call to the office, take a quiz on social networks, and subscribe to the newsletter on different devices. Customers want brands to be present everywhere, to be easy to communicate with. That's why contextual advertising and social media advertising are both relevant.
Cross-channel marketing uses several mechanisms for promotion, which complement each other.
It can solve several problems at once:
Increase brand recognition;
Increase sales;
Study your potential buyers;
Compare different channels and choose the most effective;
Increase engagement, etc.
It's important to think through the content and set up advertising on different channels so that you can analyze and effectively use the data to generate leads. However, this is where one obvious problem arises: how to manage a large number of campaigns, run on different channels? That's where you will need an all-in-one marketing automation system like Vbout or HubSpot. Such a platform will allow you to manage multiple advertising platforms and collect statistics for all advertising channels.
Lead Generation in B2B
Providing a steady flow of incoming leads is a key task for B2B companies. No leads - no calls, no sales, no profit, no resources for development and scaling.
Searching for potential customers manually is time-consuming, expensive, and inefficient. Unless, of course, we are talking about 2-3 leads per week…
Companies that chase high volumes use special software to automate the lead generation process at all stages, attract more B2B leads with a minimal budget, saving time, and increasing the effectiveness of sales and advertising teams.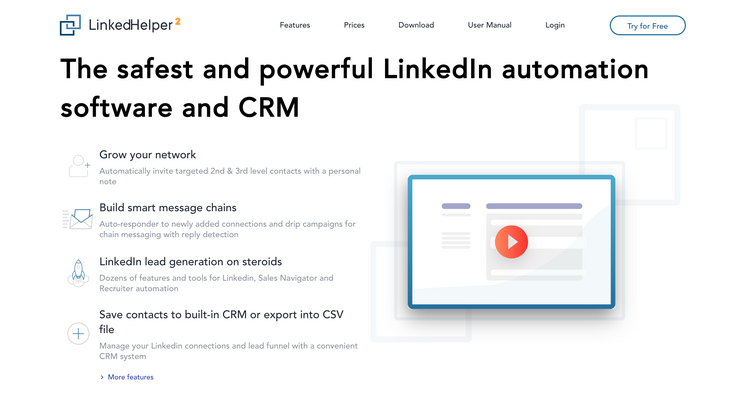 This platform helps automate networking in Linkedin: send auto-requests for contacts, welcome recently added contacts, and launch drip marketing campaigns. LinkedHelper 2 is as natural and personalized as possible.
Price: single account licenses start at $8.25/month (when paid annually).
B2B Lead generation tools: Leadfeeder
The tool provides detailed statistics of your website for each user: who and from where visited your website, what pages were opened, and when visitors left. Find contacts of anonymous visitors and convert them into B2B leads (and optimize your site!).
Price: from €63/month. A free basic rate and an extended 14-day trial are available.
B2B Lead generation tools: Woodpecker.co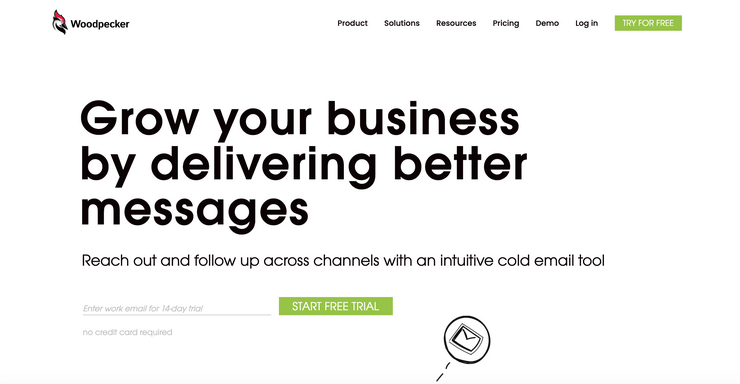 This service helps you automate outreach. With Woodpecker, you can customize campaigns, personalize emails with variables, without having to worry about them ending up in spam (the platform guarantees email deliverability), and analyze open/response rates.
Price: from $32/month if you pay for a year, there's a 14-day trial.
On-Demand Video Course On Native Advertising
Boost your ROAS with native ads. Enroll now with our limited 30% discount.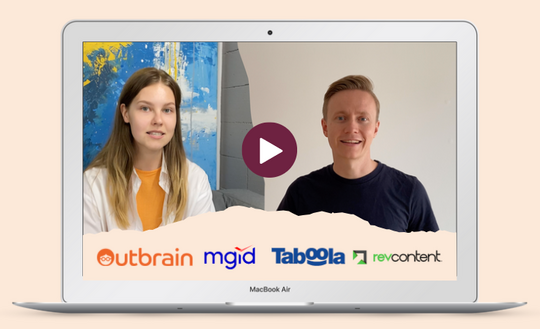 B2B Lead generation tools: Reply.io
The platform helps both find leads and launch/analyze outreach campaigns by answering the following questions:
Which chain worked better?
Which email got the highest opening rate?
Did follow-ups help increase response rates?
What do you need to change to improve the results of your campaign?
Price: from $70/month. Available with a 14-day trial and an additional tool - email search software (a free package available, paid ones start at $49/month).
B2B Lead generation tools: Postaga
This platform helps streamline and automate the entire cold outreach process for B2B sales leads. Postaga helps you:
Find relevant businesses in different cities
Find the ideal contact person at each company
Retrieve and verify their email address
Build and send personalized outreach email sequences
Price: free 14-day trial, starting at $99/month. As a bonus, in addition to helping with cold outreach, Postaga's platform also helps with link building and digital PR outreach.
B2B Lead generation tools: Keap
Keap is a versatile service for sales and marketing activities. Keap collects data from users who visit your website, puts it into CRM, helps you personalize emails, and launch outreach campaigns.
Price: from $56/month.
B2B Lead generation tools: Phantombuster
Parsing personal data, social networking activity, and almost any online activity can be automated with Phantombuster. This service allows you to optimize most work processes and noticeably reduce the time for lead generation.
Price: from $28/month, free version available (limited functionality). There's also a free 14-day trial.
Conclusion
Lead generation is the process of attracting potential customers in order to get their contact information. You can attract potential customers using various above-mentioned tools and techniques, e.g. a feedback form on your website or a quiz. Moreover, you can also use online and offline channels like paid ads, placement in catalogs, and participation in trade shows.
Keep in mind that no matter what tools and channels for lead generation you choose, it's highly important to test and analyze them to understand which one works best for your business and brings in higher quality and cheaper leads.