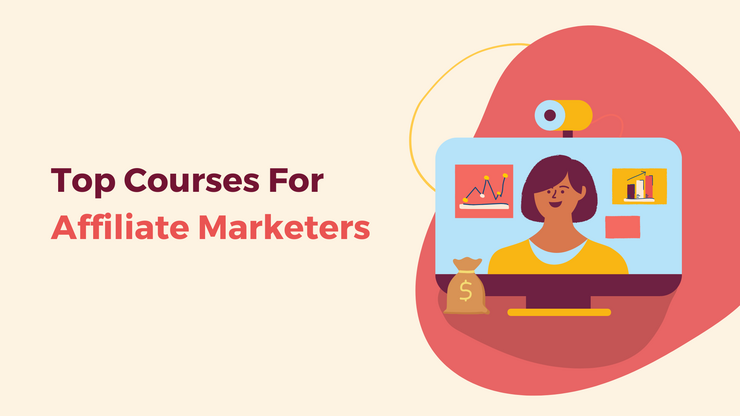 The Best Affiliate Marketing Courses In 2021
Most of the new players entering the game lack the expertise needed to make sense out of affiliate marketing. Audiences get exhausted of tried and tested techniques, new best practices arise, and you need to keep up to that evolving 'ecosystem.' How do you achieve that without making costly mistakes first?
Many affiliate marketing newbies give up after they discover it's not enough to write a few product reviews and push your campaign with Facebook Ads. However, there are many more methods successful affiliate marketers apply.
Content marketing, native advertising, influencer marketing, SEO – these are just a few techniques an affiliate marketing expert deals with on a daily basis.
To build and continually improve a strategy that allows you to make money with affiliate marketing, you need to be constantly upgrading your knowledge and skills. We've compiled a list of the best courses for affiliate marketers willing to boost their profits.
Disclosure: This post may contain affiliate links. This means we may earn a commission if you buy something through our links at no additional cost to you.
Top courses for affiliate marketers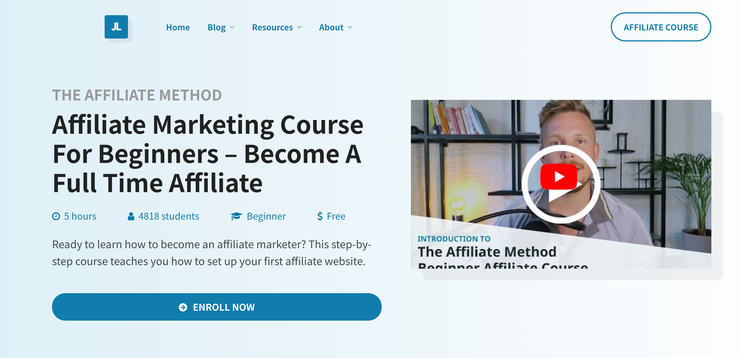 This is a great free resource for those who are just starting out with affiliate marketing.
It's text-based (no videos), brief, but insightful enough if you need guidance with buying a domain, setting up your affiliate website, and finding the first products to promote.
Price: Free
Length: 5 hours
Experience: Beginner-level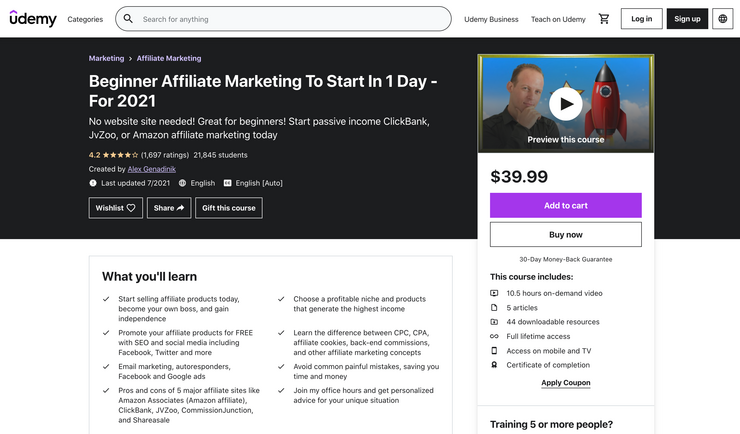 Ready to take a paid course that will enable you to become an affiliate marketer in one day? You've just found the right one.
The course shares a lot of practical tips for those who want to start their affiliate marketing journey. After taking it, you'll:
know how to set up a website and get started;
be able to choose affiliate network you'll be making your profits with;
understand how to market your products with SEO, email marketing, social media marketing, and paid advertising;
learn what CPC, CPA, affiliate cookies, back-end commissions, and other affiliate marketing concepts mean to you;
have your questions answered by the instructor.
Full price: $39.99
Length: 10.5 hours
Experience: Beginner-level
IMPORTANT: In the article, we provide the full prices of each Udemy course. However, Udemy often runs special discounts and cuts prices. To learn the relevant cost of the course, follow the link leading to the course landing page.
On-Demand Video Course On Native Advertising
Boost your ROAS with native ads. Enroll now with our limited 30% discount.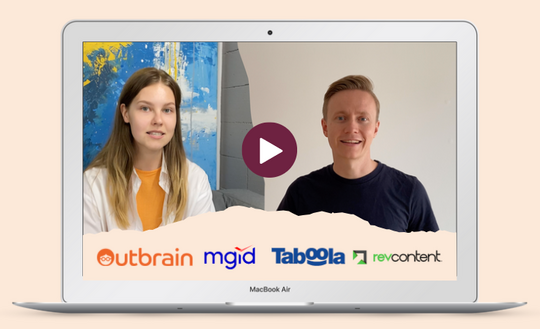 Planning to promote your offers with Facebook Ads? The best way to nail it is by learning from the platform itself. Facebook offers various online courses for advertisers across different industries aiming at different goals.
We recommend you to pay attention particularly to the following courses:
All the guides are short enough to enable you to get started right away and apply your knowledge in practice.
Price: Free
Length: Depends on the course you choose
Experience: All levels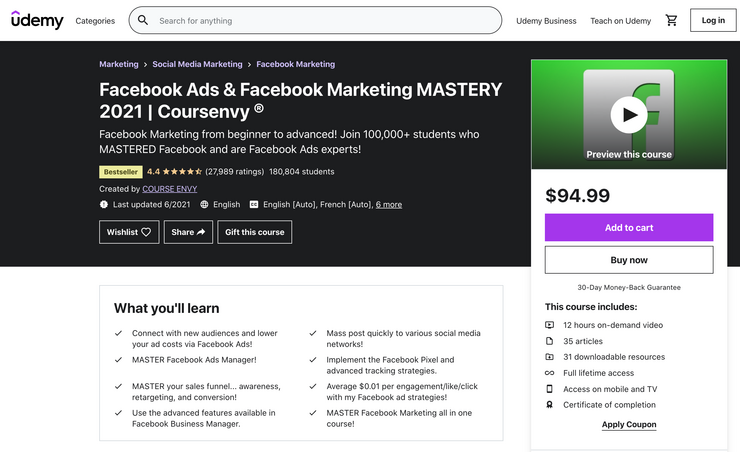 This is the bestselling course on Facebook advertising on Udemy. It's not suited for affiliate marketers only, but for everyone willing to get started as well as master advanced practices for managing and optimizing your Facebook Ads.
The course includes practical guidance on how to:
create a sales funnel on Facebook;
manage your Facebook ad account;
do split testing;
set up Facebook Pixel, Standard Events, and Custom Conversions;
manage Lead Generation Ads, Landing Page Conversion Ads, Local Business Ads, and Message Ads;
master Facebook algorithms;
scale Facebook Ads, and more.
Full price: $94.99
Length: 12 hours
Experience: All levels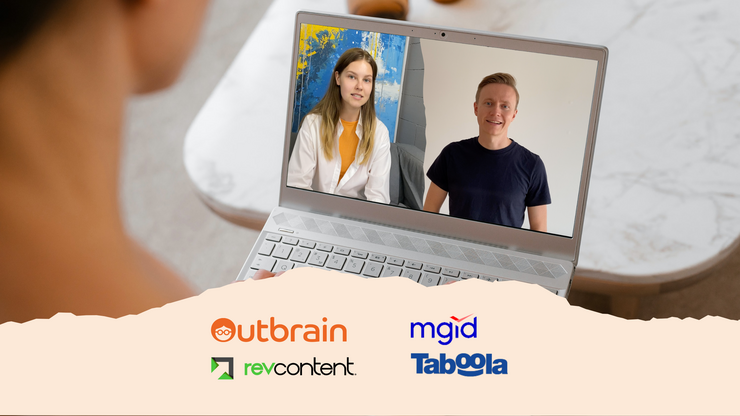 Native advertising is becoming increasingly popular among affiliates.
If you don't want to waste your time trying to appeal recurring ad rejections or Facebook ad account bans, mastering native advertising is a must.
We've been regularly receiving requests from affiliate marketers who want to add native advertising to their mix of promotion channels, but haven't managed to build high-performing campaigns yet. Therefore, we've decided to build a course for everyone willing to boost their profits with the help of native advertising.
The course will include over 10 hours of content and cover:
Tips, examples, and best practices for affiliate marketers in particular;
Benchmarks and insights into running campaigns in specific industries, including, B2B, foods, legal, finance, tech, apparel, and more;
Overviews of top native ad platforms with exclusive lessons by their representatives;
Deep insights into the processes of performance analysis, optimization, and scaling;
Advanced lessons for setting up custom tracking, reporting, and optimization systems, and many more.
Full price: The cost will be announced when the course goes live
Length: 10 hours+
Experience: All levels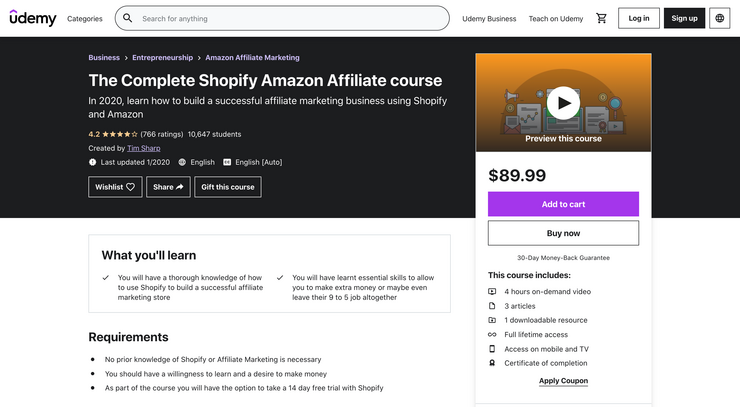 This course will help marketers willing to start making profit using Shopify.
In 4 hours, you'll learn:
how to set up your free Shopify account and navigate it;
how to choose your Shopify plan;
how to choose your product;
how to write great product reviews;
how to optimize your product review page, product comparison page, and homepage for search engines;
how to promote your content with the help of link-building, email outreach, and social media marketing;
how to effectively use tools that help you improve the processes and boost your profits.
No prior experience with Shopify is needed.
Full price: $89.99
Length: 4 hours
Experience: Beginner-to-Intermediate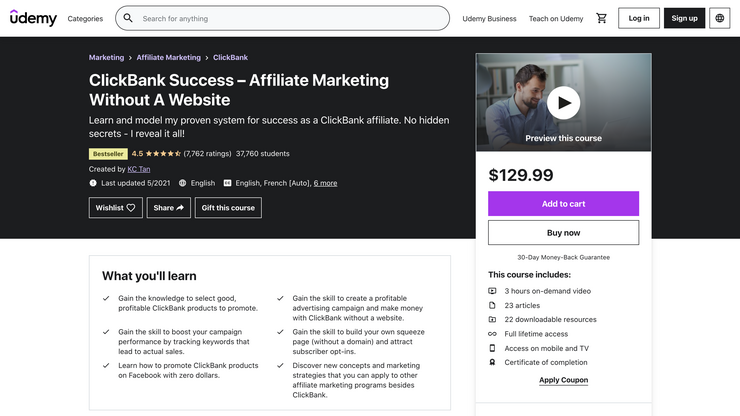 You don't need to build a strong website to earn money as an affiliate marketer. It's enough to nail ClickBank.
In the course, KC Tan, an SEO expert helping businesses to build and grow their websites, reveals the best practicers for promoting ClickBank products. The best part about the strategy is that you don't need a huge budget to make it work.
The course guides you through the processes of:
creating a new ClickBank account and solving possible issues;
picking the right products to sell;
choosing the right traffic sources;
traffic generation;
driving sales with low investment;
ad creation;
keyword generation;
lead capturing;
lead nurturing;
marketing your Facebook Page with zero dollars, and more.
Full price: $129.99
Length: 3 hours
Experience: Beginner-to-Intermediate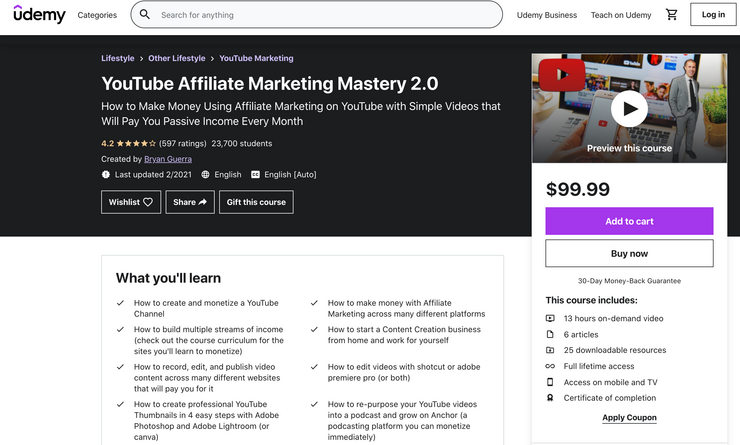 Promoting affiliate products on YouTube is particularly effective. Users often prefer to watch explanatory videos first when searching for certain solutions or products.
However, like any other channel, YouTube imposes its own challenges for marketers. In the course, Bryan Guerra helps to avoid the most common mistakes and shares insights into getting your own YouTube channel started, finding the right affiliate programs, making and uploading videos, and driving traffic to the channel.
Full price: $99.99
Length: 13 hours
Experience: Beginner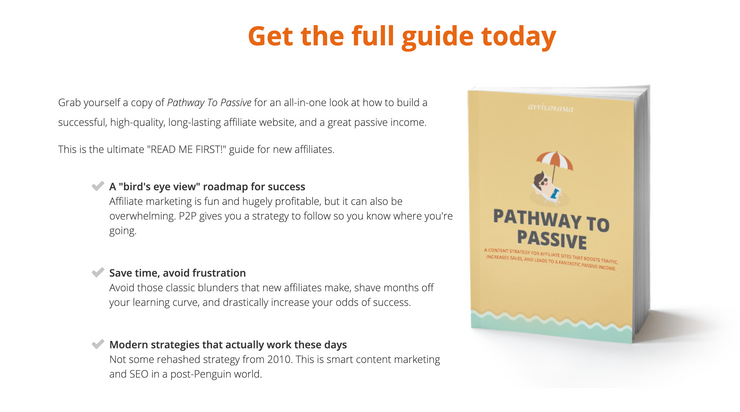 This guide is perfect for those who don't want to spend hours watching video lessons.
The copy guides you thorough the process of building a website that:
attracts links naturally;
specifically targets people who want to buy the things you're promoting;
moves your visitors towards a sale.
Full price: $37
Experience: Beginner-to-Intermediate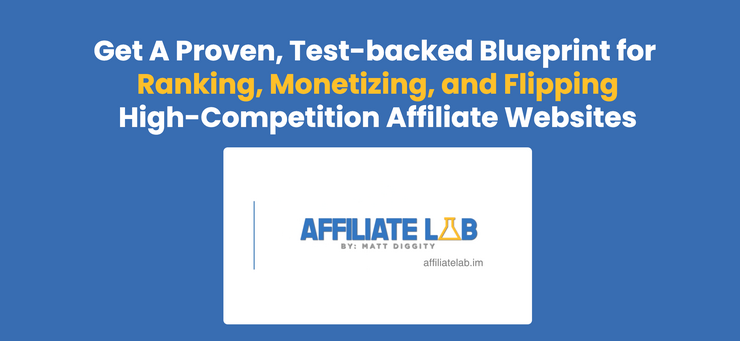 Despite being featured almost at the bottom of the list, this course is like a cherry on the cake.
Matt Diggity is an SEO influencer, conference keynote speaker, and affiliate marketer. He has created The Affiliate Lab to share all the learnings he has collected over the decade of building and selling high-traffic websites.
The course will teach you to create affiliate websites that rank well in high-competition affiliate niches and drive conversions. After taking it, you'll master SEO, content creation, CRO, brand building, and more.
In addition to the 'core' sections, you also get access to bonus content:
Rock Solid Foundations For SEO Success;
An exclusive Members-Only Facebook Group;
The CRO Masterclass;
The 'Legally Steal Your Competitor's Featured Snippets' Masterclass;
The Authority Blueprint;
The Insider Keys To Selling Your Site For Maximum Profit;
The Link-Building Outreach Masterclass;
Toolkit That Gets Sites Unstuck;
The Affiliate Email Marketing Masterclass.
Right, it's expensive. But if you do want to avoid months of trial and error that might cost you way more than the price of the course, you need to take it.
Full price: $997
Experience: All levels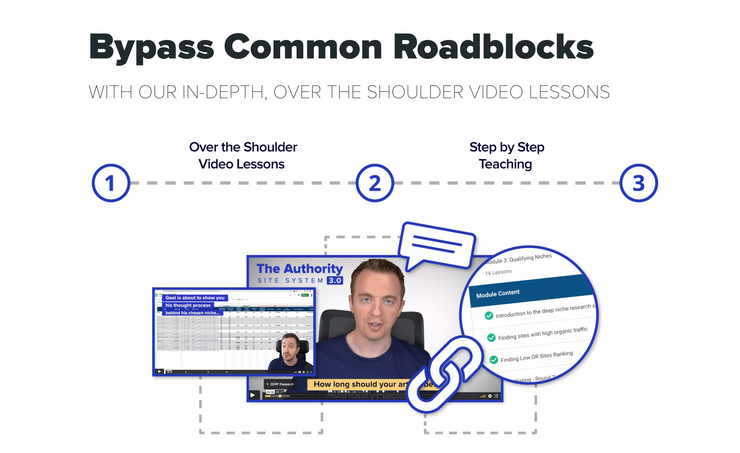 Last but not least, The Authority Site System 3.0. The instructors define it as 'A complete step-by-step training course for building highly profitable authority sites from the ground up.'
The program includes 15 modules and over 180 video lessons where the entire process of building a strong affiliate website from start to finish is explained.
When taking the course, you'll see how a real website is built from scratch using the system that's introduced in the program.
Here are the modules included in the course:
The Authority Site Business Model 101;
Finding Niches;
Qualifying Niches;
Site planning;
Site Setup;
Branding;
Building Posts & Pages;
Creating Info Content;
Writing Content: Step-by-Step;
Optimizing & Publishing Content;
Initial Link-Building;
Affiliate Setup;
Writing & Optimizing Commercial Content;
Advanced Tactics;
Bonus: Becoming An Authority.
The instructors share templates for each section covered in the course, including niche research, design, link-building, and content creation.
Moreover, there's a support team working 9 to 5 shifts to answer any questions you might have while taking the course.
Full price: $599
Experience: All levels
Free guides for specific issues
You'll find everything you need to know to set up your first Facebook ad campaigns. After reading the entire article, you'll learn all the necessary hacks and 'grow from a Facebook advertising beginner to an experienced ads manager.'
It's very likely that as an affiliate marketing newbie you just need a guide on setting up proper tracking for your Facebook Ads. In this article by Shopify, you'll find detailed instructions on how to install and use the Facebook Pixel successfully.
On-Demand Video Course On Native Advertising
Boost your ROAS with native ads. Enroll now with our limited 30% discount.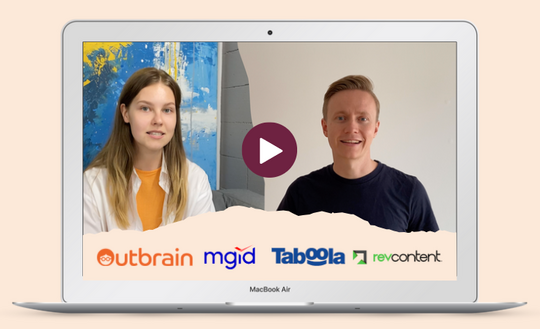 In this webinar co-hosted by Craig Campbell and Robbie Richards, a successful affiliate marketing expert, you'll learn how to drive traffic through to your affiliate site to generate clicks and conversions.
Haven't decided whether you want to take our ultimate course on native advertising (well, you should) yet? You can familiarize yourself with the topic by reading this introductory guide.
Email campaigns generate $38 for every $1 spent. In this article, you'll learn tips for creating effective email campaigns to build relationships with your audience and promote your affiliate links.
The above-mentioned guide is helpful for those who know how to build an email list. What if you haven't built the one yet? Then you need this list of the top strategies for email list building by Matthew Woodward.
Matthew is an SEO expert and affiliate marketer sharing his expertise on his blog and in educational programs. He has built a website that drives over 100.000 monthly visitors and helps other marketing professionals to reach similar results.
Another guide from Matthew Woodward that's filled with actionable tips for increasing search traffic. This resource will introduce you to the concept of link-building and help you to master the best strategies for growing your site's rankings and traffic.
Here's an exhaustive guide on creating affiliate landing pages. In the article, you'll find everything you'll ever need to know about landing pages, including the definition of pre-landers and lead generation landing pages, the list of performance metrics you should pay attention to, and the best practices for creating high-converting pages.
This is one of the most comprehensive guides to retargeting ads.
The vast majority of your site visitors will bounce without making any conversions. However, these people are your most valuable audience.
They are already familiar with you and the subject, and the next time they see your content, it'll take less effort to gain their attention and trust. The more often they come across your assets, the more likely they'll trust your opinion when seeing products you promote.
That's why mastering retargeting is essential for affiliate marketers.
To make it useful both for newbies and professionals, we talked to advertising experts and asked them to share their favorite approaches to retargeting campaigns. Check out what we've learned.
Ready to upskill?
These are the best courses an affiliate marketer might need at any point in their journey. You just need to pick the one(s) that align with your current objectives and go upskill.