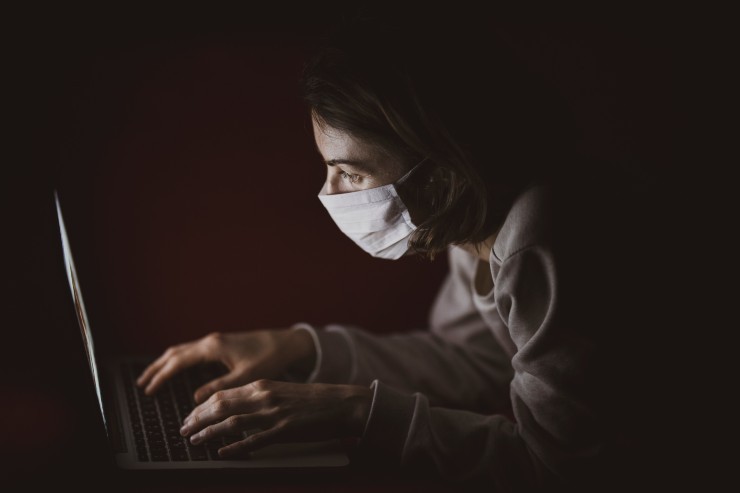 How COVID-19 Is Affecting Native Advertising
The impact of the global pandemic on the world economy is undeniable. Enterprises, startups, and small businesses have to adapt to the changes brought by the lockdown.
It's not just learning how to manage remote teams and trying to keep your pace to stay in business. For some brands, it's about turning their marketing 180 degrees and applying completely different strategies. For others, the changes might not be so dramatic. But they still have to shift their goals or rethink how they should approach their audiences. In any case, everyone is affected in these times.
The advertising industry isn't an exception. For companies that had to hit the pause button, investing in advertising doesn't seem to have any sense. Many brands that still operate also decide to take the precaution and cut costs on advertising campaigns.
Is everything that bad for the native advertising industry? Definitely not. Along with industries that have been in demand from the very outbreak, there are niches that successfully adapted during this crisis and even got a second wind. Having new opportunities opened in front of them, these companies understand the importance of well-thought advertising campaigns like never before. Gaming, grocery deliveries, online apps, and quite a few other industries are boosting their ad spend significantly.
Here's how the founder of Emarketeers Jonathan Saipe describes the situation:
'Google Ad conversion rates are down around 21%. The whole ad world is in flux right now as we try to realign to the new normal. Having said that, from a PPC and Paid Social perspective, there are now opportunities, as CPCs are dropping and competition is reducing. So there are also positives to take home.'
The world is changing and so does the advertising industry. While challenging us, these times also bring in something new. We took a look at the statistics, talked to native advertising experts, and leveraged our own experience to help you better understand how to approach native advertising during COVID-19. Read on to learn how brands are responding to the changes brought by the pandemic and what you should be focusing on now.
Consumers want brands to keep advertising during the Coronavirus pandemic
After the first shock, people are gradually getting used to 'new normal'. We're becoming more open to new opportunities.
According to eMarketer's report, consumers don't expect brands to abandon advertising but want them to rethink their strategies.
That's why we don't recommend that you stop your advertising campaigns completely. There are still lots of ways you can approach marketing during the lockdown.
Yes, we know these words about 'the times of new opportunities' sound ironic for small businesses that had to close their doors. It's easy to talk about 'rethinking your approach' when you are in the industry that can adapt to the times of crisis with little effort (and perhaps even double your revenue). And what if you can't do that?
Even though you can't drive as many sales as you did previously, it doesn't mean you should stop building your brand.
Closed local gyms are offering free programs to workout from home on their Instagram account. Restaurants are sharing recipes for homemade meals with their clients. Theatres are streaming their performances online. Life is going on.
Have you noticed that you started to read more news articles, spend more time on social media, and/or learning online more than ever? Content consumption is up. Advertising costs are down. (due to the number of advertisers that stopped their campaigns). Although traditional banner ads might not be the best way to go now, native ads can prove to be extremely effective in these times.
Companies are testing different approaches
When we say brands should adjust their marketing strategies, this includes revisiting your pricing strategy, moving your services online, offering resources to support their clients, etc. But how is it related to your native ads campaigns?
Trying to adapt their native advertising strategies, brands are testing different content types, headlines, and images. We talked to marketing managers from different sectors, and here's what we found out.
8fit is testing new landing pages and headlines
8fit's Paid Content Marketing Manager Daniela Schildmeyer says they're testing a lot these days:
'In the beginning, we created an LP named: 'Stay fit and safe'. Even when the 'old' content had better performance, it is good to get the topic out there and try to reach people with new content where they can relate in this situation. Also, we try new headlines where we use the phrase 'home training' more. Now we are still testing new content where we can help people to get through this situation as easily as possible. In the end, we are lucky to have a product that can improve the lifestyle where we find ourselves now.'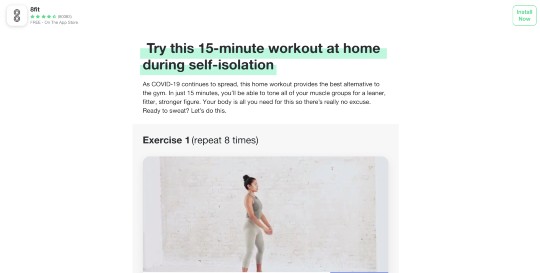 The example of one of 8fit's landing pages
8fit is a fitness app that offers quick workout routines that don't require going to the gym or having some specific equipment. No prizes for guessing how popular they're now. They could just sit and enjoy increased traffic to their website. But to deliver even better results, they're testing different variables, and they're right. Other companies are adapting fast, and you need to stay competitive:
'The traffic to our homepage increased like crazy, and also the PCM content had way better CTR and conversion rates. It was easy to win the traffic during the first weeks – a lot of advertisers left the networks. I guess a lot of them adjusted their product and communication in the following weeks to be able to keep advertising, so now the traffic is busier and we need to keep up with our optimization. We are following the situation closely in order to get out there first.'
Even if your services are in demand now, you should stay as flexible and open to testing as never before.
2ndKitchen is taking advantage of lower costs to optimize for the future
Levi Olmstead, Director of Marketing at 2ndKitchen claims they not only made a few changes to their campaigns, but also increased their advertising budget:
'We haven't made any huge changes to our paid campaigns since COVID-19 began. With overall impressions up and cost down for ads overall, I have put more money into our ads to test small copy tweaks to use the time to optimize our ads for the future. I've also toyed around with leading our ads with COVID-related copy to grab the attention of the reader'
CareerFoundry keeps testing as ever and is seeing better performance
We also talked to Gabriel Mestieri, Senior Performance Marketing Manager at CareerFoundry and discussed the arising opportunities for online learning communities:
'Our online learning community is and has been on the rise for some time now. And from what we hear about other areas it certainly looks like a tendency. I know that schools in Germany for instance are replacing presential with online classes. Although the reason why they have to do it is due to the current emergency, I think it's cool that the possibility exists in our modern world. Had this happened 20 years ago what would be the alternative? Classes over the phone? I don't think it would be very practical.'
When talking about their paid campaigns, Gabriel highlights that they've always been testing new approaches and aren't going to stop:
'We're constantly testing new headlines, content and creatives so we did test new things during the lockdown, but not because of the lockdown. For example, we launched campaigns for our new Intro Courses to our Career-Change Programs, but this was already planned. One important thing we did though was to put a note on our website saying that, even though our employees are working from home to avoid the spread of the disease, we're fully operational.'
And what about CareerFoundry's paid campaign performance during the lockdown?
'Campaign performance on Facebook has been strong. As there is less competition from other advertisers, the impression prices have dropped. Besides that, people have more free time and are spending more time on social media, so they can click on our ads and check us out. On the one hand, people have more time and interest, and on the other hand, it's less costly to advertise. So yes, campaign performance, for us, has improved,' says Gabriel.
On-Demand Video Course On Native Advertising
Boost your ROAS with native ads. Enroll now with our limited 30% discount.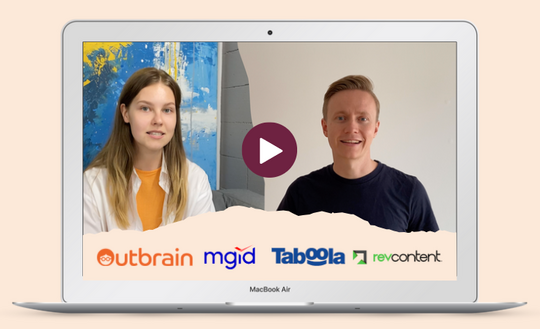 How native advertising platforms respond to the pandemic
Taboola, Outbrain, and other native ad platforms are responding to the pandemic to ensure high quality of promoted content and support advertisers and publishers.
Here are a few examples of how the leading native ad platforms react to COVID-19:
How to do native advertising during COVID-19
Regarding the demand for content and the opportunity to get cheaper traffic from premium publishers today, we advise you not to miss the chance to benefit from native advertising.
Do you want to optimize your native ad campaigns but not sure how to do that? Our native advertising consultancy will help. We know everything about native advertising.
If you're in a hard-hit niche…
Conversions are down for many industries. Not knowing what's going to happen tomorrow, consumers are postponing purchases, especially the big ones. But the demand is coming back very soon (if not already).
It's obvious that hard sell won't work today. Shifting your focus to more realistic goals like building brand awareness or generating leads can help you not only to survive through this crisis but to grow your brand in the coming environment.
Invest in campaigns that build brand awareness and strengthen loyalty
In his post about marketing during the Coronavirus, Moz and SparkToro founder Rand Fishkin says that 'those who invest while others pull back will have advantages now and in the future'. And he's right. As an advertiser in the hard-hit sector, you can either prepare for the surge in future sales interest by nurturing your audiences or sit and watch your customers choosing to interact with your competitors.
To be ready for the demand spree to come, you need online visibility right now. If you had to stop your campaigns aimed at driving sales, allocate some part of this budget on brand awareness campaigns.
Think of how you can be useful to your audience today. Can you develop content to educate, entertain, or support them? Do that. Can you afford to invest in a content distribution campaign? Do that and reach more people that will remember about your brand when making a purchasing decision.
It's still an excellent time to attract leads
Joinative founder Jonas Olausson says this can be the right time for lead generation:
'People are still exploring brands and products/services. They're open to non-committal conversions such as downloads, sign-ups, or trials. Depending on the product or service sector, customers are holding back more than previously for real conversions, such as sales or deal creation'.
According to the HubSpot research, marketing email engagement open rates climbed to 25% higher than pre-COVID averages. Have you been delaying the launch of an email campaign? Start now. With a well-crafted native ad campaign and quality landing pages, you can build an email list fast. Do you offer educational content? Ask for an email address in exchange for a guide on the topic.
Here are a few ideas that might help you attract leads during COVID-19:
Ebooks
Checklists
Templates
Podcasts
Webinars
Free apps
Free trials
Free consultations
Discounts
If you're in a thriving sector…
As has already been said, there are quite a few sectors that are thriving now. If you're running native ad campaigns as usual, we have one major recommendation for you.
Test, test, and test a lot
Consumer behavior is changing. New trends are arising. Your competitors are improving their strategies. You will simply fall behind if you don't think outside the box.
Although their campaigns were performing well without these tests, 8fit are adding trending word combinations to their headlines. And this helps them catch their audience's attention. Research your audience's interests and concerns in light of recent events and leverage this knowledge in your campaigns.
A few words about COVID-19 response campaigns
It could also be that you're tempted to create a COVID-19 response campaign. Whether you're producing sanitizers or just want to provide resources to help your customers cope in these times – you should be very careful with these campaigns.
The 'Coronavirus' keyword takes the second position in the list of keywords blocked by news publishers. There are too many fake news and campaigns run for the sake of adding the word 'pandemic' in the title. It's still too easy to get COVID-19 messaging wrong. If your campaign doesn't provide real value and makes an impression of you taking advantage of the situation, your reputation can be hurt seriously.
To sum up
People everywhere are impacted by the uncertainty the pandemic brought to us. Your customers are concerned as much as you are. With resourceful and informative content, you'll not only support your current customers but also attract prospects that are spending much more time on the web these days.
Regardless of your niche, it's always a good idea to run a clever, relevant brand-building campaign. If you aren't sure how to develop a quality native advertising campaign, we at Joinative are ready to help. Check out our native advertising agency services or drop us a message to learn what we can do for you.