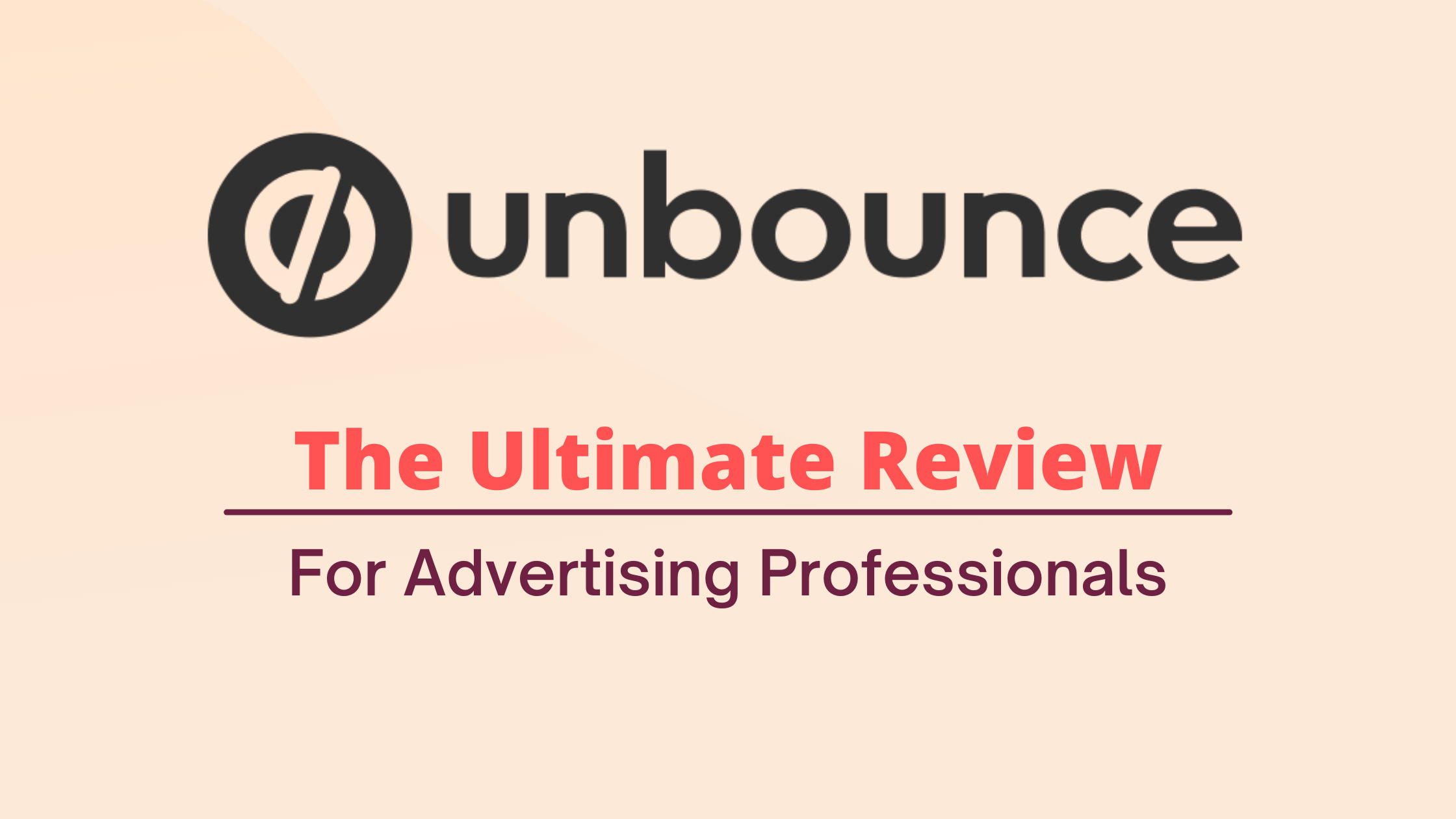 The Ultimate Unbounce Review For Advertisers In 2022
Landing pages are an integral part of online marketing, being heavily utilized from e-commerce all the way to native advertising campaigns. These days, more and more online advertisers find themselves in a position where they are responsible for providing quality landing pages that convert.
Most of the time, this means creating several new landing pages for different campaigns, as well as optimizing them through A/B testing. But how can someone with no coding experience even build a landing page? This is where drag-and-drop builders like Unbounce come into play. These tools make creating landing pages easy and fast, by completely removing coding from the equation. In this article, we will review Unbounce, one of the best landing page builders in the market, to help you decide if it's a good fit for you.
What is Unbounce?
Simply put, Unbounce is a tool for creating and publishing landing pages, but it can do much more than that. It is known for its simplicity and fast workflow, while at the same time delivering high quality landing pages that convert.
The builder offers intuitive drag-and-drop functionality, to help professionals build great landing pages fast and efficiently. In addition to that, no coding skills are required in any part of the process. That means that even marketing or advertising professionals with no development experience can build landing pages with ease. Unbounce also offers a variety of tools and features, like the ability to create pop-ups, track conversions, run A/B tests and much more.
With all these features at their disposal, it's no surprise that advertisers have been using Unbounce for their campaigns with great results. Whether it is native advertising, lead generation campaigns, or simply promoting a company's services, Unbounce has been proven to provide landing pages that simply work.
On-Demand Video Course On Native Advertising
Boost your ROAS with native ads. Enroll now with our limited 30% discount.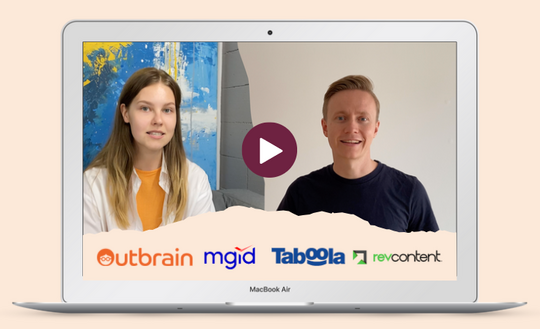 What features are there in Unbounce
Now that we have given you a basic overview of what Unbounce is, it's time to dive into our review and take a look at all of the features is has to offer.
Landing page builder
Unbounce's classic builder, lets you create professional landing pages without any previous coding experience. It's drag-and-drop workflow is very easy to pick up and intuitive to use. Even if this is your first time building a landing page, Unbounce offers a huge library of customizable templates for you to start with. You can even copy and save your own designs as templates, and use them on different projects in the future.
It's also important to mention that even with all this functionality, the builder manages to stay extremely light weight. Based on our experience with using Unbounce on a daily basis for our clients, it always runs smoothly with very fast loading speeds. Moving on, let's take a deeper look at the features you get with Unbounce's classic builder:
Drag-and-drop functionality: Simply add, remove or customise any element on your landing page in a few steps. Accelerated Mobile Pages (AMP): Create AMP landing pages that load up to 85% faster.
A/B Testing: Unbounce gives you the option of running A/B tests, by splitting traffic equally on two different versions of your landing page.
Built-in Google fonts: Get access to over 950 typefaces and choose the one that matches your landing page's aesthetic the best.
Auto image optimization: Unbounce optimizes your images automatically, based on size and quality, to assure fast loading speeds.
Free Unsplash images: Unbounce has partnered with Unsplash, to give you access to over 850.000 free images, without having to leave the builder in order to search the right one.
SVG images: The builder is now compatible with SVG images that can resize and scale to any dimension without distorting.
Embedded videos: With this feature you have the option of adding video to any part of your landing page, by simply dragging and dropping it in.
Custom mobile pages: You can adjust your landing pages to appear different on desktop and mobile devices, making them completely responsive.
Custom scripts: Want the ability to customize your designs even more? Add HTML, Javascript and CSS to any element on your landing page.
Dynamic text replacement: This feature helps you personalize your content, by replacing any text on your landing page based on your visitor's search query. This is a powerful tool that has been proven to significantly increase conversions.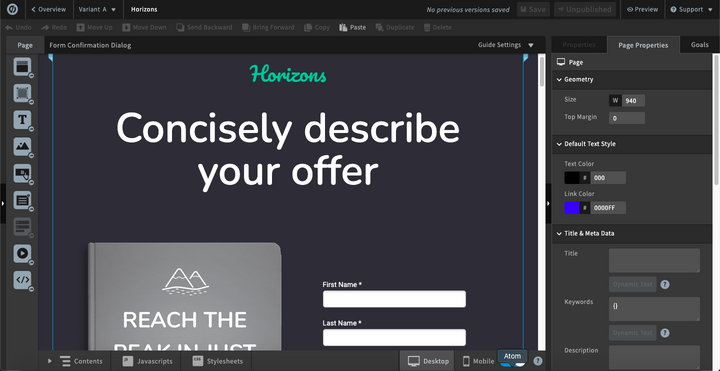 Pop up & sticky bar builder
Even though Unbounce excels at building landing pages, this is not the only thing you can use it for. While taking advantage of the same drag-and-drop workflow, you can also easily create pop ups and sticky bars. You can then simply add these elements to your existing landing pages or even your website. Pop ups and sticky bars are great tools for engaging with your audience and increasing conversions from your traffic. To add on that, Unbounce offers many features to help you get even better results.
Dynamic text replacement: Just like in the classic builder, you can personalise your pop ups and sticky bars by replacing part of their text with your visitor's search terms.
Url targeting: With URL targeting you can easily choose the pages of your website that you want your pop ups and sticky bars to appear on. You can target based on: Full URL, URL "contains" and UTM codes.
Location targeting: This feature allows you to target your pop ups and sticky bars at specific geographic locations.
Cookie targeting: Using cookies, you can show your pop ups and sticky bars to users with specific browser history, conversion history and previous actions.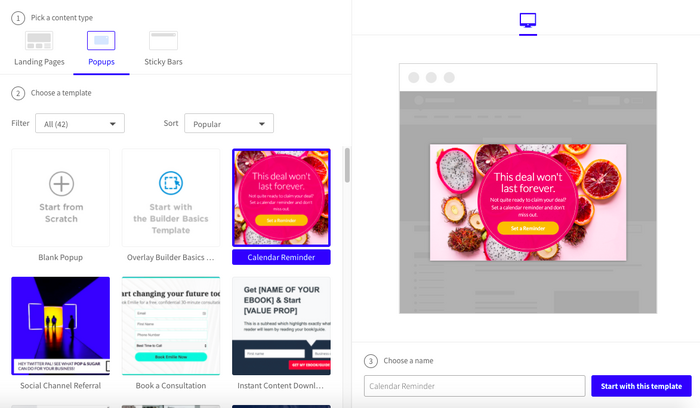 Smart Traffic
Next on our review, is one of Unbounce's newest features. Smart Traffic, is a conversion tool that uses AI and machine learning technology to automatically send visitors to the landing page most likely to convert them. All you have to do is create a few variations of the same landing page and then enable Smart Traffic. The AI takes into consideration user's attributes like device and location, and then routes them to the appropriate landing page. Based on Unbounce this has been shown to increase conversion rates by as much as 30%.
Visitor attributes: Smart Traffic categorizes visitors based on a set of attributes like device type, geographical location, browser, OS and timezone.
Conversion mapping: This feature tracks conversion patterns on different landing page variations. It then automatically starts optimizing for better conversion rates after only 50 visits.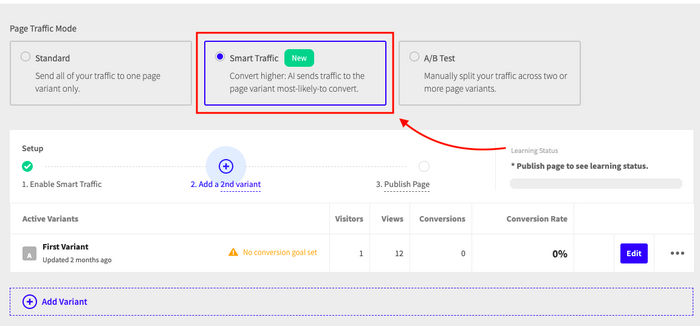 Other essential integrations
On top of all its inbuilt features, Unbounce also offers integration options with a variety of third party tools.
Google analytics: Unbounce can easily integrate with Google analytics to help you track your traffic and conversion events. All you have to do is add your website tracking ID to Unbounce's script manager.
Webhook integrations: Allows you to send form submissions to any server of your choice using Webhooks.
CRM integrations: Unbounces integrates with CRM and marketing tools like, salesforce, hubspot and mailchimp, and automatically sends new leads to these platforms.
Third party embedding: This feature gives you the option of adding other third party tools like Hotjar and Calendly, by importing supported custom code inside of Unbounce.
On-Demand Video Course On Native Advertising
Boost your ROAS with native ads. Enroll now with our limited 30% discount.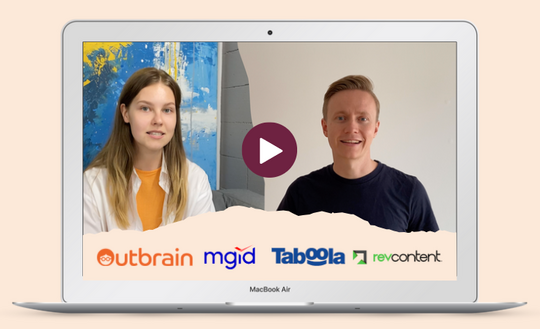 How we use Unbounce in our natice campaigns
But how can you leverage all these features in the context of online advertising? In this section of our Unbounce review, we are going to share how we use it in our native campaigns, to achieve great results while saving precious time.
Create advertorial pages
As most of you may know, advertorial landing pages are an integral part of native advertising.
In our experience, the quality of an advertorial landing page, has a significant impact on conversion rates and can make or break the performance of a campaign. This is why the Joinative team relies on Unbounce for all of our advertorial landing pages.
Running campaigns for multiple big clients simultaneously, means we have to create, A/B test and optimize multiple different versions of advertorial landing pages. All of this simply wouldn't be possible without Unbounce's fast workflow.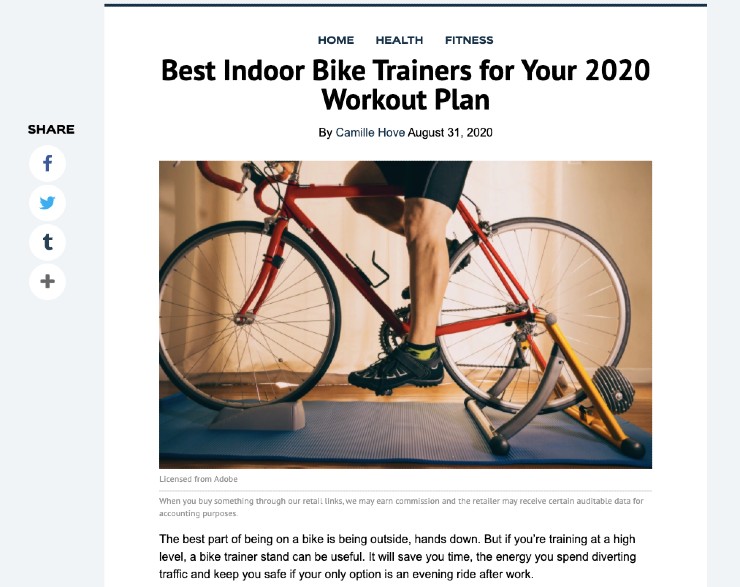 Create lead gen pages
We also use Unbounce to create lead pages for our lead generation campaigns. With Unbounce we can create lead forms directly on the page without using any third party plugins. Using the same tool for creating LP's as well as lead forms, keeps our workflow consistent while saving precious time from setting up new campaigns. Another great feature to mention, is that Unbounce will also store all lead data captured by these lead forms, making it even more convenient.
Run A/B tests
Landing page optimization is an essential process of improving performance in all online advertising campaigns. A great landing page will lead to increased conversion rates and produce much better results.
Here at Joinative, A/B testing has been an integral part of our landing page optimization process. For this reason, we rely on Unbounce's A/B testing mode that allows us to split the traffic between two slightly different versions of our landing page. This way we can test various factors that can affect performance, such us Different CTA buttons, images, page structure and more.
The trick here is to test for one element at a time, in order to keep the test consistent, as well as giving the test enough time to generate the necessary data. After gathering the performance data of the two different versions, we choose to keep the best one as the main landing page for our campaign.

Pricing options
Unbounce is a subscription based product and offers 3 different pricing plans. You can choose to go with either the monthly or yearly billing plan, just note that you get a 10% discount with the later.
Here are the pricing plans in more detail
LAUNCH: $90/month billed monthly or $81/month billed annually
OPTIMIZE: $135/month billed monthly or $122/month billed annually
ACCELERATE: $225/month billed monthly or $203/month billed annually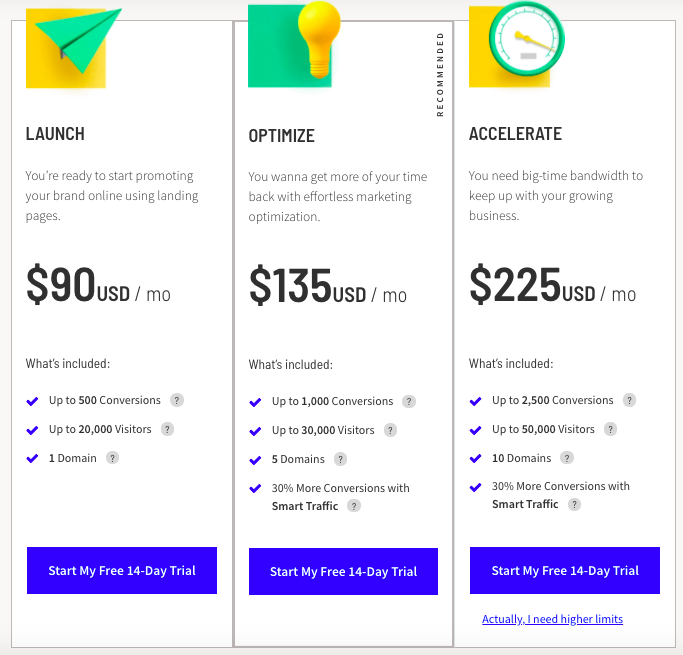 One great thing about these pricing plans, is that Unbounce doesn't restrict features and functionality depending on the plan you choose. For example, the only feature not available on their cheapest plan is Smart Traffic. Instead, they choose to differentiate the plans based on number of Conversions, number of visitors and number of different domains. This means that choosing the right plan for you, mostly depends on the scale of your campaigns and not so much on Functionality and workflow.
Good news: We at Joinative have partnered with Unbounce to offer you a 20% discount for the first three months of your subscription. Use this link to claim the offer and start your Unbounce Journey now.
On-Demand Video Course On Native Advertising
Boost your ROAS with native ads. Enroll now with our limited 30% discount.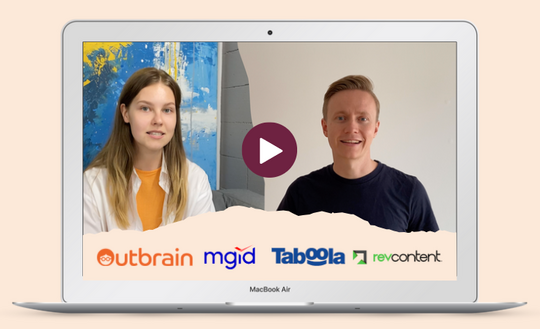 Final thoughts
In this article, we shared our honest review of Unbounce's features, based on our experience from using it on a daily basis for our native advertising campaigns. At this point, we want to share our final thoughts on this landing page builder and help you figure out if it's a good fit for you.
Who is it a good fit for: It goes without saying that Unbounce is a great choice for landing page designers and developers. But what about advertisers with no development and coding experience? In our opinion this is where this product truly shines. As a busy online advertiser, you may have to build multiple landing pages every week. Unbounce's intuitive workflow, will help you deliver great landing pages fast and save you a lot of precious time.
Who it may not be a good fit for: Unbounce may not be a good fit for you, if you simply don't need a landing page builder on a consistent basis. This may be the case, If you find yourself working with clients that can provide their own landing pages.
The Joinative team has been relying on Unbounce for years and we don't plan on stopping any time soon. The workflow and functionality it offers, simply make it a great asset for our native campaigns. We highly recommend that you try it out and decide for yourself.